Slipcovers!! One of my most favorite things!!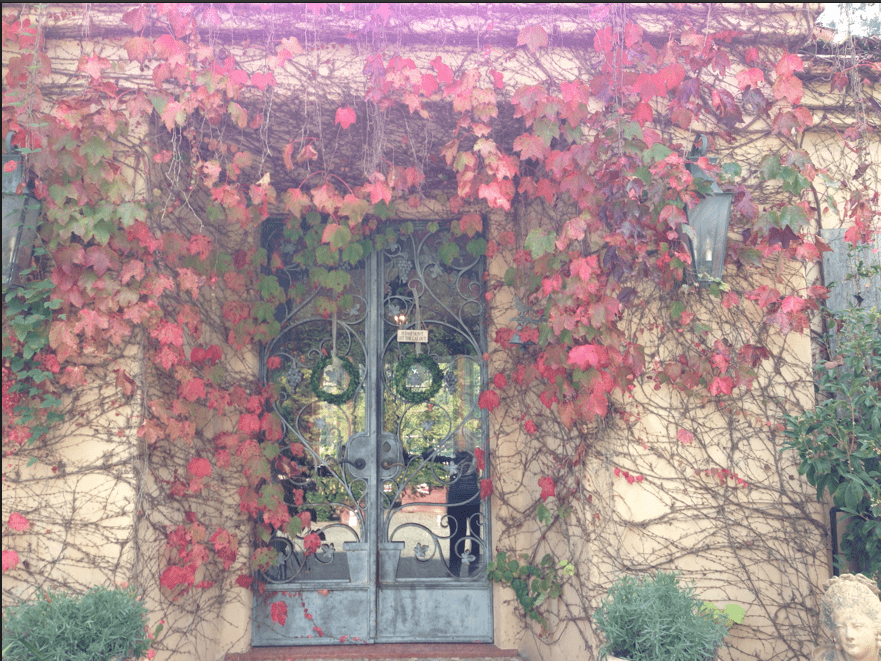 What I love about slipcovers is so many things!!
My mother was from the "South".  (Lucky me in so many ways having particularly to do with the "HOUSE!")
She taught me to have four………yes four…… seasonal sets of slipcovers for my furniture.
(My  goal is four;  I now have three;  and I will have four!"  In this post I will show two out of three.)
First of all;  when a new season starts;  I get a" new house"!  It's almost like having 3 houses in one.
It is just a joy!  Even my husband gets excited.
We'll start with "Fall"  as it is right now.
(I actually do this transformation with help, on the actual "first day of fall, Spring, Summer;  unless it falls on a weekend)  Otherwise the following Monday.
The very first day of "fall"  The  old "Oriental" rugs rugs go  back down;  All the pillows change, the slipcovers change on the furniture;
 and it does almost look like a different house!
My lifelong collection of antique paisley shawls, antique needlepoint (collected for decades;  even  some made by me) ;
and the fall cozy colors emerge to  replace the Summer pillows and fabrics.
The banquette is covered with my antique tapestry pillows;  collected over my lifetime.
Some were found on a trip to Dallas;  to do a "speaking engagement";   for which I was paid generously . ( I came home with divine
antique tapestry pillows which were made from an 18th century tapestry chopped up and made into pillows; and none of my "fee"!)
Boy did I have fun  (And what pillows they are.)
The tapestry was falling apart; there is nothing wrong in this…….
the lady who made these exquisite pillows rescues the intact , fragile parts of the tapestry;  and makes exquisite pillows
with antique trim, hand-dyed velvet, and down fills.
They must not be considered "pillows"!
 (They are 18th century works of art preserved for all these years and bringing joy and beauty
hundreds of years later as fragments)
(just explain this to your husband…when he says…."WHAT did you pay for those pillows???)
(You can do it!)
(this lecture has been delivered to many clients;   Most often successfully.)
Here are a few examples: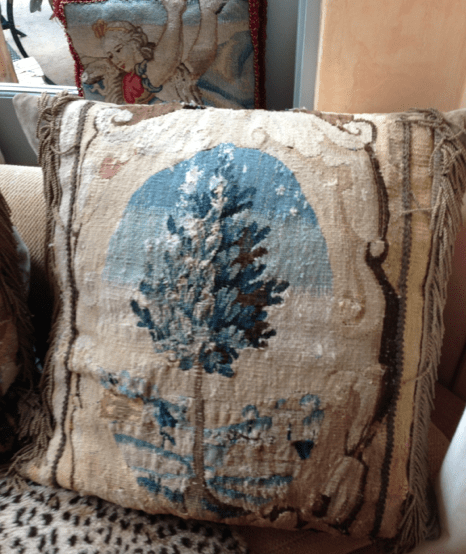 This is one from Dallas.  There is a village scene around this tree.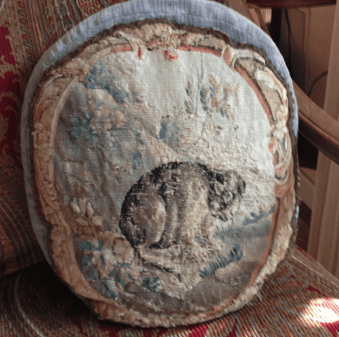 This little creature I found in the flea market in Paris.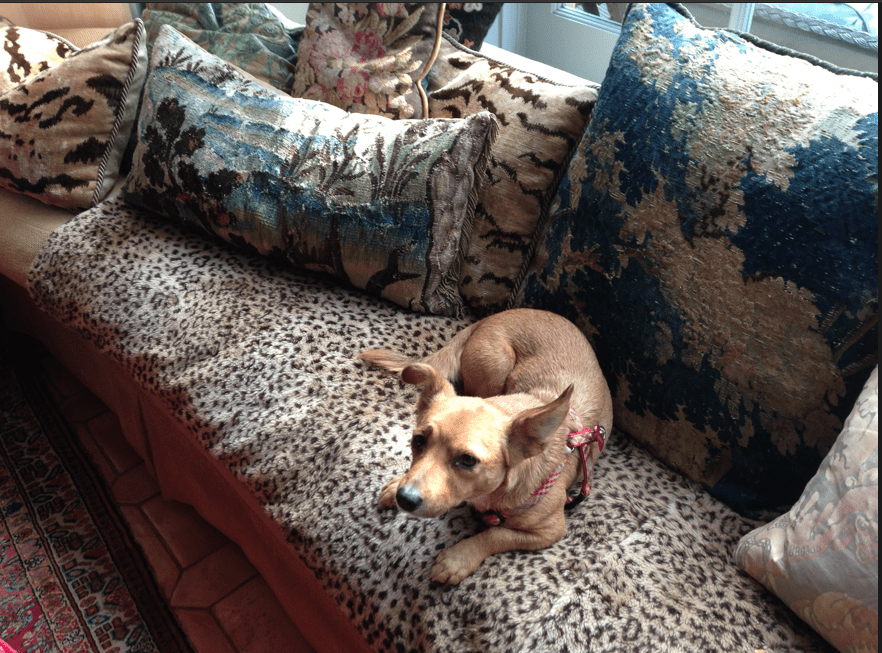 You can see that collecting things can give so many layers of beauty and meaning to your house!
(This is our new dog, rescued from a freeway onramp)!  The dogs are fond of the banquette;  and the leopard blanket came from Bunny Williams
recommended dog bed source:  (Wally beds ; totally washable)
So to begin;  this is fall.  This is our "big hall" a combination living-dining room……
AND THIS IS ABOUT SLIPCOVERS;  AND THIS IS
FALL!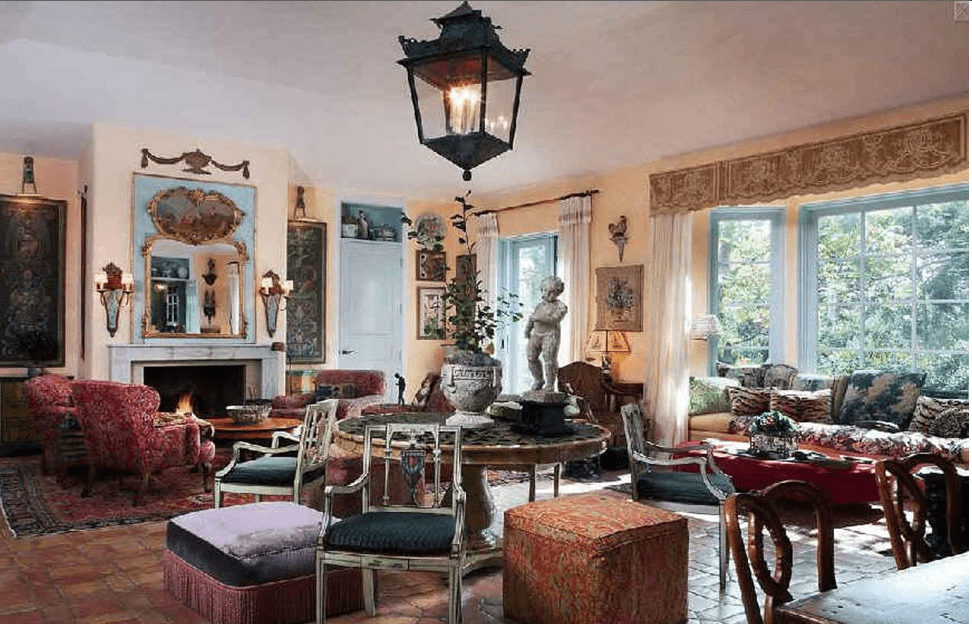 This picture shows a lot of the furniture!  with……
The fall slipcovers.
Deep rust Fortuny on the ottomans;  teal on the chair seats, tapestry pillows and some quilt on the banquette, and the rugs and paisley
by the fireplace! (one of the two fireplaces in the room).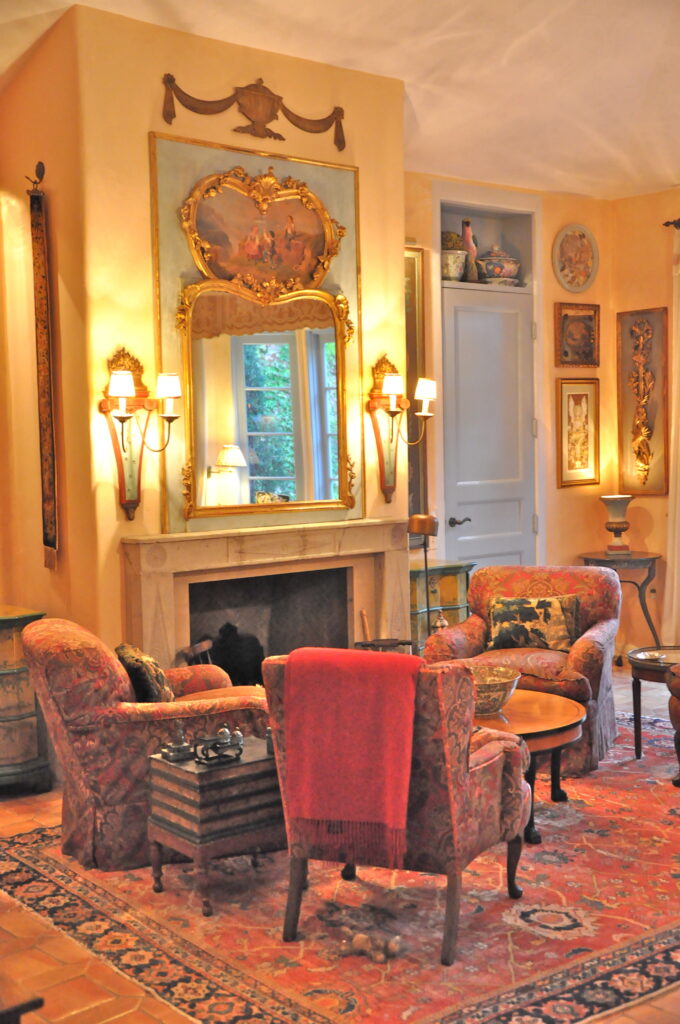 Rug and cozy seats around the fireplace on the "seating" side of the room.
(there are two fireplaces one at each end.  One at the "seating end";  and another at the "eating end".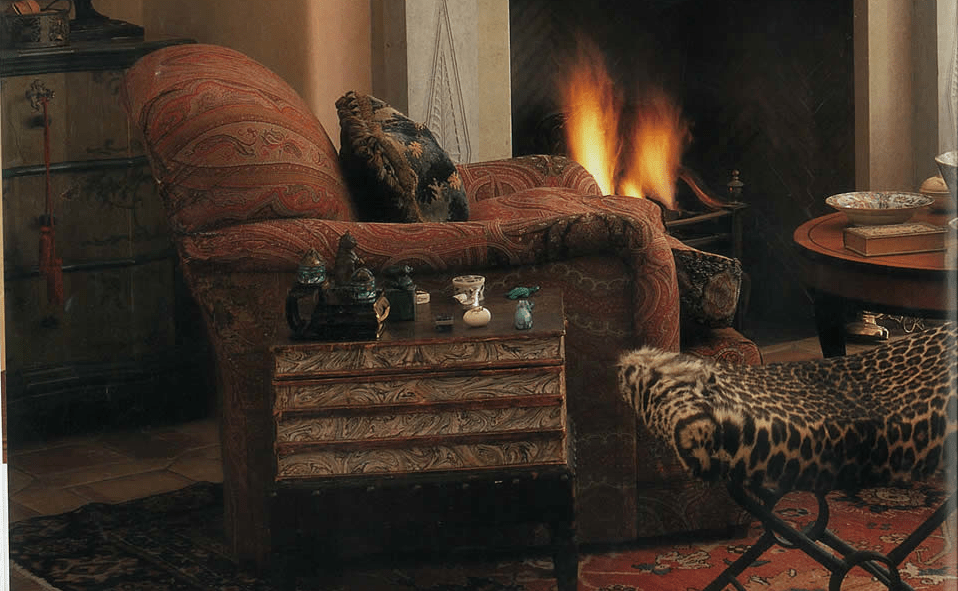 Still at the seating side of the room
My husband's incredibly talented uncle's "book box".
We inherited it.
Lars Bolander (the chicest antique dealer alive),  carries a copy all hand made……..go to
www.larsbolander.com and see for yourself!  And buy something.   The best!
The "chicest"  thing I think I own! " Arce Bianchi"!  He was a taste-setter, bon-vivant, and  a major "patron of the arts"
In San Francisco in the forties, fifties and sixties.
The stool is from the thirties.  My old friend gave it to me along with our "sphinxes" on our front terrace.
A "safari in the thirties".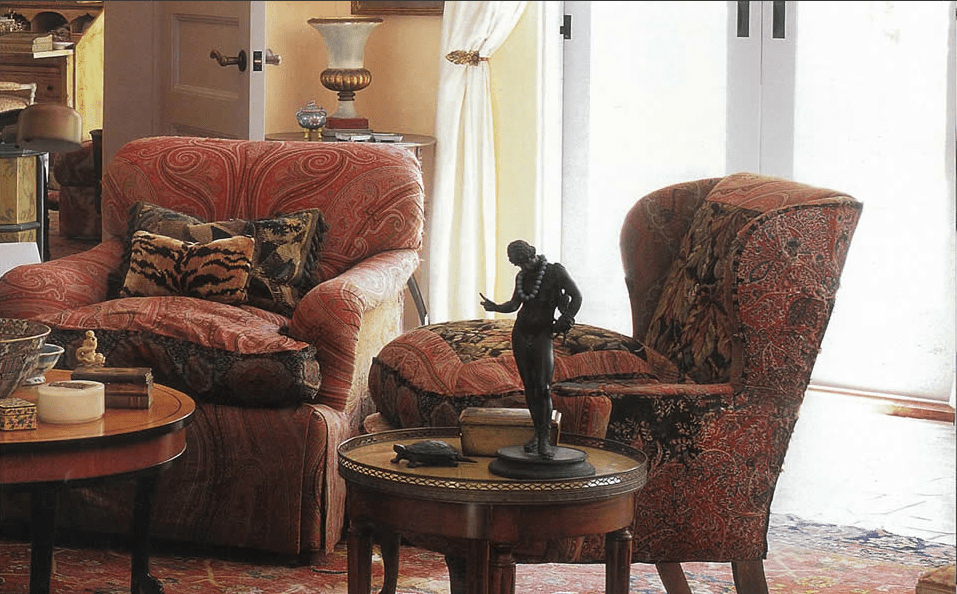 This shot shows the paisley shawl upholstery with the inset vintage needlepoint.  Also next to the fireplace.
Also the 18th century fragments of tapestries preserved and made into pillows………
.
The bronze statue of (Narcissus" ?) we had by our pool in San Marino growing up.
So fun to have 60 years later;  looking so elegant.
See the antique paisley shawls and the needlepoint seats?
RED Alert!  No antique shawls recommended for cat households……..
.
"Shredded"  is the word;  I had to find a substitute fabric that "looked" like; but did not have the "texture".
(No one except the cat has noticed the difference;  not even my husband! ) Slipcovers are so tailored.
We are not talking, nor doing, "Shabby Chic" loose slipcovers over here.  Nothing wrong with them;
just way too "trendy" for this Pasadena decorator.  I avoid "trends" like country people avoid "rattlesnakes".
Just my view!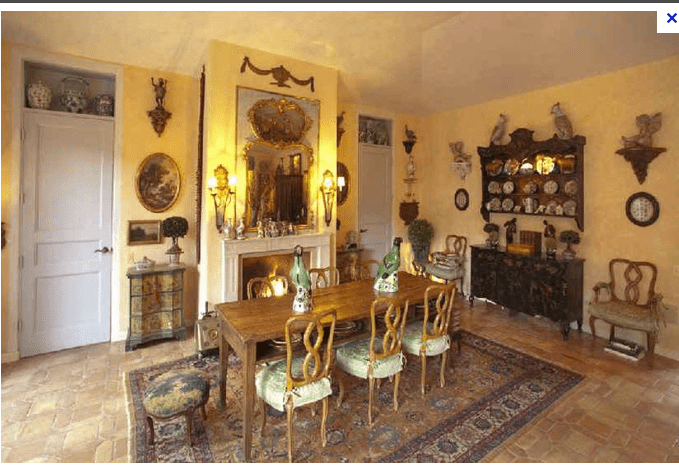 This is the opposite side of the room!
Directly opposite the other fireplace!
Its oriental rug is a cozy addition.
This is the dining area: this area has its fall and winter backwards Fortuny.
Again;  Slipcovers.   And end of FALL.
NOW LET'S TALK ABOUT SPRING!
HERE IT IS!  THIS TRANSFORMATION STARTS MARCH 21st.
 TAH DAH!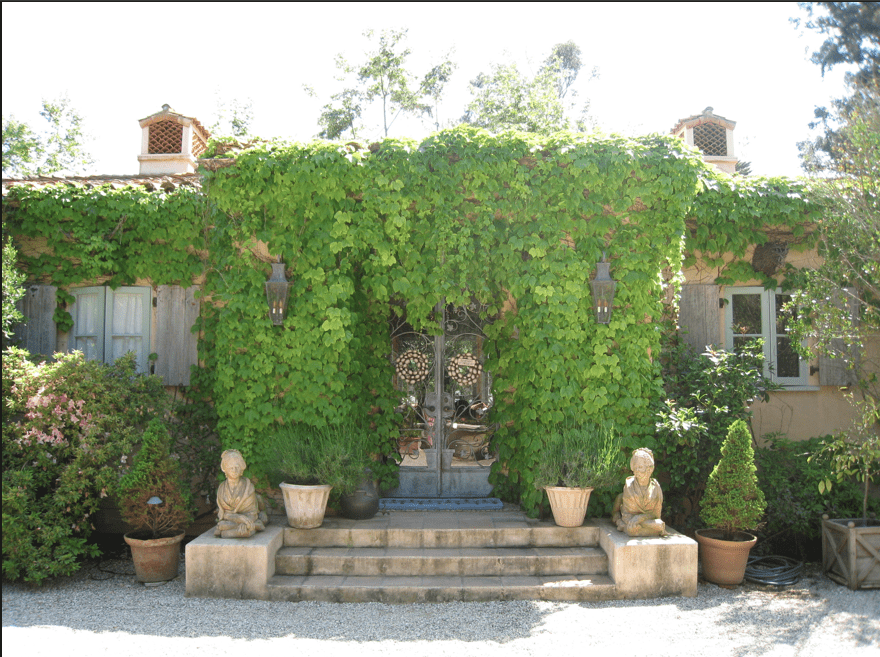 SPRING!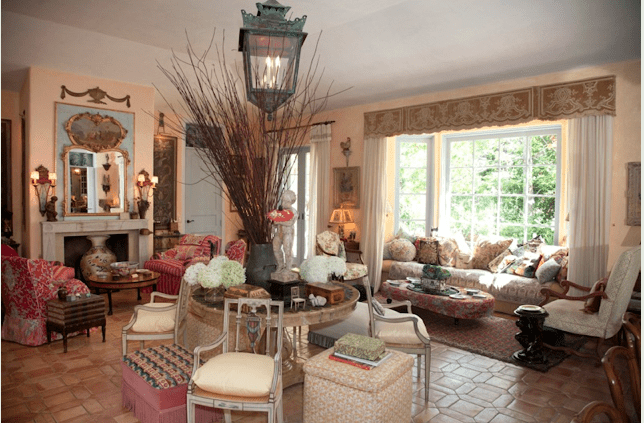 The main rugs go to storage and the pretty peach floors show.
Cushions pale yellow silk;  ottomans yellow Fortuny.
Different pillows and quilt on the banquette.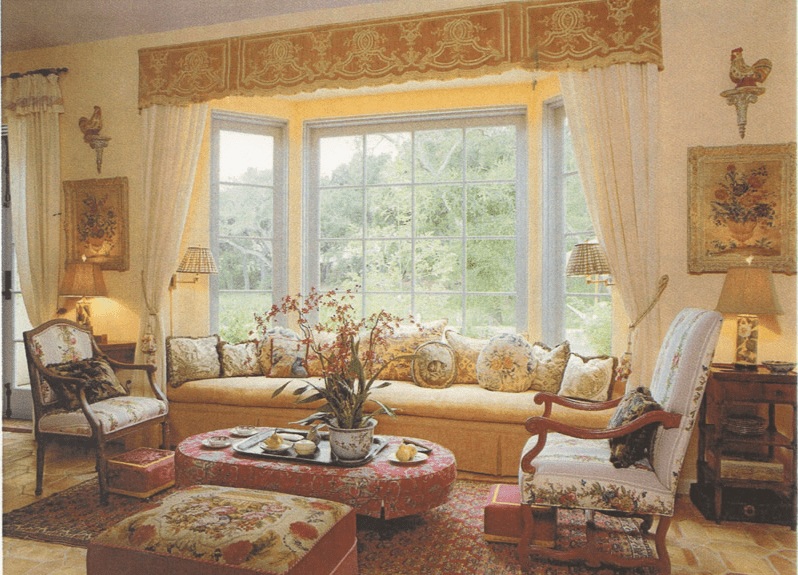 This close-up shows the spring pillows in better detail.
By the way, the valance is two antique valances sewn together found at an "Antique Show"
Antique shows are great places to find vintage textiles.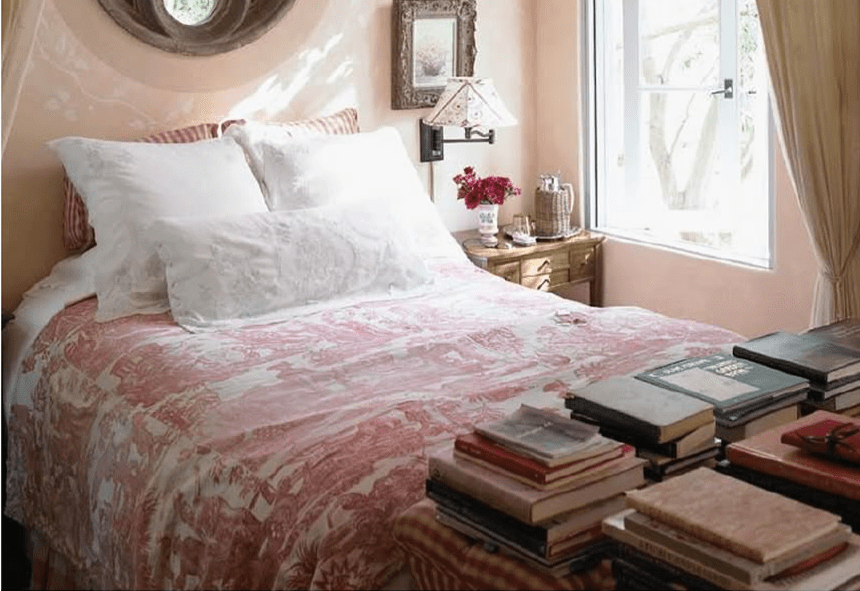 And my antique toile coverlet with the hand embroidered work salvaged from some  beautiful old sheets made into a pillow by my friend Kathy
(Pillow Beach on Etsy)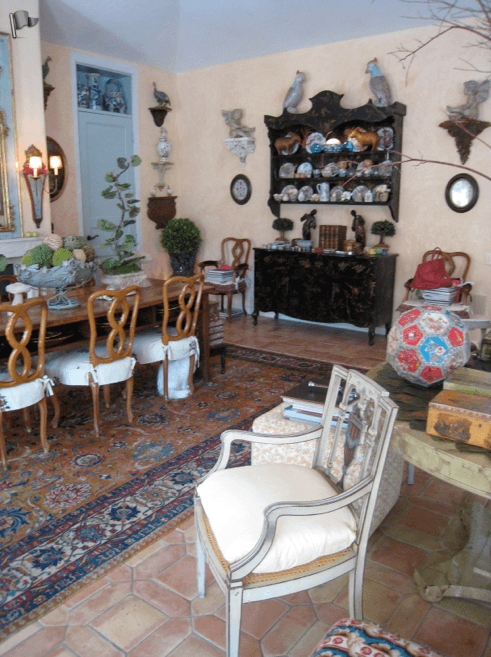 The Spring dining chairs have slipcovers of some Chelsea Editions embroidered fabric.
(Rugs not removed yet)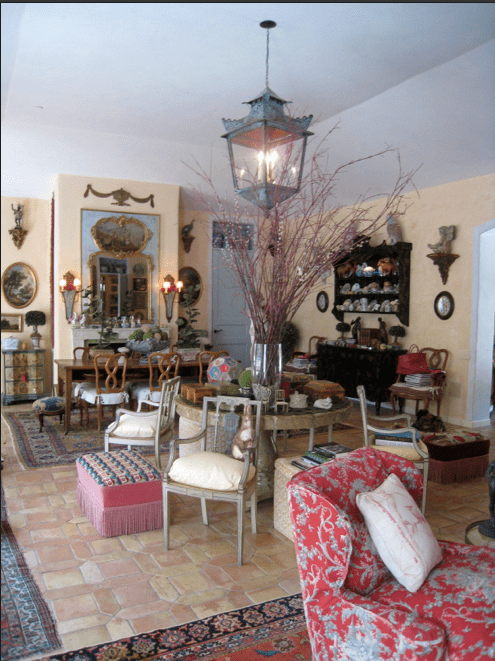 The whole room looking the other direction
We also have "summer slipcovers"…I call it "3 months in the Hamptons"
Those will be in the next post……..
Please do notice;  not one piece of furniture is different .
Same with the "summer installment".
The whole point is;  the comfortable arrangement of furniture does not change.
You feel as though you have gone to your "summer house"  with just a change of tailored slipcovers
By the way;  another important  thing slipcovers do (I also learned from my adored mother);
is that your furniture (if you buy quality;  which of course you do)  will outlive YOU.
 Three or four sets of slipcovers prevents any of them from becoming worn out or faded.
 Just select carefully ;  and preferably hire a decorator to help you. (I volunteer).
Honestly,  my daughter's living room has two large "loveseats"; and an 8 foot sofa that belonged to her "great-grandmother".
(This is the daughter who lived here……..she was in Traditional Home Magazine;  not the one who just moved back;  how fun to have TWO here).
And the upholsterers have remarked every time they have been reupholstered about the quality of their construction.
 Buy the best made  upholstered pieces you can possibly afford.. (custom made or from a great consignment store).
and then slipcover like mad!
I truly believe there is much that can be learned from the past.
And old traditions are worth continuing.
Recycling wonderful old textiles is very GREEN!
p.s. some funky thing is happening with the font.  I apologize.  It doesn't show up in the draft part.
pps. my darling writer stepdaughter (who wrote my "about me";   made a suggestion about (!!! )exclamation points. (too many).
I think I removed a hundred.  It would make a great Saturday Night Live skit.   I must have mixed them up with periods!
Thank you, sweetie.
You might also like:
We now offer our design services online. Please contact us at
Penelopebi@me.com
for further information.

---