Welcome baby ducks! This is the tenth year we have had mallards hatch in our pond.  Hatched March 24th, they are now almost 1 month old.
Ducks take a special liking to backyard pond: By Carolyn Bolton, News-Press Correspondent
A Mallard gave birth to a brood of ducklings Thursday on a private pond off East Valley Road in Montecito. "They just hatched this morning," said Penny Bianchi, an interior designer and owner of the pond, pointing to the eight cotton-ball-sized baby ducks as they were taking refuge under their mother's wings.
The ducks are part of a long line of wildlife that have found refuge at the home of Ms. Bianchi and her husband, Adam Bianchi, who manages his wife's interior-design business.
About 12 years ago, the couple built a home reminiscent of a French farmhouse, complete with a guesthouse; courtyard; terrace and multiple chicken coops.
As a designer, Ms. Bianchi said she was the visionary for a lot of the property's environmental landscaping.  But, with all its flair, she felt something was missing.
"There needs to be a pond here," she told her husband shortly after construction on their home began in the late 90's.  A pond had been on the property but was destroyed sometime in the 1940's to make way for a riding ring.  "I still never would have guessed there was a pond; so many of the wetlands have been filled in by developments," she said.
After the house was finished, "We dug the pond and it immediately filled up with water," Ms. Bianchi said.  The water has been popular with ducks.  "There were 10 a year for the past 10 years," Ms. Bianchi said.
That includes a family near by in Glen Oaks that got spooked by a garbage truck and began waddling their way to her home in a neat line.  "She had to walk at least a mile to get through the brush," said Ms. Bianchi of the mother duck.
About five years ago, a mother duck that often laid eggs on the outskirts of the Bianchis' pond was attacked.  "So she started laying her eggs inside," Ms. Bianchi said, pointing to the duck house that is tethered to the bottom of the pond so it doesn't float to the bank and become a target for hungry wildlife.
"Most people don't know that everything eats baby ducks," she said, rattling off a list of a half-dozen predators, including coyotes and bobcats.
Ms. Bianchi said it's critical for baby ducks to have a safe place to nest for the first 53 days of their life because, until then, they are unable to fly and especially susceptible to predators.  However, since the ducks began nesting in the duck house, not a single one has been lost, she said.
"They all want to be here."  In fact, the duck population on her property has been thriving, with a total of 19 ducks born last summer alone, Ms. Bianchi said.  The only recent casualty Ms. Bianchi knows was a male wood duck she purchased last year to keep a female wood duck company.  But, "off he flew," said Ms. Bianchi. "We haven't seen him since."
The pond is near the perimeter of the Bianchis' 2-acre property, which sits in the middle of 90 acres of forest and beside a 45-acre nature preserve cared for by the Land Trust of Santa Barbara County.
"The Chumash used to make baskets out of that," said Ms. Bianchi pointing to wisps of juncus beside the pond.  In 2006, the National Wildlife Foundation certified the Bianchis' home as a backyard habitat after Ms. Bianchi and her granddaughter teamed up for an elementary school project.
According to the National Wildlife Refuge, the five basic elements necessary to gain this distinction include:
food sources (native plants, seeds, etc.)
clean water
plenty of cover
places to raise young
sustainable gardening (mulch or compost)
"Basically, I want it to look like the nature preserve," said Ms. Bianchi of the land surrounding her home.  In addition to planting 99 percent native plants on the property, Ms. Bianchi said she selected foliage that would attract humming-birds, monarch butterflies and quail.
There is not a single patch of lawn in the Bianchis' backyard habitat.  "If you have lawn, you'll never get any quail," Ms. Bianchi said.
In 2001 the Bianchis' received a Montecito Beautification Award for the work they have done on their property.  For more information on wildlife or to certify your backyard habitat, visit www.nwf.org.
email: cbolton@newspress.com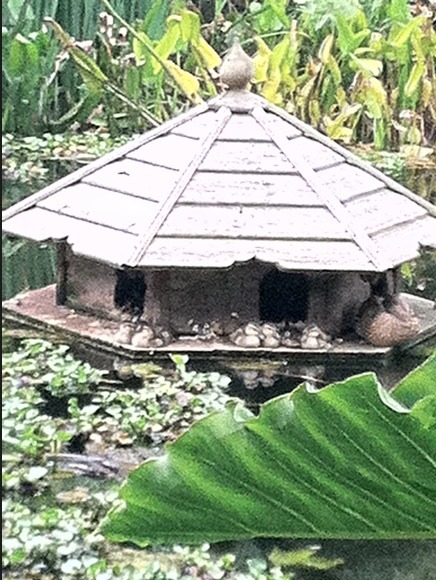 The ducks survival is dependent on the protection the nest box provides.  Our nest box is tethered in the center of the pond, and provides a safe place for mothers to lay their eggs, and protects the babies from predators.  Baby ducklings are not able to fly for 52 days, hence the term "sitting duck".  For more information on purchasing a custom made floating duck house please contact McCormick Interiors here.
The picture above was taken April 8th, the ducklings are just over 1 week old here.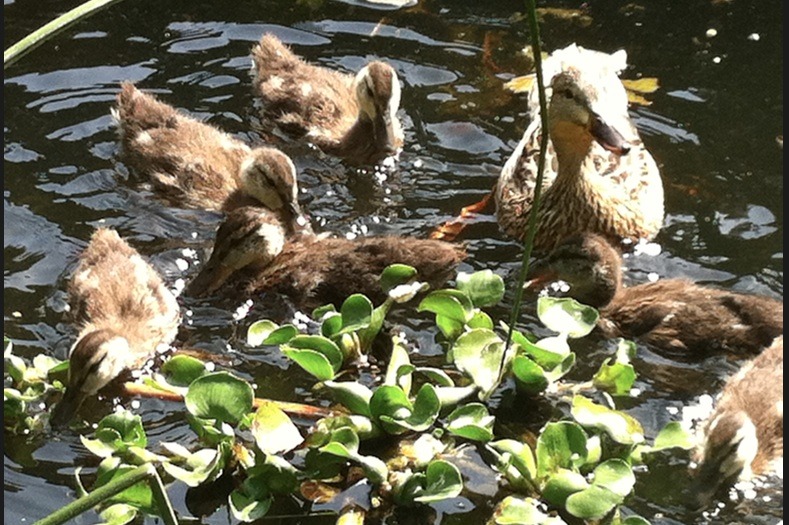 They grow so fast! This last picture was taken April 13th, about 3 weeks old.