Thanking blogdom!!!!!!
I started a blog last April (I think);  and was encouraged by my dear friend Brooke Giannetti of Velvet and Linen.
I will learn how to make those links……(actually Velvet  and Linen is in my sidebar and you can click on it!)
My nine year old grandson asked me what a blog was!  I really couldn't answer him.  (see previous post comments……
they are wonderful and so informative.)
Well, anyway, I have been a decorator for 41 years (sorry, there are new people who don't know!)  and the thought of a blog had not
crossed my mind………until….way after ……..I discovered the internet!
First thing I did on the internet..(newyorksocialdiary.com).
No one called it a blog….I just knew I liked him;  his point of view…..(I also love all the party dresses!!)
(David Patrick Columbia….now a dear friend)
These two things happened at the same time…..the other one was "Pale Male"  the blog about the very first red-tail hawks
to nest in Central Park in 50 years, or more!  (www.palemale.com)
the author of that one is a photographer for National Geographic.
I read about the hawk's nest 22 years ago in the Wall Street Journal and sent our daughter (who lived there and was a teacher)   on a mission to see this nest!  She saw it!
(don't forget, I am a decorator, not a techie)
So, along I go, discovering fabulous blogs along the way!  "An Aethete's Lament"!!??!!   (I have not recovered!!  the best of the best!  Lordy!  Grad school in decorating right there!
"Home before dark"  are you kidding……….you cannot get that education anywhere…….nowhere at all.  I am serious.   There are so many wonderful blogs!
So I became a blog addict.  Then……with Brooke (who when she met me could tell that my favorite thing is to tell stories…..encouraged me to start a blog! Of my own!)
So I did.  I thought 3 people might subscribe.  5? maybe.
Sheesh!  I am so way too wordy…….the point is this.  I did start a blog.  Once a week at most is all I could muster;  but the fact is;  it is one of my favorite things in my whole life!  I am a storyteller!  I love telling stories more than anything in this world!  So here is the audience who have not heard my stories….
and if they don't like them; one click away!  POOF!
Here is the point of this.  I received this in my email. This is the reason for this post. This is why I know I am doing the right thing.
This is a new blogger's dream come true.
I received this from someone far, far away.  It made me cry very happy tears….and I asked permission to publish it  She said yes..  So:  here it is!
This is an example of what makes this whole effort so way worthwhile:  THIS:
"Dear Mrs. Bianchi,
my name is Bettina Baldassari, I'm writing you from Italy, where I live with my 5 cats and 5 birds, I found in years.
I just were looking around he web, and I came into your site.
So, let me tell you: that the pictures of your house
in S. Barbara are simply BEAUTIFUL, and more, the philosophy that I guess is beyond, that must be your life-style, is what I feel to be
nearest to mine.
So I can't help to write and say THANK YOU, for your art, and for sharing your inspirations on your blog, that now is among my favorites.
Last year I've written and illustrated a book dedicated to the old school book I remember of my childhood, and to the places where I live, that's the countryside near Ravenna.
Let me send you the link of the book trailer that we made (which I compose and realized the music for too), is just a small thing, but is precious to me, and I'm happy to share it with you.
http://www.youtube.com/watch?v=b-tZV8Edi8o
So, thank you again, and again.
I send you also a picture of my friends…
And since we still are in Christmas time, my best wishes for you and your family.
🙂
Bettina Baldassari
Conselice (Ra)
p.s.: Is there a book to order somewhere to know your work better, I mean something like a catalogue?
I would be grateful if you let me know."
That is what she wrote to me.
Guess what?  As a decorator, animal lover, and new blogger……..it doesn't get any better!  What a lovely letter and what a lovely thing that I touched a life in my favorite place in Italy……it doesn't even matter where it is!  Somewhere in the world I touched a heart, a visual person, a life.
This made my dreams come true!!  Isn't it astonishing????
Of all the wonderful things about blogging…..nothing means more than the comments.
thank you all so much for your comments……..they mean more than I can ever express!
 And then she sent me this picture!!!  Of 3 of her cats!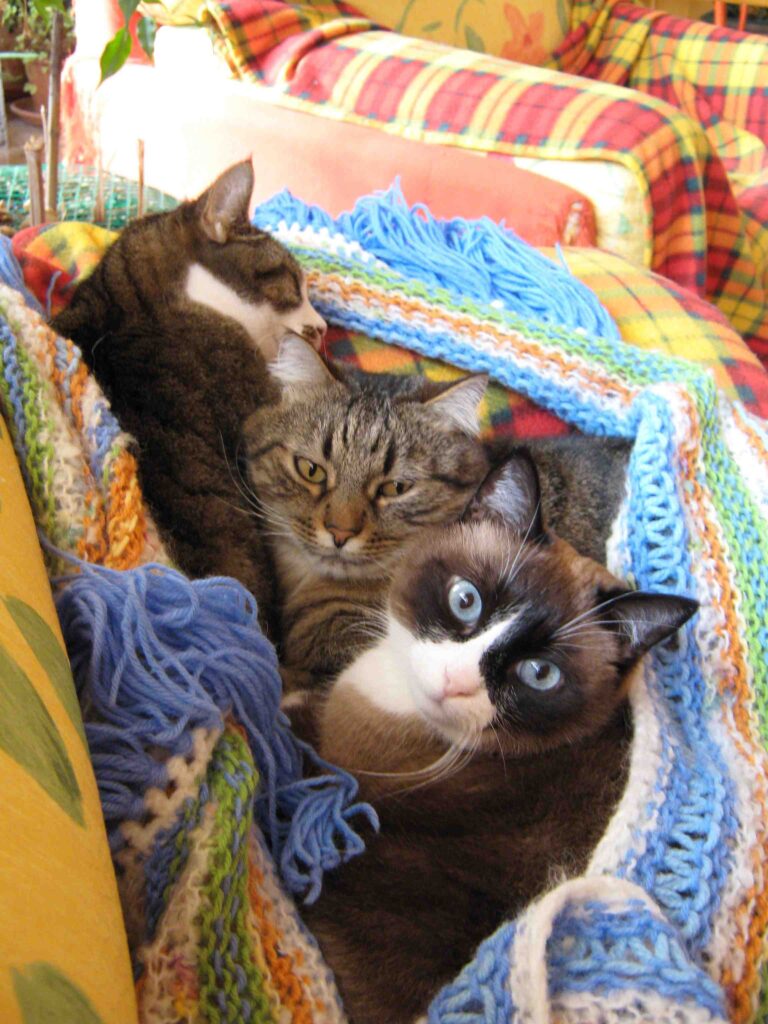 This is the best cat picture I have ever seen in my life!  I have a cat sleeping on my lap purring right this moment……  who looks a lot  like the last one….. a blue eyed calico.  purring away!
I wrote her back immediately,
"What a lovely surprise!  I love the book;  and want to order it!
If you go to my website and click on the "Press" section;  and click on the covers of the magazines and books, you can see more!  www.mccormickinteriors.com
Thank you so, so much for your lovely comments!!
Penelope"
and received from her:
"The real surprise is you, Penelope.
Thank you again, for your kindness, for everything!
I've just visited the "press" section you say, on your website – the only one that I didn't went in yesterday! – and I found there a lot of pictures and interviews that I'm going to read this evening, as I come back home.
The feeling I receive from you is of a pure sense of life, and joy… I can't tell you why, but sometimes it happens, and I think is when you have a special "thing" in front of you, it could be a poetry, or a movie… or a person, that you don't even know!
😀
But, in my life it has sometimes happened to me, and I rarely was wrong.
Unfortunately my English is not good enough to assure to me the proper and correct expression of what I meant to say.
Anyway, it has been a great pleasure found you Penelope, I'll keep on following you on your blog, with a warm thought for you, for this upcoming new year!
Wish the best!
Bettina"
This is only one of so many wonderful and loving comments I have received from my readers, especially since my recent family health scare!
Thank God for animals, friends, family, and blogs!!!
I love you all
Penelope