WHEW!!!   You haven't heard from me in a while.   We had a duckling disaster!!
Six baby ducklings hatched in our duck house.  Last Spring we had nine at the end of March, four in July, and nine again in August, all of whom got as big as their mother;  and off they flew after 53 days!
This year, April 19 they hatched;  and the first night, It poured rain like I have never seen here!
The next day I could see only two ducklings;  and I was beside myself!
More rain;   and no ducklings!
I had no idea that the wood chips had become soaking wet; and the poor mother duck was trying to keep her ducklings warm;  and she couldn't!!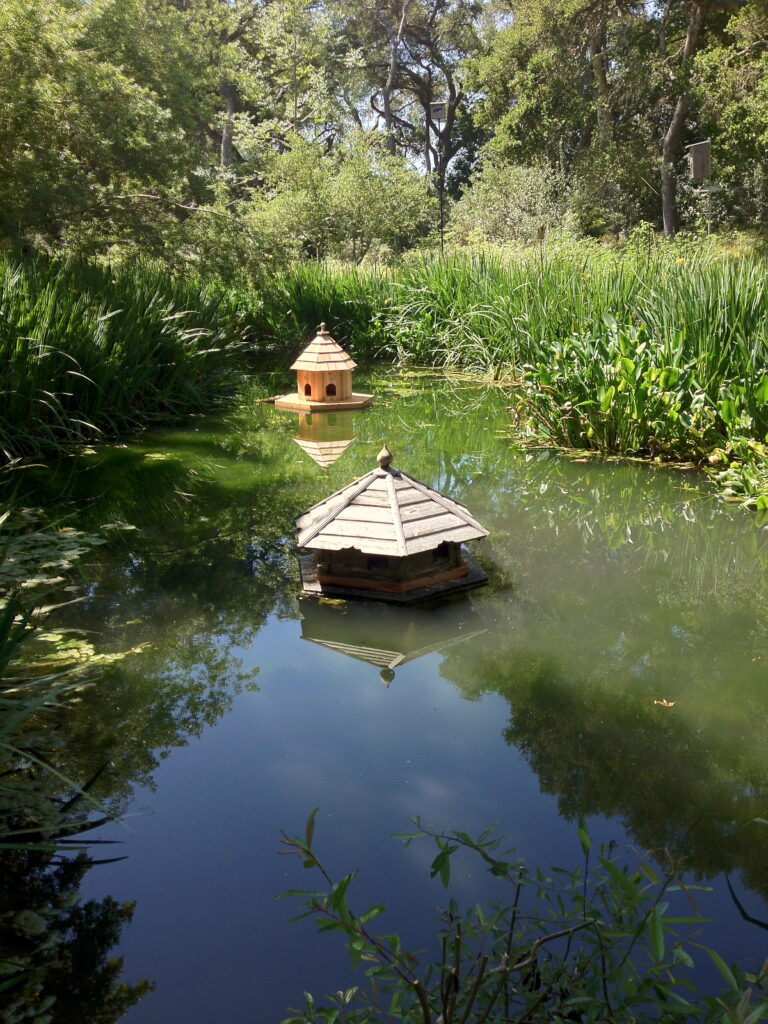 This is the repaired old duck house;  and the new duck house from South Carolina!!!  Today the new one went into the pond!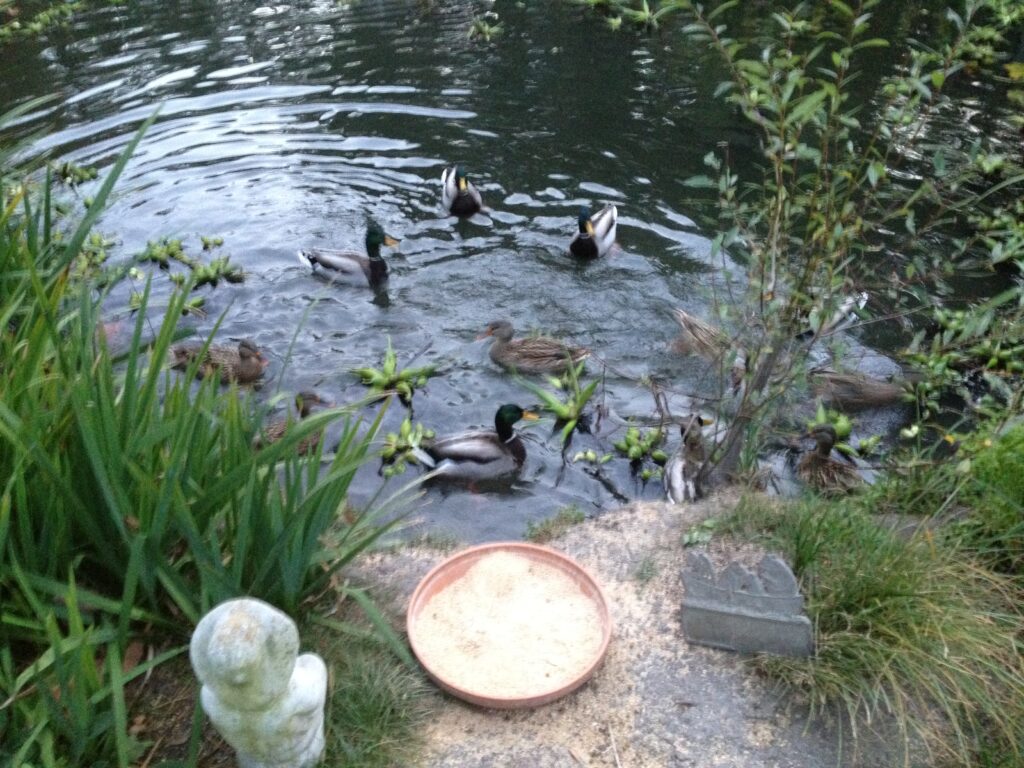 Here are all the adult ducks who return to where they hatched! This was taken two months ago!!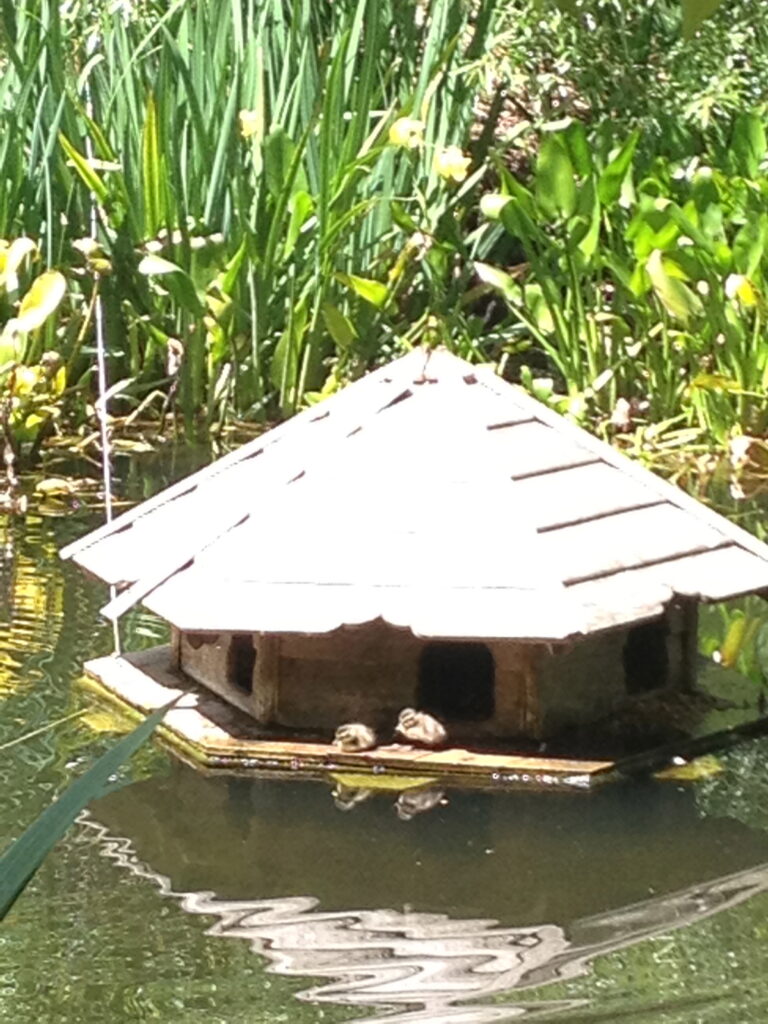 These were the two left the next day;   the next day, none !  I was devastated!!!!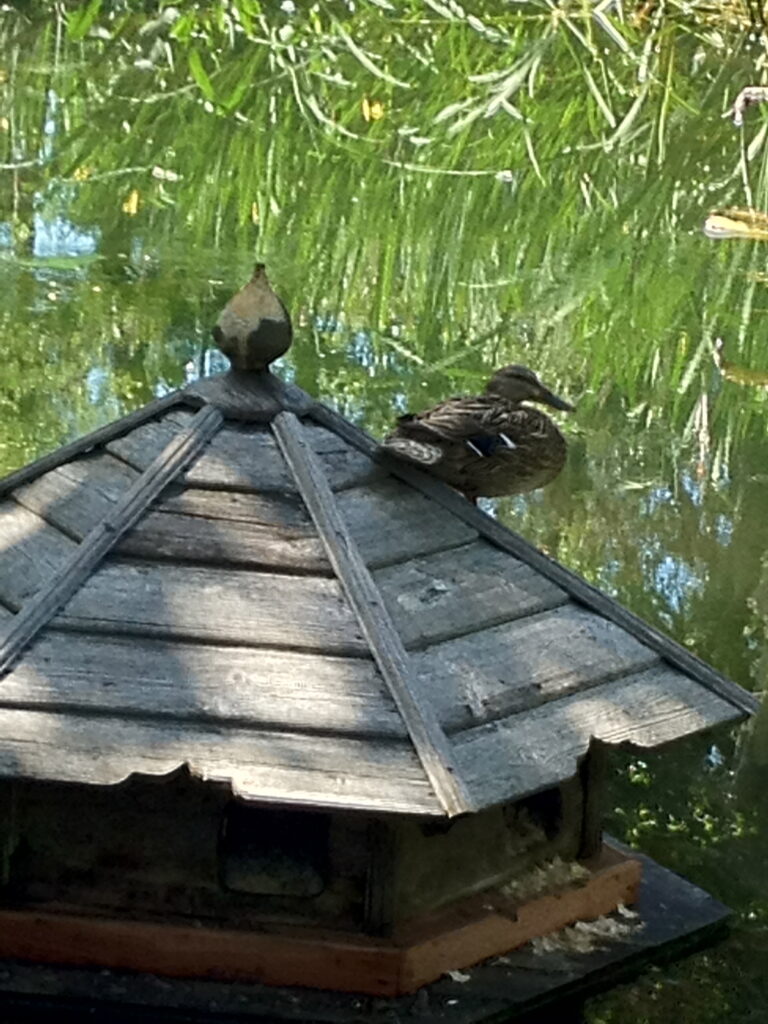 Here is the mother on top of the duck house!!!
I was so devastated and felt so guilty!!!!  We pulled the duck house to the shore, buried the baby ducklings, (our gardener was almost in tears;  and I WAS in tears!
My housekeeper's husband also stayed up all night fixing the leaking duck house;  adding more wood to lift it up; and waterproofing all the seams.  I thought back the last twelve years;  this had never happened !
It very rarely rains here during this time. He had it back ; repaired and floating in two days with fresh chips!
I spent the entire night"  googling" "Floating duck house"  and my HERO appeared!!
Meet Winston Brown and his lovely wife Linda!
 I found online LWB Creations, and wrote him the whole story;  tears streaming down my face!
He makes floating duck houses!!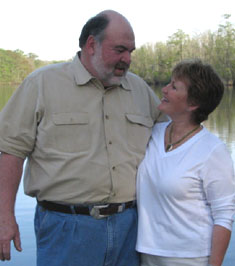 He called me the next morning with the most wonderful Southern accent you have ever heard.  He said, "Penelope, you are distressed!!
I make these myself;  and I am making one for a man in Louisiana who is  " not in distress"  and I can have it to you next week!!!
Fabulous!  What a hero!!!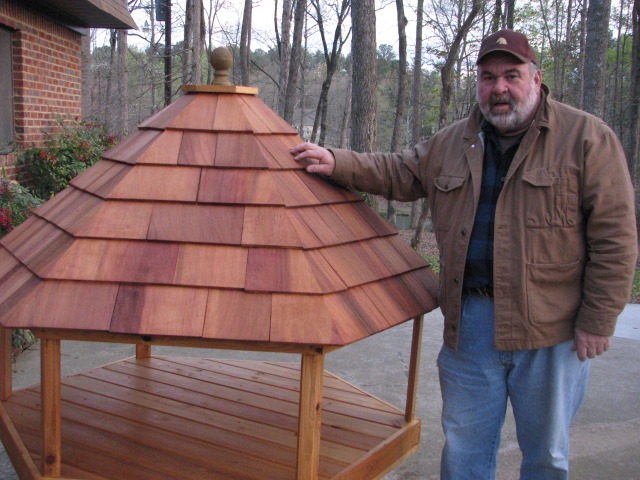 And floating swan or geese platforms!!  I have never been so pleased to find something so quickly!!
There was only one fly in the ointment!  The truck it came in  was too tall do  come down our lane………so, quick like a bunny my assistant and I rented a moving truck and picked up the beautifully crated duck house in a parking lot.
My assistant ,Gilda insisted that our grandchildren see their "Granny" can drive a big TRUCK!!!
Here it is!  It is beautifully made, even packed with the chips!!  The lid is hinged;  there is a wonderful ladder, and today it went into the pond!!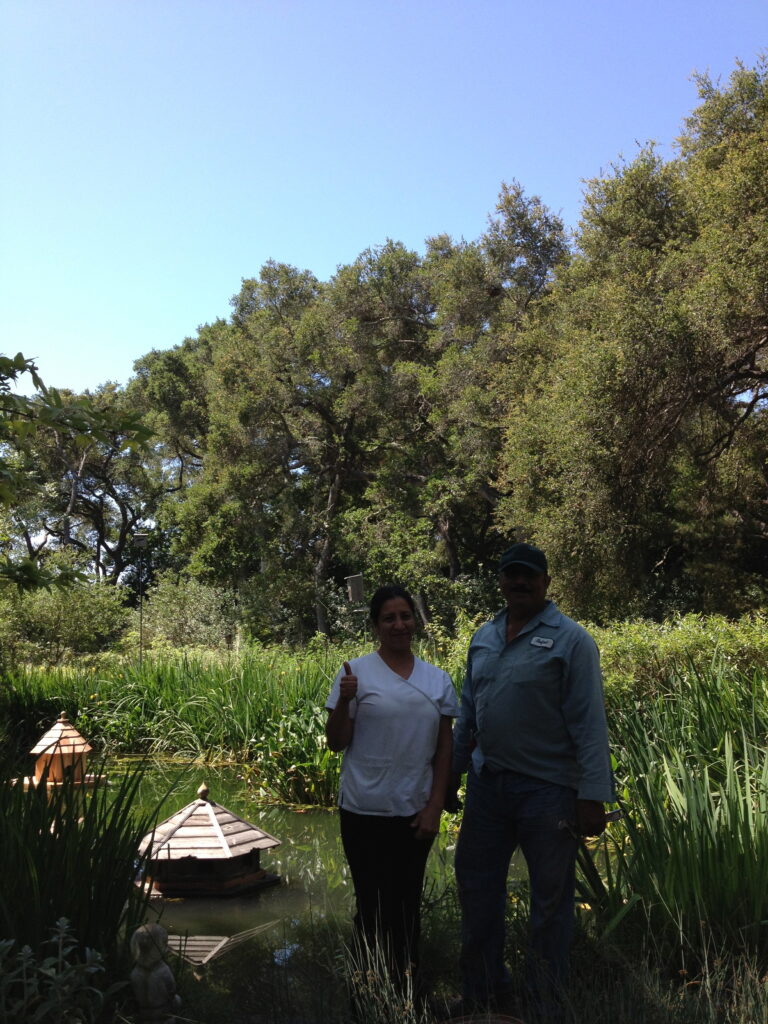 Our gardener and our housekeeper got it floating today!!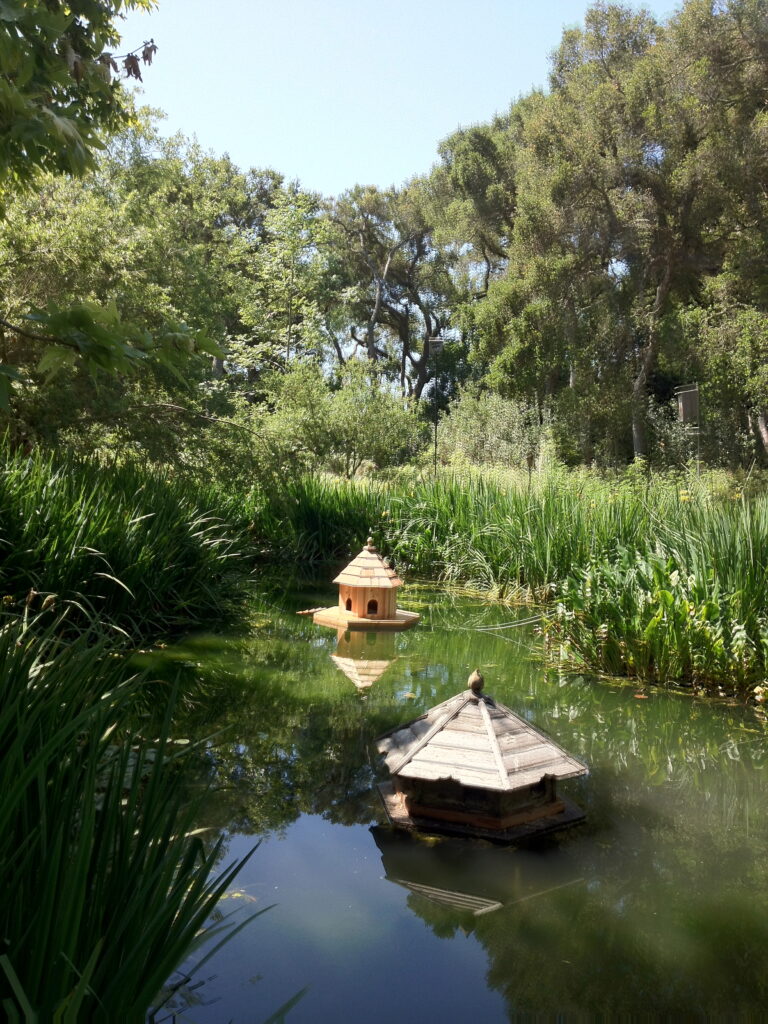 The repaired duck house already has a female sitting on eggs!  I think it won't take long for another one to find the new house!!!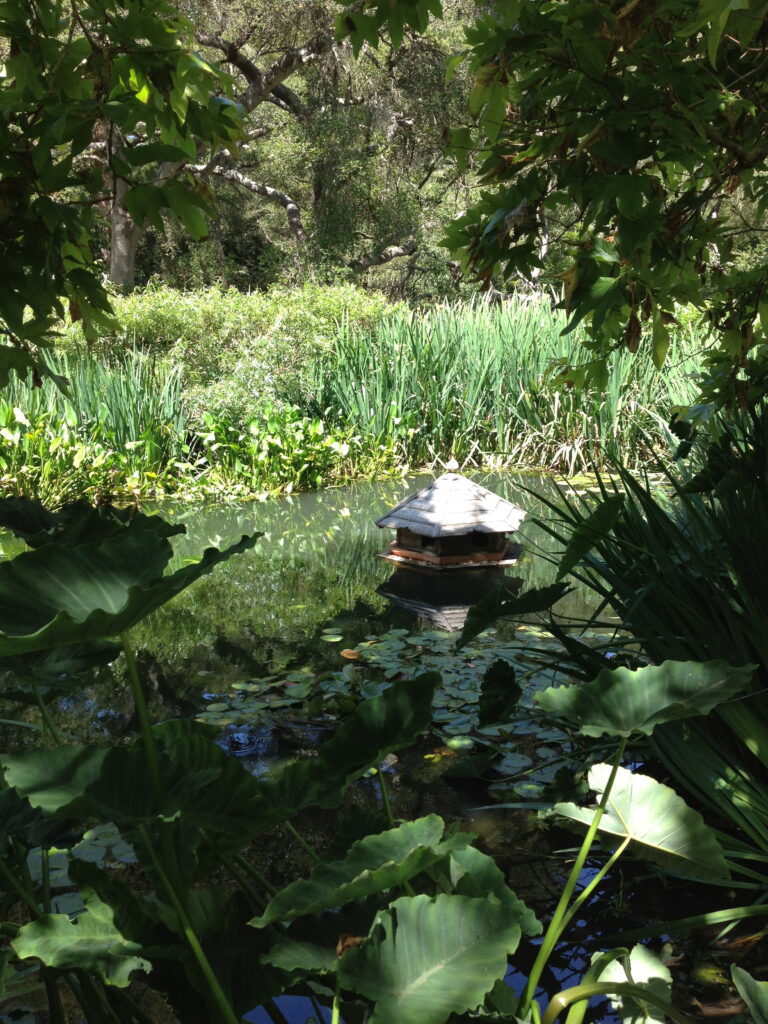 A female is sitting on eggs in this house!
And my next surprise;  is that Winston Brown's wife paints the most beautiful portraits of dogs, chickens, and houses!!!
All you have to do is send her a photograph!  She captures the personality of the animals!!
LWB Creations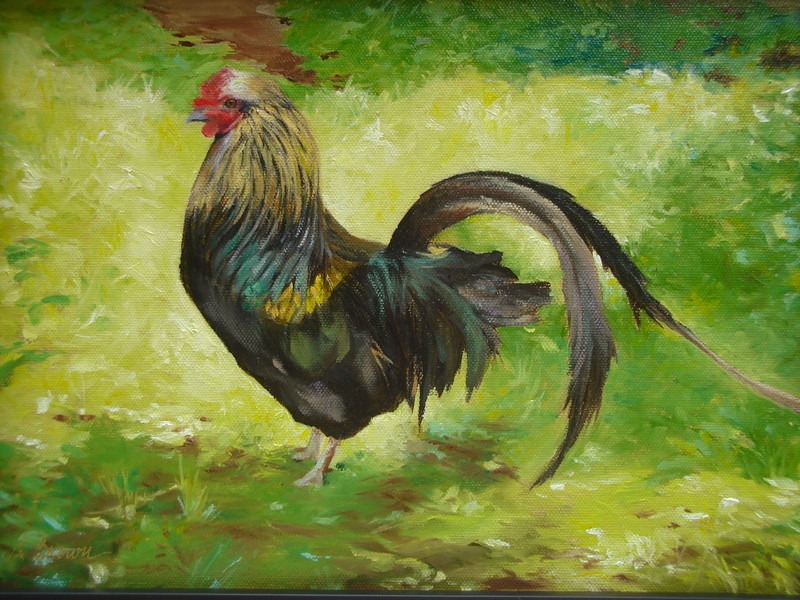 Here is a beautiful rooster!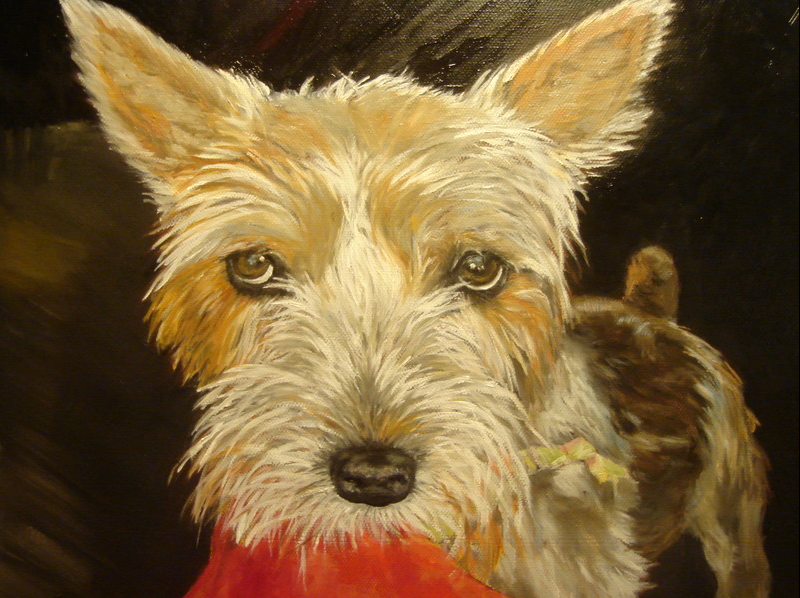 Winston makes all kinds of birdhouses, platforms, and what beautiful work!  And Linda does my favorite pet portraits ever!!
Thank you Winston and Linda!!!