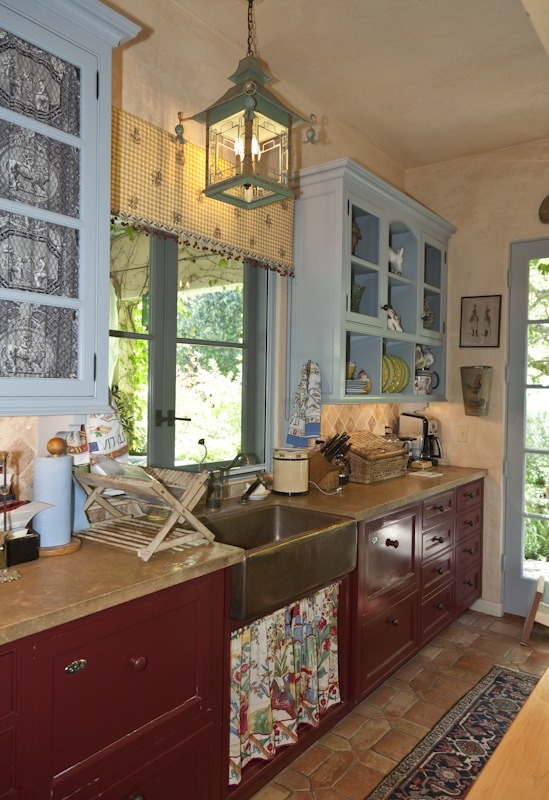 Hi there!  One of my favorite bloggers and commenters asked to see more of my kitchen!
It was from those darling people at "Wilson Kelsey Design"!
Based in the next town to our daughter who lives in Marblehead, Massachusetts!
Another lucky couple who work together in this fun and wonderful profession.
(some people look at me as though I were insane when I say that! But;  I mean it!)
 And I have so loved the comments from people who
enjoy the "stories" behind my things.  Lordy!  There is a story for just about every single thing!I will try not to bore you!
We will start here:   You come in one of two doors from our "big hall";  and here is one of the first things you see
I flew to New York to go to Sister Parish's auction!  One of the things I was dying for was this lantern that was in her entry
in her "maisonette" in Manhattan!It went "off the charts"!
Imagine my delight when John Rosselli copied it exactly;  and I could buy four for my kitchen!  Identical;  no one could tell them apart!
Now the  roller shade!
We copied most of the floor plan from our beloved house in Pasadena when we built this.  We did eliminate the dining room!(It was between our "loggia and our kitchen"!
Our first party;  we were on the "loggia";  and there was the cateress at the sink!  OOPS!!
So I had some French fabric I had laminated (print on both sides) and a shade made with some divine old trim I found at an
antique show!  (Scalamandre  still makes this trim with little wooden apples!)  This shade looks great from both sides up or down!
Next the antique toile behind the chicken wire!
I had artfully arranged glasses and things in this cupboard with only chicken wire!  My housekeeper said;
Oh!  This looks nice;  but where does the food go?  OOPS!  Food!  I forgot, this is a kitchen!
I had this antique toile I had bought at an antique show…..the images just fit the panes!  I wish I could say I planned it!  NOT!!
Lastly, the upper cupboards are the color of the trim in the whole house; the lower (including the two dishwasher drawers) are this dark red.
The painters thought I was on "hallucinogens "  You can see;  the fabric on the skirt ties it all together;  I invited them all back to see the kitchen finished!  5 different colors!
Now we look at a different area!  This is the "island"  made by a company in England called Chalon.  Everything made by hand……the loveliest details
They actually  "made"  the island, the pot rack/light over the island, and the enormous "WelshDresser"
Three different colors!  The blue that the "island" is; as you can see' a different blue from all the woodwork!I call that color "duck egg"
I selected each of those things in a different color!
The dog bowls…..even they have a story!  I hope Bunny Williams…..(who is married to John Rosselli); I hope will hear about this !
the bottom bowl I purchased from Bunny and John's delightful store;  "Treillage" A few years ago!
They brought back from Provence a few years ago!
I believe in surrounding oneself  with things of beauty!  Most people might say……."a Provencal bowl" to hold the dog food?
Well;  twice a day, I have the fun experience of feeding our two Corgi rescues!  they perform like Circus dogs!  They dance and leap!Like "Circus dogs"!!
That bowl holds their food to be served;  the green bowl on top is Luna's bowl.  Pete  (because he was found on the highway starving) has
a special bowl with a big lump in the middle.  He "speed eats" ( My grandson "clocked him once a few years ago on my iPhone!
He polished off his whole dinner in 11 seconds)The bump in the middle slows him down..now it is around 30 seconds!)
Each day, many times a day, I see this exquisite bowl  (the bottom one);  and remember Treillage, Bunny, Provence, and being in New York and finding it!
It sure becomes more than just a "storage bowl" for the dog food!   You can see the red cabinets in the background……
The fabric on the "skirt" is from Clarence House.  Thanks to my blog , I found out it is representative of a Swedish painting.  A
 A Swedish "traditional motif"  St . George  slaying the dragon  is on it!  One of my very favorite fabrics!
Since I was first published in 2001;  each phone call I have received has asked me the name of that fabric!
(really the only feedback from being featured in a magazine)!
I am delighted and grateful;  a dream come true!Blogging is just way different!I learned  what it is called from a viewer of my blog!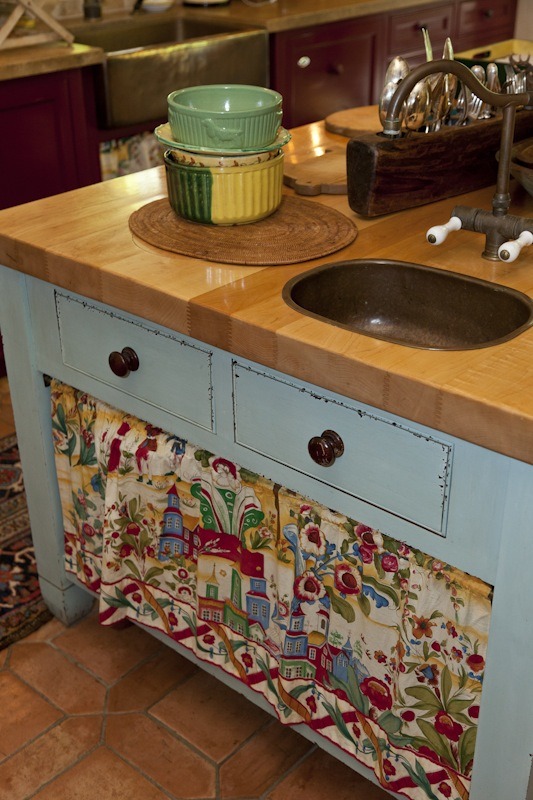 This is straight ahead……(see the red cabinets on the left)!
These are the doors that lead to the side garden.  This was my mother's "teacart"!  It was formerly outside…..it holds my silverware and some of my plates!
Kitty scratching thing to the left…..covered with "organic catnip" so they lay off the upholstery!  (not beautiful;  but benign)!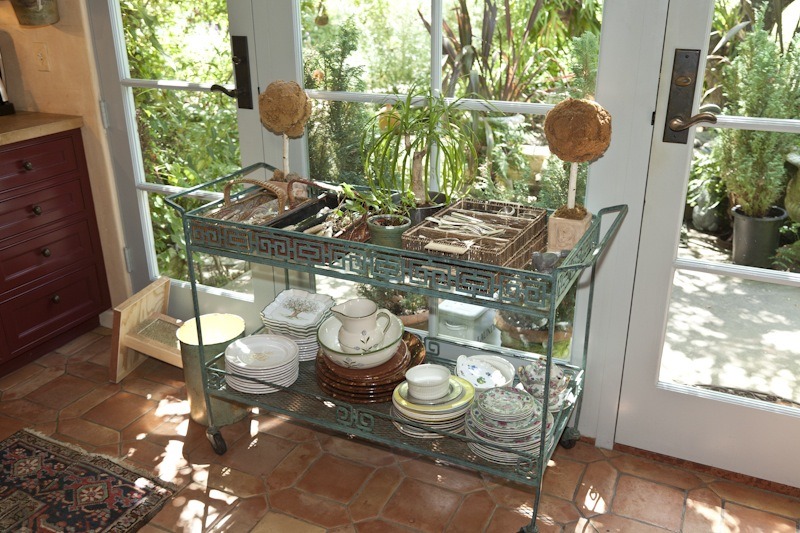 this shows the open cupboards above the sink to the right of the aged copper sink!
Some of my "Happy Bird" pottery is here……and  things collected from my life!
The hen soup tureen with the babies coming out from under her wings and everywhere!
The tile with my grandaughters footprints when she was born……that says "Poppy loves you"!
Yikes!  We see it every single morning when "HE" makes coffee!  (she is 13 and my height) now!
(this is what I mean when I say…..everything has a story!)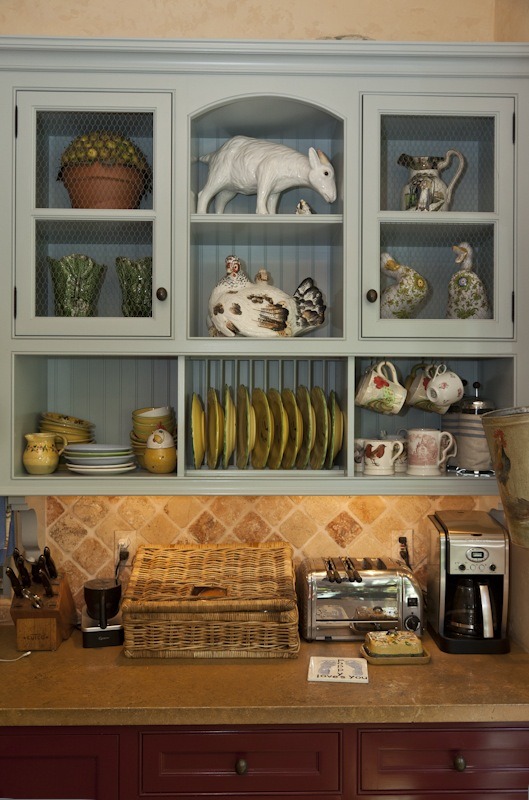 Now you see the island, the trays for breakfast and lunch on the "loggia" And an antique pig on top of the pot rack!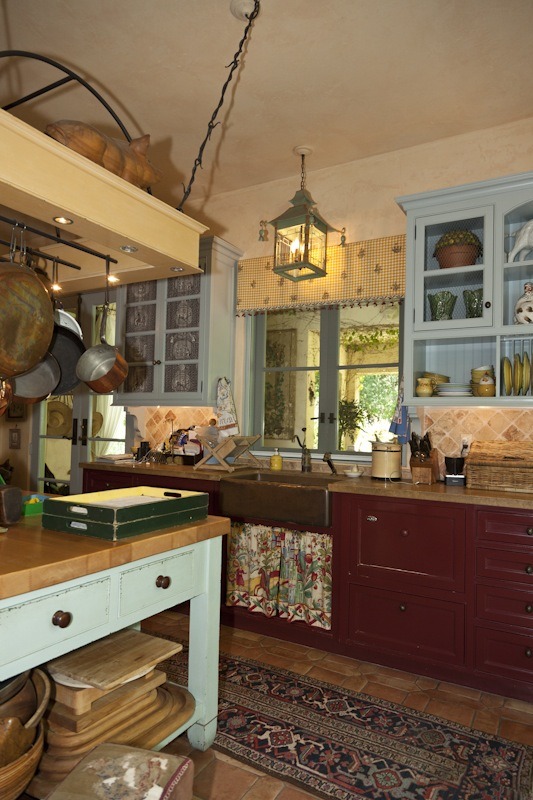 This is what my darling assistant wanted to make sure to share !!  This is my refrigerator!
My wonderful upholsterer made me these fabric boards to be "velcroed" on to my fridge and freezer…….
so I can put pictures, invitations, and inspirational quotes on there!   I see those many times a day!
No Stainless steel to show fingerprints……and a constantly changing array of family photos and wonderful memories!!
Finally!  The Welsh Dresser!  Which hold my now "famous"  (not really) collection of Mrs. Flood's "Happy Bird" collection of pottery from Italy!
The hood of the "range is to the left;  and this enormous "Welsh Dresser came (after a 9 month wait) in the same color as the island!  (duck egg)!
I was so impatient and discouraged, I told Adam (who ordered it…….he does all that important stuff!)  "It is OK!
He said…….."believe me, I have no idea why you ordered it in "red";  but YOU DO!!"I ordered it RED;  Their invoice says RED;
and he called the company and said………"You made a mistake!We need this piece in our kitchen to live here! We will use this blue one while you make another one in RED"!
9 months later I received this red one…….He was right.  I was so delighted to have it be the color that was in my vision!
I love, love , love our kitchen!
I hope you do!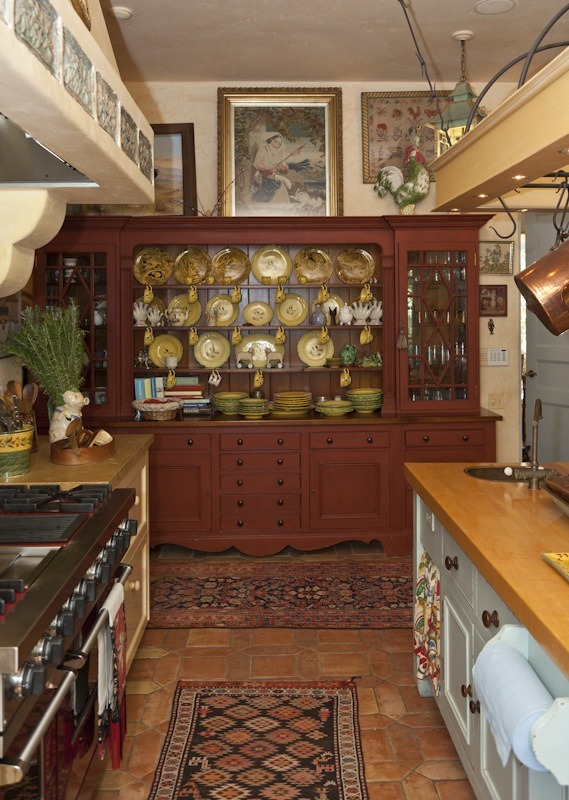 Here you can see the yellow pot rack  (also Chalon) and the yellow cabinets on the third wall…..It is hard to tell but the Viking stove is dark red!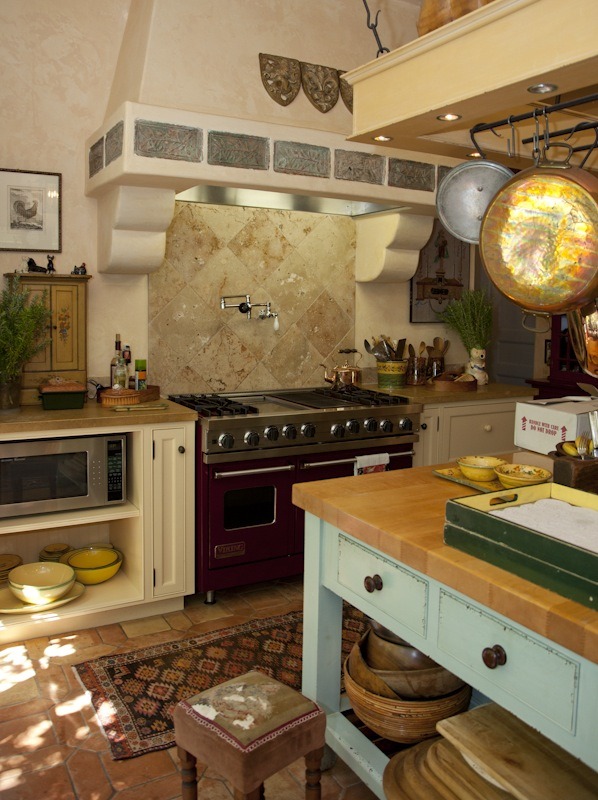 The little antique stool above is how our kitty gets to her food!Below;  next to the "range"  is one of a "pair" of panels…..Mrs Munger loved the other on the wall above the staircase to the "bunk room"!
She didn't need two!  The one fit perfectly in her house up here in Montecito;  and I found it's partner, delightful and "fey" and whimsical! Right here next to the "range"!(refrigerator drawers under..great for drinks!)Then they don't take up all the space in the refrigerator!
Rosemary from the garden in the "pig pitcher"! Smells wonderful!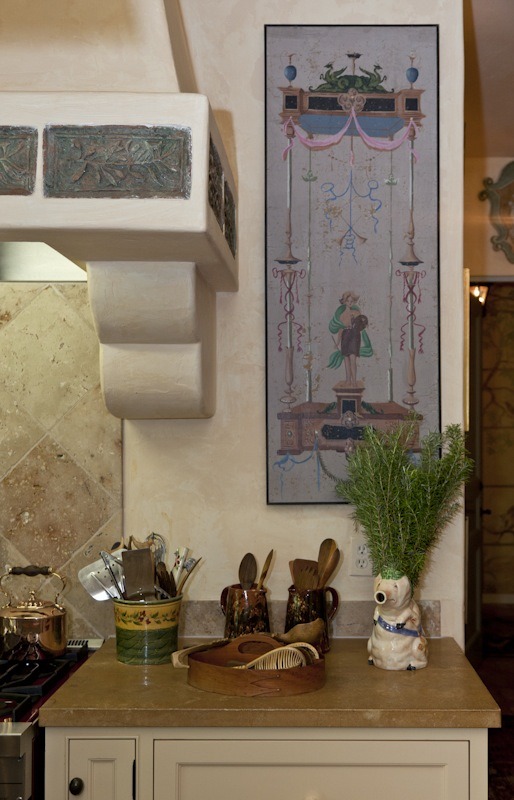 Another view of the enormous "Welsh Dresser" with the "Happy bird" collection mixed with Provencal "marbleized" plates and family heirlooms!
Wendy the kitty sleeps in the biscuit  basket;  and has since she arrived 10 years ago!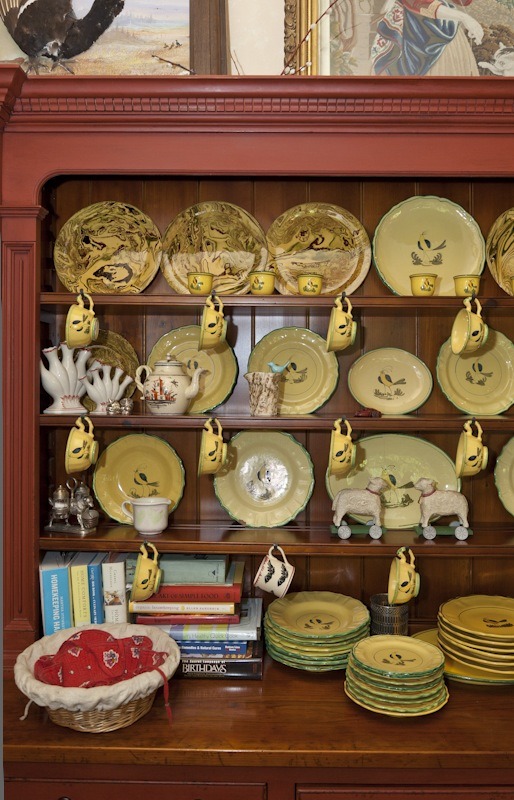 Some close-ups of my collected treasures!That little lady in the blue dress is a vase!  She is covered in little holes for stems!  She is "Quimper!"
I will have to have flowers in there when I show you again!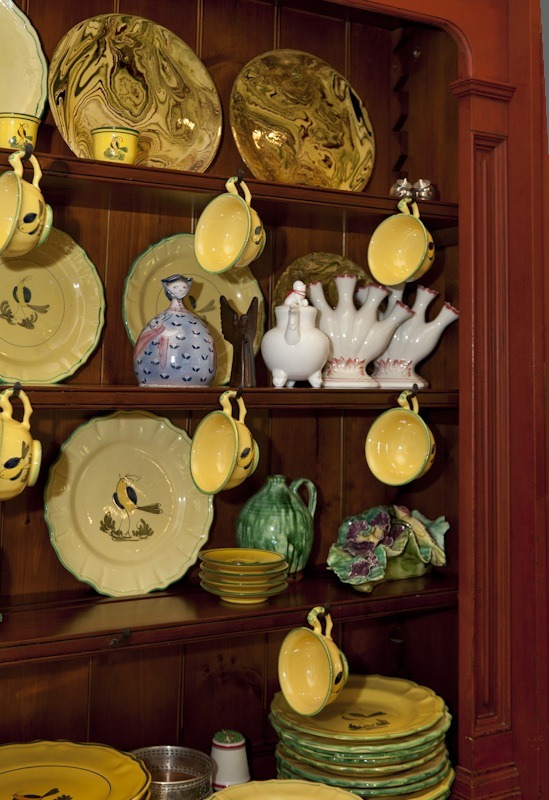 I do hate to "drop names";  but this is the sweetest story!
Ten years ago; a few years after we moved into this house we built;  Oprah Winfrey bought the property next door!(can you imagine?  No, you cannot!)A lovelier neighbor cannot be found!
One day I get this long message on my machine……(I saved it for 3 years…..something happened finally)
She told me that a tabloid had reported that she did not "like my chickens"!  And she was "losing her beauty sleep"
Very funny article.  She aplogized on the phone……and two days later these gorgeous chickens (from Italy)
arrived in the most beautifully wrapped boxes you can imagine!the card said…..
"Contrary to tabloid opinion;  I LOVE chickens!"
Here they are at the top of my Welsh dresser.  She is the most wonderful of humans……I, frankly, think she is a "walking angel"(with excellent taste!Don't they look so wonderful with one of  my lanterns like Sister Parishs'?????
There is a peek into the powder room!  Murals that show all the animals who live  here!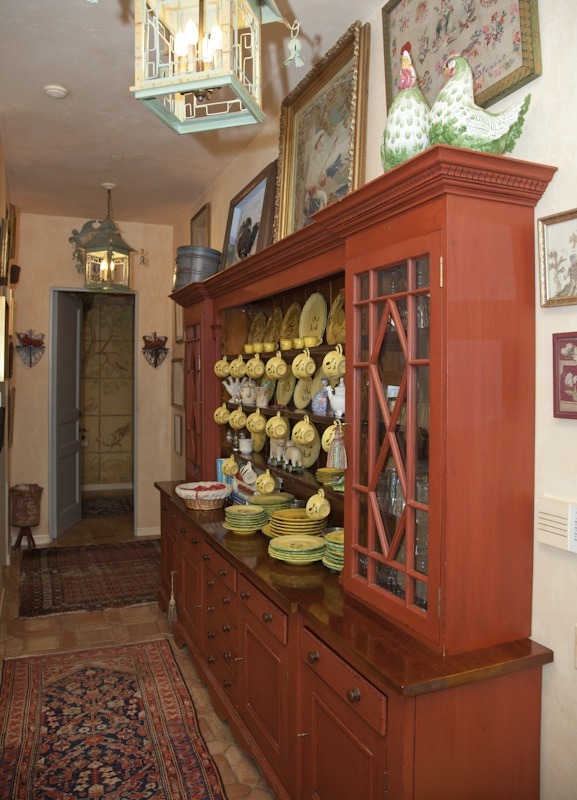 I hope you enjoyed our kitchen!
I have the wonderful photographer Mark Lohman for these great photographs!