In 1982 my husband and I went on our first trip to Provence together.  My favorite hotel I had ever seen was the
"Hotel  de La Colombe d'Or."
(I almost fainted!!!)
It is  perched at the top of the most beautiful  mountain  village of St. Paul de Vence.
Here are some pictures we took at that time.
It is such a unique and unusual place;  and it is still, 31 years later, is virtually unchanged.
Actually, it is almost unchanged from the 1920's.
It exemplifies all of the things we love about Provence.
In two words, simple elegance.
The village is of native stone, built over centuries.
(Adam in the pool on the left!)
 The simple chaises could not be improved upon(in my opinion).  The light wood and canvas covers blend beautifully with the ancient stone walls.
The umbrellas and chairs and tables of the cafe are simple and elegant.
Nothing "sticking out" and calling attention to itself!
This is now an "endangered species" !!
"Understated elegance" An endangered species!
(Horrific plastic outside "wicker" furniture;  orange umbrellas, hideous overdone wrought iron or aluminum furniture!!!)
EEEWWWWW!!
I will stop my rant……and resume pictures of what I LOVE!!
and interesting to me…….I always have!
31 years is a long time!!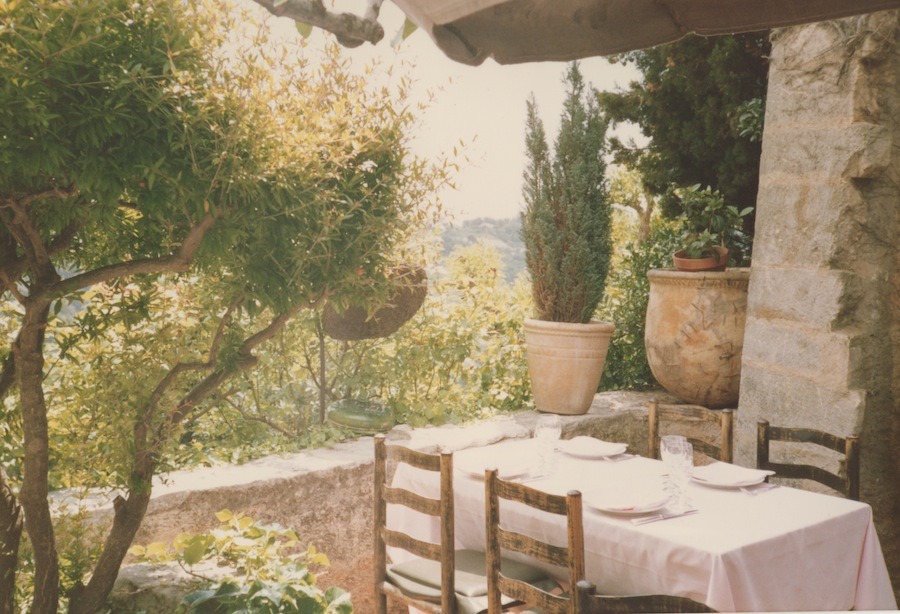 The terra cotta pots and olive jars are made from the local soil.
Natural linen cloths and napkins are undyed!  The tablecloth and napkins are natural linen.
We both felt completely relaxed and at one with the environment.
We are not unusual.  That is why, I believe major artists congregated here!  MAJOR ARTISTS!!!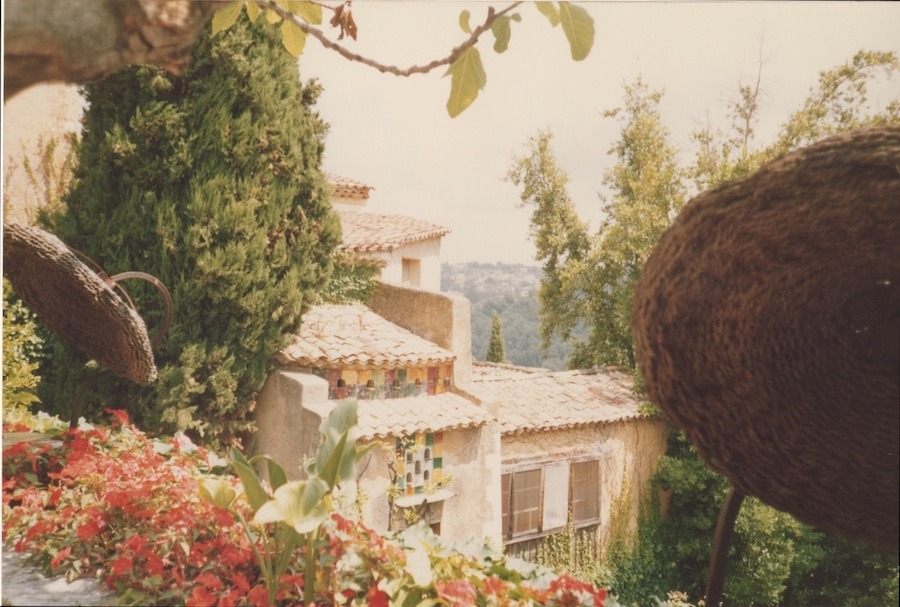 I actually saw doves flying in and out of the dovecote on the top of the next door building.
These lights are ingenious!   They were made out of olive oil strainers.   (these dark brown wicker ones!)
The oil was poured through these to "filter out" pieces of olives, to fill up the olive jars with the "filtered olive oil".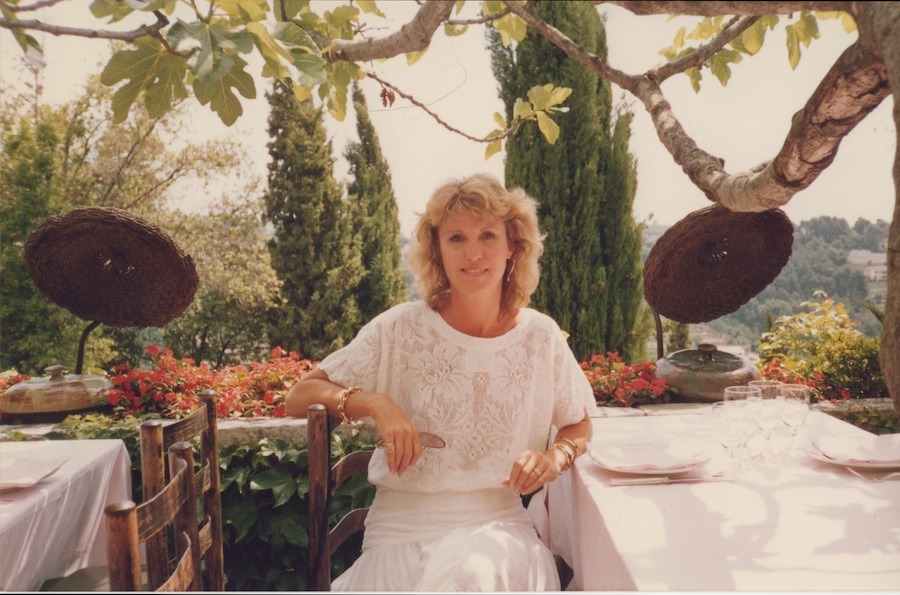 Here I am!  31 years ago!
Here he is!  31 years ago!  (the handsome devil)!!
So so happy to be discovering this place that felt so familiar…..that we wanted to
reproduce in some way!  Authentically!
(I asked all these questions about pigments……stucco,;  lime wash)…..etc. etc.!
This one did not have its bulb attached; but most did.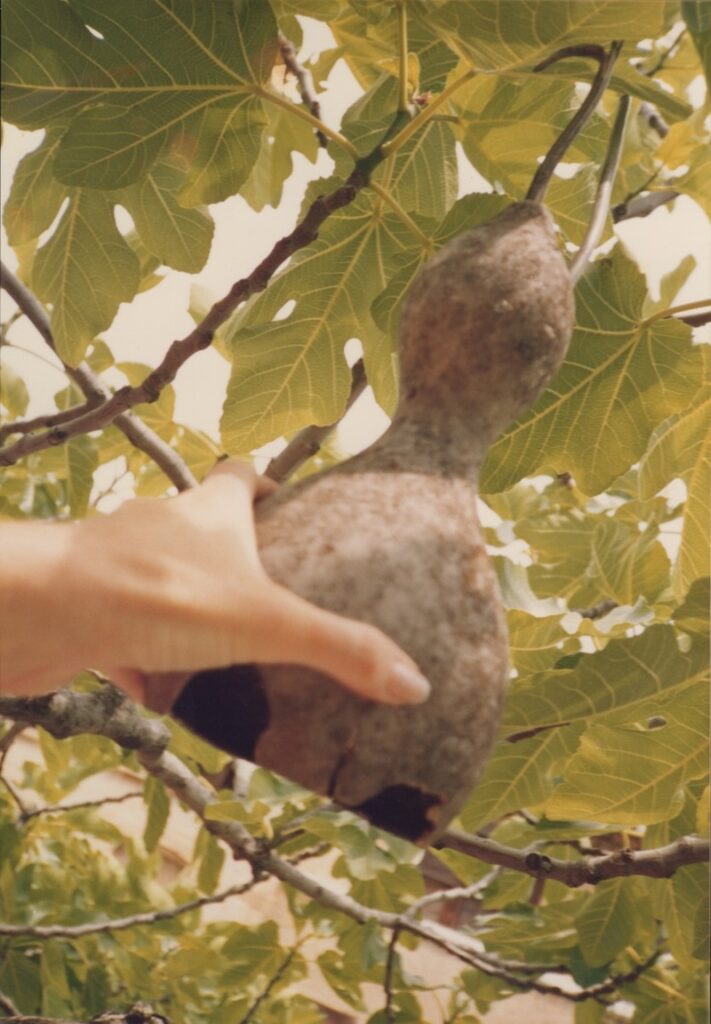 My very favorite light fixture for down lights in trees……..I saw here!  Here it is!  (by the way…..there were no "digital" cameras.)
No faxes, no email.  I just found these pictures!
Thank God for "scanning" and all the rest of it!
I really loved these gourd lights hanging from the trees. So beautiful at night! Such a "natural" look for hanging
light fixtures….they are camouflaged  into the tree!
these remain my favorite "down lights" in trees!  EVER!!
Here I am in 1982!!
Well, I never did;   but when the new owner of the San Ysidro Ranch took his architect, Marc
Appleton to the Columbe d'Or for lunch and showed him the terrace, Marc
found someone in Santa Barbara to make them!
Now I order them for my clients!
(and any of you who want them)!
 These are the most beautifully camouflaged  down-lights to hang
in trees I have ever seen!
How amazing are these??
(because of the perspective……this looks like it is HUGE!!)
YIKES!!!!
It is 12 inches high…..(at most)!  It is so lovely…..and when it is hanging in a tree…..it looks like part of the tree!
I love the close-up of the "patina"!!
they look….just like the ones I photographed 31 years ago!
 They are now hanging from the trees at my favorite restaurant……and from trees of my clients!
and at our house!
 I meant this  post to be
A lovely story of a timeless place!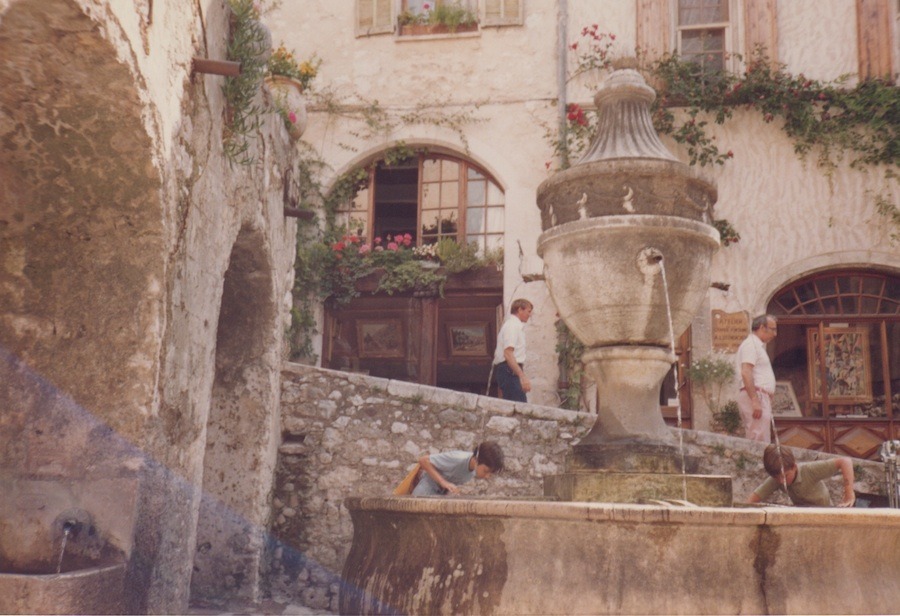 This is the trip that inspired us to build a house in the "Provencal" style;  because the stone, the climate, and the terrain
in Montecito reminds us of Provence; and our first trip there!
We came to Montecito first , together, on our honeymoon!  Yikes!  1978!
We decided we wanted to live here!  It took 20 years……but we got here 16 years ago with a "vacant lot"!!
This was our inspiration!   This town, this terrace, and this  Inn and Cafe!!!  We went back!  This was the "beginning"!
Isn't life fascinating???
Here is a good article to read about the 
history
 of La Colombe d'Or!!  It is a fascinating place!
I hope this will inspire you !
Penelope