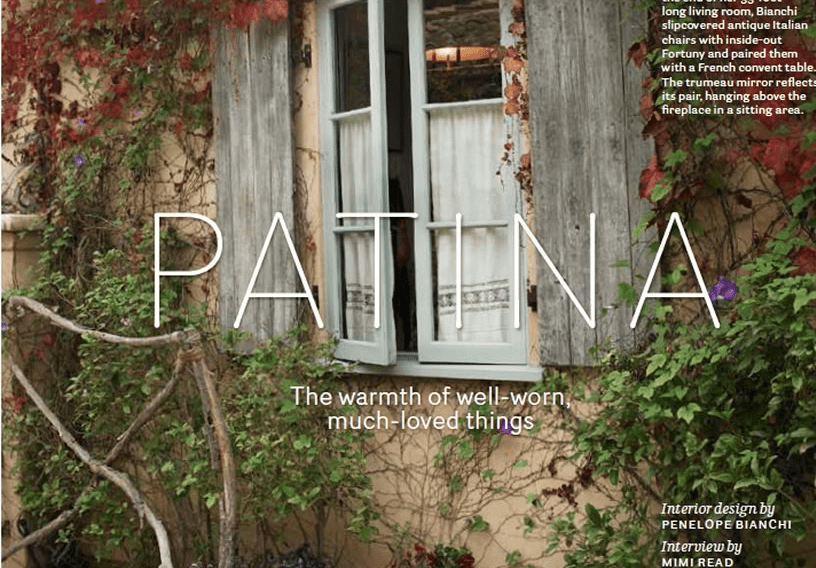 First of all, I have to say how completely thrilled I am to be participating for the first time in Splenderosa's BY INVITATION ONLY!
AND
Also incredibly lucky to have been able to pick the topic!!!
As some of you may know, I was  published in House Beautiful (one of my very favorite magazines!) in September, 2011!
It was about our house! (Which we built from a vacant lot ten years before the photographs).
The photographs were taken a couple of years earlier;  and the shoot was presided over by the
darling and wonderful Newell Turner!
I had not seen any of the photographs, and I was interviewed over the phone by one of my favorite writers, Mimi Read
of New Orleans  (the Queen City of "Patina").
I had no clue what the article would say! (nor the title)
"Patina"
  I was thrilled with all of it!
Because of that article;  I became close friends with Brooke of "Velvet and Linen",
(author with her darling husband of the book "Patina Style");   started a blog, and have made wonderful friends in blogdom!
Marsha of the divine "Splenderosa" is one of them!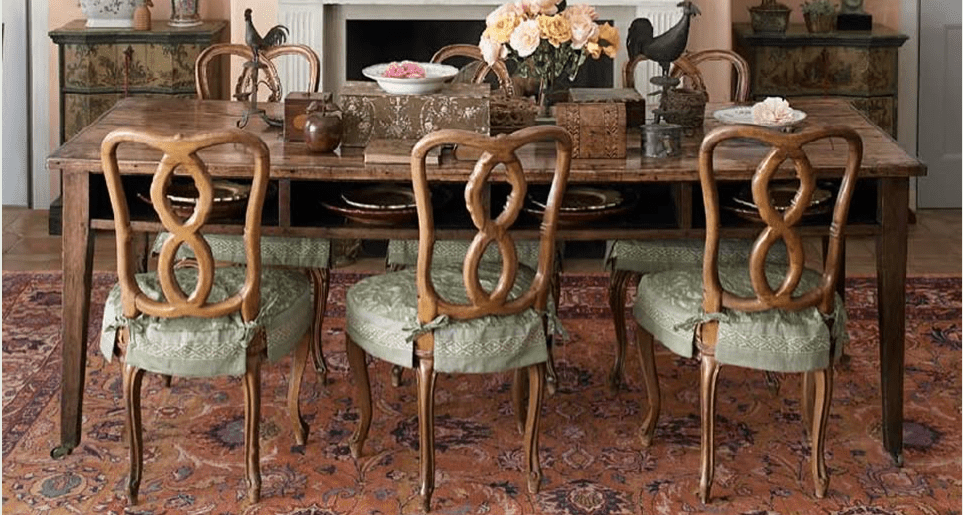 The picture above is an excellent example of what "Patina"  is to me; and why I love it!
The dictionary defines it as:
a : a usually green film formed naturally on copper and bronze by long exposure or artificially (as by acids) and often valued aesthetically for its color.
 b : a surface appearance of something grown beautiful especially with age or use
I like copper and bronze with patina;  but it is the second definition that is what I mean when I talk of "patina"!
The above chairs were my mother's purchased in Italy 70 years ago.
Their fruitwood frames are faded and nicely worn.  The "Fortuny" fabric is inside-out, and the table
is over 300 years old.  It was in a French convent.  The nuns would work at it all day (probably weaving  and
writing.  They would then take their dishes out of the space under, have their meal, and return their
plates after the meal.   You can see that it sways a bit in the middle; and the top is anything but perfect.
The boxes are antiques;  one of them is covered with an ancient  French fabric.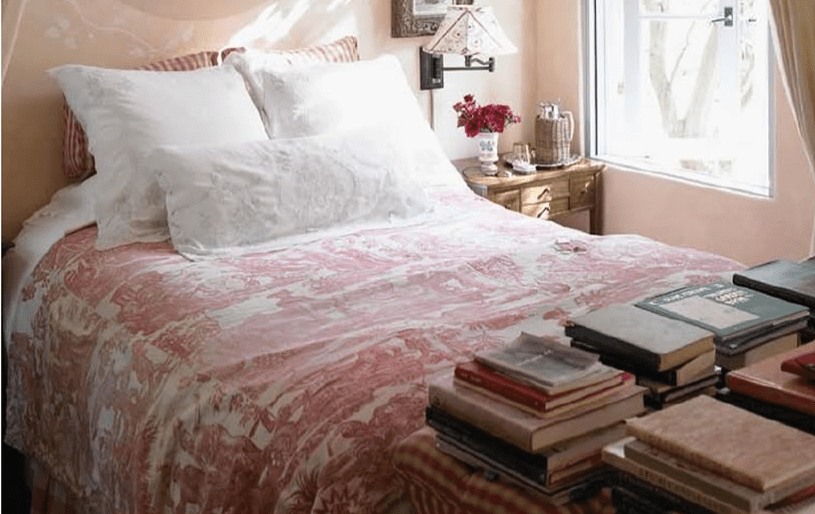 This is a personal taste, I am sure everyone understands!  This coverlet is all hand sewn copperplate toile
from 1782 England.  My friend Eric Haskell (head of the Humanities Dept. of Scripps College has authenticated it).  It is faded and worn in places,
(I think the man I bought it from thought I was crazy to buy it for $140.00)  Eric has a fit that I use it;  he says it belongs in a museum!
It represents the American Revolution!  And it is the original from 1785.
It is in "Winterthur".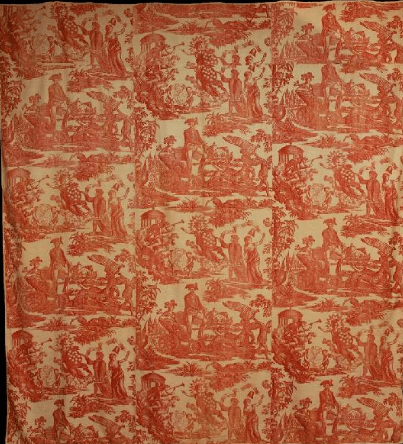 (I just found it by "google images" !  It is in many museums!)
Lordy!  This sold at auction for $3,500.00!!!
The pillowcases are old  French embroidered in a way that cannot be duplicated today.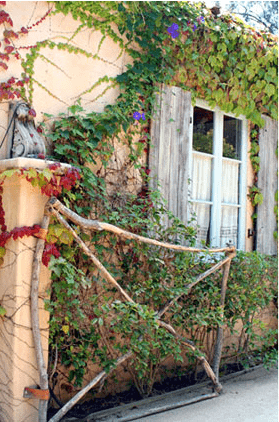 This gate was made by my pond man;  I showed him a picture; and he made it!  It is mesquite with leather holding it to the wall.
I said, "How on earth did you know how to make that? "  He said, "we vacation in third-world countries.  They use what they have!"
(the mail truck hit one of them once;  the man with the clipboard came to make a report;  he was just scratching his head …I went out
and explained to him it  wouldn't be expensive to replace.  I think he is still trying to figure out why
anyone would want a gate like that!!)
 Sharon Santoni showed some lovely French shutters in her blog My French Country Home (below)
I looked everywhere for old shutters like  she showed.
Our carpenter made some and they look close!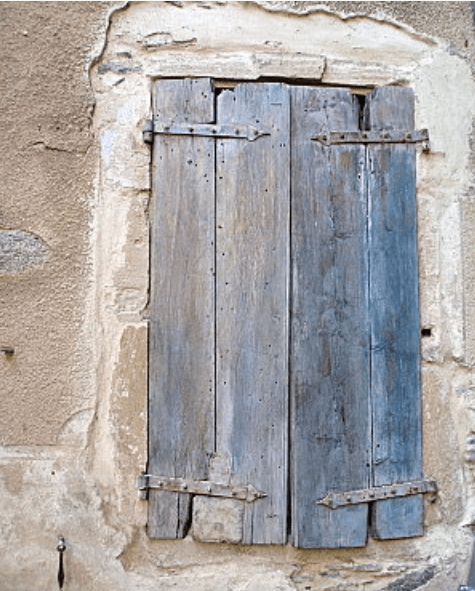 The patina on this old panelling is very difficult to reproduce.  If it isn't done really, really well;  it doesn't work at all!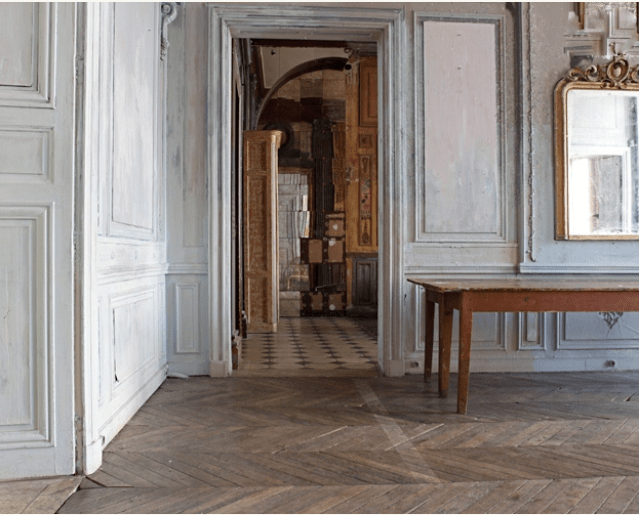 (also from Sharon's blog)
I try to promote the grown of this kind of stuff on our walls……no "power washing "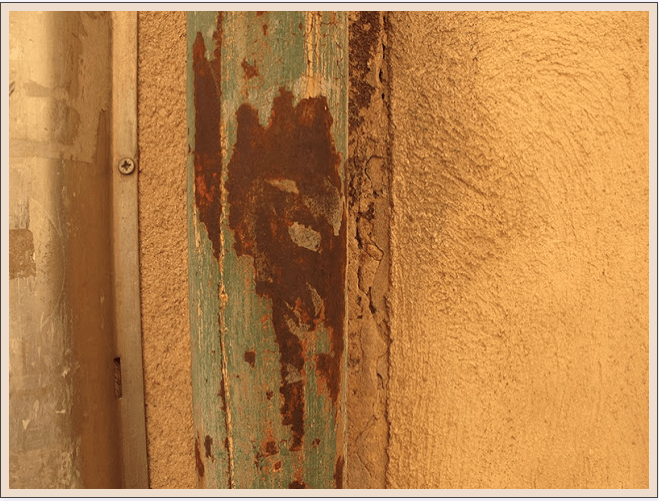 I actually cried when the floor people took this off our front steps!  (it's back!)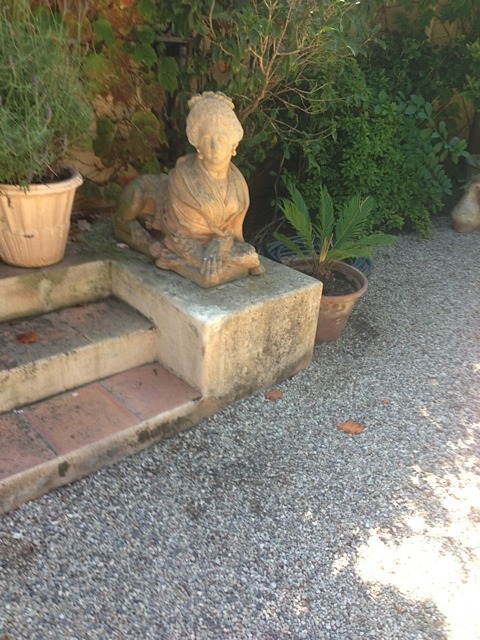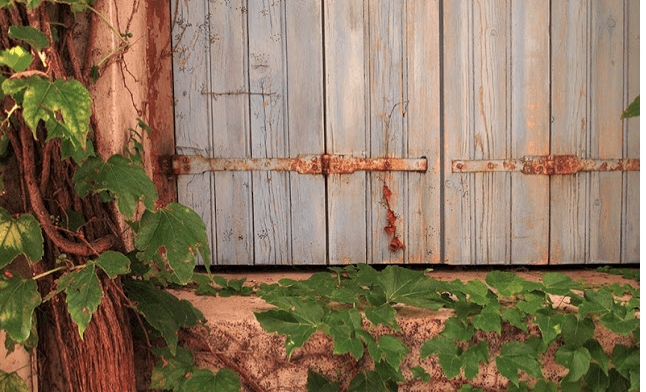 The real thing in France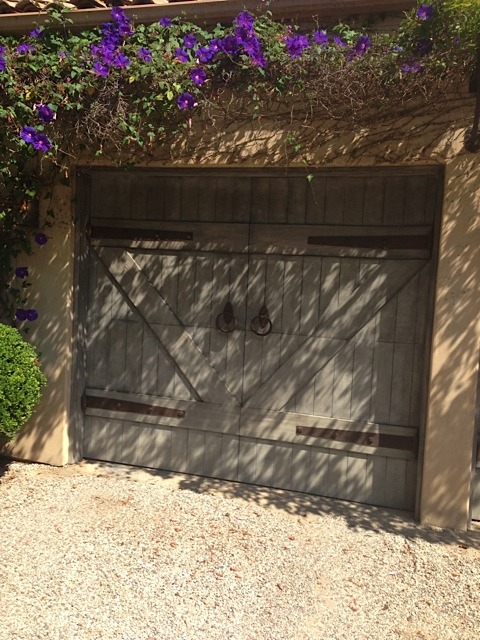 (I know what a bad picture it is….)
My  painter did a great job!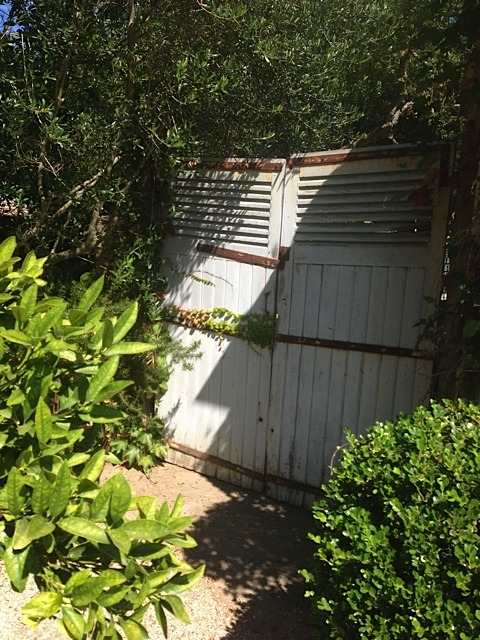 I did find an old gate from France.  My husband said,  "Do I dare ask?  Do we paint it????"
"EEEEK!!!!!  NO!!!!!!!!  That's Patina!!!"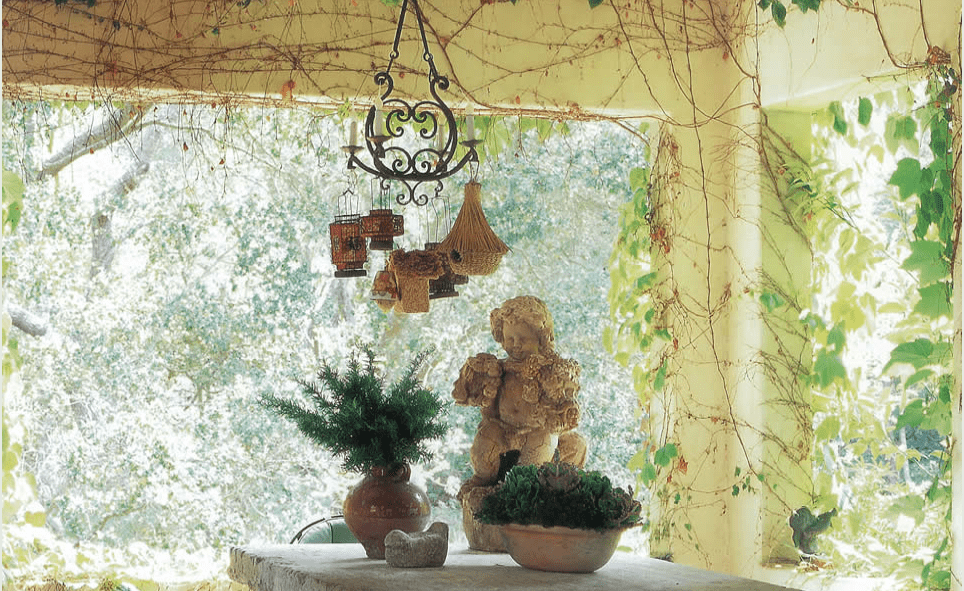 The lime wash on the walls of the loggia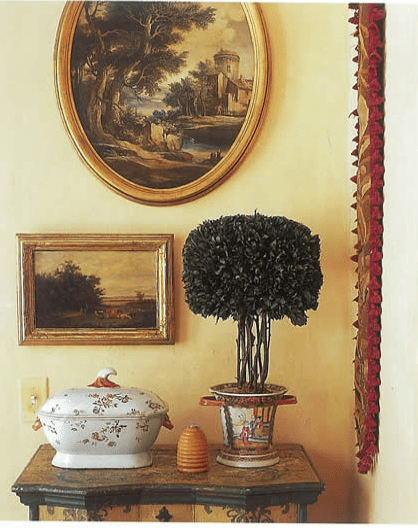 My mother's old "lacca provera" chest from Venice. Old oil paintings, antique Chinese export
porcelain (the color worn off the top handle)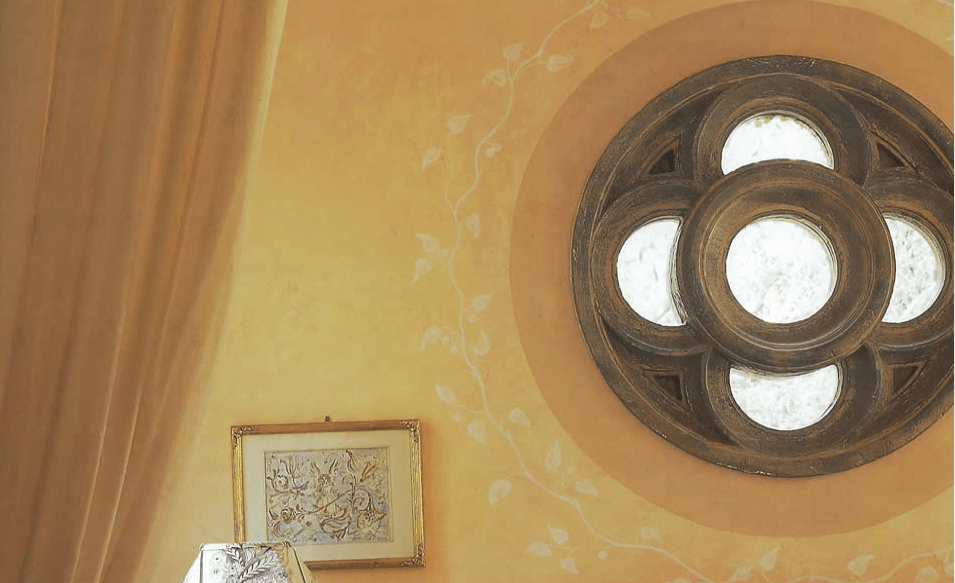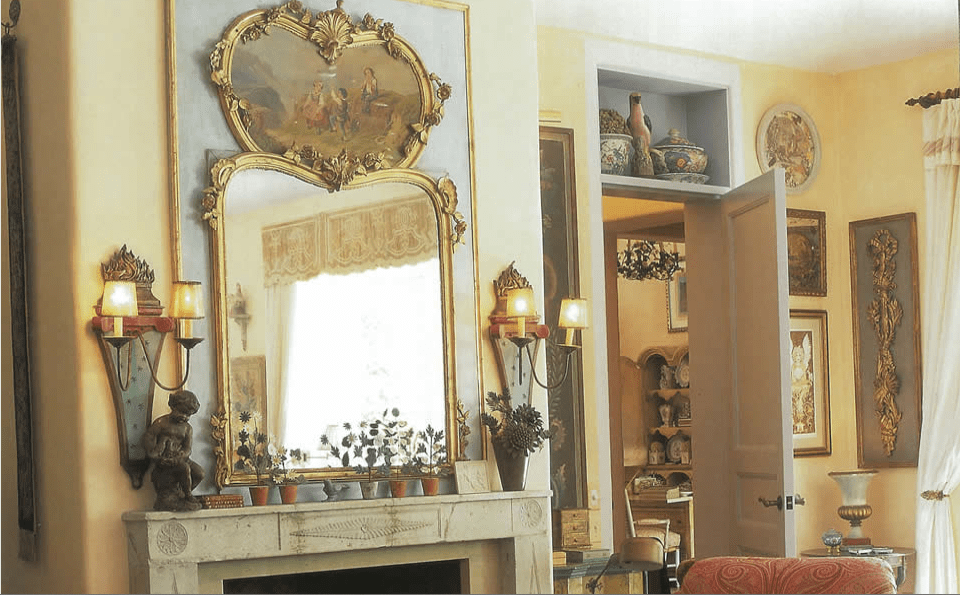 The imperfections in the antique mantle are so appealing to me.  And that it is hand-carved.  Where has it been???
None of our walls are painted.  Lime mixed with natural mined pigments we brought from France.
It is a natural insect deterrent, and leaves a lovely, uneven chalky  surface that you see in Europe.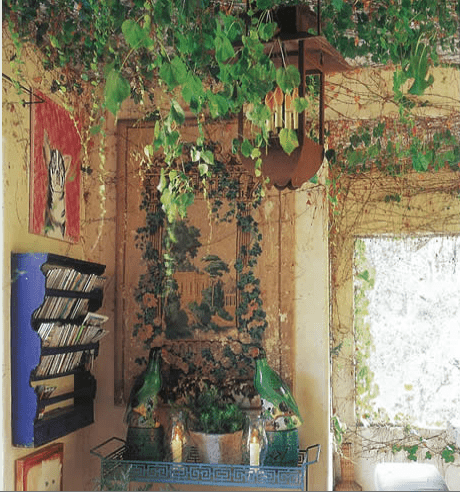 Our loggia again.  Can you see the vine growing over hand painted fabric panel?
Now!  A different sort of "patina"!!
"Wendy's chair"!!!
That is Wendy on her chair!  Quite proud of what she has wrought!
"Isn't this how you make chenille??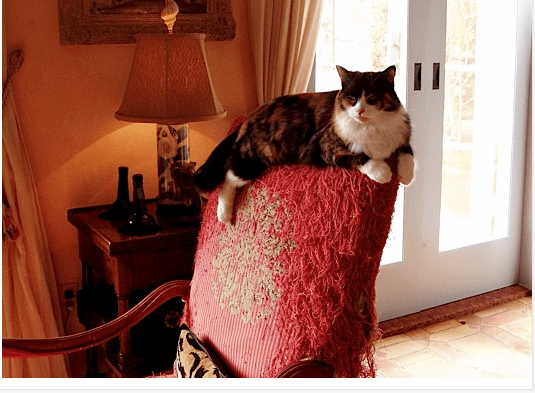 I took these pictures in to Cowtan and Tout and said,  "this fabric just isn't holding up very well!"
They all laughed their heads off!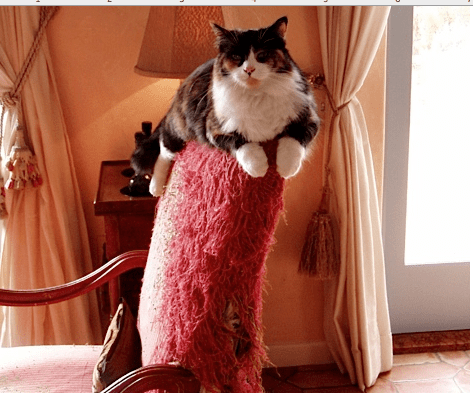 Really the best way to learn about Patina is to read Brooke and Steve Giannetti's book:  "Patina Style"!
When Brooke and I  first met, I said,  "I think we knew each other in another life!"  She
said,  "Just one?"
THAT WAS ONE OF THE GREATEST COMPLIMENTS OF MY ENTIRE LIFE!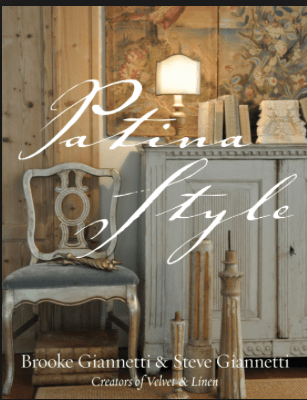 If you find this interesting;  please read this book!! It is my favorite!!!