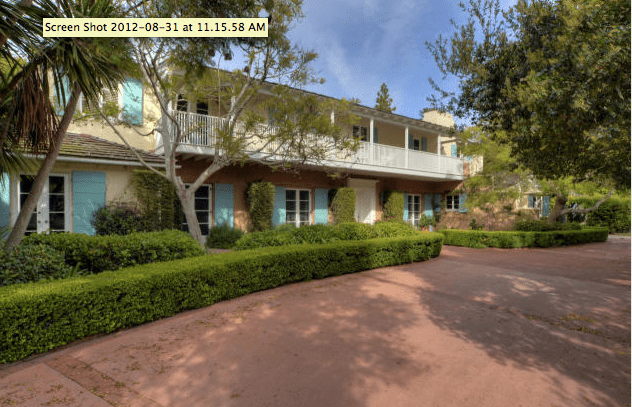 Hi there again!
I am going to post the "present pictures" of our Monterey Colonial;  however, it has been so long since I have posted; and I have many new subscribers; so I decided to republish the
 last  post"during"  a day or two before the "present" so no one has to search for it!!
Here was the post last May!
The very  top picture is the exterior "before"
The above is "present" exterior!
I am so sorry!
I am back!

I am so sorry this has taken so long!  I am so enthusiastic and excited about it!
My assistant (who helped me endlessly with my blog) left to travel;  and I thought I knew more than I did how to do it!
(the blog, I mean!)
This is such an exciting thing for me;  and I want to share all the things I have learned!
Here goes the first one!  The "exterior" during!  And that doesn't even include the garden!
This is a Joseph Plunkett designed house built in 1935 in Montecito, California.
He was a very respected and accomplished architect here.  He contributed to the magnificent City Hall here;
 he designed our beautiful original airport,  the "Arlington Theatre"   (drop-dead amazing and beautiful);
the original "Paseo";  contributed to the "City Hall"  (famous throughout the world!!!)
 and many other buildings and houses is Montecito, Santa Barbara, Ojai and Santa Ynez!
He died at 46;  which is even more astonishing that he designed so many buildings that are so well known for their artistry!
I thought I would do one post on the "during"!
There will have to be more than one! I am starting on the "exterior"!  And this is the first of the "during"!
The post on the "before" was my last post!
Here is the "Monterey Colonial" house I found for our daughter's family here in Montecito!
Their goal was to "move back!"I started looking two years ago!
I knew when I walked in the door………this house took my breath away!
I knew it would take a lot of work to restore it;  but I didn't really know   HOW much!
Sad to say;  this house had been neglected in ways many  older houses are!  It is called "deferred maintenance"!
It is extremely common in old houses!
This house  was first  in 1935.  By one of the prominent architects who worked in Santa Barbara during the twenties and thirties.  He
designed a few wonderful houses;  and unfortunately died very young at 46. His name was Joseph Plunkett.
This house is a complete treasure!  I hope I will show you why!!   I am going to start with the exterior!
(To begin with;  this house looks in pictures as though it was yellow.  No.  Pink.)
Many people do not know the importance of painting "correctly";
in dealing with an old house (it is always more expensive than just slapping on some paint)!
Great advice on my friend Leta Austin Foster's blog……."Decorating with Sheets"  "when to call in the specialists!"  She is one of the best
decorators on this earth (in my opinion);  and her explanation of the importance of "specialists" cannot be better explained!
My darling friends Brooke and Steve Giannetti  I asked to come see the house!  They did and they loved it!
Steve solved the "roof problem"!
(one of the items of "deferred maintenance"!)
No where in Santa Barbara County can you on a put a new wood roof!
 So he showed me the absolute best "fake shake" roof!  (my skin crawled at the notion of 'fake shake';  until I saw Steve's solution!)  Thank you Steve and Brooke!)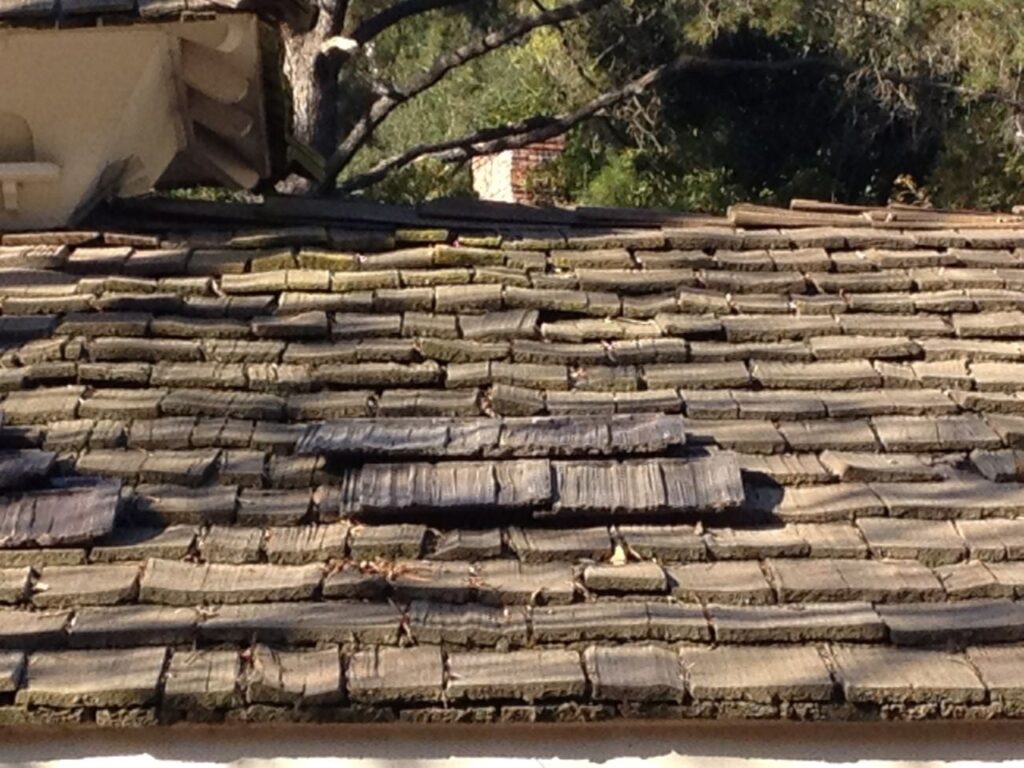 There is simply not one single "composition roof" that looks like real "shake"!  Except this one!
The roof was on its last legs.  You could see sky when you stood in the attic.
 And the roof is huge!  It goes across the entire  house;  over the "porte-cochere" and the two and a half car garage!
The wood shake that looks appropriate on this style of house is now illegal to use in much of California;  due to the risk of fire;
so Steve Giannetti sent me this picture  with this color and this maker of  "fake shake" roof which as you can see is
"as good as it gets"!  It is "Cedarlite" and the color is:"Silverwood"!  Thank you Steve!  It looks gorgeous!  (Just so you know;  he also explained to our "head guy"
how to treat the side views so they didn't look like 'fake slate'!
This makes a "huge difference by the way!)
Here are the "planters" inset in the brick front terrace!
This was where the "leggy hags" lived!  My total favorite Tara Dillard expression!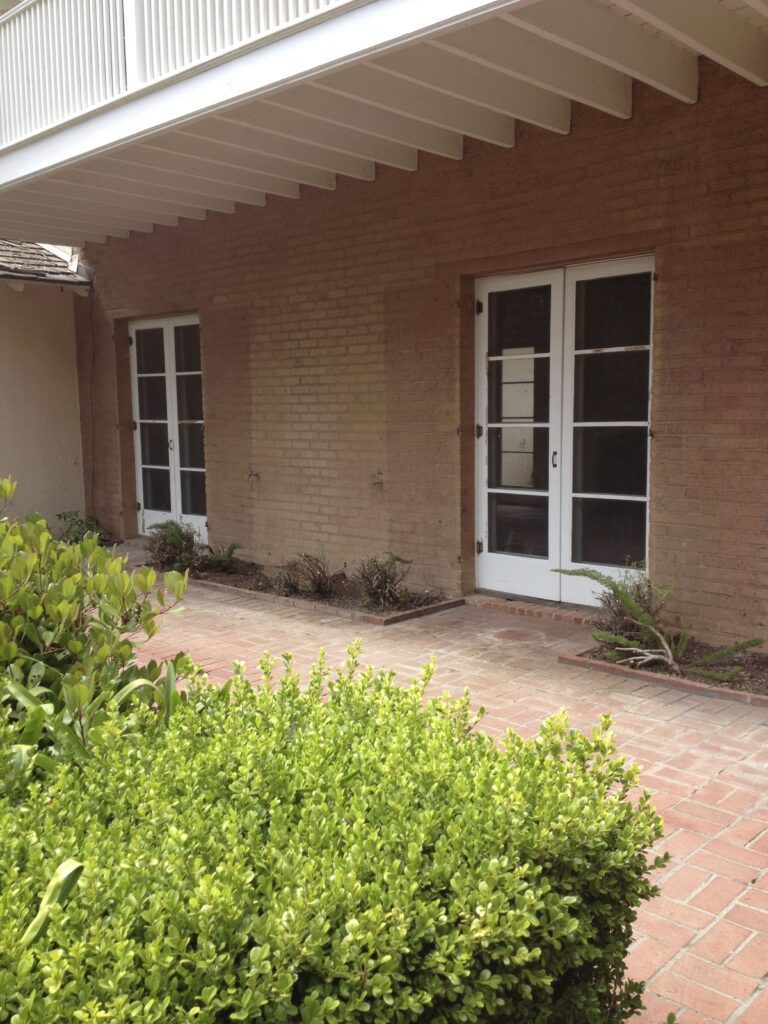 So inside those brick "planters"  will be boxwood and an Anduze pot with a  topiary "cone"
Instead of "leggy hags"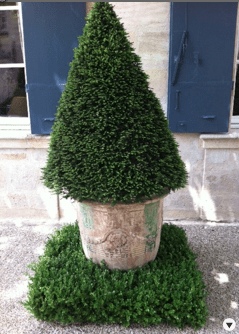 This is planter bed our daughter found at a chateau in France!
The exterior of the house had not been painted in over 35 years;  and it was pink, with turquoise shutters!
The amount of preparation to sand and prepare the exterior woodwork and brick and stucco was mind-boggling!
It took 4 painters over 4 months for the inside and outside.  (Fine painters)  Nothing is more important in
the restoration of a fine old house than fine painters.
I often say to clients:  "nothing is more expensive than 'cheap painters'!
Without the proper preparation;  harm will be done that is almost unfixable.  Hire "cheap painters" at your own risk!
It was completely worth it; because it will now hold up for many years to come.
 We spent a long time on the phone!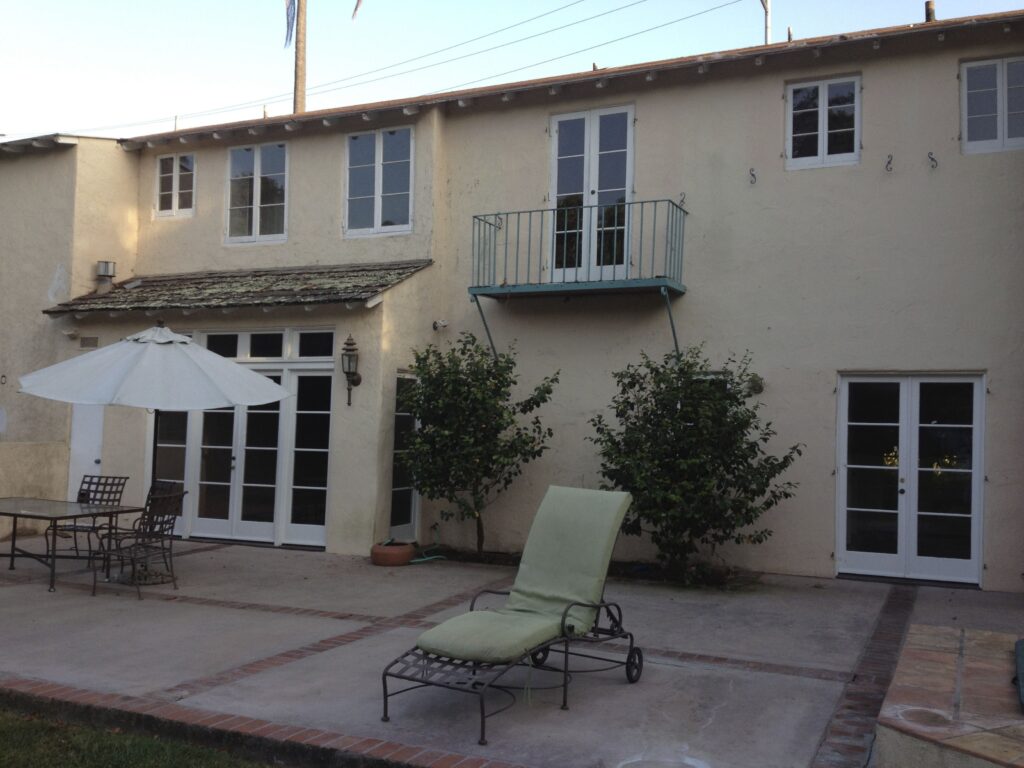 The roof off; and the shutters off preparing to paint!  This looks like it is yellow;  but it was pink!  Honestly, pink!
The  new colors for the exterior are :  the brick and stucco are a "creamy" off white  "New White" by Farrow and Ball"
and the whiter trim is "Pointing" by Farrow and Ball;
and the shutters and front door are "Black Blue " in "full gloss" Also Farrow and Ball!
Now we start the new colors outside!
Here is the "before " front door!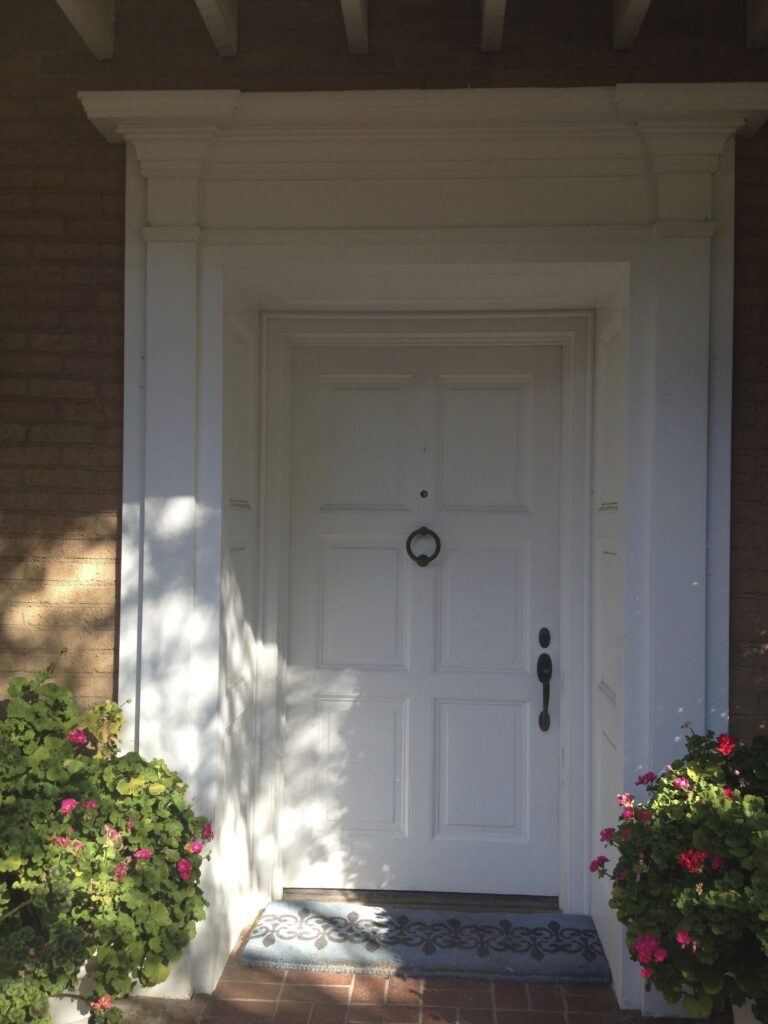 Please excuse the photographer (me)  the new front door!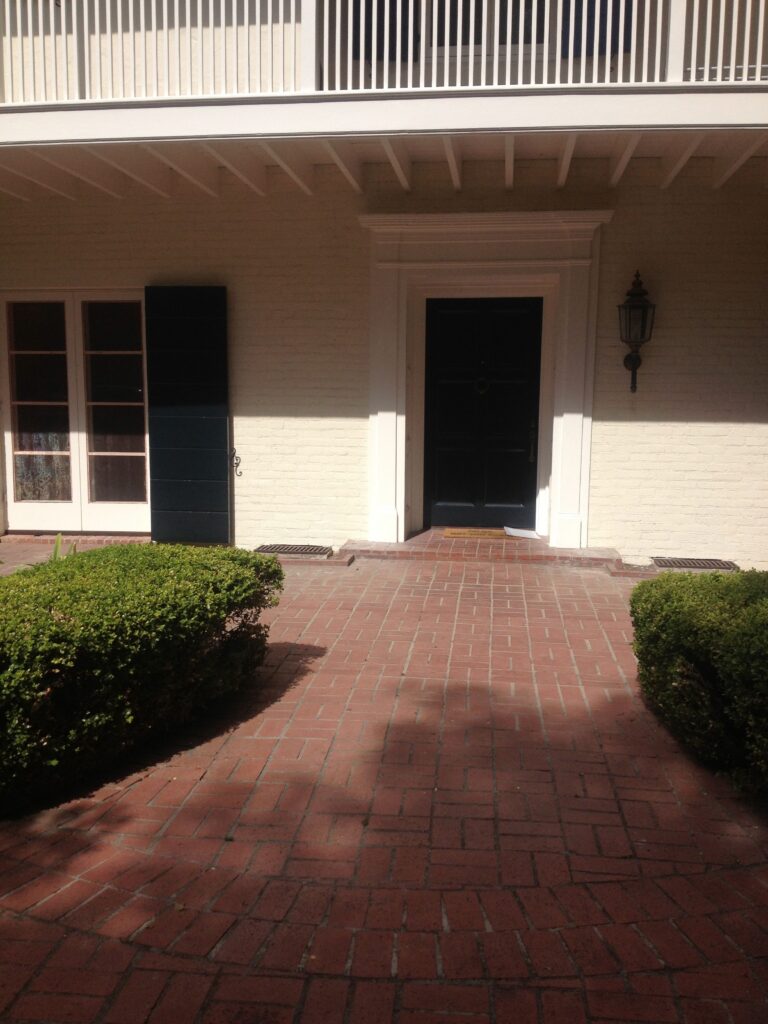 Well;  it was a neglected "beautiful woman";  in m opinion!  It had simply not been "kept up"!  And houses (and people)  do deteriorate when they are not "kept up"!
I saw this house as a magnificent beauty in dire need of restoration and "heavy cosmetics"!
The bones..as so many of you commented were perfect!
This is the exterior!  For my next post…….I will do the "during" of the interior!
Yikes!  It is such an exciting thing to bring a beauty back with restoration!  This house reminds me of the model "Carmen"!
She is gorgeous at 81!  This house is 78!  It needed help……but the "bones" were perfect;  and no "remuddeling" had taken place!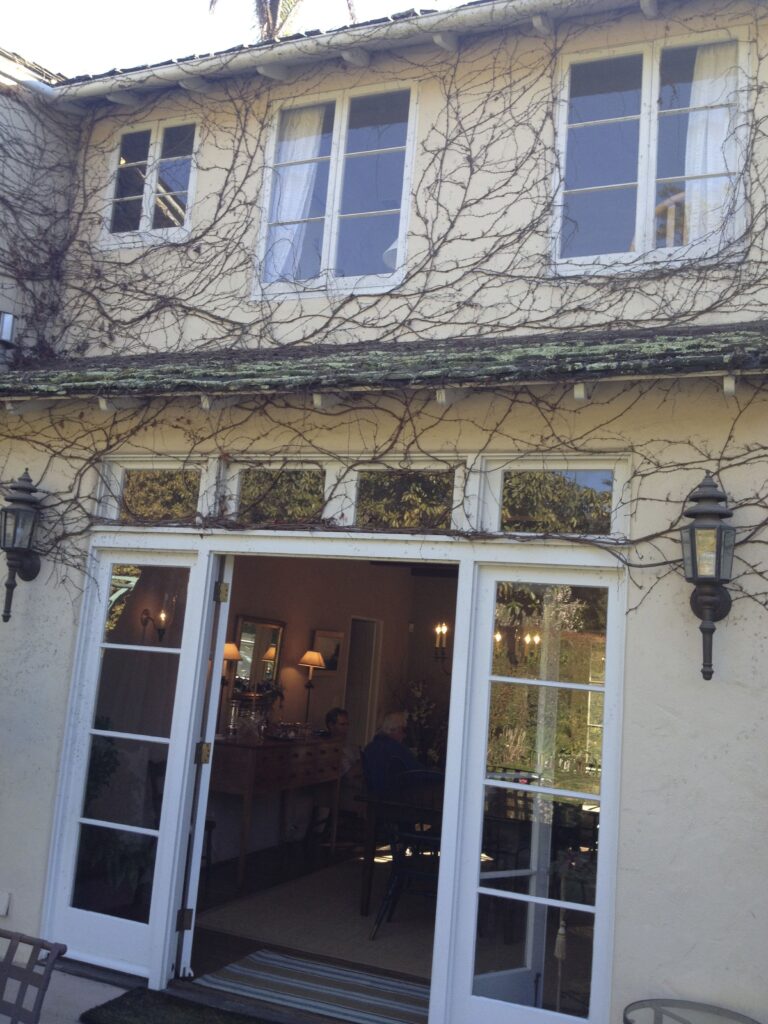 the entrance to the dining room from the back terrace……..(don't forget;  one room deep!"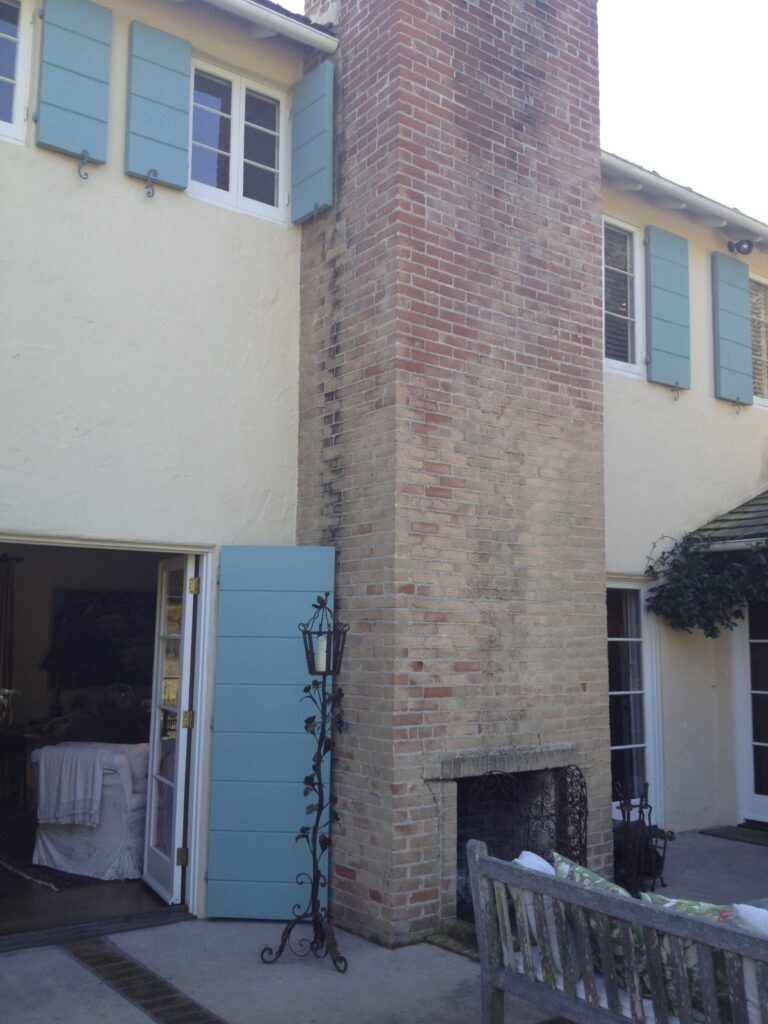 Who thought of an outside fireplace in 1935?
Joseph Plunkett!
    One chimney serves 3 fireplaces in this house!
Living room, this outside, and upstairs  in the master bedroom.  All use one chimney!
Masterful!
Now we see the new color scheme!
I think it makes a "magical" difference!
Just my opinion!
The chimney looks so pretty as "a part of the house"!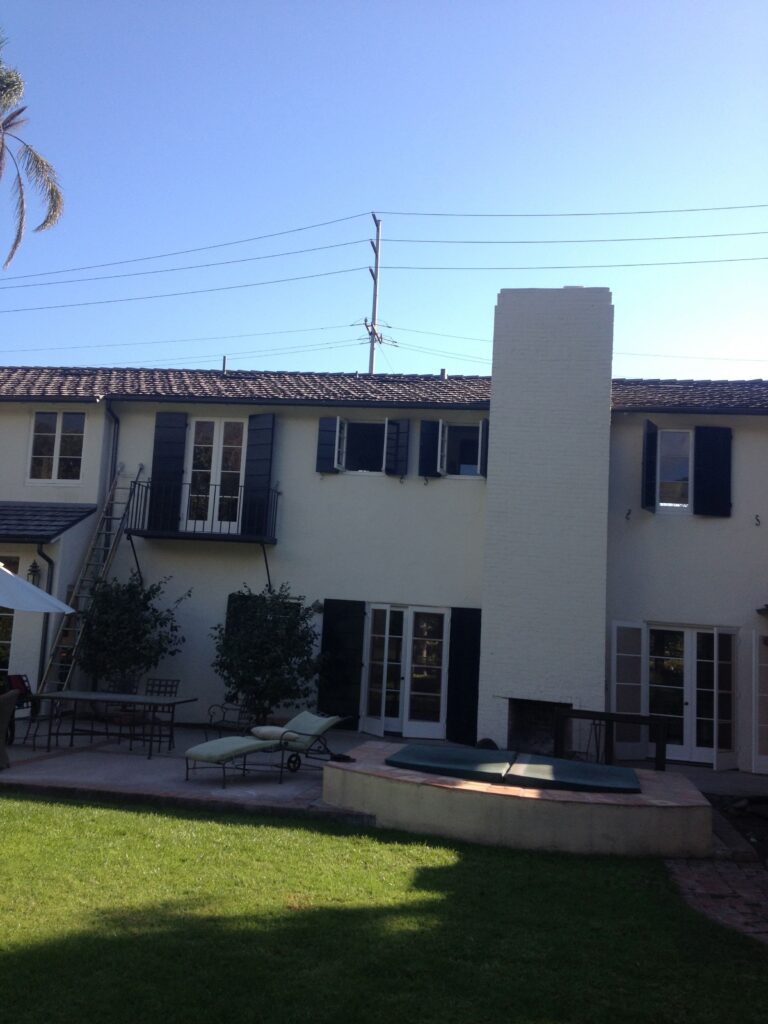 We do love the new , more classic, colors!  That chimney was a bit of an eyesore!
(I am having a bit of a crisis!  Newell Turner, my friend;  editor of House Beautiful;  recently  promoted to "editor of all Hearst Design Publications"!!
Liked it "pink and turquoise!)
Oh well…..
Look how the shutters really "work!
They have no curtains or anything yet!  This is what shutters were invented for!
(When was the last time you saw a "shutter" closed?  Let alone not being nailed to the house and completely the wrong size!)
This shows the new roof!
This has been a six and a half month labor of love!
It won't be as long before I post the "during" on the inside!  Some spectacular before and afters!
They have moved in;  and there is still more to do;  they are all ecstatic!
On our chickens; one hen just hatched seven chicks!