This story has been a long and winding road!
Anyone following my "blog" knows!!
Rather than publishing the three former installments;  if you haven't seen them, you can click  on the "search" box on this blog,
 and write "Monterey Colonial"
and they will show up!  If you haven't seen them;  I suggest you do that first!!
It is very fun even for me to compare the "before" "during" and these most recent!
It surely proves what I have always said;  a house is NEVER "finished"!!  A house is like a "life";  "a scrapbook" of the lives living in it;  and is
always a "work in progress"  over the lifetimes spent in it!  A great house adapts to the family
and animals who live in it!  And it evolves as they do!
I hope you are enjoying the journey!!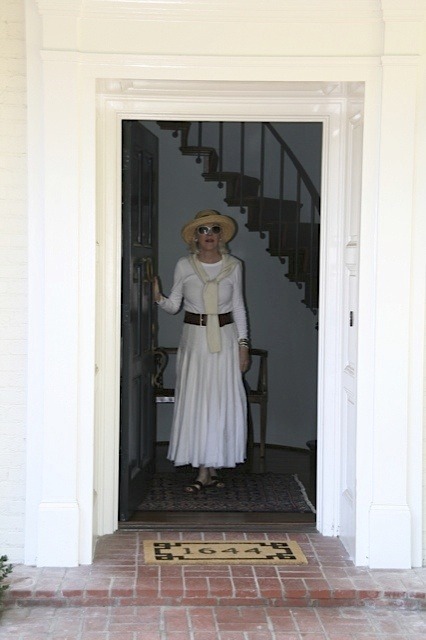 Did you give up on this update post??  I'm so glad you didn't!!!
Well !  Come on in!!
A peek into the living room!  (A work in progress!!)
Terrible picture!
(Joni!  I already know my pictures are terrible….my assistant will help more!!)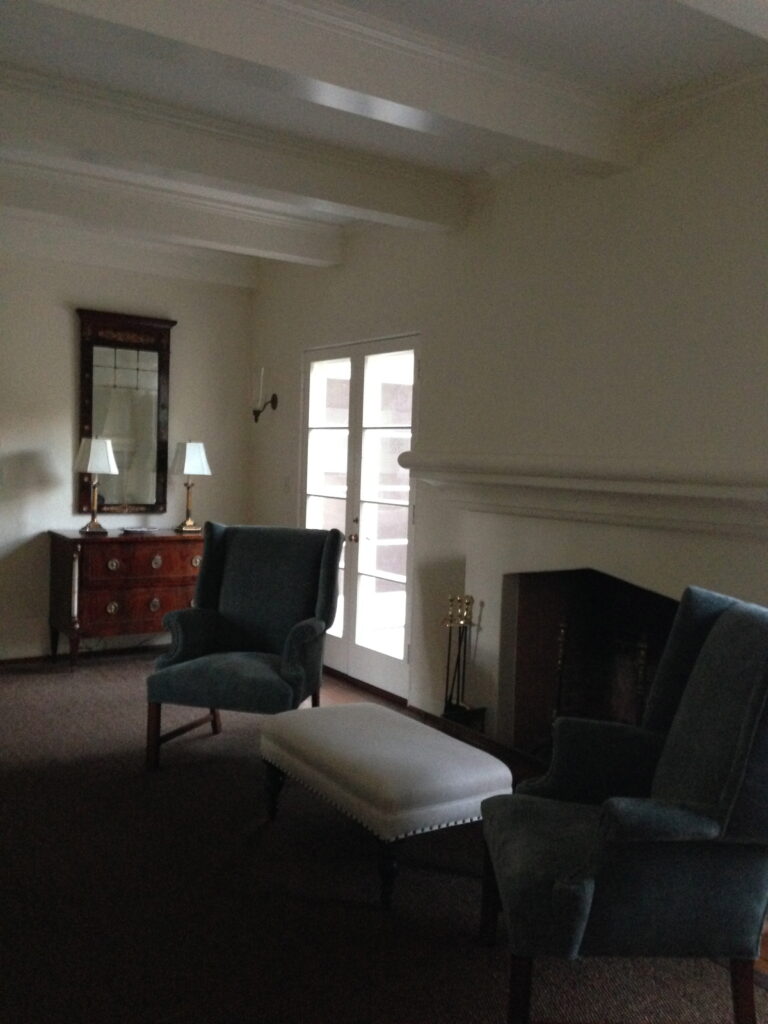 The library!  Remember  the window on the right was turned into a TV cabinet!  No light came in here1
also heavy shutters on French doors!
big plantation shutters block out at least 50% of the light!!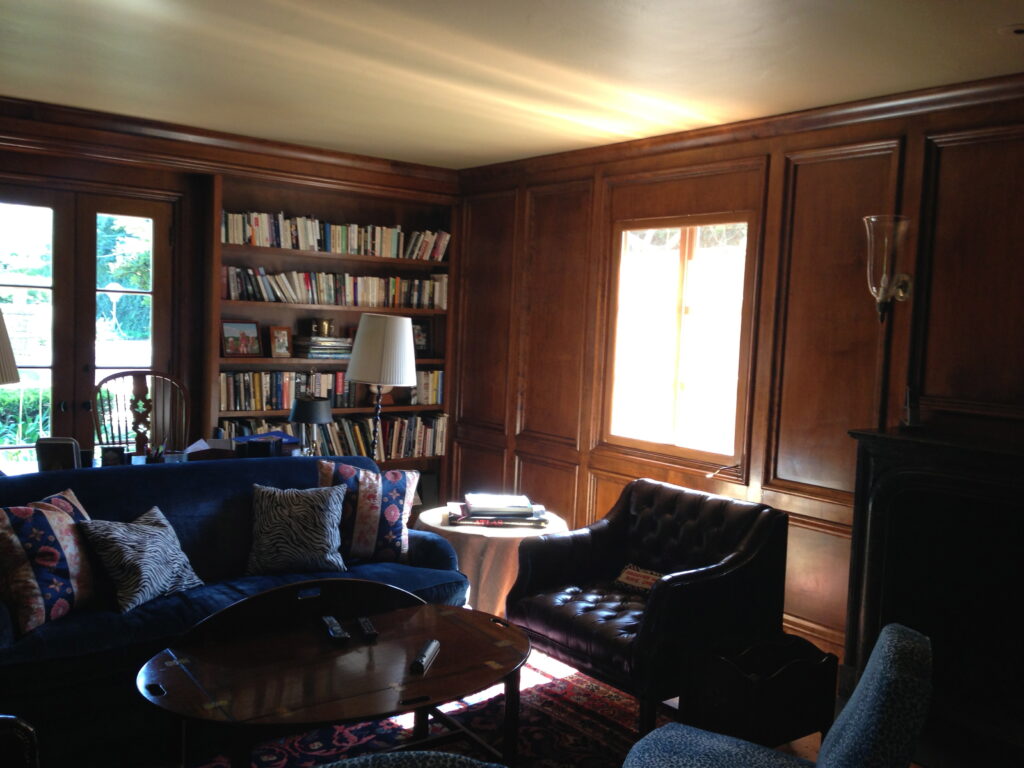 Our grandson's room on the first floor just past the library!
Grasscloth, tortoise wood blinds; and twin headboards!  Bedskirts match headboards!
("dust ruffle" is the female equivalent)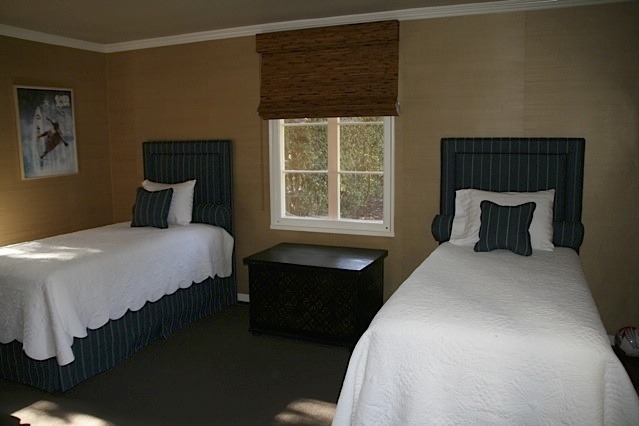 There is a surfboard mounted on the right wall!  So cool!!!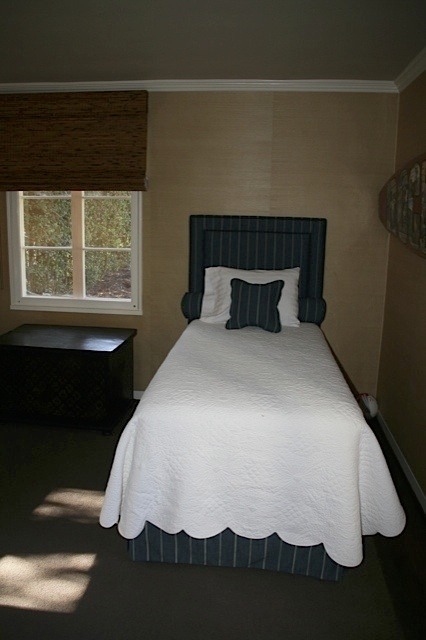 It looks like a grown-up boy!  He's almost 15!!!
Up the stairs!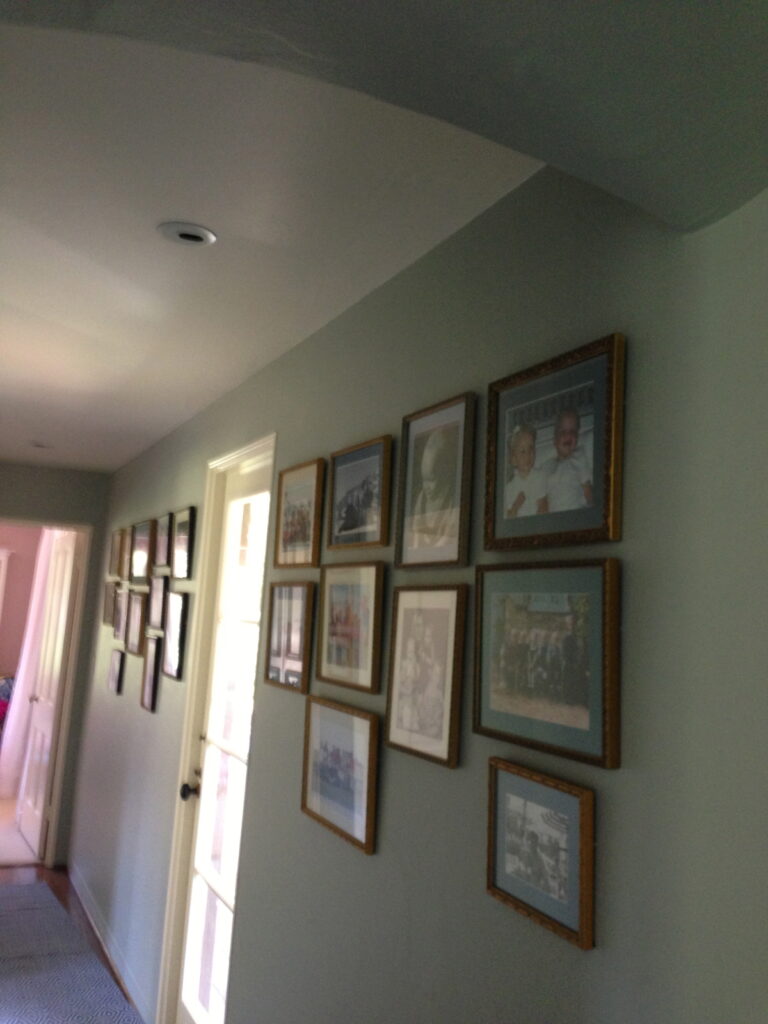 The hall to the "Jill and Jill" bedrooms and bath.  The door on the right goes out to the balcony at the top of the "Lover's stairs"
The bedroom at the end of the hall!
Family pictures where they belong!!!  Not in silver frames spread all over the house!  Framed and
hung on wall people walk by every single day..and starting at eye level;  up and down past that!!!
The sixteen- year old's bedroom!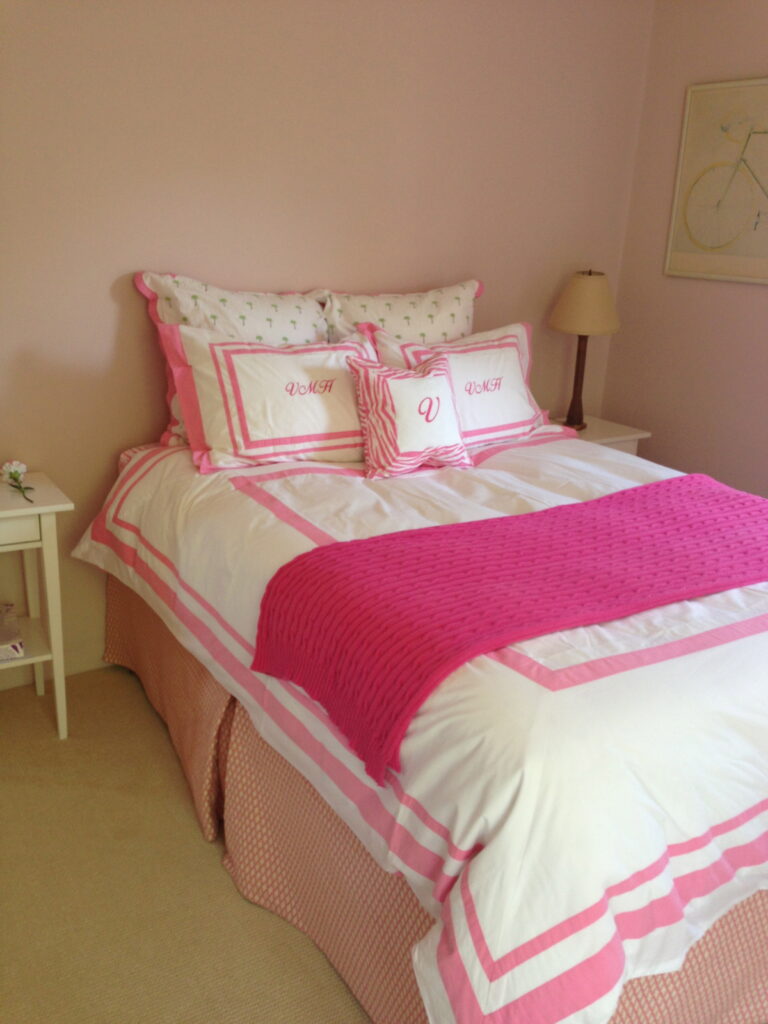 This is blurry….so sorry!  I want to show the curtains that they had in Switzerland;  lovely silk panels were remade for this
bedroom AND the Roman shades in her sister's!
As long as the fabric is a  "natural fabric";  curtains can last through many houses
and incarnations!  These are 100% silk;  and from Pottery Barn, no less!!
In the new Mario Buatta book;  he shows us his curtains he has had for fifty years!!
Redone for each of this three residences!  (added on, taken off, valance added;  Honestly!!  Fifty years!!!
(do buy this book;  it is a DOOZER!!!)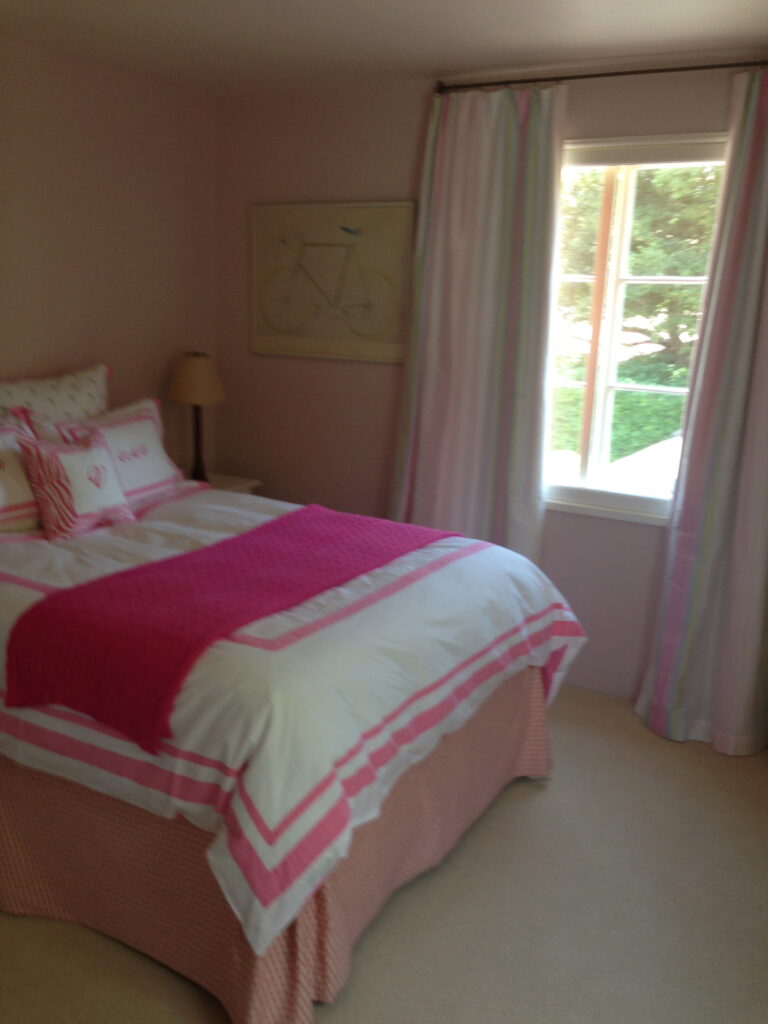 SHE LOVES PINK!!!
headboard coming!
To the left before the end of the hall!
The other girl's bedroom with the sky and the birds!  Thank goodness
she decided to keep the birds!!!
SAME FABRIC!!  redone into roman shades!!!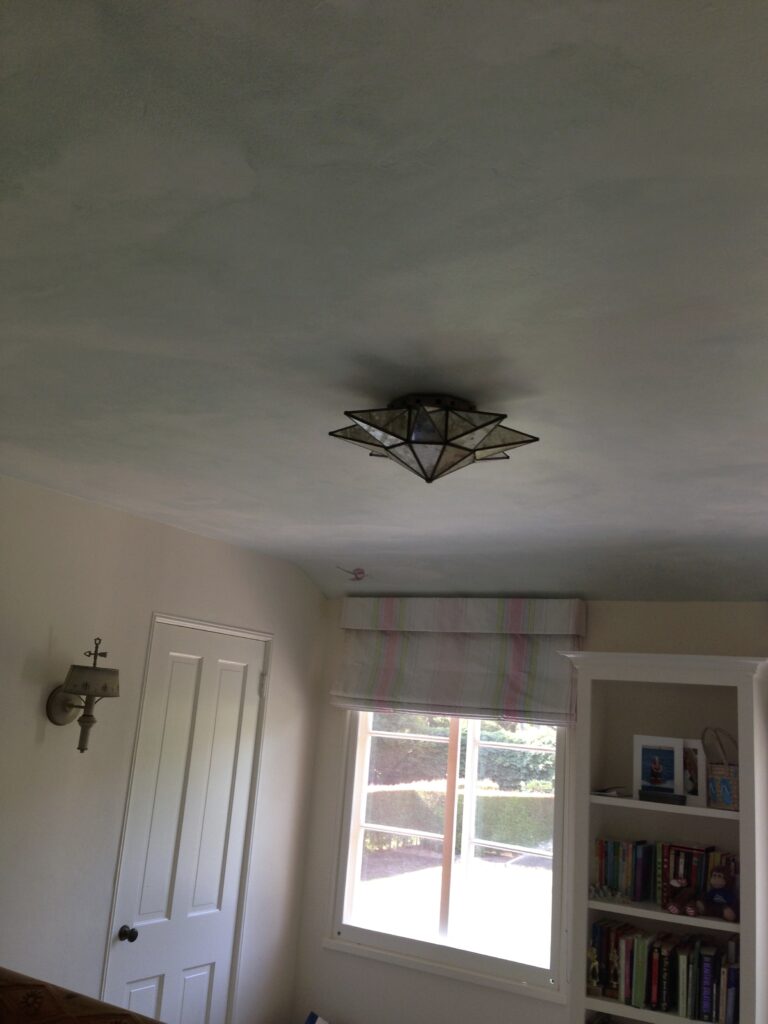 On to the Master bedroom!
The headboard is in;  and the curtains were fixed!
I love this bed alcove….there are bookcases in there on both sides!
These curtains and shades were made from curtains they had in Switzerland!!!
There are windows on three sides!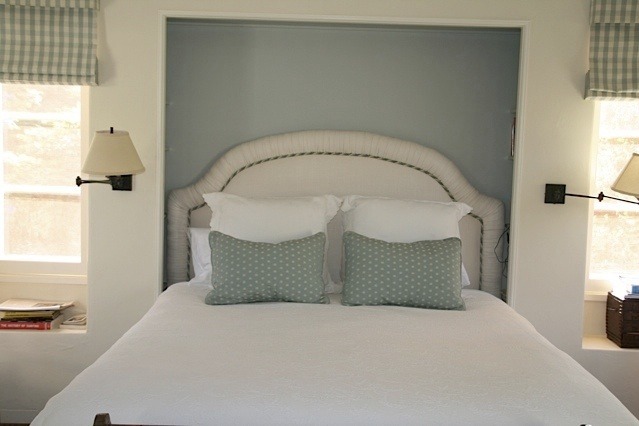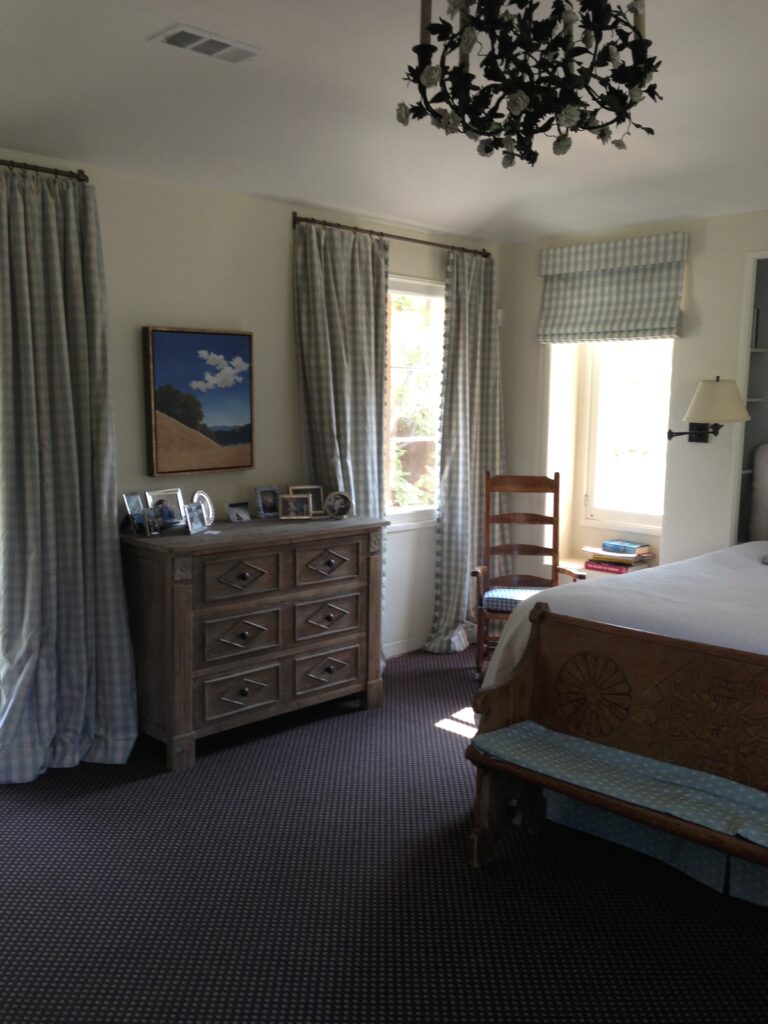 Windows on three sides;  and French doors to the balcony on the front!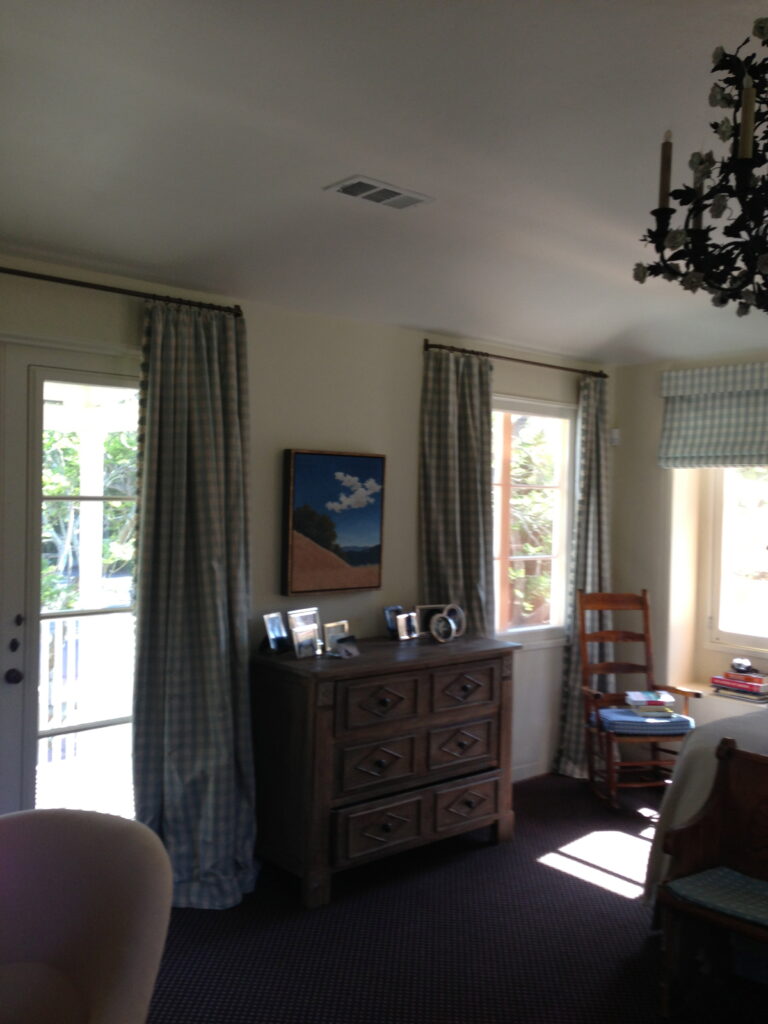 I adore this hand-painted chest!  It says some wonderful saying in French! With someone's birthdate!
I think it was a birthday present to someone in the 30's!!
I found it in Summerland at a wonderful antique store!
It was happy living in Switzerland for 8 years!
But I am even happier that it is "home"!!!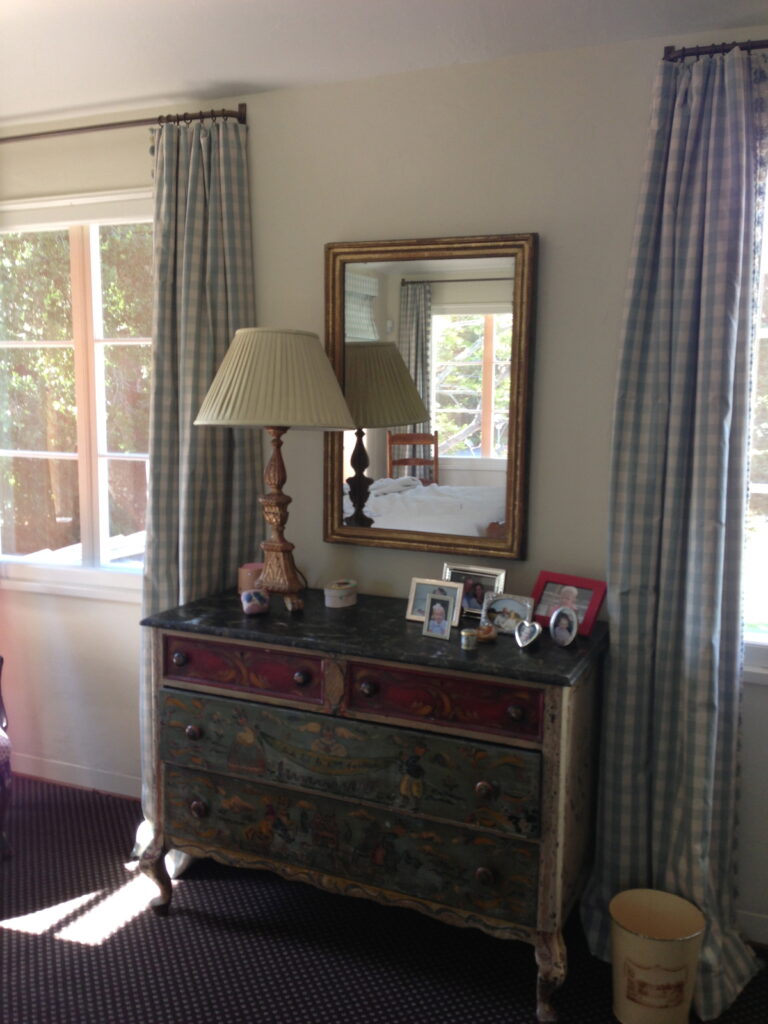 The fireplace is greatly improved!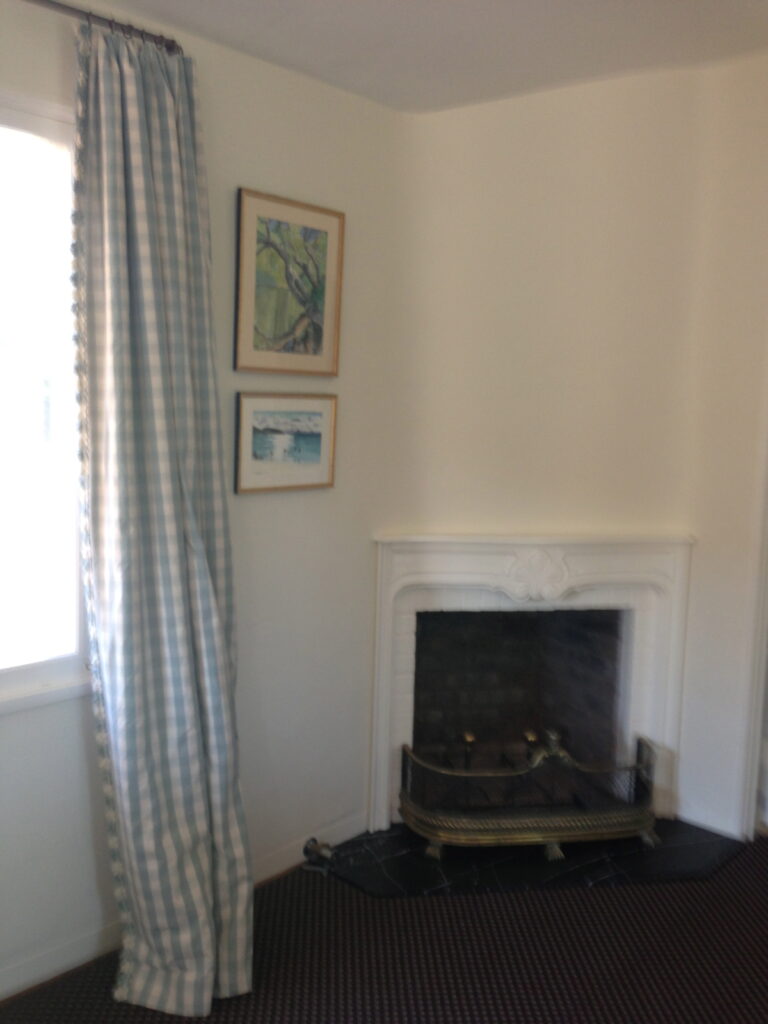 You can see the gate in the back of the garden!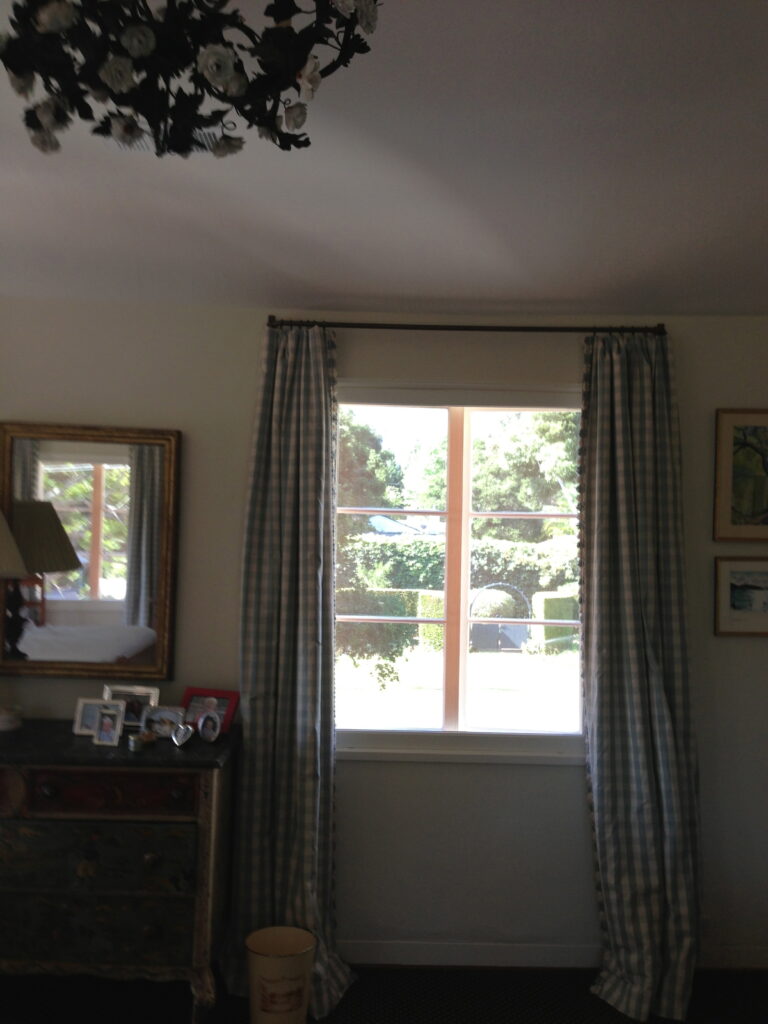 Here are a  few exteriors!!
The agapanthus and the jacarandas look wonderful blooming at the same time!
Newly planted beds in the side garden!  And big pots with olive trees!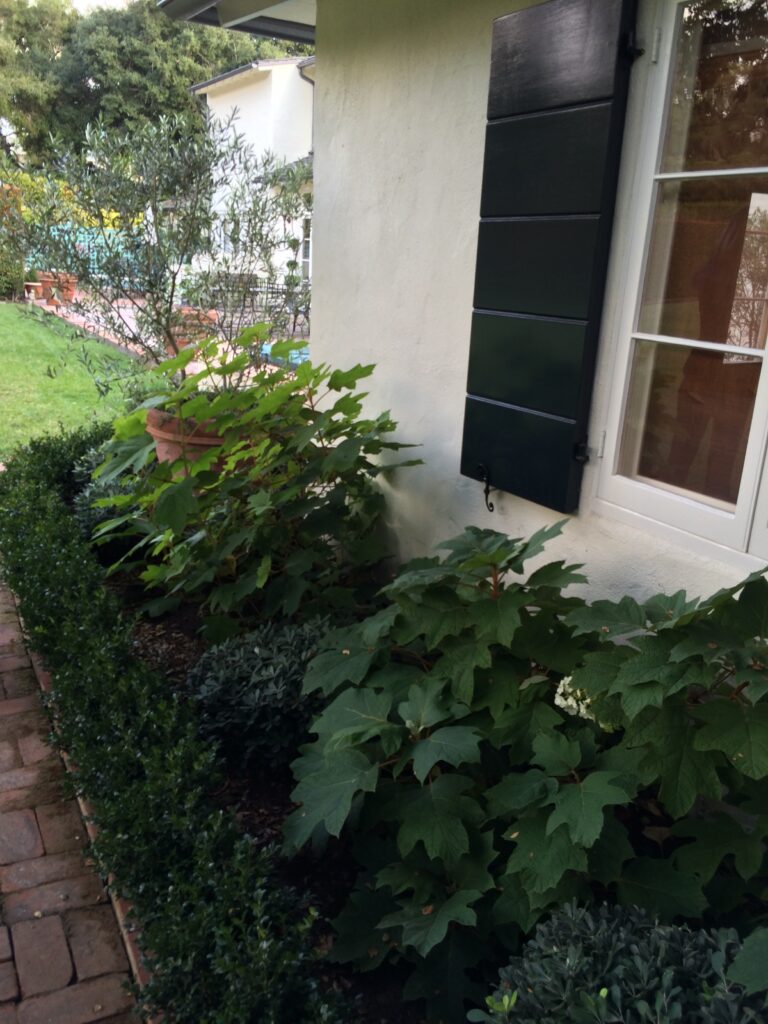 Two new gates to match the one in the back (but singles)!
This gate goes to the pool from the back…..beautiful oak tree!!!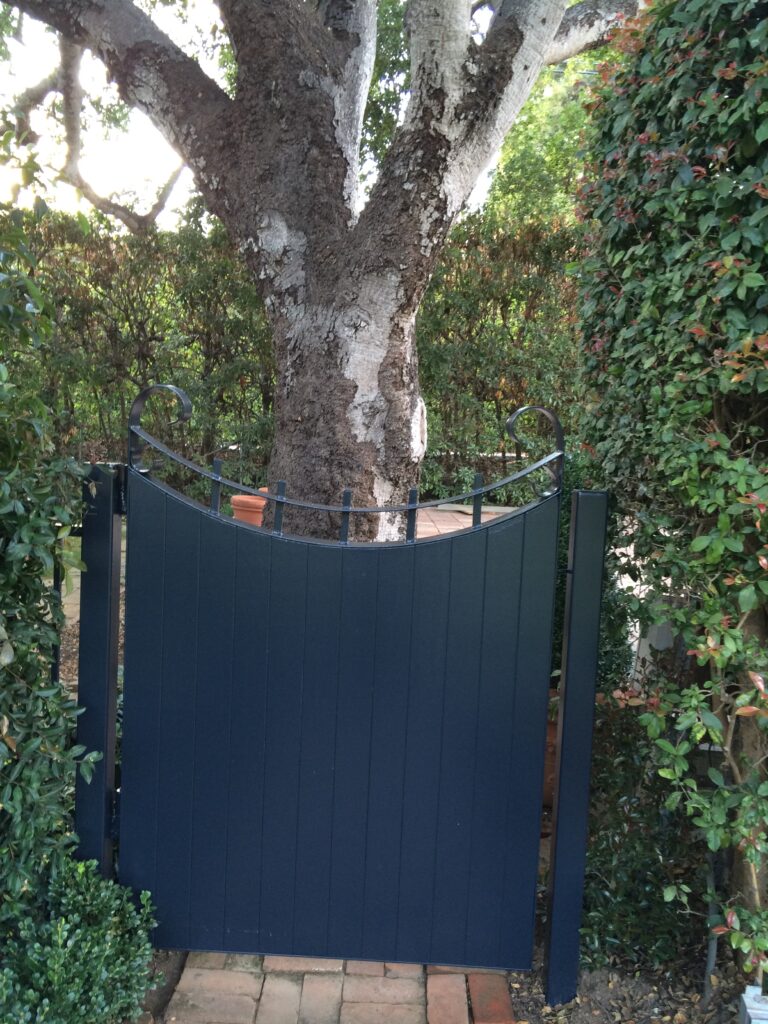 This one is in the front!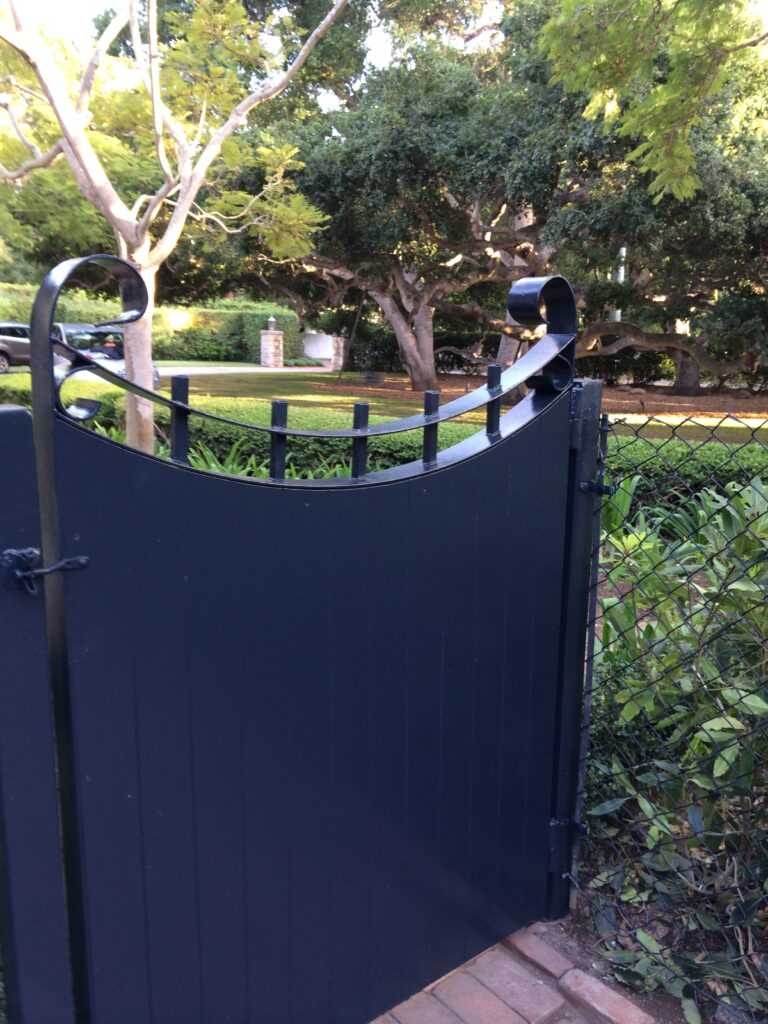 Up the "lover's staircase"!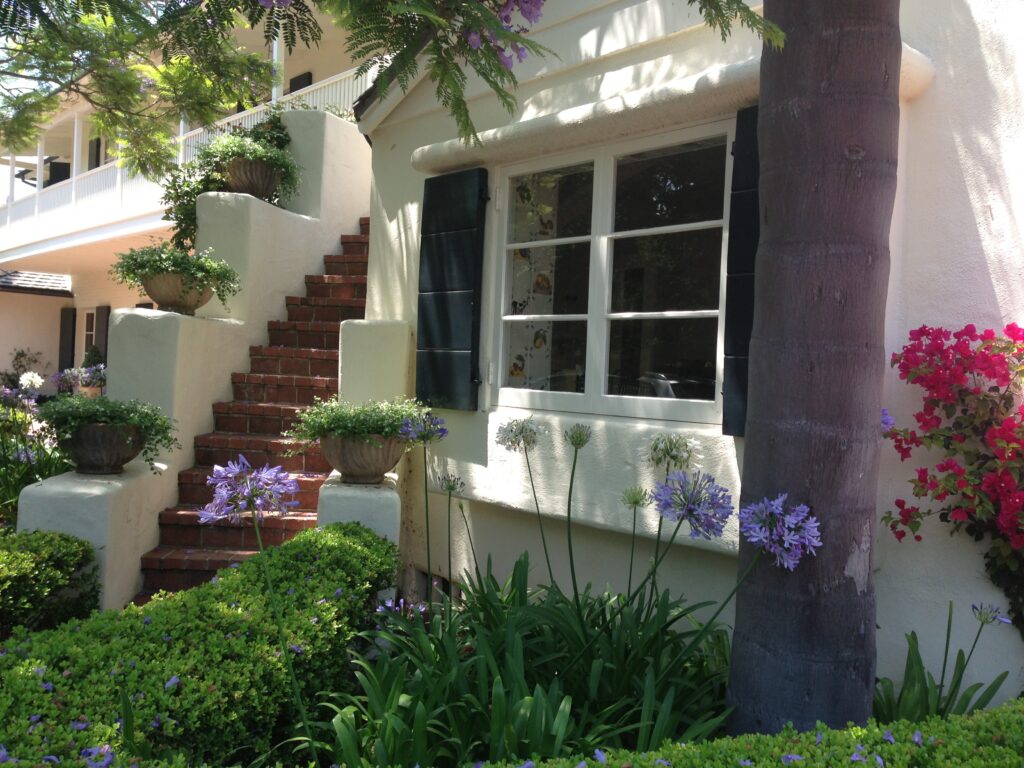 Through the porte-cochere!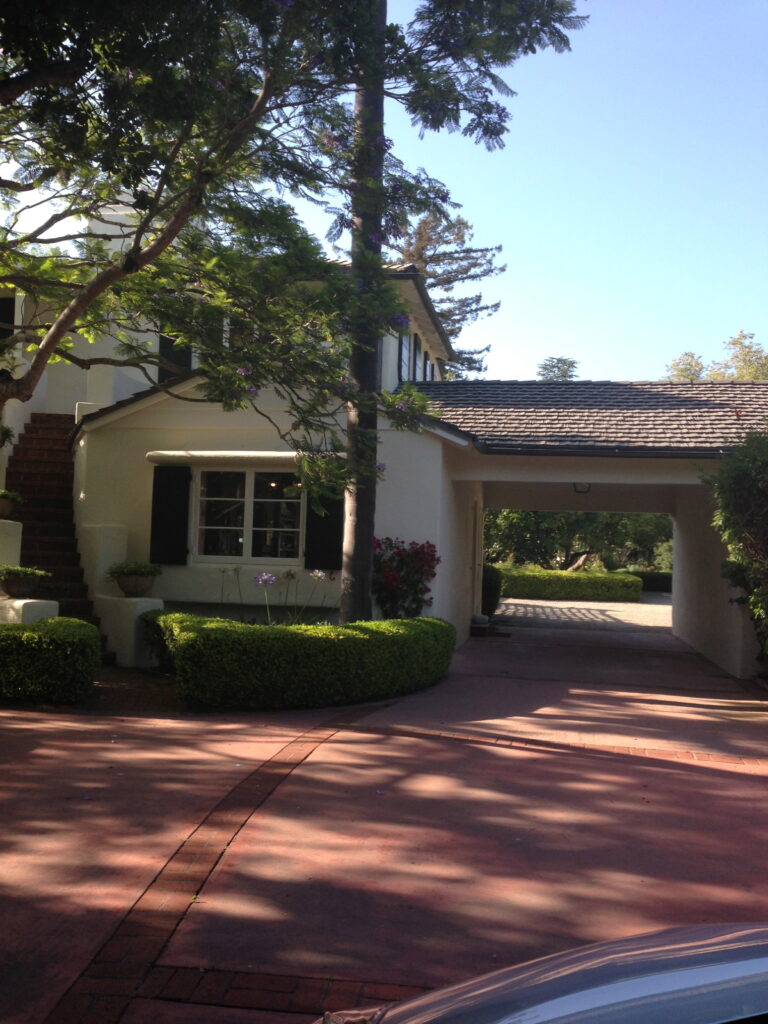 Through the "porte-cochere"!
Leading to …..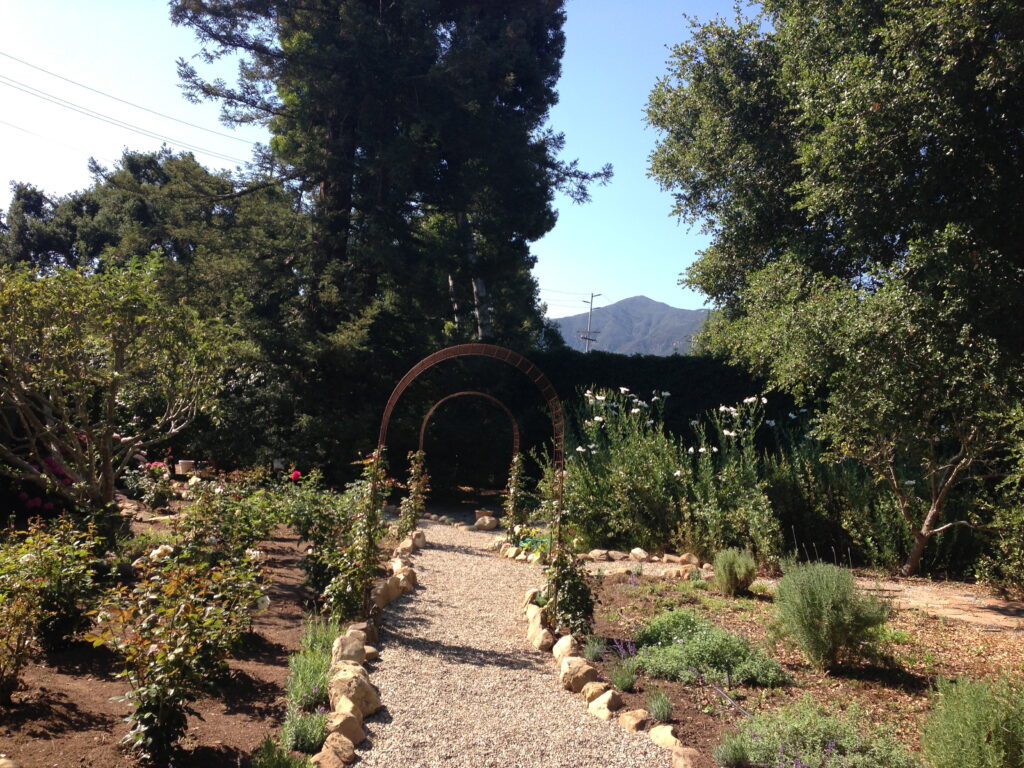 Through the rose arbors, lots of refining!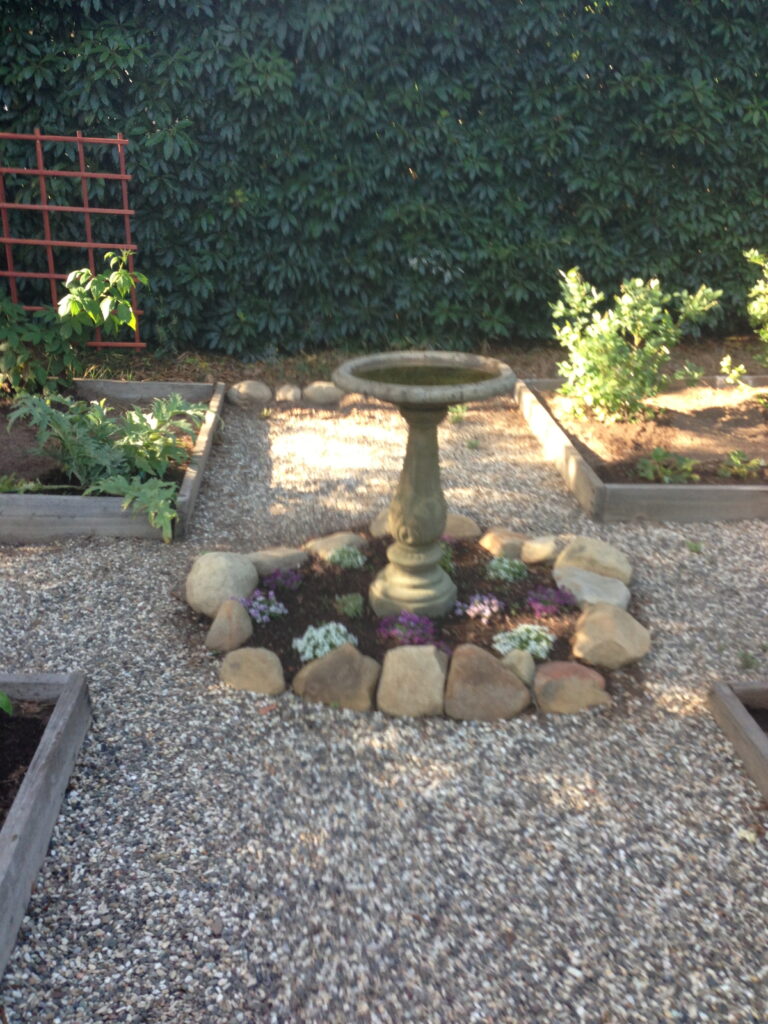 To a lovely focal point!
There are vegetable and herb beds!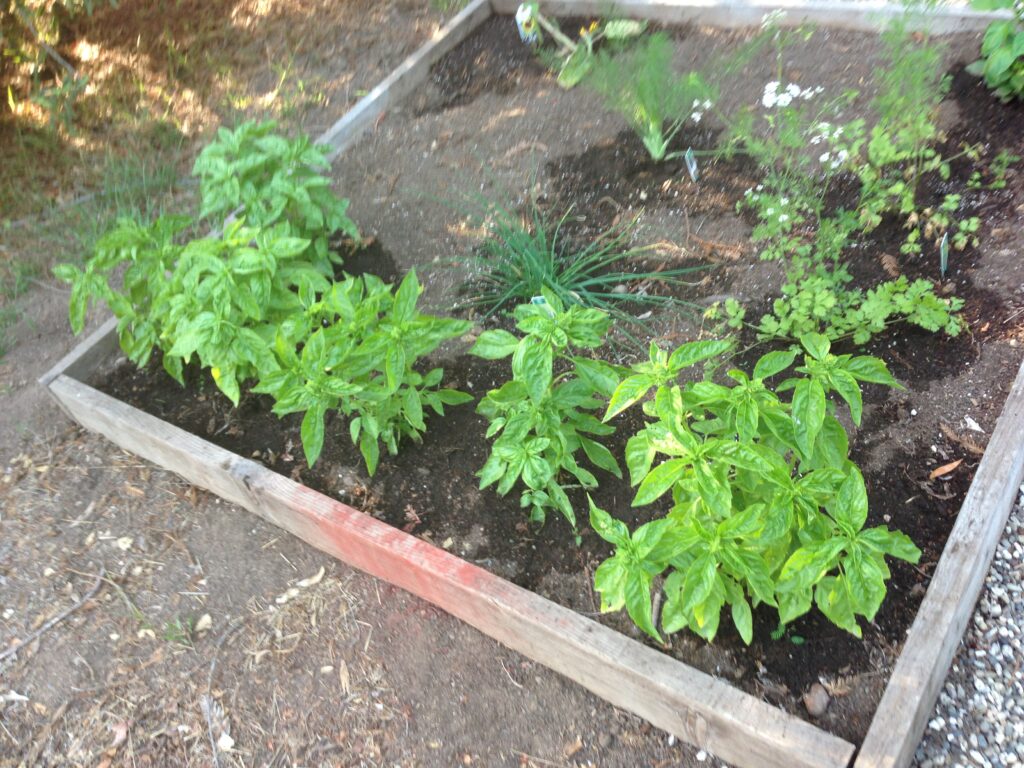 Vegetable beds! And…….
Hydrangeas and roses!
and an apple tree!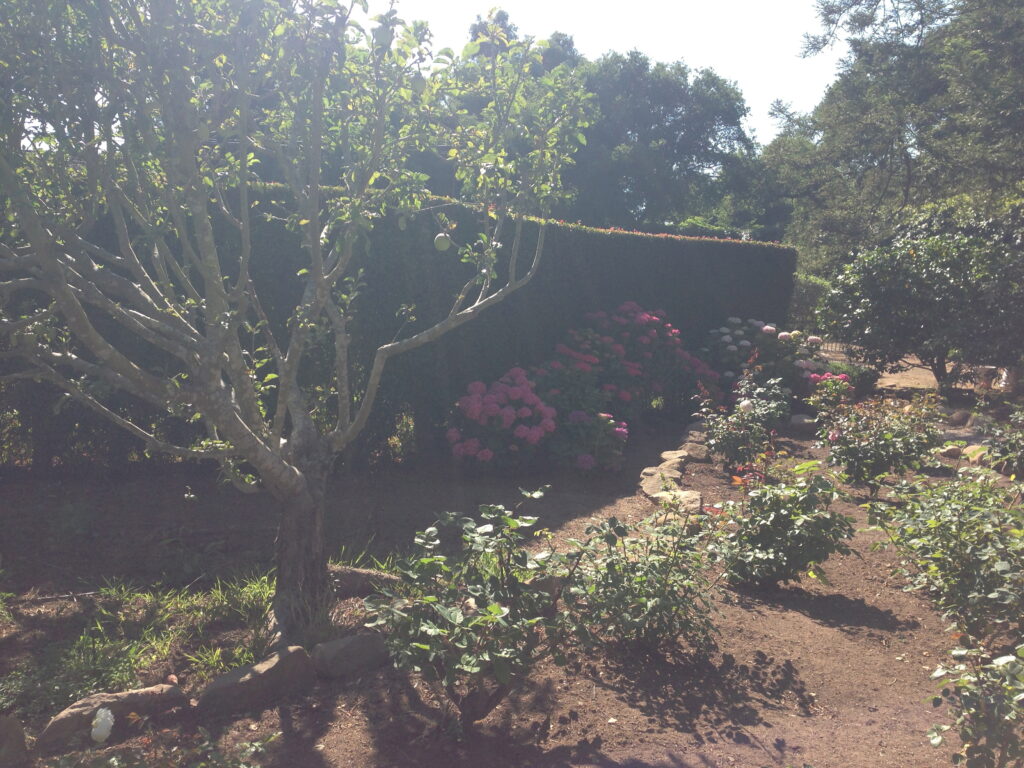 My favorite  poppies!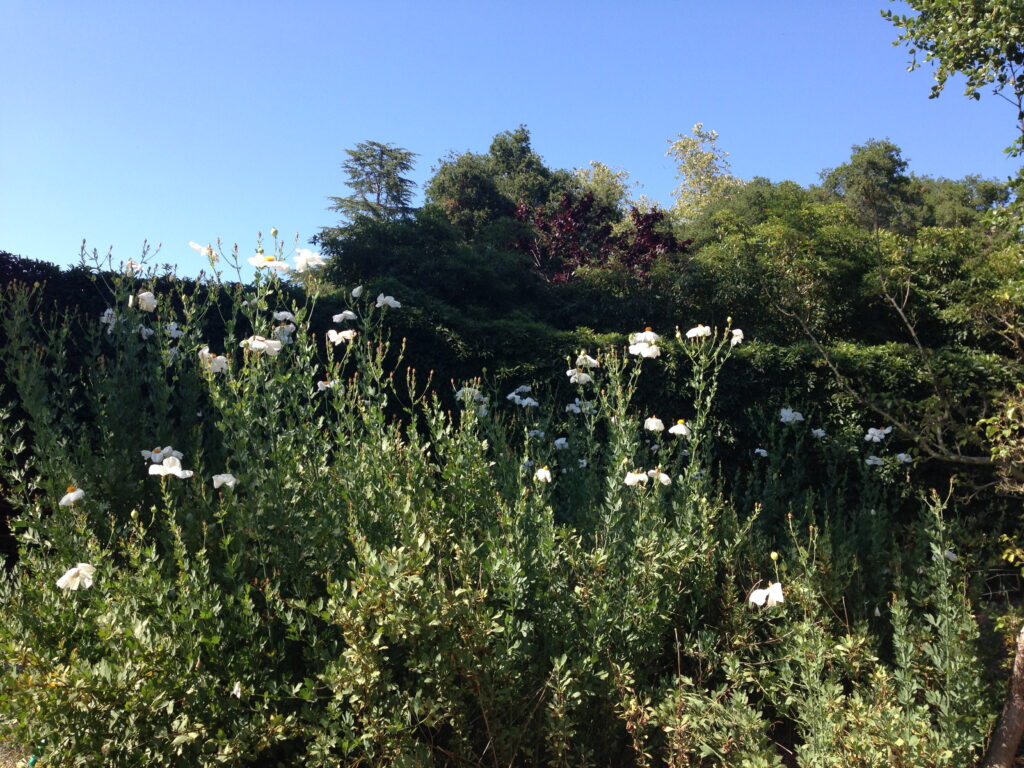 As progress moves along;  I will keep everyone posted!!  This house has some very serious fans!
I keep getting email saying "HURRY UP!!!"
I am sorry I haven't been faster at updates!  The good news is that my "real job" has been busy!
 I will also keep you posted on that!
I am doing a wonderful house in my favorite part of Los Angeles (actually Santa Monica) for a wonderful guy!!
(he wrote one of my very favorite movies of all time!!)
"School of Rock"!!
MIKE WHITE!!!
He was also  our daughter's "her Best Man" at her wedding 19 years ago!  Best friends since
"crib room" at Sunday School!!!
(I was so sure he would be a "STAR" I asked him for his autograph when he was in third grade)
He is a "perfect client"!