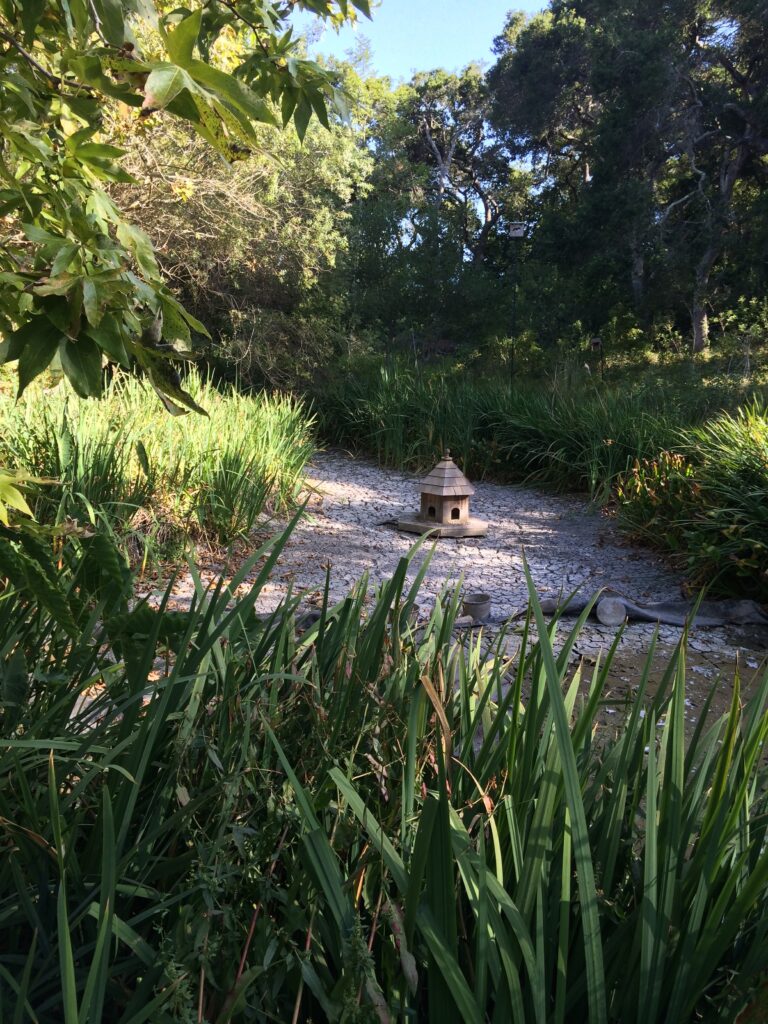 This is what our pond looks like now.  I was so upset about this I couldn't  even photograph it!
Finally…….now that the ending is written……I could.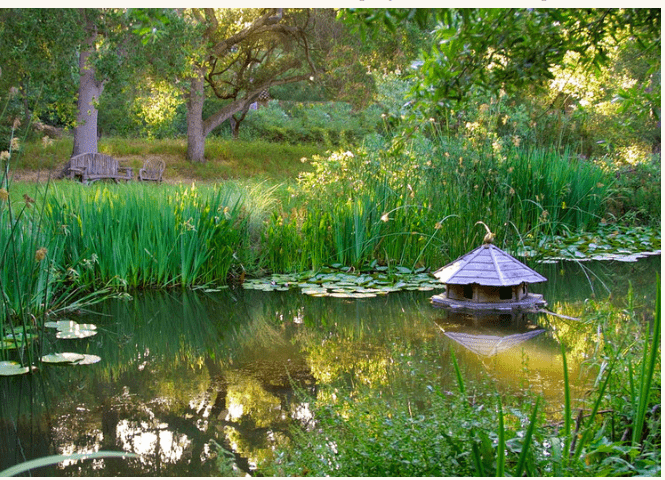 This was two months ago.
Can you imagine???
This is what our pond looked like a few months ago!
Montecito is in a severe drought;  and we have been ordered to cut our water use
by 60%.  When we dug this pond 17 years ago;  it filled up with water!
However, because of the drought, the water table has fallen.
Our mallard ducks, who have come every year and laid their eggs in the duck house, came and hatched
their ducklings.  The ducklings can't fly for at the least, 52 days.  They hatched
April 13!!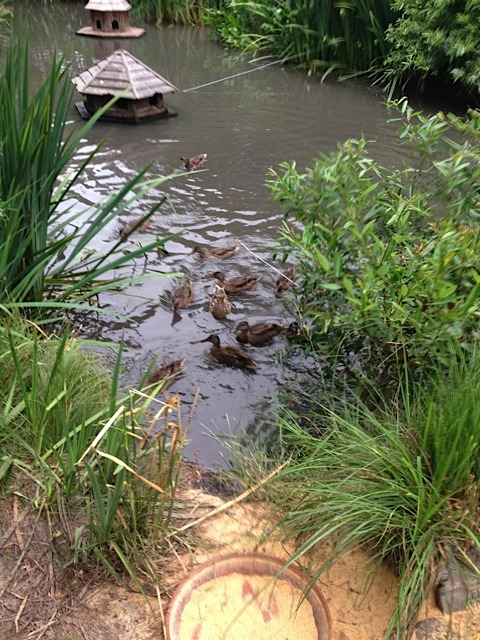 These are our ducks in our pond last year  June 29th!!!   They were just about to start to fly!  The Mama
is in the middle (slightly lighter);  and she is talking to me!
This year……different story altogether..and I didn't see it coming!!!
When the pond started going down precipitously ;  I was beside myself!!
We ordered 6 thousand gallons of water trucked in by tanker.  It lasted 4 days!
(The water is what protects the ducklings from all the predators.)
My friend Radisha suggested that I buy "wolf pee"!  And apply a ring of it around the pond!  I did!!!
(Guess where you get it???  "Predator pee.com"!!   could I possibly make that up???)
It is collected at zoos and sanctuaries;  and the wolf pee is the one every animal is afraid of!
(the sale of these "predator pees"  help fund the shelters and
refuges of coyotes, and wolves…..and other mammal predators!)
The "wolf pee" worked for a week; and then the water was down so far I knew the coyotes and bobcats and
who knows what would prey on these ducklings!
(I think my husband thought a straightjacket would be a good idea!)
Hysteria set in!!  Sobbing…..it was bad.
It was so scary and terrible.  I feel so responsible for these ducklings!
We had to leave for the east coast in the middle of this emergency!  We left at 3 am on a Monday…….I was catatonic.
This mother duck.  She is the heroine of this story.
That very day that we left;
she walked 1 mile across the nature preserve next to us with her seven ducklings
To my friend Lynn Conrad's pond.
(the babies cannot fly until they are 52 days old , minimum)
  My friend has the exact duck house.  (I ordered it for her)!
She called me to tell me a neighbor had called about 7 pm and said,"Open your Gate!!
There is a mother duck and 7 ducklings outside your gate!!"
She did and in they came!
."your ducklings and mother are safe!!!"
Here are "our" ducklings in her pond!
She recognized the mother duck!  The same duck with 12 babies five years ago;  (I could not make this up) got scared at her pond…..and walked
across the nature preserve……down the middle of our lane….up our driveway and into our pond!
I called her; and she answered the phone……"do you have my ducklings???"
This is one smart mother duck!!  (we both recognize
…..she has an extra-long neck!)
When I returned;  my housekeeper and I went to see them!  I honestly was crying!  When I started talking
they came running!  Peeping like mad!!  They recognized my voice!  and the mother did too!!
It was truly a peak experience!
Just yesterday I spoke to Lynn……they have all just flown away….(they will be back to visit)
except one!  She said…"this duck is so tame;  if I sit down, it will sit in my lap!"
Thank the Lord these ducks were so lucky to have such a smart mother!  YIKES!!
Animals are extremely smart!
I am so happy they are safe!  They love the architecture of their duck house!
Here is the same mother;  (and she is the same)  with her babies safe and sound.  I cannot even tell you how happy
I am!!!
The mother is talking to me!!
They all flew about 10 days after this picture was taken!
Except one who is so "tame" Lynn says "If I sat down, it would sit in my lap!"
Now.  My job is to figure out how to get the "heart of the garden" back!
The water is the key and the heart!  The pond needs to be lined.  Carefully.  Then the only loss will be
by evaporation…..which is very little!
We have to fill it (once it is lined) with water brought by tanker  (we know and love those people)!
And the frogs (and I pray the turtles) will come back……and by the Spring..
the duck houses will be floating again.  My dream will come true!!
And the ducks can come back;  lay their eggs in the houses
and their ducklings will be safe again!
The happy ending that is most important happened. Thanks to my smart mother duck and my friend
with the pond and the duck house!