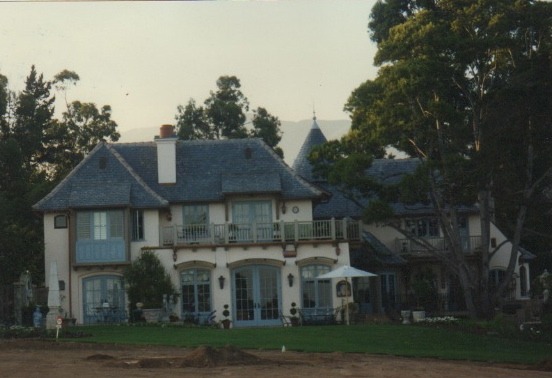 Well, there is a "secret place"   in Montecito.  Honestly;  even close neighbors barely know it is there!
One can only see it from the water……or walking on the beach going from the "Biltmore" east towards the "Miramar"!

It was the dream job of a lifetime for me!
In 1989, my client and dear friend in Pasadena, Molly Munger,  (her Italian villa by Reginald Johnson circa 1919 is pictured in my "work" section) , told me
that her father "Charlie Munger" had some property in Montecito that he wanted to develop for many years;  and he was
"getting close"!     "I think you want to go up there on Tuesday with Charlie and Nancy" (his wife, her stepmother)!
So I did!
His property  was originally part of a subdivision of a large estate owned by the Hammond family;  and it was slated to be more large condominium  buildings which were built in 1970.
The Montecito community was not happy about these buildings; and they went bankrupt.  Charlie and Warren Buffet (his partner at Berkshire-Hathaway) owned the bank
which had the second mortgage.  They knew that anything resembling the original buildings would be impossible to build.  Charlie also knew that Montecito
was a very special place.  He had been a guest at a very unusual development in Oceanside, California, called "St. Malo".
It was developed  starting in 1929..(it was the first gated community in San Diego County)!
and a family with a "vision" (from Pasadena, where I grew up)  bought a big bunch of acres……and started a "development" with very strict architectural
restrictions.  This is seriously one of my favorite things I have ever seen on the coast of California.
 It resembles a fishing village of the same name  in the Brittany area of France. That village "St. Malo"
was the inspiration.   Many owners who built houses in Oceanside  traveled there
to take pictures and buy things.
 Many of the houses are extremely authentic;  the people who built them went to France and brought back materials.
The coast of California is not known for its fine architecture.  Far from it.  Frankly, it is pretty sad.  Even pathetic. Never mind!
  "St. Malo" is a jewel on the coast.
An article about it is on the "san diego travel tips":
http://www.sandiegotraveltips.com/public/Saint_Malo_Oceanside_California.cfm
 Charlie;  being the visionary that he is, thought this would make sense in Montecito!
I went with Charlie and his lovely wife Nancy up to see this property!  YOWZERS!!
Beautiful!  28 acres.
It is a"flag lot"  meaning that the first part of it is behind some beachfront houses….
and then it opens up and there is a meadow and 11 lots around it with ocean views and frontage.  The plan had 23 "condominiums"
(forget every single condominium you have ever seen);  a common clubhouse with a tennis court, swimming pool, kitchen and a wonderful living room with poolhouse bathrooms!
This was in "the planning stages"
Charlie finally got the permits to build a "village" like St. Malo;  and he was starting to build it!
At first, I was hired to "decorate" the clubhouse! (which was not built yet).
Now.  Here is the clubhouse!  Originally, Charlie hired me just to do the "Clubhouse"!  My foot was "in the door"!!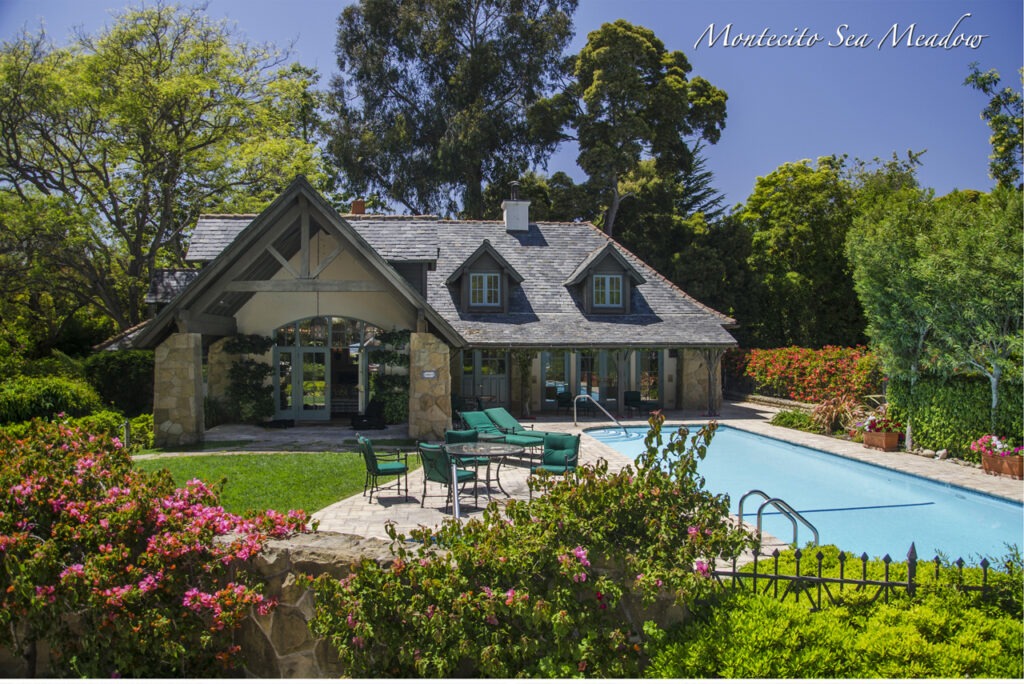 I designed it.  I showed him samples and presented it  all to him in his office.
(there is a farm table with red chairs that don't show in this picture)…they are to the right!
He said,  "everything is ok here; except the red chairs.  They need to be dark wood color."
I leapt up!  I jumped up and down!!!   I shrieked!  "NONONO!!  THEY NEED TO BE RED!  THAT IS THE WHOLE POINT!"
"It will be so ordinary if they are brown wood!  This project just cannot be 'ORDINARY'!"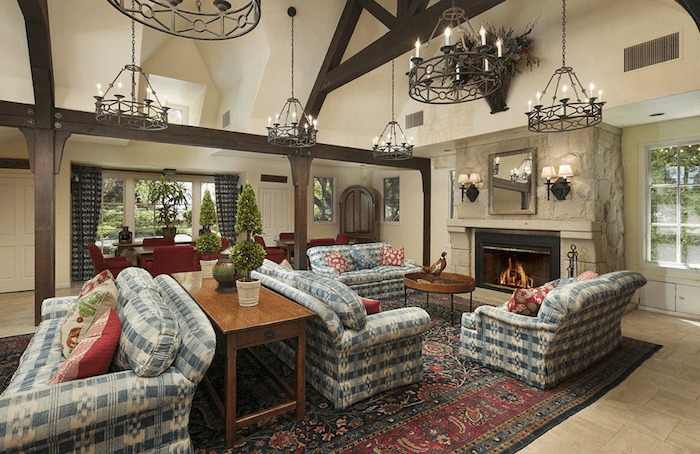 AND THEN I SAID……..(this is the God's truth;  I could not make this up!)
"And, Charlie, there just needs to be one person doing all these houses you are building!  And it needs to be me!  I "get" your vision!
I  want you to hire me!  I know what to do here!"
And he did.  And I did.
And that is a true story of a dream job.
My title was "Aesthetic Director"!
So, for the next twenty years…….I chose all the "finishes" exterior and interior;  the light fixtures inside and out;
the cabinets, the colors, the floors, the tiles (87 bathrooms all different hand painted tile!
24 kitchens…….all different cabinets and tile!  Whew!!!)
for the 23 "condominiums…the clubhouse ..and for Charlie's own house, and another house!
There are 11 "houses" (built by the owners….but subject to the architectural restrictions)  that surround the "common areas;
and the "condominiums " which are all completely different from one another.
This has never been publicized.  So here we go!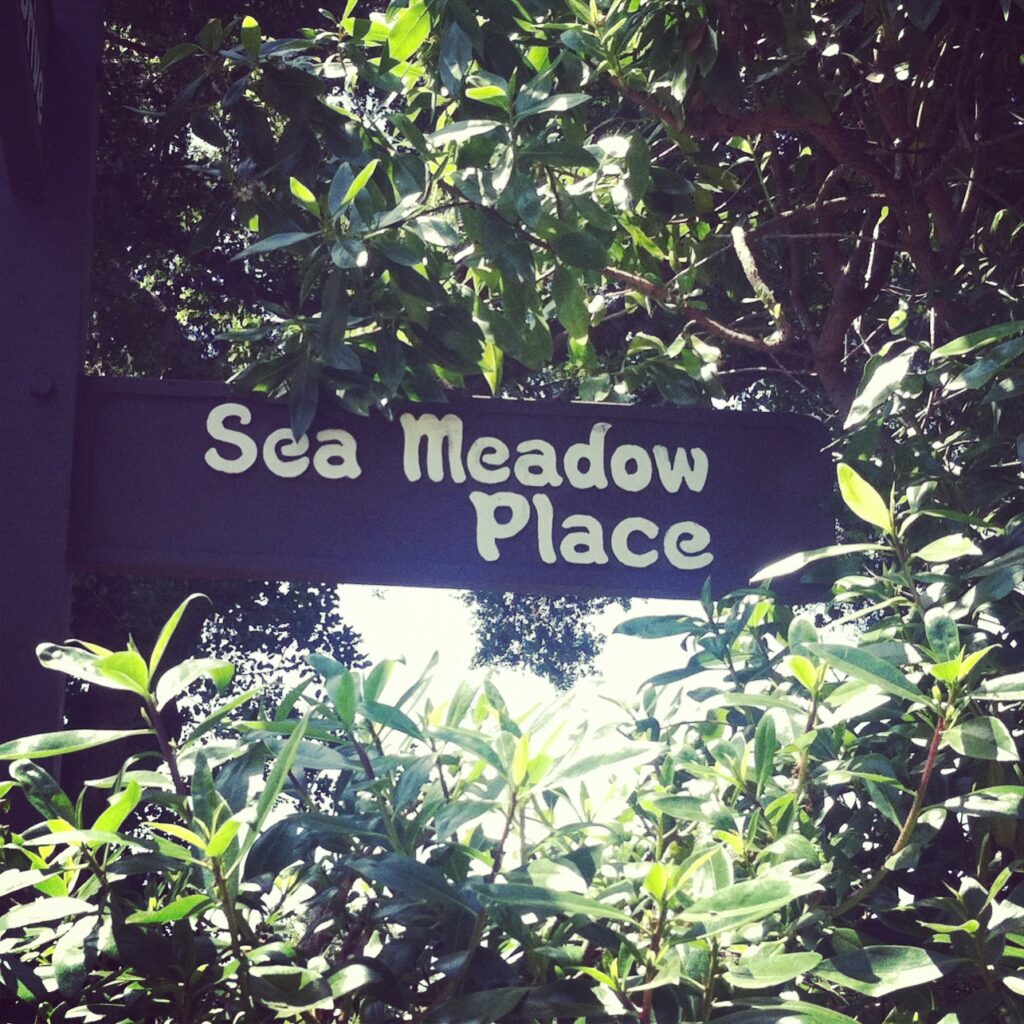 Here we are.  On one of the most "primo" surf beaches in the world.  "Hammond's" is in every book about surfing beaches.  Charlie had to provide a special bridge and beach access to surfers!  He also
had to deal with the Chumash Indians;  who have a "sacred Indian burial ground" right on the ocean.  The following picture is the meadow (which cannot be landscaped); and the Chumash
have rituals here.  There is a monument honoring them.  This an multi- acre open meadow right on the ocean in honor of their ancestors!
Near  the center  to the left;  you can see the monument!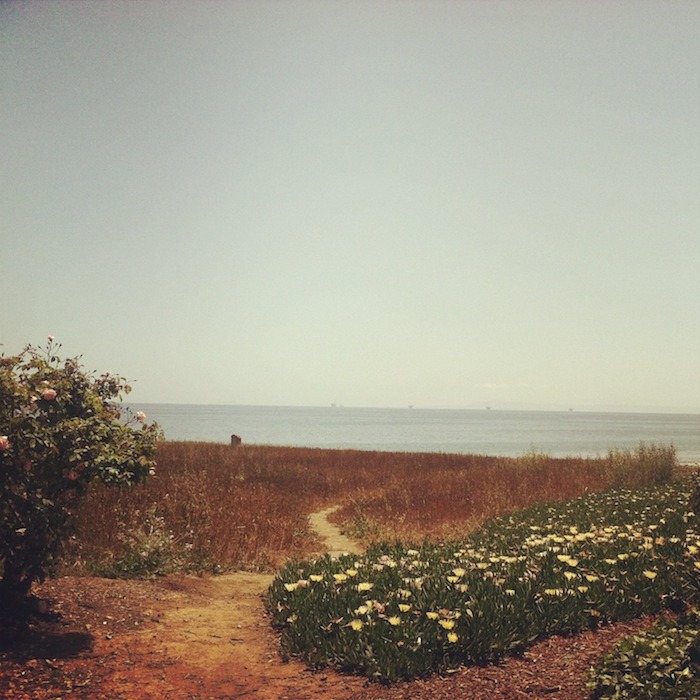 Here is the monument…..and the Indians have celebrations sometimes in this meadow!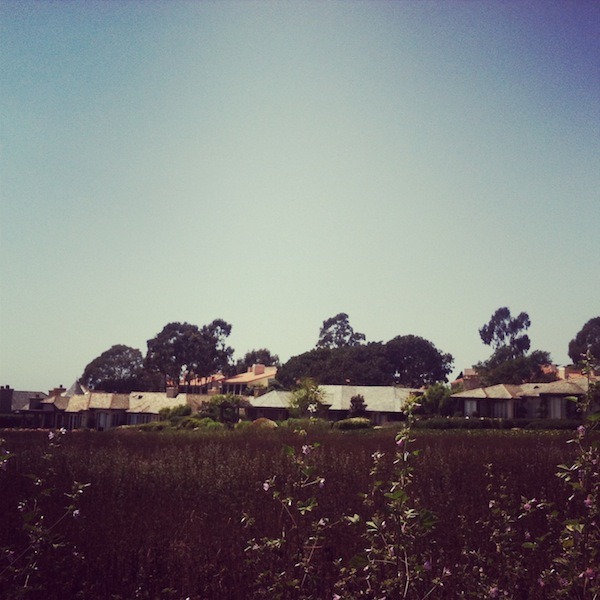 There are some very low-profile houses along the edge of this meadow.  They had to be low because of the two story condominium
buildings behind  them. ( They emerged from  bankruptcy;  and now sell for millions each!)
The views from these houses (not condominiums) go up and down the coastline;  and the surfing beach is right to the left of them!
This is looking at these  houses across the meadow…..and you can see the condominiums behind.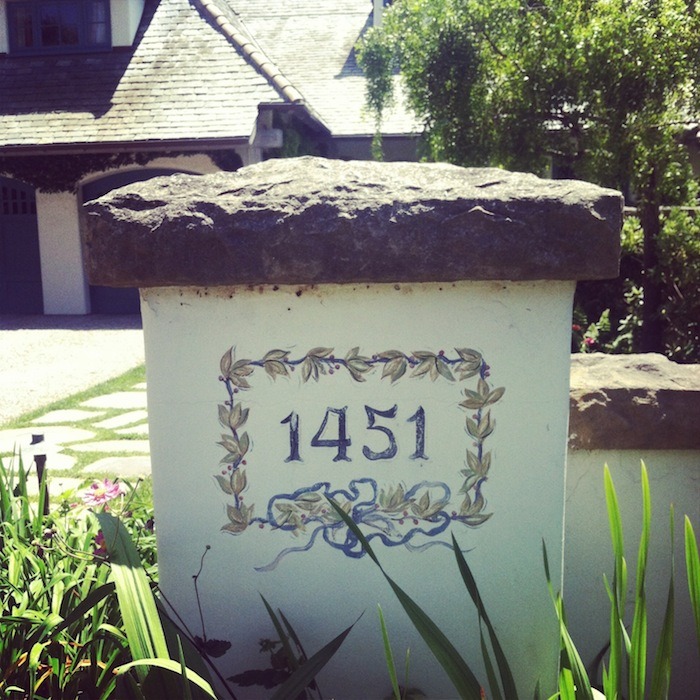 Now we return to the "condominiums";   they all  have slate roofs;  and are French Normandy architecture. (different slate!!) My husband and I went to
Normandy to do research when I started this project!  I took  millions of pictures of every detail!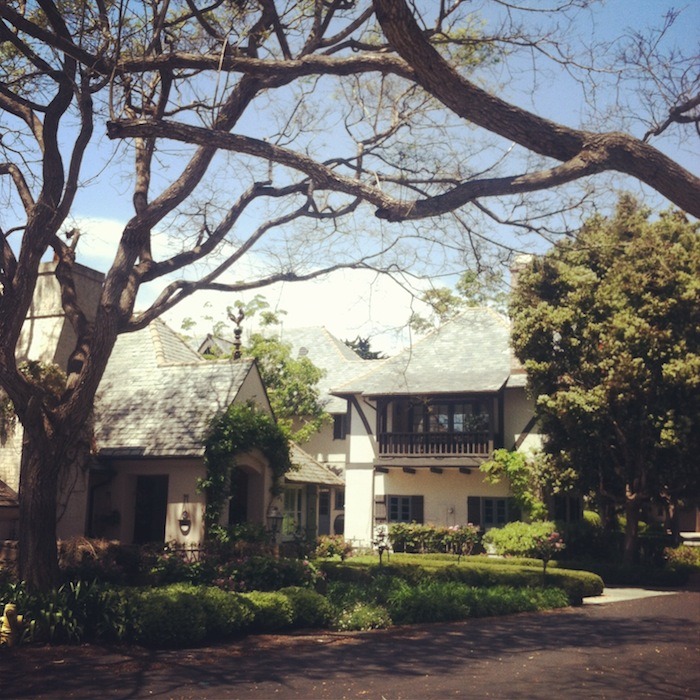 Charlie said;  "I have waited so long to build these houses;  I don't even want deciduous trees!"
So the landscaping was incredible.  Every tree was huge, and it looked like the landscaping was there for a hundred years
immediately!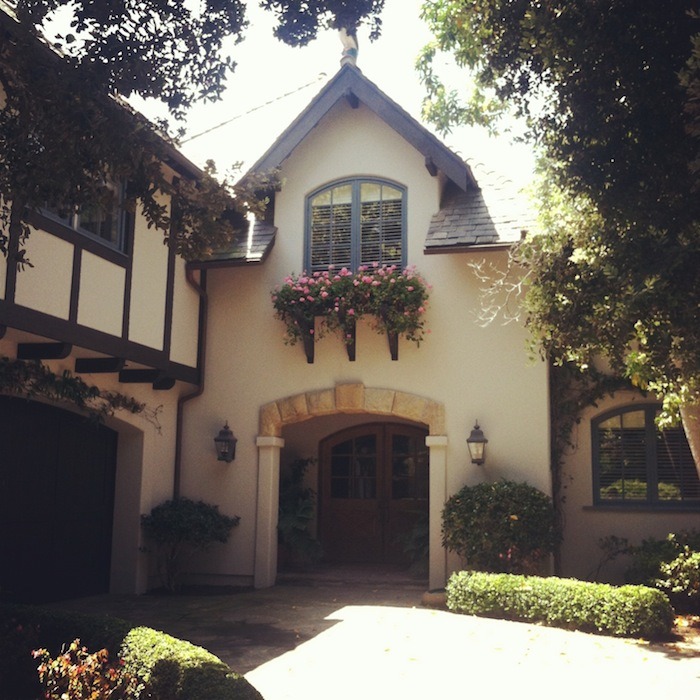 They looked, even in the beginning, like they had been there forever!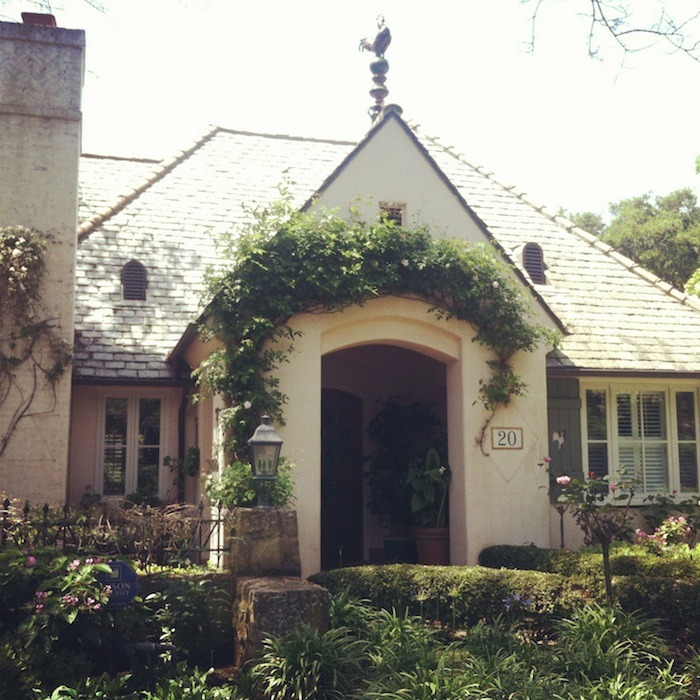 There are these charming roof ornaments I took pictures of in Normandy!  They are called "epis de faitage"
Charming!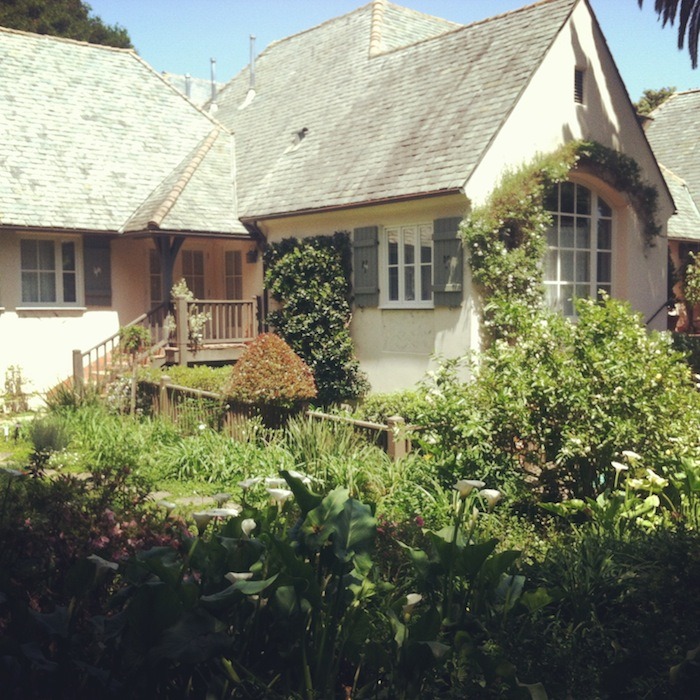 The attention to every detail is truly astonishing!  (It is the only "development I have ever worked on0;  so I did not know how completely
unusual it was until I listened very carefully to all the construction workers. ) They had never (and all said they will never) work  on
anything with the quality and details this entailed!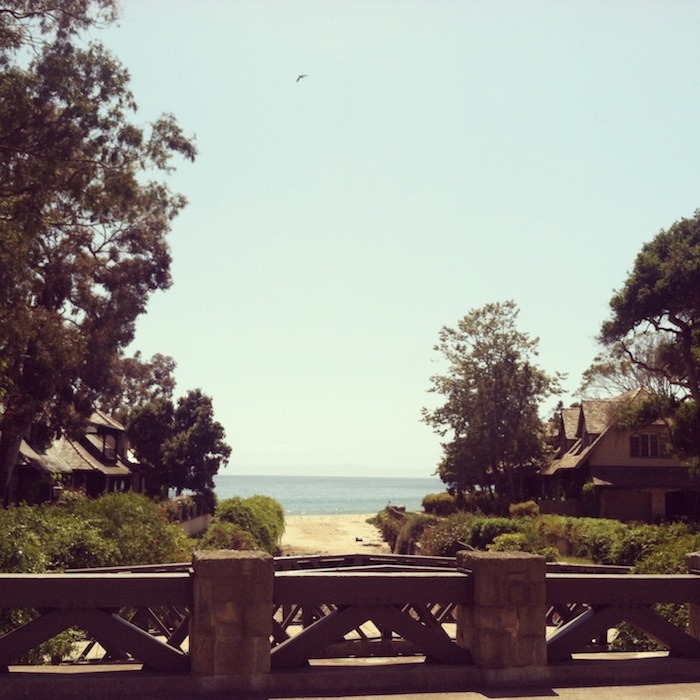 The first bridge is in the "community"  can you see the second bridge just beyond? That is for the surfers!  Charlie said, "there must be something in the
water in Montecito!!"  Surfers, Indians, and the community who never wanted anything like
the other "condominiums" happening again!  It was such a challenge!  We went to lots of  Montecito Association
meetings!  They loved our plans….and they , I believe are grateful for this beautiful little community.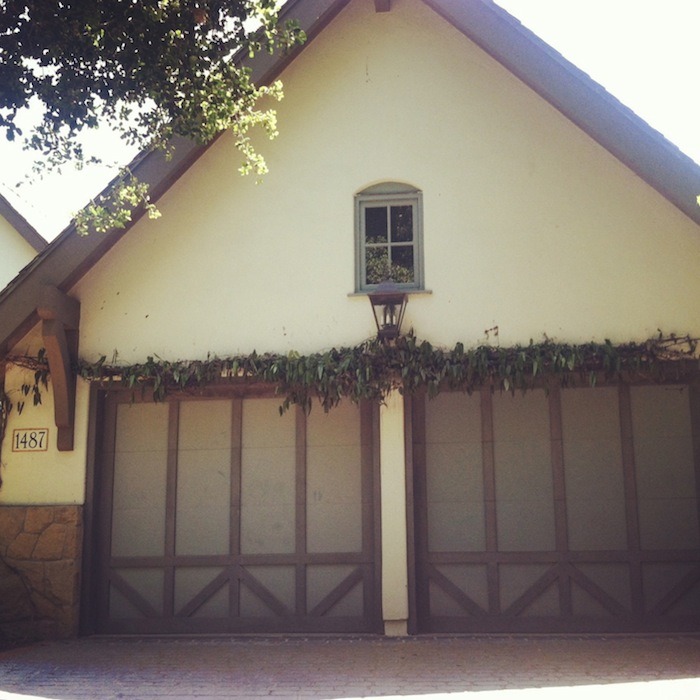 I was able to work with the architects (there were two) from the ground up!  Designing garage doors;  picking colors, floors, windows, and consulting on the
design of the houses.  (This is a duplex)  (two houses in one….so they stayed in "scale"!  Inside this duplex;   one would never guess there was a "common wall"!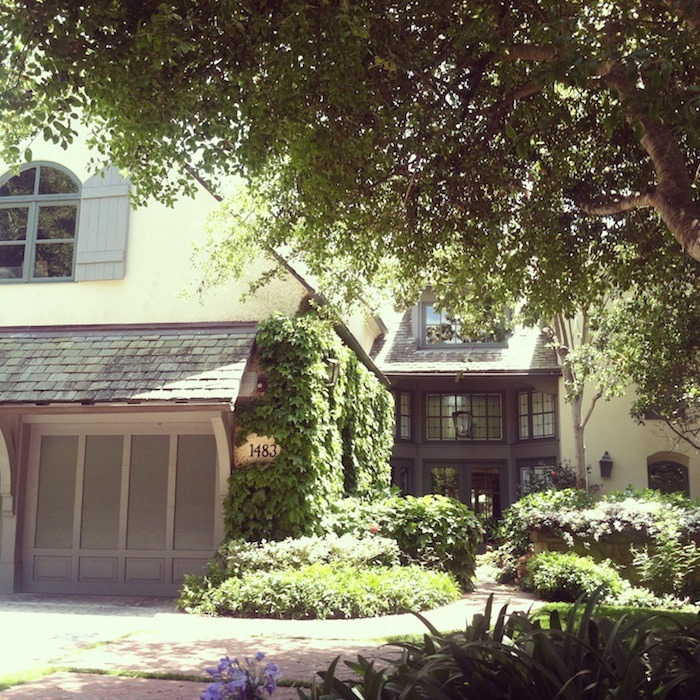 This one is actually part of a "triplex!"  Never would you know….inside.  Beautiful, beautiful architecture!!  One of the architects
went out with his camera on a big "stick" to make sure about the views from the second floor!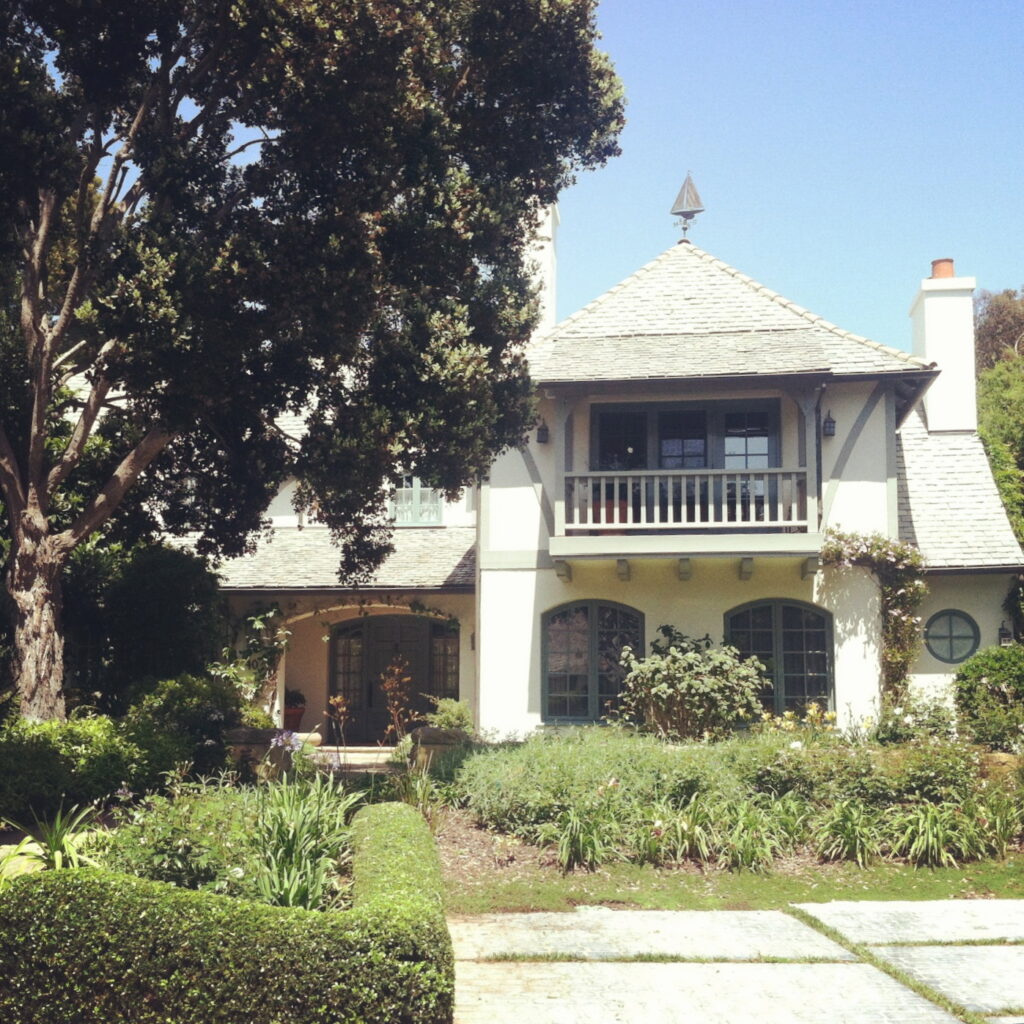 Another condominium!  Have you ever seen a condominium look like this?  Every one completely individual in every way!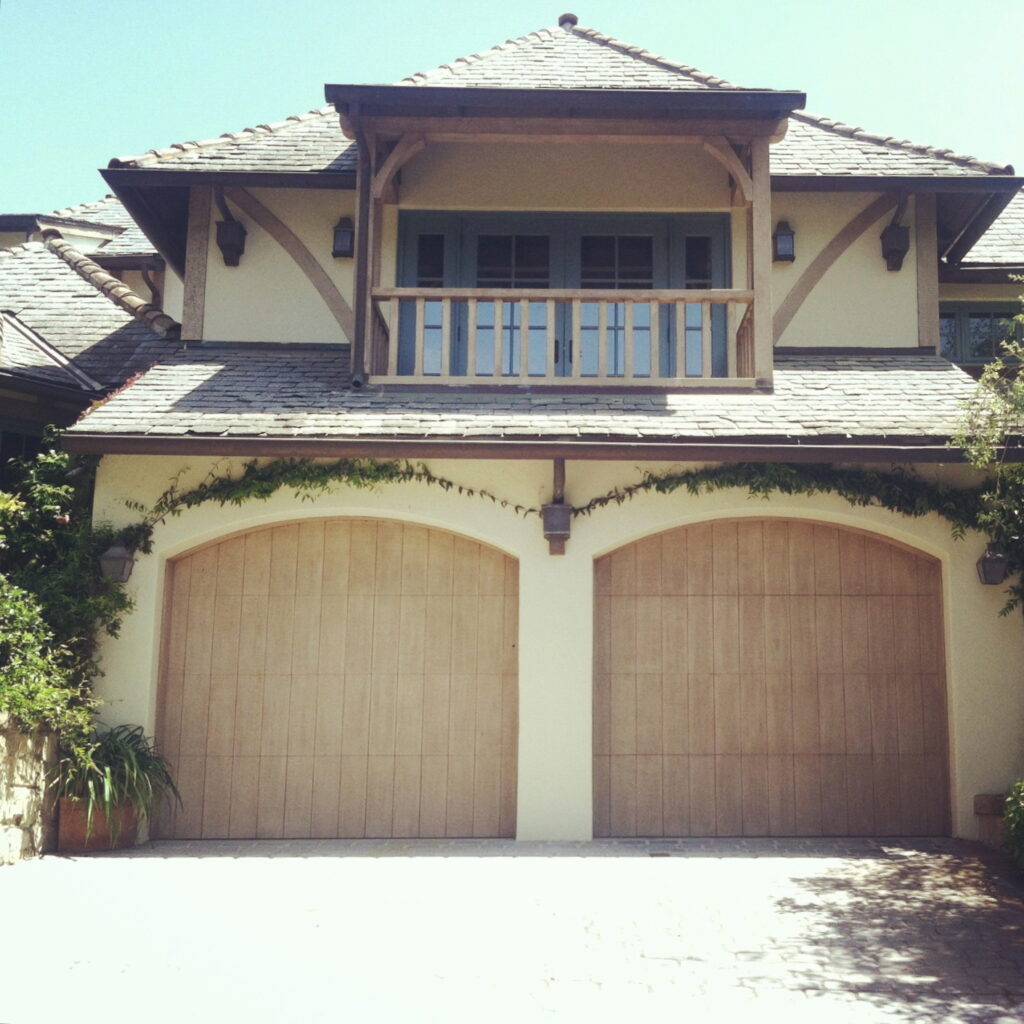 Here is another!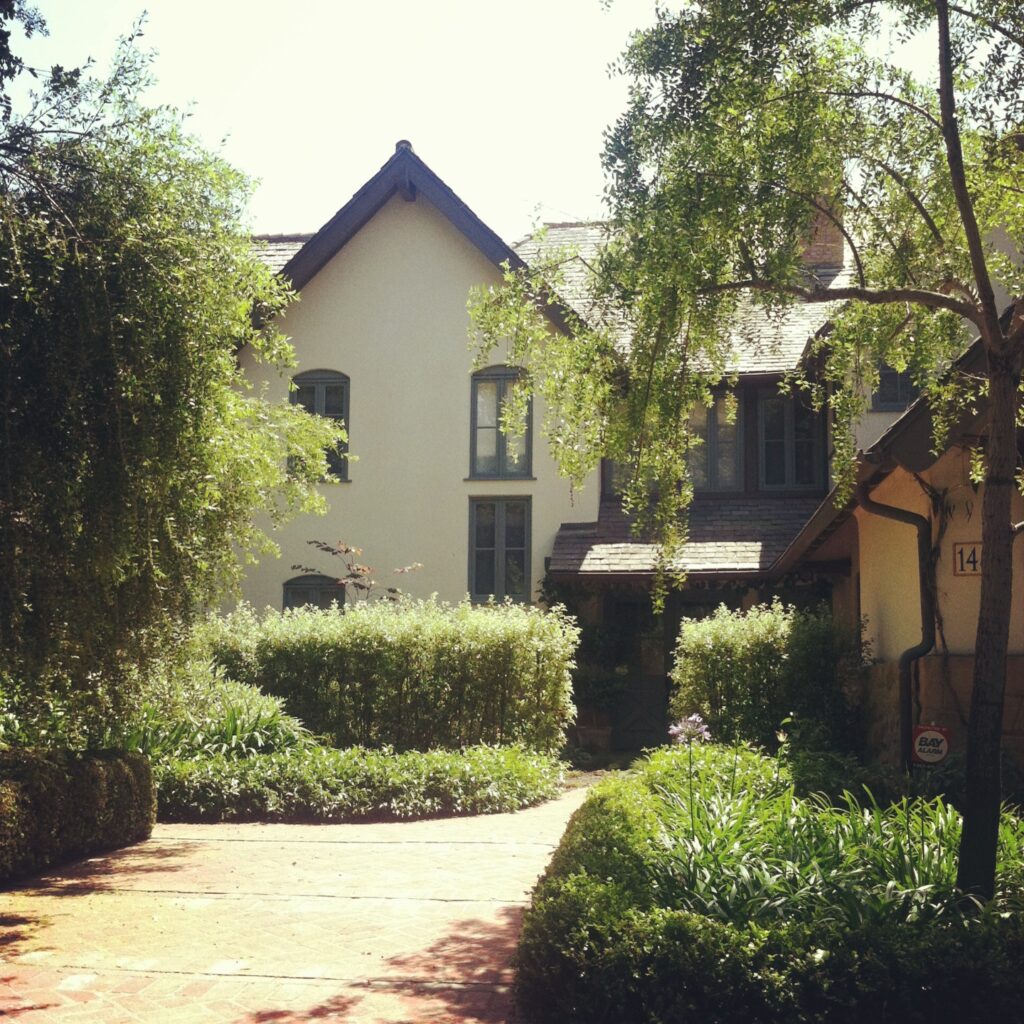 Another.  23 in all!! Only alike in the style of architecture!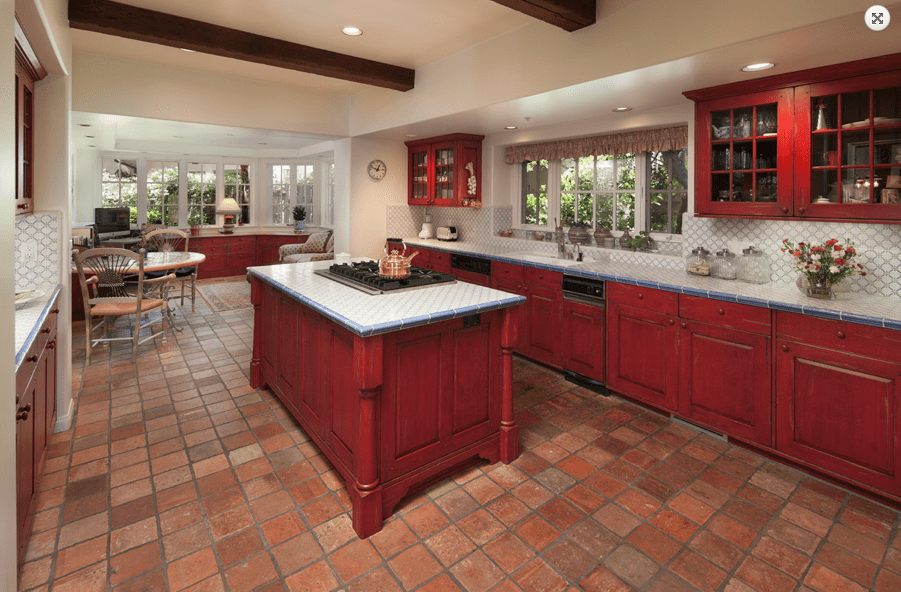 Here is a kitchen  of one of the "condominiums"  Yes, antique french pavers on the floor…….and red cabinets!  Yikes!
Revolutionary at the time!!!  I LOVE it to this day!!!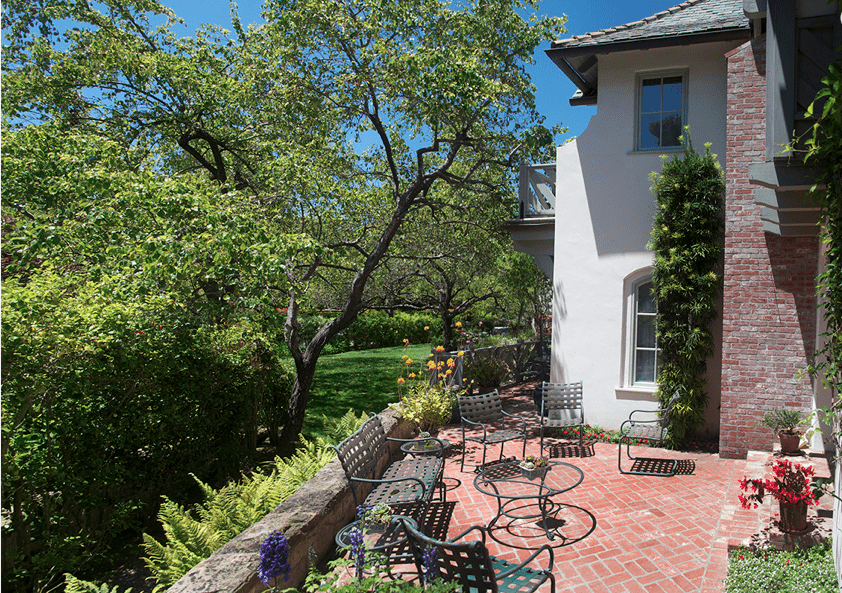 Now we move on to the houses!  They are past  the "flagpole" of the flag lot!  Across the stone bridge.
Some are directly on the beach!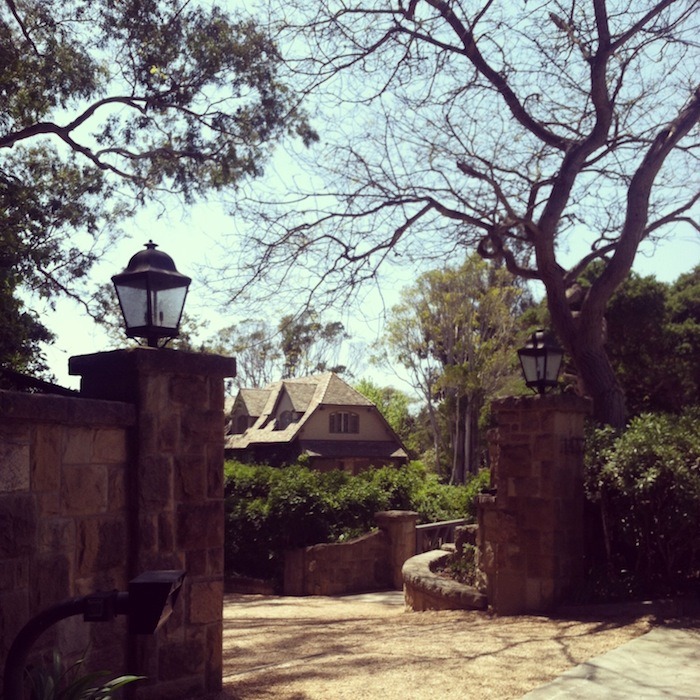 This is a "house"  that is right on the beach!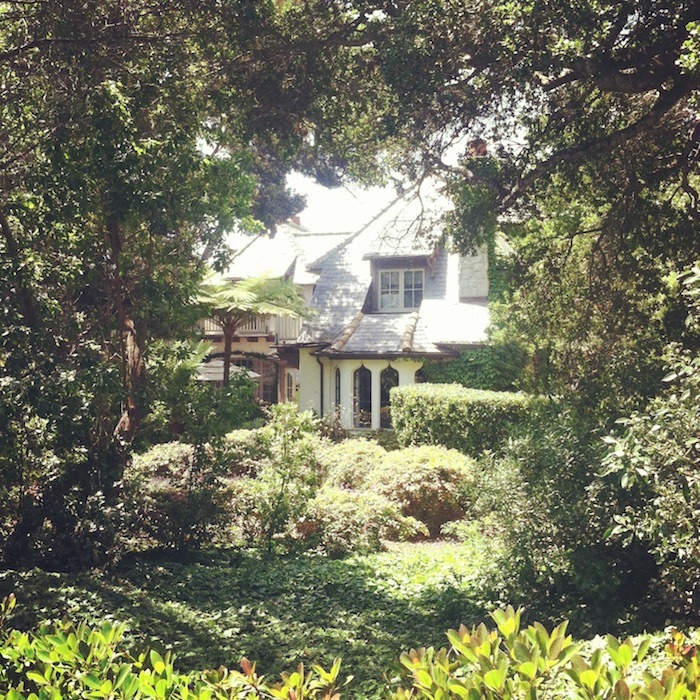 This is one that overlooks the "meadow…..full ocean view!!  Antique windows!!
this is one of the two "houses" I decorated!
Charlie and Nancy took two lots (good for them!)  One is their garden;  and will someday be perhaps another house!
The following pictures are of their house!
 Here is their back courtyard.  Behind this is a large garden;  actually, another "lot"!
 Nancy's father's collection of beautiful botanicals!  Each one shows the seed, the plant, the entirety of the plant.  The most magnificent I have ever seen!
the bird hanging was my "housewarming present" to them!
It turns out to have a great story!
 The dining room.  Quilting table and "Charlie" chairs!
from Richard Mulligan!
The dining room!  One day at the antique "Collective" in Summerland (next town)  Nancy and I were there when 8 boxes (big boxes) of French Quimper arrived
from an "estate sale"!  I said……."BUY IT ALL!!!  We need it all!"  And she did.  And we did!  It is all over the house!
It had been collected by a woman in Montecito for over 50 years!
It was an incredible find!  And Nancy had faith in me!
Charlie's library!
to the right is a full-on ocean view over the meadow! 

The living room!  The French doors on the left overlook the meadow and the ocean!!
We purchased everything down to the silverware and can openers for this house before it was built!  Every now and then;  Nancy would say to me:
"What if when we move in, I don't like it "?(or more often; "them")!
I would make sure I was out of Adam's earshot…….(he runs the business side)  and I said, "back on the truck it goes!  and you will be credited!
(Adam would have had a stroke if he had heard me say this literally hundreds of times!)
(after the installation….1 lamp and three plates ended up coming back to our house!  I still have them!!)
She liked them;  there just wasn't the right place for them!
A guest room with headboards hand-painted by Radisha!  (see my post on him!)
Another guest room with beautiful toile and "redwork pillows"!
A guest bath with "children's games" delft tile from Country Floors.
(all tiles in all houses and condominiums came from "Country Floors"!)
Now;  one of only 3 "condominiums" I did not get to select things for  (they were built by owners);  sold, and I DID get to!
This is the largest condominium of them all.
It is next door to the clubhouse;  and it is now on the market!
furnished !
(I also got to do this one down to the can openers!)
It was sold to the now owners with the stipulation that "everything stays……down to the can openers!"
And  it is for sale…….right down to the can openers!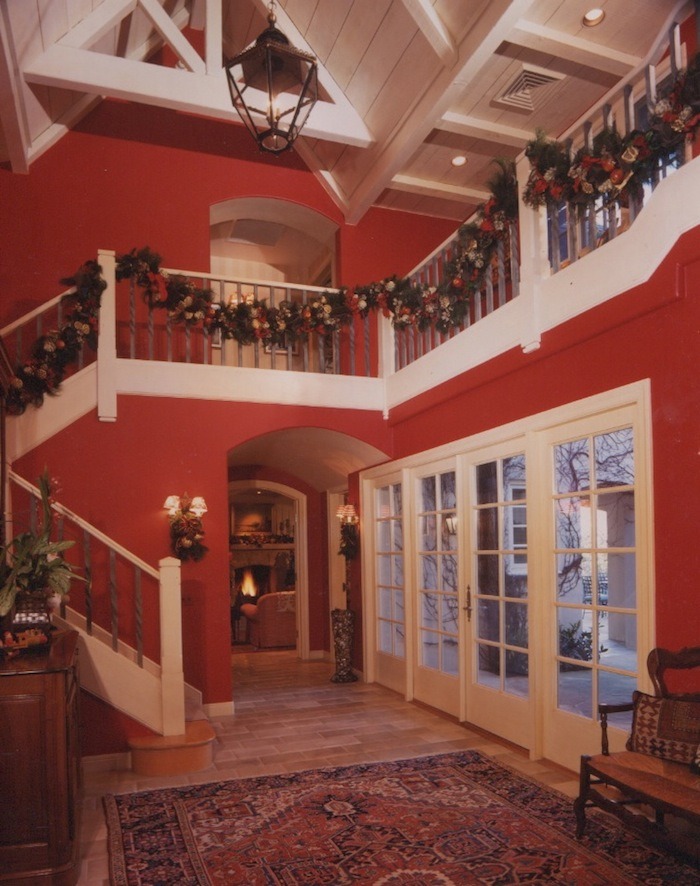 This  entry was white with brown ceilings and railings!
It was too cold!!
"This entry hall wants to be red!!"  I said!
The husband said to me….."how do you know?"  I said, "It told me!!"  And it did!
(By the way, quite honestly in a career with the most wonderful clients……..this one really had to be in the "Hall of Fame"!
He said….."my Feng Shue consultant told me I needed more "red around me"!!"And he had had constant "remodeling" in his house in Los angeles;
I told him we could "fix" this house with "
NO REMODELING"!!
AND WE DID!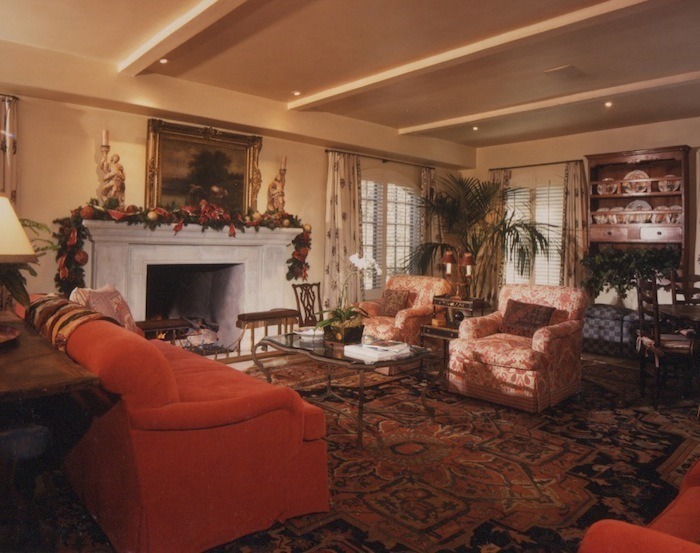 This is the living room!  The wife was 9 months pregnant!  She said:
"I am going to the hospital to have a baby;  this is our second house.  I saw the clubhouse and Charlie's house!  Please do it!"
I did!
The kitchen and  family room!
Here is a description of "Sea Meadow" in "Santa Barbara Estates"  here:
http://www.santabarbaraestatehomes.com/beaches/montecito-real-estate/hammonds-beach-homes/
And that is a true story of a dream job.
I took the responsibility of this project  very seriously, quite honestly.
And I had the most wonderful time!
I hope you enjoy this story!  I sure had a "whee of a time"!!