(Don't forget to click on the title!! To see the whole post!)
"Do you follow trends in decorating"?
That is the topic on "By invitation only" on the blog:  splenderosa.com.
 Everyone is different;  but this
is something I decided many years ago  (43) to be exact!
I do not follow trends for my own decorating;  and being a professional decorator; I avoid it in my work
for others when I can.  Since I try to give my clients a house that represents their tastes, family and likes; sometimes
they are dying for something "trendy".   Usually I try to dissuade them if I feel it will
be a dated mistake shortly;  and really if it is very expensive.  I avoid trends like the plague!
"Santa Fe" decorating belongs in "Santa Fe";  my goal is timeless decorating.
I find it a disturbing trend that many people when they move start all over with their
furniture, rugs and even art!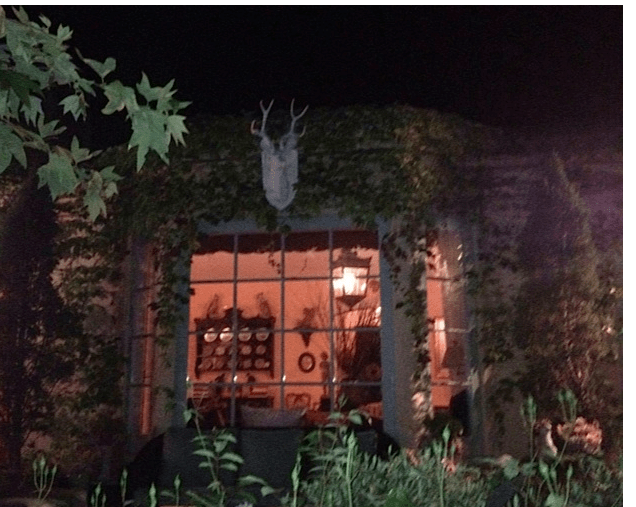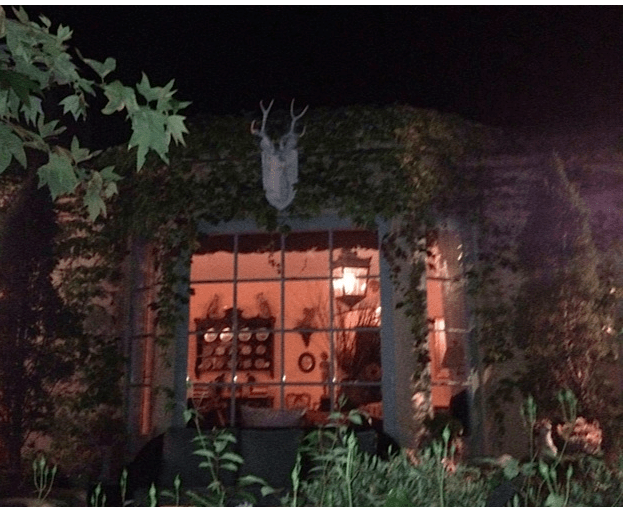 This is a picture of our "big hall" from outside.  Nothing trendy!
This our main room in Pasadena which I decorated in 1985.
I still absolutely love it!!
This is the master bedroom the same year.  Same thing!
 Our terrace in Montecito designed in 1997 with furniture from our loggia in Pasadena
Circa 1985.
It has been "pinned" 50,000 times on just one website!  (my landscape designer's)
In my view,  furniture, rugs, art and should be personal and mean something to the homeowner.
Family heirlooms I work into houses all the time!  They are a priority!
And classics stay classics!  They don't go out of style;  they weren't "trendy"!!
I feel my house is a scrapbook of my life!
Permanent things like tile, flooring,appliances  and plumbing fixtures should NEVER follow
trends.  I encourage classic white tile, (or at least white background) white plumbing fixtures,
and classic appliances.
(ever seen a bathroom all done in black plumbing fixtures?  I have!!!  TWO, 10 years apart in different cities!)
Lord have mercy!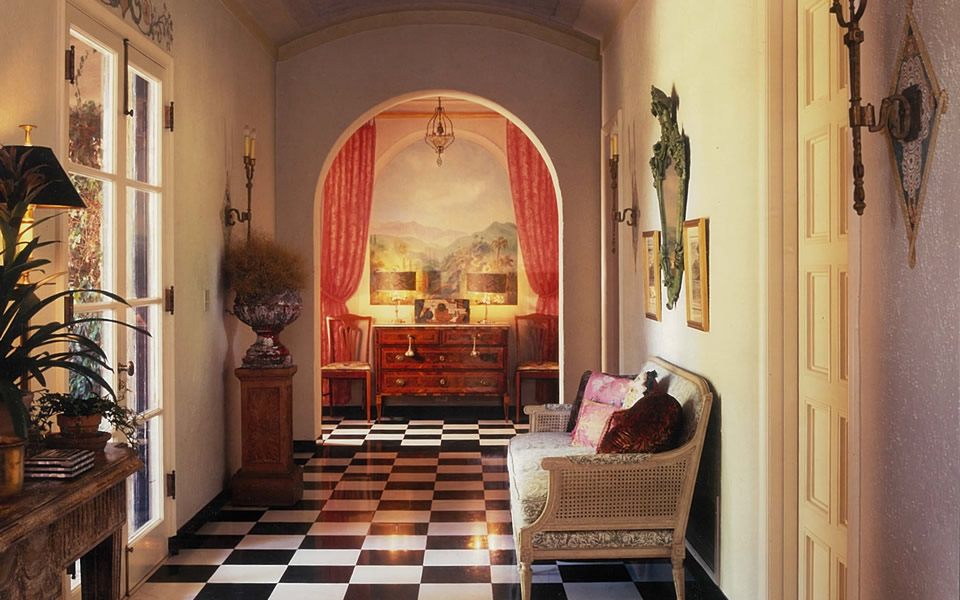 Trompe l'oeil window with  trompe l'oeil curtains in a Reginald Johnson Italian Villa in Pasadena done in
1988.  Fortuny on the sofa, family heirloom antiques , and original 1919 sconces with paintings framing them.
Absolutely the same today.   And I wouldn't change one thing!
My goal for myself and my clients is "Timeless decorating".   I doubt anyone could date anything
I have done!  And I keep things young, and fun, and full of meaning!
One of my idols is Mario Buatta who just published a book of 50 years of his work.
I wouldn't change so much as a lampshade!  Now, that is "timeless decorating"!!!