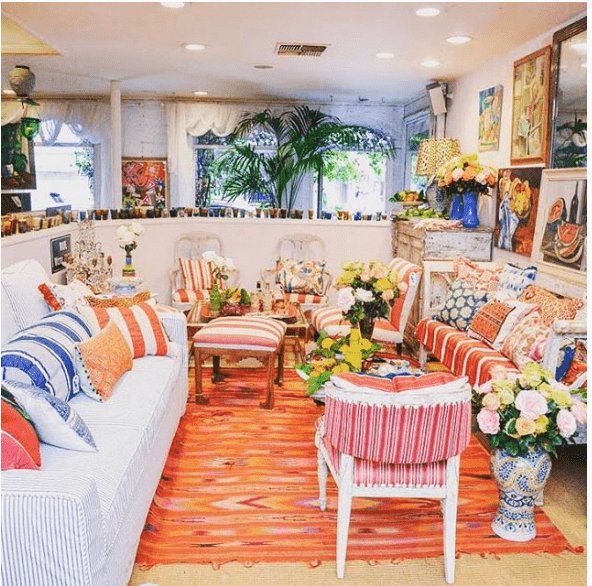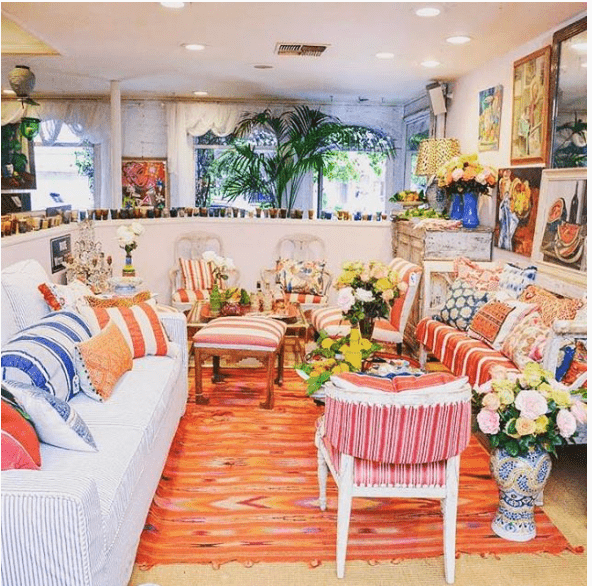 "Joie de Vivre!"
Pretty much describes the owner and spirit behind Indigo Seas:   founder and owner of the shop:  Lynn von Kersting.
Lynn is the personification of the expression:  "Joie de vivre".  It means "joy in life";  it is a rare and beautiful thing!  she is the walking ,talking epitome of it!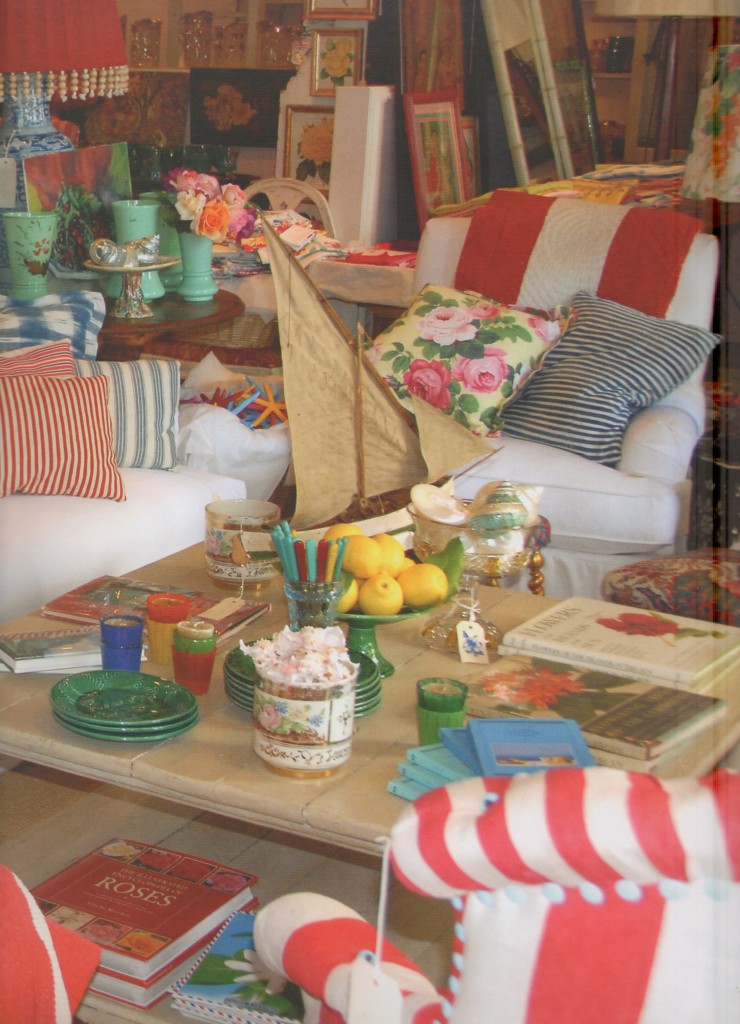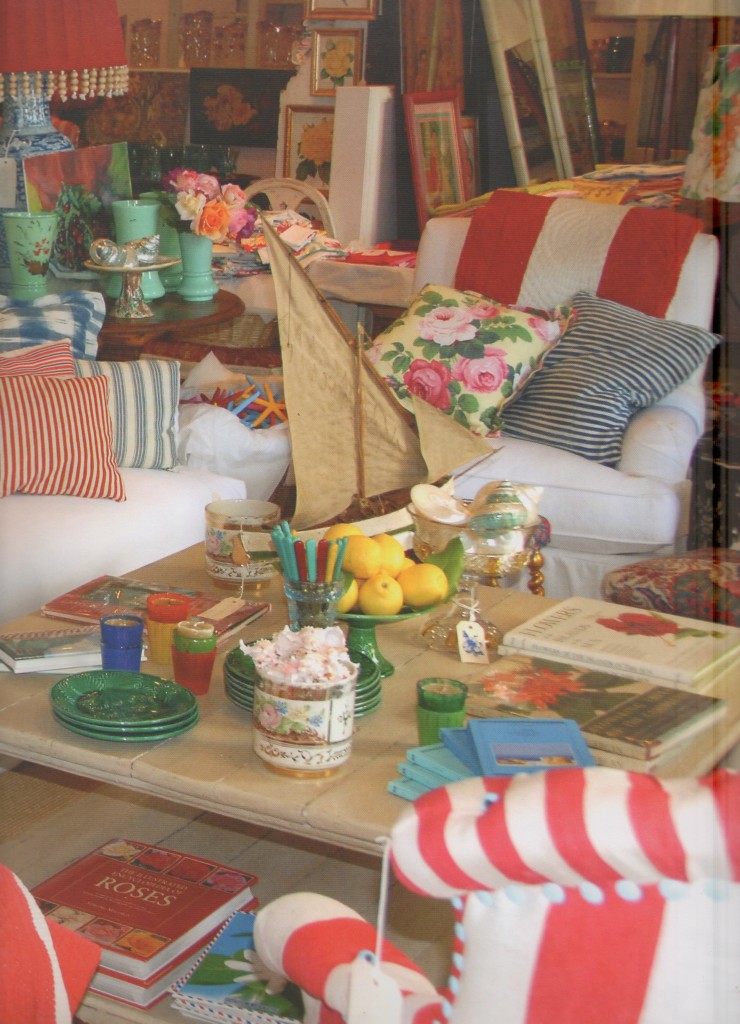 37 years ago……or something…..the little cottage that became the restaurant "The Ivy" was my very favorite fabric showroom.  When the Pacific Design Center opened;  all the little shops along Robertson Boulevard moved.  Lynn and Richard first opened as a tiny "LA Desserts and the Ivy".
Lynn decorated the Ivy over thirty-five years ago; it has changed very little since, except growing in size and popularity. She was way, way ahead of her time.  The weathered fence; the chintz cushions, the unusual art everywhere;  she even put straw on the walls before she painted them. Way, way before "shabby chic" (now pretty much a cliche );  her look was and is original, colorful and joyful.  When the patrons of the Ivy wanted the china, wanted the pillows;  etc.  She opened the delightful shop next door "Indigo Seas".
Indigo Seas is my absolute favorite store  in the world!  I tell my assistants to study it.  It is " decorating graduate school"!! Indigo Seas will transport you to another era, another place, another way of life altogether.  This shop is nothing short of amazing;  and upon spending five seconds with the owner you will see why.  I would describe her as exuberant, effulgent, excited, enthusiastic and oh so generous!!
Here is a shot of a corner of her store!  look at the lampshade and its trim; the antique vases with roses from her garden, the mixture of pillow fabrics (many vintage; many other textiles meant for something else ,like Turkish blankets) And multi-colored starfish!    People have tried to copy her;  but  it cannot be done.    She is a true original!
This is a peek at the store, so much attention to detail in everything that she does!
This is more that a home furnishing store, it is a way of life that we should all emulate! Her books and shop evoke something;  the need to travel, live with color and beauty,
be free, and most of all enjoy every minute of it!! She has a brilliant use of color
and is not afraid to mix and match patterns and textures.  Layer upon layer, it all just
seems as if her store is a peek into someones carefully collected life. Beautiful artifacts
and mementos from around the world, old books and photos, flowers cut fresh from
her garden.  Its no wonder why I find myself there for hours every time I say I'm just going to "stop in".
 Don't miss the blue upholstery tacks on the red and white striped chair!
If ever in Los Angeles, make it a point to stop in, 123 North Robertson Blvd.
Be prepared to spend some time!
This is a house she did;  with mixed florals on all the upholstered pieces,
and I am obsessed with the tufting and use of turquoise beads on this ottoman!  Totally original!  Artists' pallets hanging on the wall!
These crocheted pillows are done over  eye-popping colors, and I love how the fringe cascades! Perfect to revamp any area and brighten things up!
Here is a look inside La Dolce Isola;   Lynn's books are filled
with recipes and delicious fresh foods and drinks, Yum!
This is a shot from Lynn's new book of Lynn and Richard's semi-new restaurant La Dolce Isola.
 They offer daily specials and delicious desserts!! Always a favorite place to stop for lunch when I am in L.A. More casual than the Ivy; same delicious food!!!
2869 South Robertson Blvd.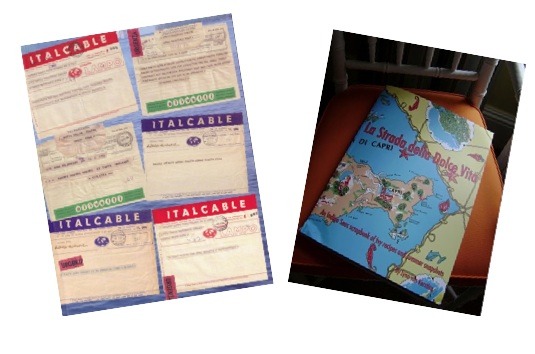 All pictures above are from Lynn's sensational  two books:
AMORE E GIOIA SOTTO IL SOLE
and
LA STRADA DELLA DOLCE VITA
Please call Indigo Seas to order your copy, they are not available online!
(310) 550.8758
a lovely present from Lynn !  Imagine receiving this in the mail!!
Now they are on Instagram!!!
indigoseasshop
Do yourselves a favor and peek!