This is an updated version of a post from 2011!
Our house was briefly on the market then.  Then we took it off!  So glad it didn't sell!
I have always been a lover of gardens, especially the wild ones!  I love statues, birdbaths, and accessories  (although when overdone;  I am reminded of a cemetery)!  Two of my most prized possessions are a pair of terra cotta sphinx that sit on the entry way to my house.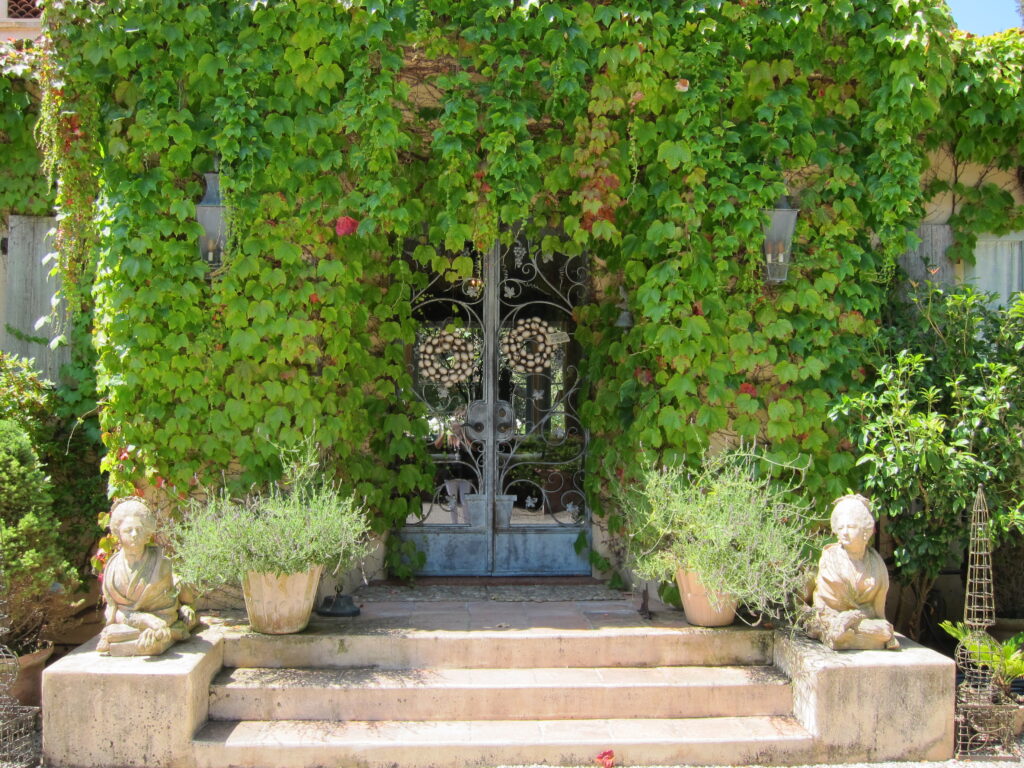 Years ago, an interesting older woman friend lived in a very interesting house which had belonged to the designer Adrian. She took me under her wing.  Lucky me…..I thought…..and still do…..some others found her totally impossible).!!  I adored her!
Anyway, one day at her house , I admired a pair of antique terra cotta sphinx which she explained to me were 18th century originals; and were the head of Madam DuBarry, the mistress of King LouisXV !!!  I was fascinated!!  The head and bust were Madame DuBarry;  the body a lion.  Tail, paws……everything!. On the bust……..necklace, earrings…….beautiful detail.  The tassels sent me over the edge!  Fantastic!!!   My friend  was around 80 at the time (I was younger);  and she said, "I'm giving you one;  but you'll have to wait till I die to get the other one!" I immediately placed the sphinx she gave me on a console in our beautiful living room in Pasadena…..where she presided for some years…….(by the way , I was shocked by the generosity of her gift.!!) (and I continue to appreciate it and think of her every time I see them!  Twenty times a day!  at least!!!)
We built our house  in Santa Barbara a few years later, and I had two platforms built for those sphinx to sit on. It was finished in 2000!!!
My elderly friend  lived to be 97!!( 2006!) I bought two wonderful dogs ("dog barking" and "dog scratching") to hold their places.  She visited and commented…….."aha!!!  I am so happy to see where 'our madame DuBarrrys' will reside!"
The dogs are "cast stone" reproductions by Quatrain…cast from seventeenth or eighteenth century limestone statues on a wall in France…..they looked wonderful there before the two 'Madame DuBarry's" were reunited !!!
By the way;  I  was helping my elderly  friend's nephew and niece deal with the estate of my elderly friend;  and I said:  "by the way;  I hope she remembered to put in her will that I was to inherit the other "Madame DuBarry"!  Her nephew…..(a total hero), said……"she forgot to put anything in her will….you carry one end, I'll carry the other".  He put that sphinx into my back seat…..put the seat belt on her…..and here she sits…..with her partner by our front entrance.
I am a lucky duck!!!
We are selling our house…….(I never thought we would)  I want another project!  Back will go the "dog scratching……and dog barking"  and the two "Madame DuBarrys" will go with me!
I see this tale as a tale of great friendship……and this lady taught me so much about taste and history!
I was so so lucky to have her as a friend!  Not only did she give me the Madame DuBarry sphinx ;  she gave me the top of Adrian's monkey cage……….which is part of my chicken coop!
And……most of all…….she also taught me so so much about antiques…..chinese export et all…………she loved sharing all that she had spent her life learning.  I am trying to emulate that spirit of always learning and teaching….along the way!
That is the spirit of enthusiasm  and excitement and passion!
My very favorite part of my business all these 40 years.
More soon!  I have been buried with visiting grandchildren……my happiest place!
More soon, I promise!
Does anyone want to see the two dogs?  "dog barking"  and "dog scratching"?
They are my favorite reproduction statues for the garden……or inside the house……I have ever seen!
Just tell me!!!
Two Madame DuBarry statues flanking my front door!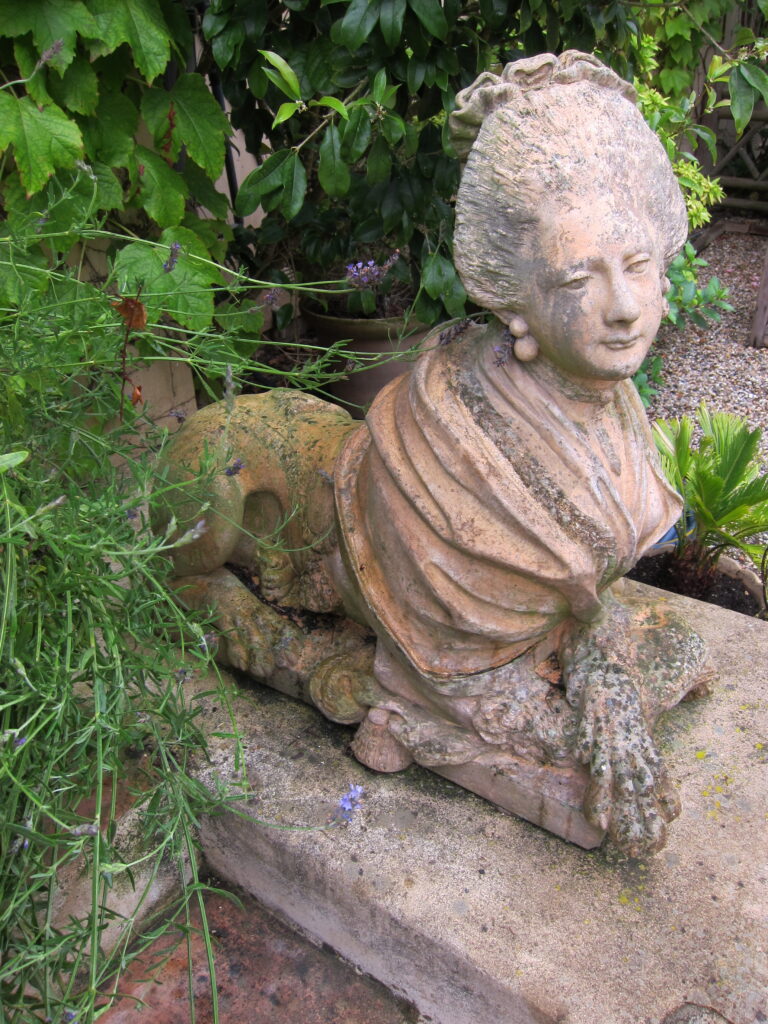 The Sphinx became a regular decorative feature in palace gardens during the 18th century.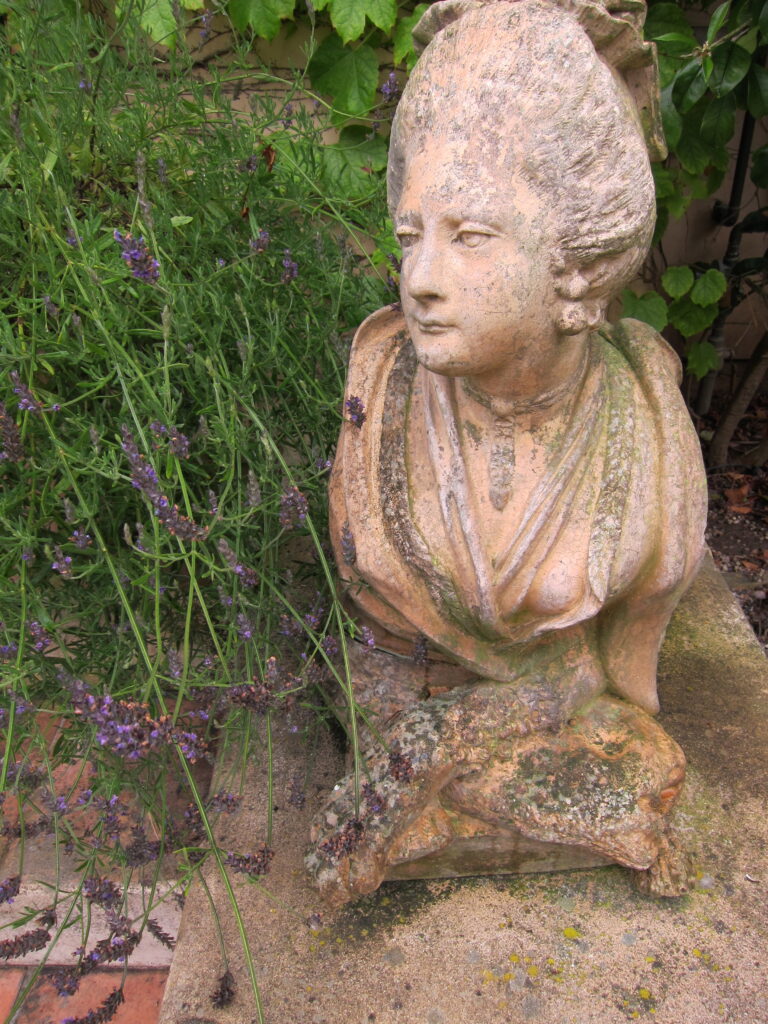 My sphinx sit poised looking off into the distance, with a very regal gaze.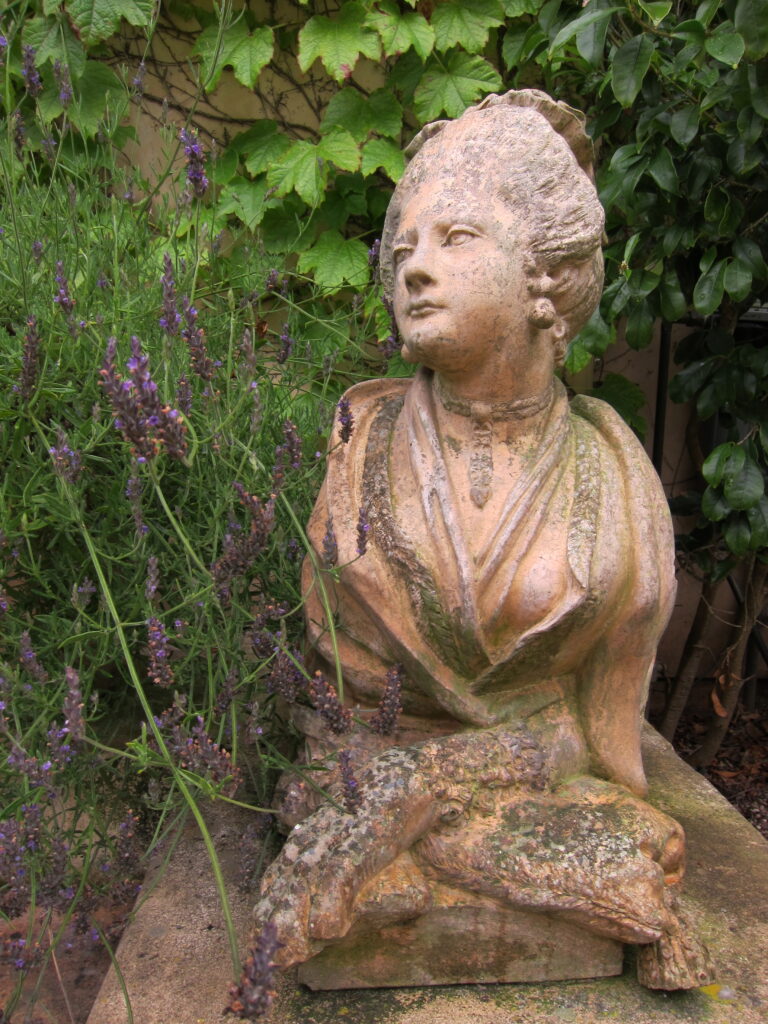 I love how you can see the age of the terra cotta. Lightly mossed to perfection, the light colors of the sphinx range from grays to pinks. This one is missing one paw.   Otherwise, they are in excellent condition seeing that they are  over  250 years old and terra cotta is quite fragile compared to lead or stone.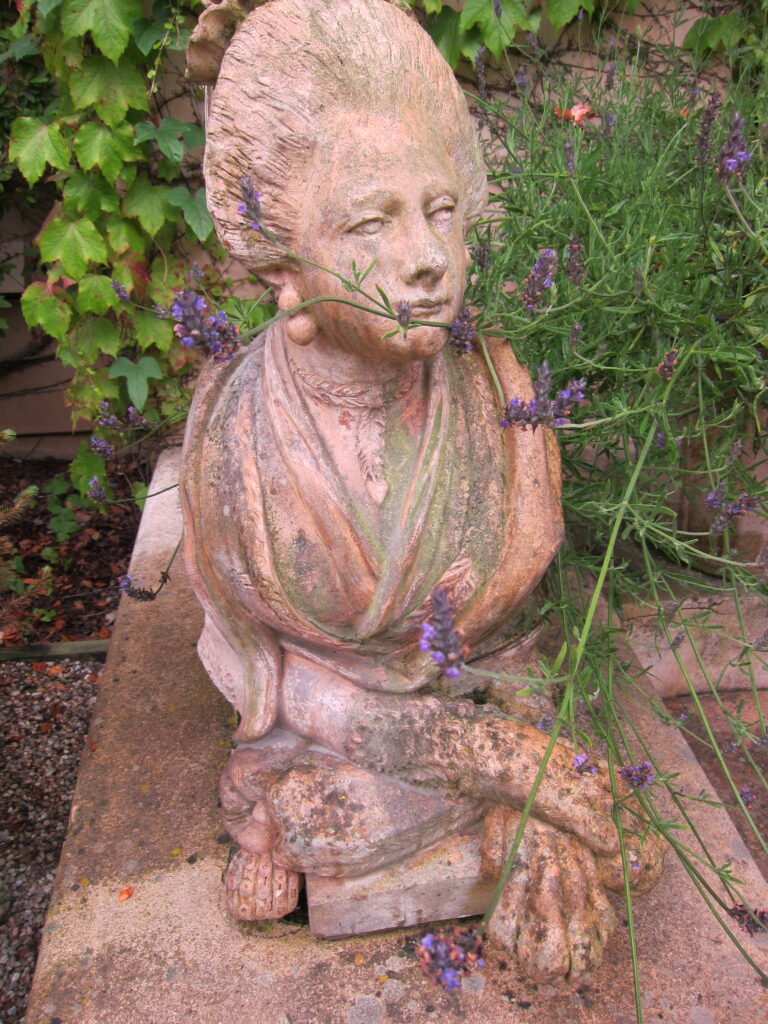 Pictured above are a pair of Sphinx, I believe Marie Antoinette on the left and Madame Pompadour on the right, a common pair in garden sphinx from the era. I do not know what material they are made of.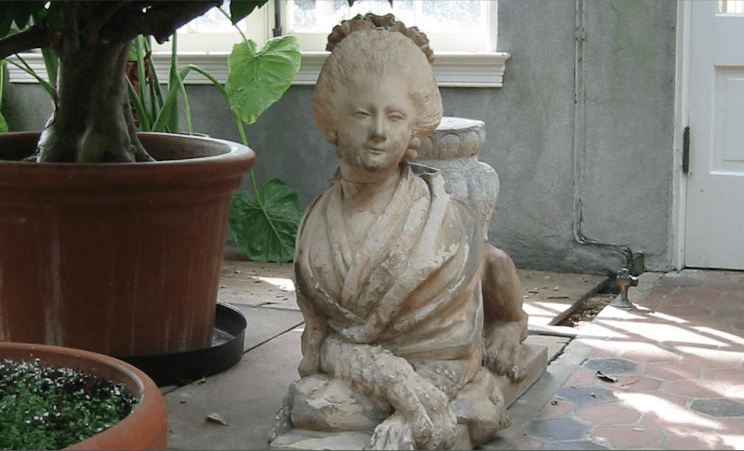 Here is another  of my Madame DuBarry sphinx;  I find  these quite rare;  this one I found at the famous Dunbarton Oaks Garden in Washington D.C.  There are lovely statues in that garden.  This sphinx is in the greenhouse there.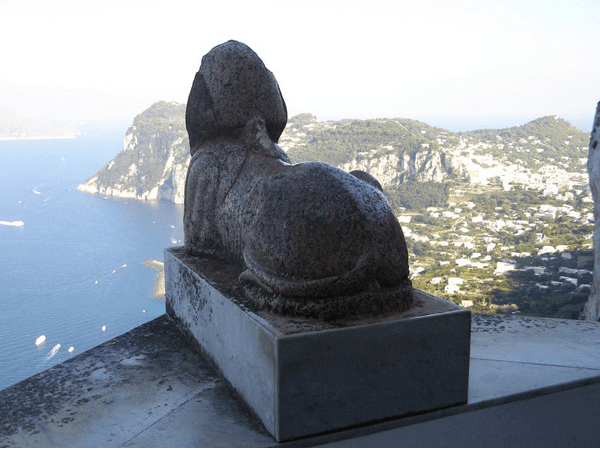 This is one of the best positioned sphinx I have seen.  Sitting atop the island of Capri, this sphinx (appearing more egyptian in style) this sphinx is poised as a protector of the island.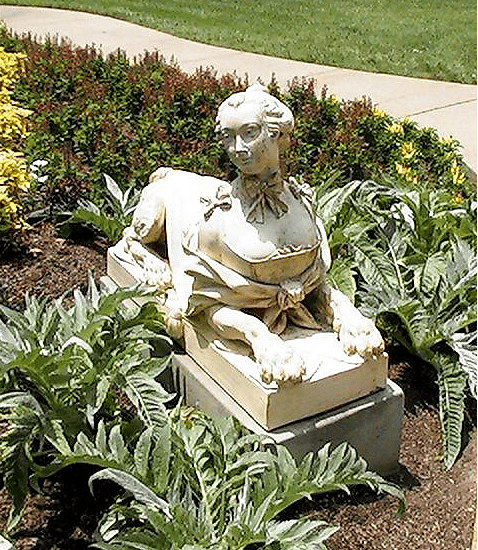 Here a sphinx of I believe, Marie Antoinette sits poised in a garden setting. I can't tell if it is cast stone or something else.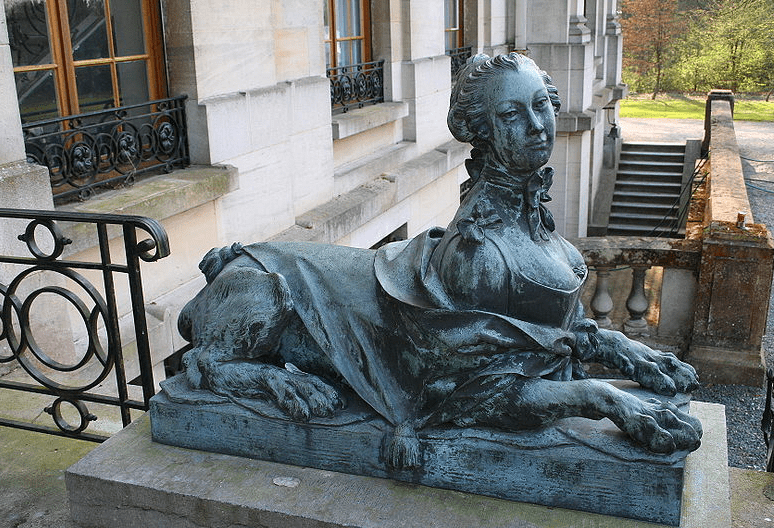 Pictured here is a zinc  Madame Pompadour (possibly  the sculpture that the mold was taken from for later stone or concrete versions). She sits opposite Marie Antoinette at the Chateau Empain, Enghein in Belgium.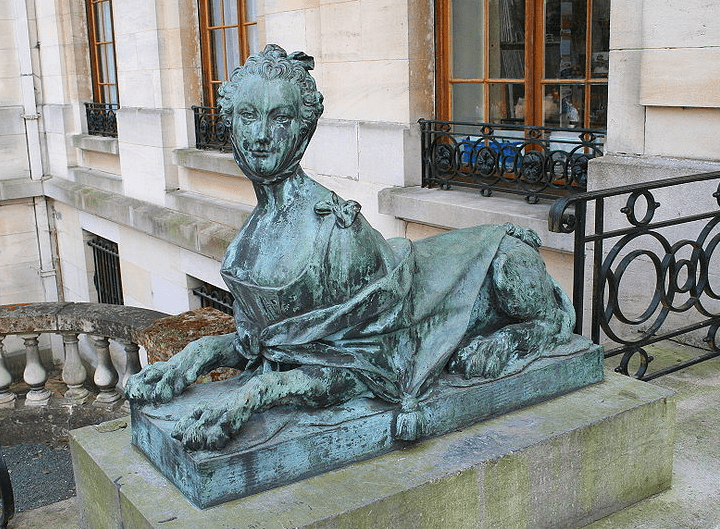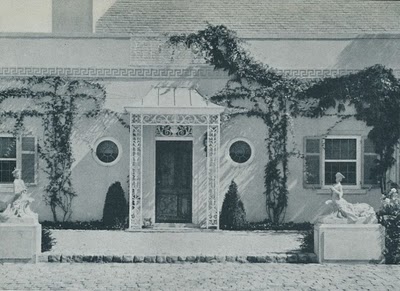 Another style of sphinx, the ones pictured above seem to be very unusual.   Sitting outside to protect the house and its contents.
I apologize for the poor picture;  I saved from somewhere!
The sphinx, a mystical symbol will continue to captivate me, and I always enjoy spotting new ones in my travels.  I would love to hear from you about your favorite garden attractions, or recent obsessions.
Cheers!
SaveSave
SaveSave