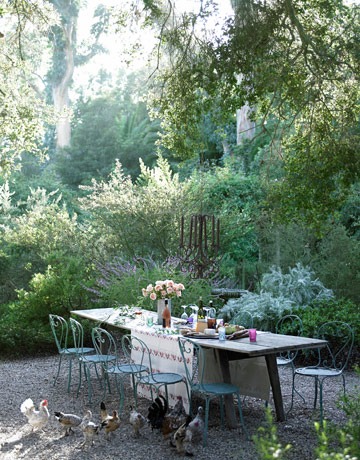 Mimi Read: Your house is filled with collections. Are you a Victorian at heart?
Penelope Bianchi: I don't think of myself that way. I've been a decorator for 39 years, and I never believed in any kind of a trend. My husband and I inherited about half of what's here. A lot of it is from my mother. She collected antiques in the '50s with basically grocery money. Everyone was getting rid of them and buying Danish modern. The rest of this stuff I found over the years. I have no idea what some of it even is — I just buy things that move me.
What moves you most?
Patina. I even use old fabrics. I'm crazy for antique toile. The one on our bed is an 18th-century toile that shows George Washington and two cheetahs being led to the Temple of Fame. It cost $140 and it's the best thing I ever found on eBay. A professor friend is horrified that I keep it on my bed. He thinks it should be in a museum.
Tell me the story of the house. It has a picturesque Mediterranean look. The way you've arranged furniture seems European. And it's both formal and rustic at once, isn't it?
We built it 12 years ago. We had been living in Pasadena, where I grew up, but we were looking for a house in Santa Barbara. My friend, a real estate agent, showed up one day and said, "We're looking at a vacant lot in Montecito today." It was two and a half acres of nothing, only a few trees. But she pointed and said, "Over there is a 45-acre nature preserve with a huge grove of eucalyptus trees and millions of monarch butterflies. On the other side is a 45-acre estate." Then she looked me in the eye and said, "And there are deer in there."
You're an animal lover? And she took advantage?
Oh, completely! She's known me since high school. I fell for it hook, line, and sinker. We bought the land and decided to build a rustic Provençal farm — everything about the site felt like Provence to me. Then we went to the real Provence to get inspired.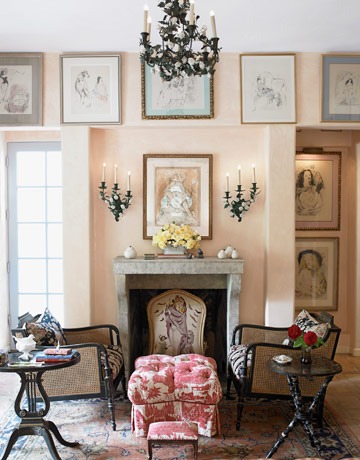 What did you do there?
I probably took 200 photographs of doorknobs, chimneys, doorways, rooftops, shutters, and slipcovers. In all the small hotels where we stayed, I kept asking about all the incredible walls and learned about lime-washing.
What color are your exterior walls? They're so faded and romantic.
It's called pink ocher. It's a pale pink with a bit of yellow in it. The pigments were mined out of the ground in Roussillon. They have little shops there that sell them by the one-pound bag. I bought all the bags in two shops and had them sent home. We put the pigment in the stucco and lime-washed it.
And inside?
We put a coat of plaster on the walls and left it unprimed and untreated. Then everything got a coat of lime wash mixed with the same natural pigments in various amounts. I contend there's a difference between artificial and natural pigments. Natural ones are more beautiful.
What's that vine rambling all over the house and trailing over your loggia?
Virginia creeper. It comes in pots on sticks — I bought 200. If you take the vine off the stick and Scotch-tape it to the wall, it will cover the house eight times faster. People think vines hurt the stucco, but deciduous vines do not. This one is always turning colors, and in winter, it's just tracery with no leaves. Right now, I'm trying to train it to come inside the house. Did you know that Rose Tarlow has vines growing in her living room? You have to dodge the tendrils. I love that.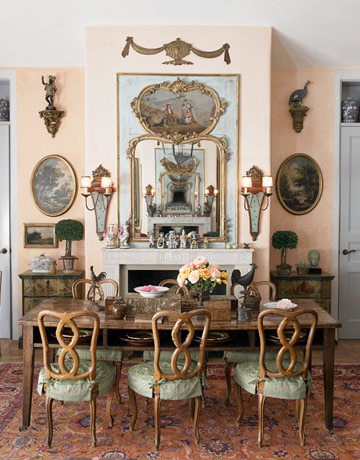 Hey, you've got interesting chickens! I hate to inform you, but raising fancy chickens is officially a hipster trend. Susan Orlean even wrote about it in The New Yorker.
I guess Martha Stewart started it. Mine are Mille Fleur bantam chickens. They're just so beautiful, with feathers on their feet! I had them sent to me in a taxi from San Diego.
Your loggia seems like the essence of Santa Barbara living.
That's where I am 90 percent of the time, on that little sofa reading or at the stone table, where we have breakfast and lunch. If for some reason I can't be out there, I'm in those red chairs in front of the fireplace. They used to be slipcovered in antique paisley shawls, but the cats shredded them. Now they're in old French toile. I got a whole bolt of it in an antiques store in France.
What do you love best about your home?
The landscaping. Every single thing we planted to attract wildlife. We have all kinds of animals coming around — raccoons, bobcats, coyotes, rabbits. And boy, do we have birds. When the woman who wrote The Birds of Santa Barbara was here for a nature benefit, she counted 78 species in two hours. I've counted 130 species by their sounds. I got this new iPhone app about bird-watching, and an oriole landed on my hat as I was playing its song.
Written by Mimi Read at HouseBeautiful.com