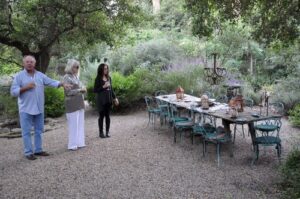 "An Evening with Lars Bolander," also, a night to remember!  Several months back we hosted a book signing for author, antique dealer and friend Lars Bolander.
His new book Scandinavian Design has received much praise, several other successful book parties and even a spot on the Martha Stewart show! Visit his online store larsbolander.com to see some of his fabulous inventory, and if ever in New York City, be sure to stop by his store!!  Also, pick up a copy of his book, it is a MUST have!  
Another treat of the evening was getting the chance to meet Brooke Giannetti of Giannetti Home and also author my favorite blog Velvet and Linen.  Brooke, not only a mother of 3, an interior designer, shop owner and blogger; she is a great inspiration and has really encouraged me in starting my own blog, so THANK YOU Brooke!!
Brooke wrote an amazing blog post on the evening, see the full article here.  She shows many interior and exterior shots of our property that her husband Steve so graciously took.  One of my favorite things about being a decorator is the not only the houses I get to see but the wonderful people I meet along the way.  Brooke (and the Giannetti family) as well as Lars and his wife Nadine are perfect examples!
Below are a few snapshots from the evening, enjoy!