I posted the very beginning of Spring a while ago.  Some people say we have no "seasons" in Southern California!"
Yes we do!!  Spring is in full swing!!
DO WE HAVE SPRING???
YES!!!!!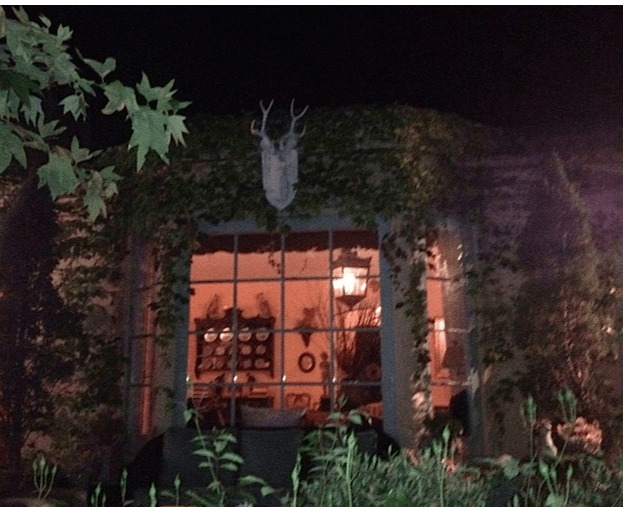 We have a handsome new deer trophy!  (wrought iron)  in a proud position!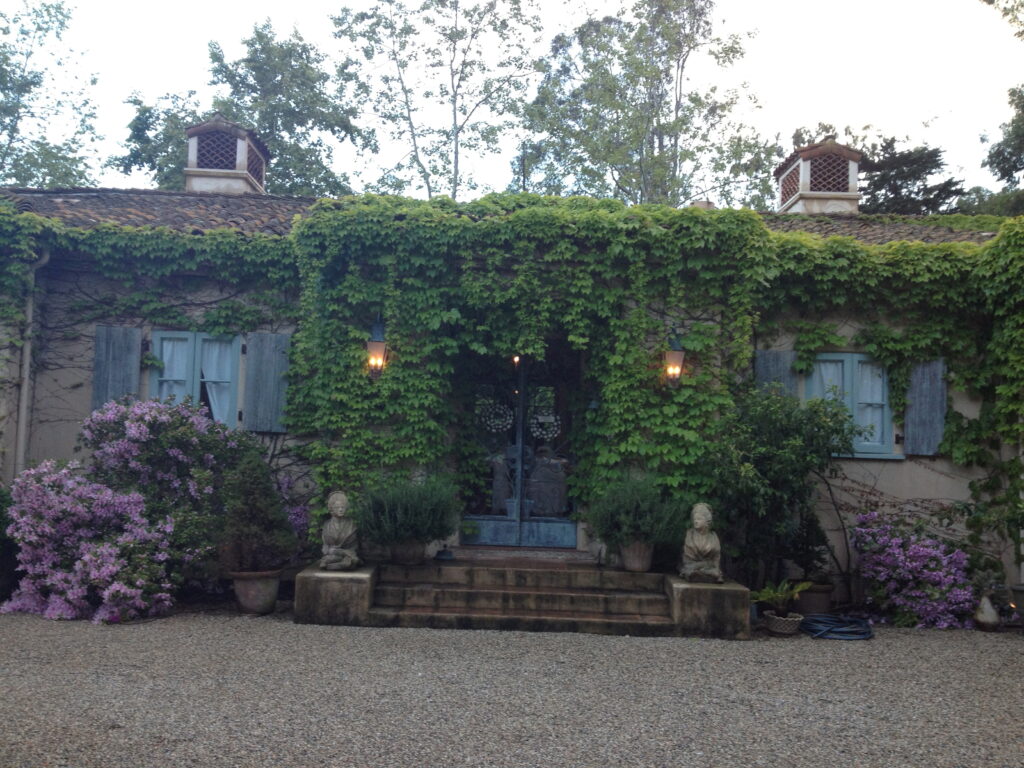 The house is fully cloaked with ivy!  (People ask me why I bothered to pick a color of the plaster!)
You can see the plaster in the winter;  all the leaves turn colors and fall off!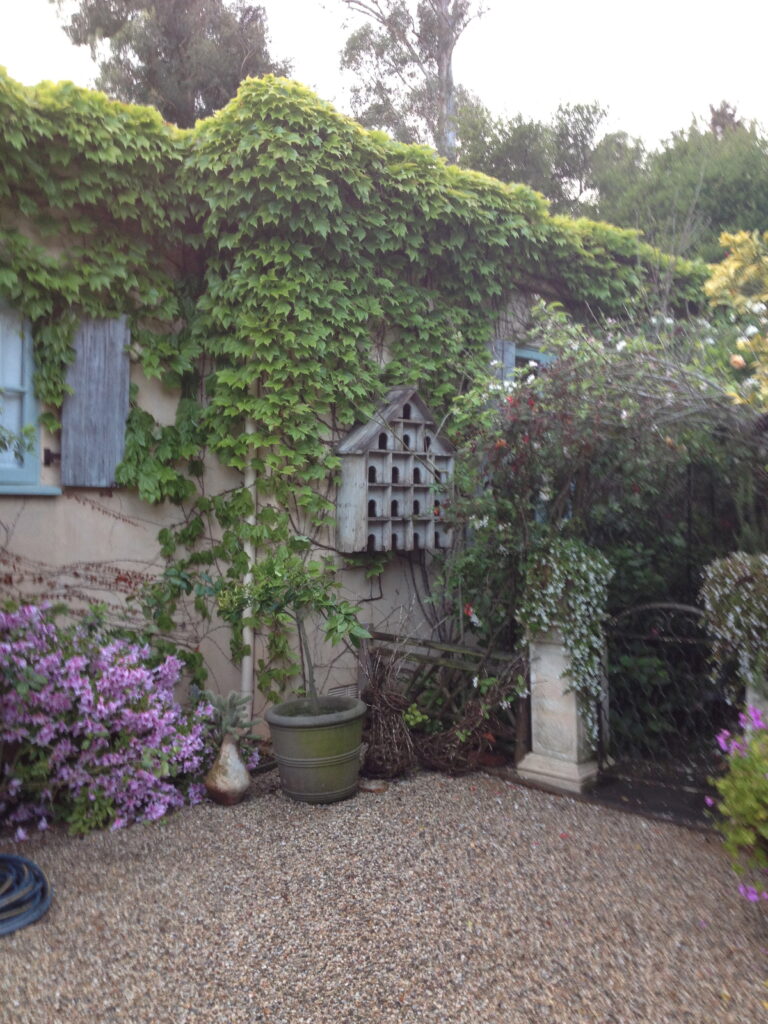 I found a wonderful "dovecote" from the estate of the wonderful artist, Jack Baker!  I'm hoping doves will make nests!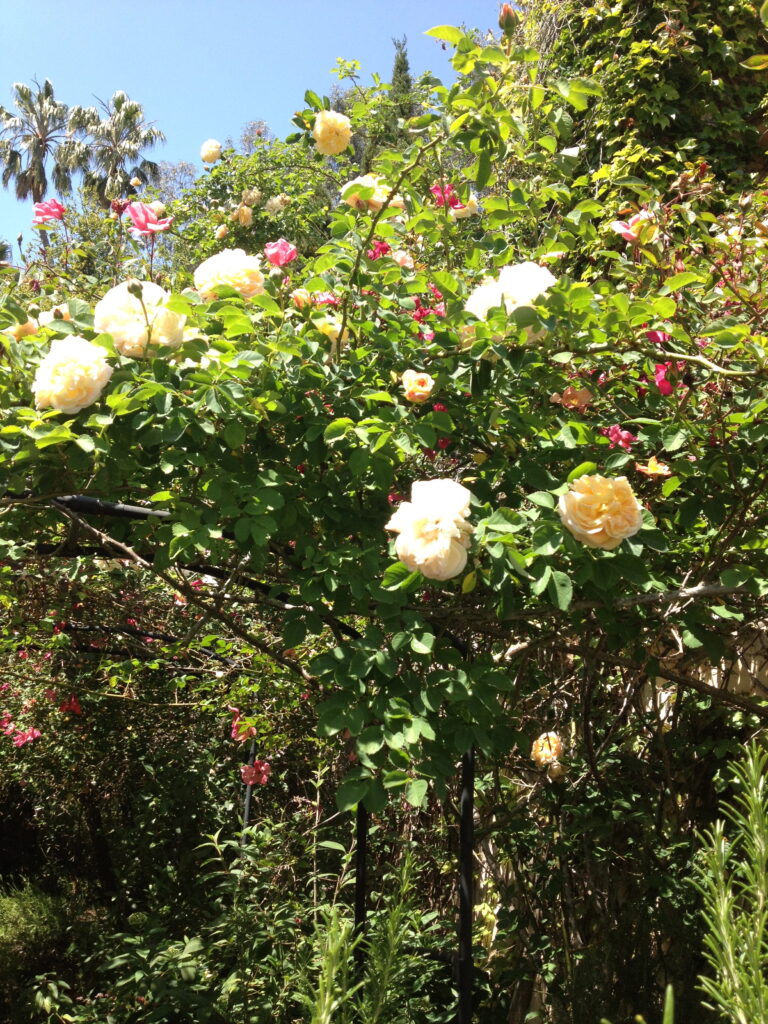 The arbors are covered with different roses!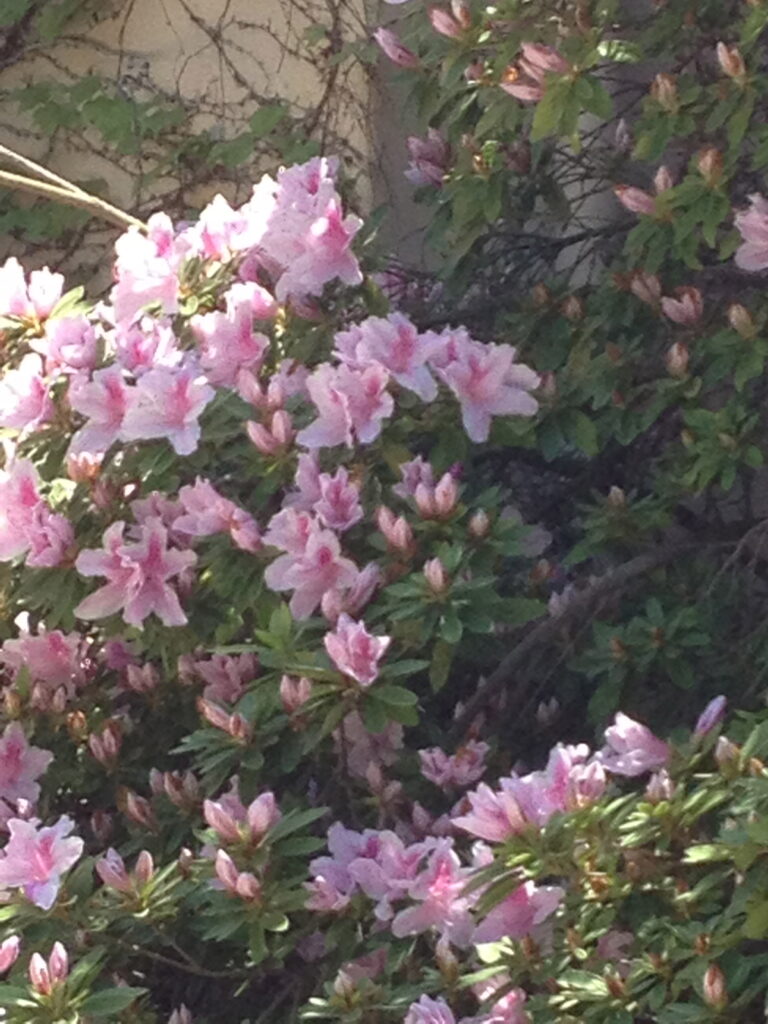 This giant azalea is as old as I am!  There are pictures of me as a child next to it!  It is in a big pot!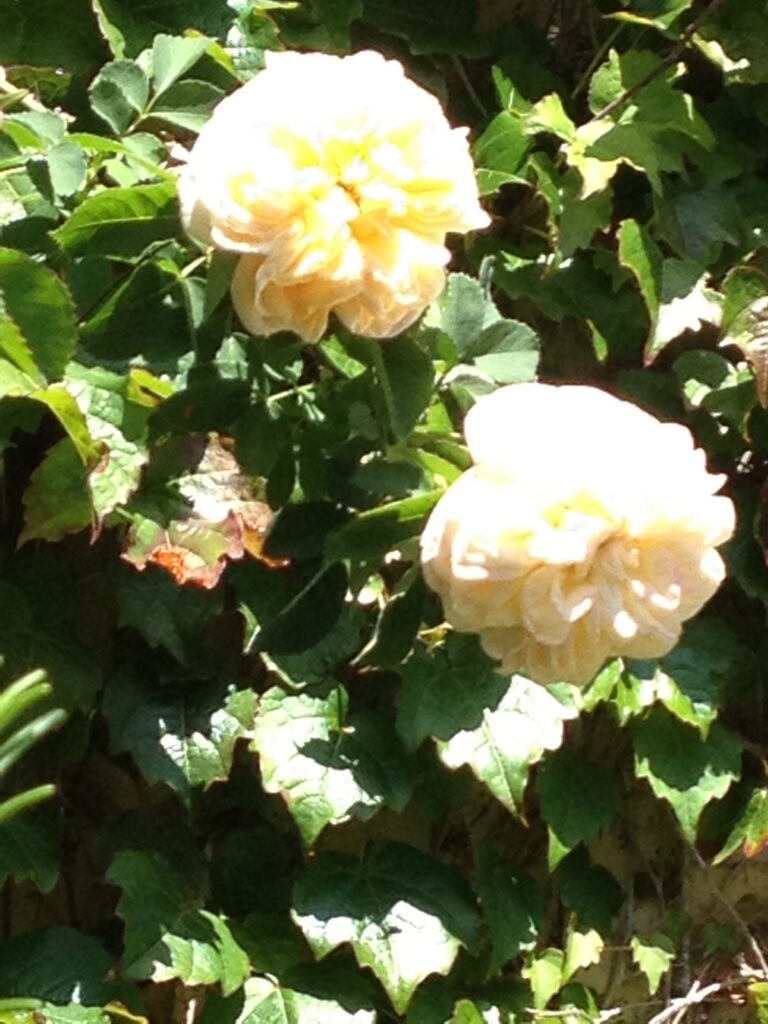 These roses all came from the wonderful place "Rose Story Farm" in Carpinteria!  They only have old roses;  and roses that have fragrance!!
(I learned there  that you have to leave your nose smelling for a full ten seconds to get the fragrance!)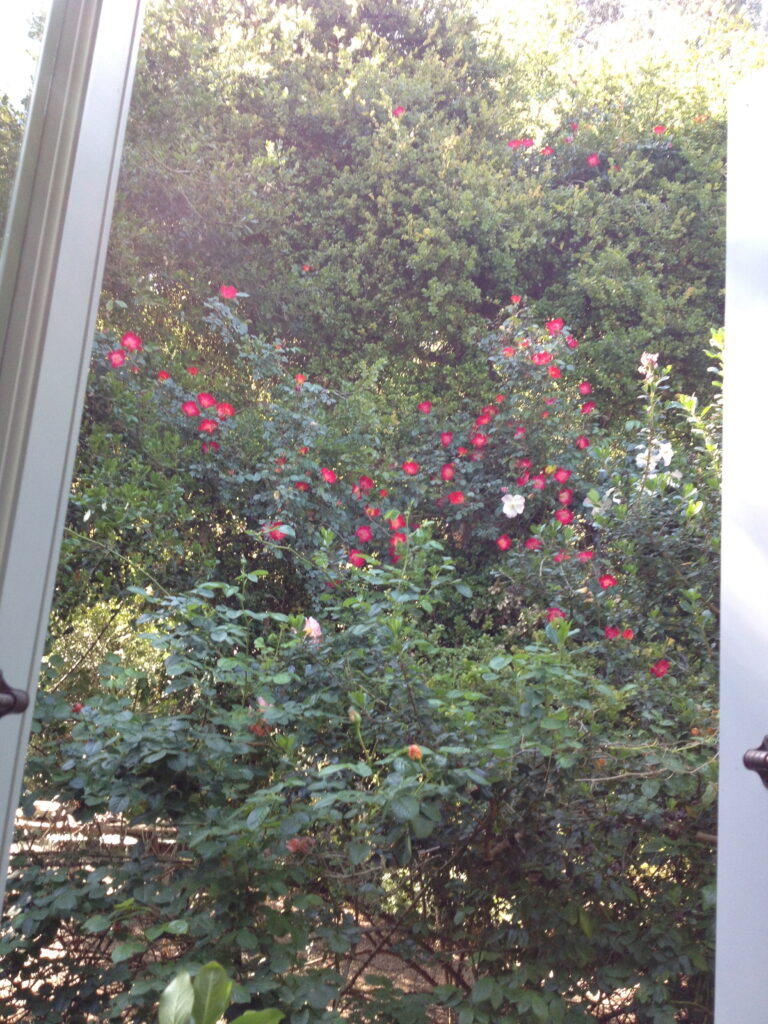 This is the stupendous  (I think!) view from the window by my husband's desk in his office!!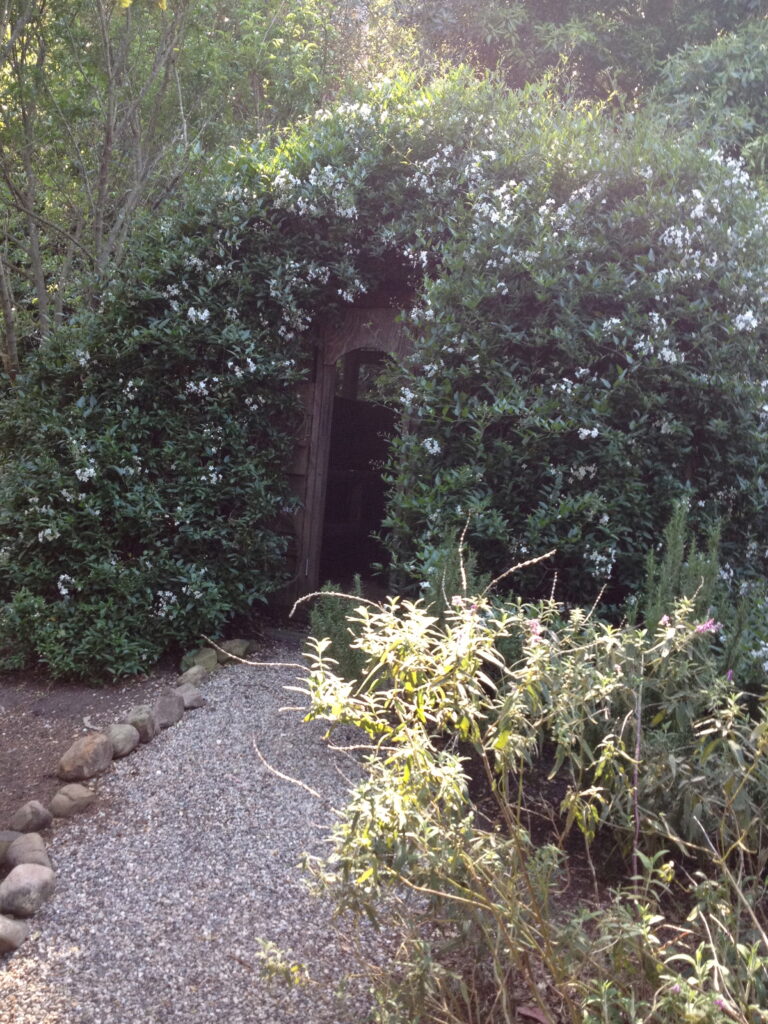 "The maternity ward" has a hen with five chicks!
They are so fast!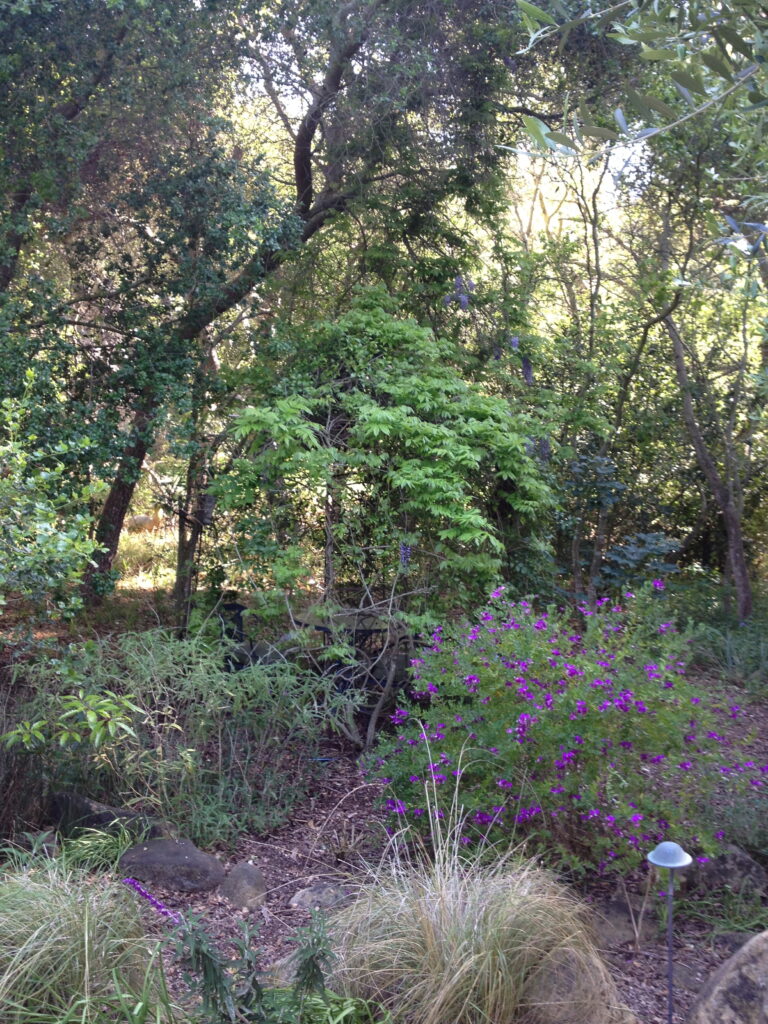 Can you see the wisteria in the tree?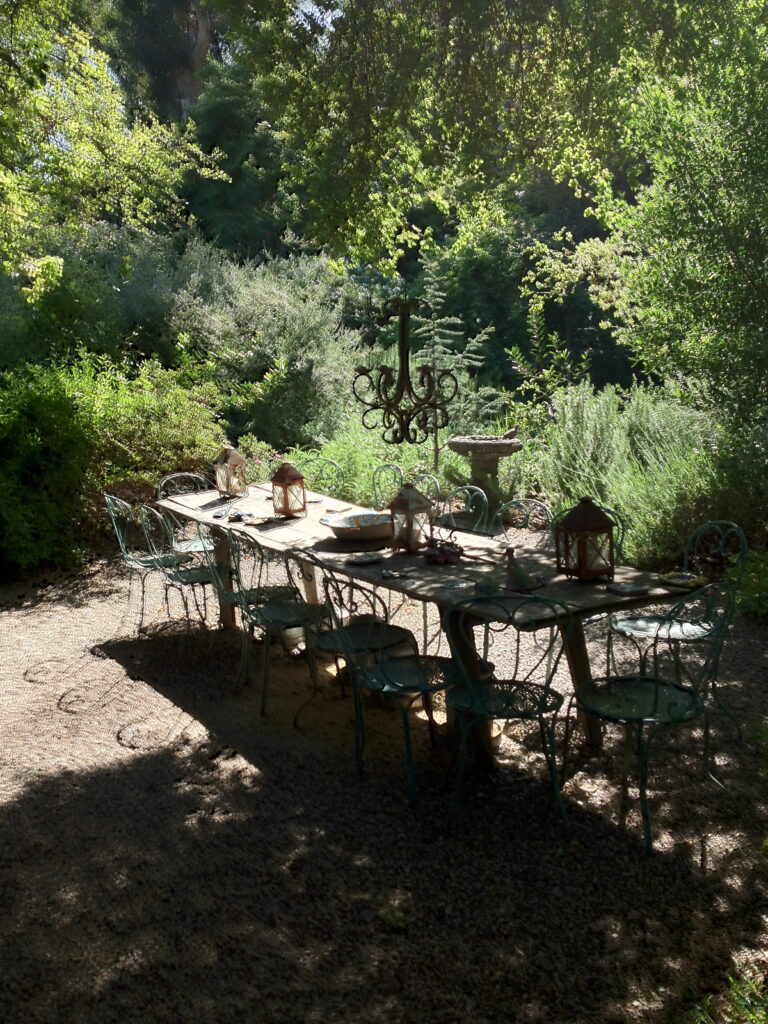 Our grandchildren's clay art works are displayed on this table!  It's their "Art Gallery"!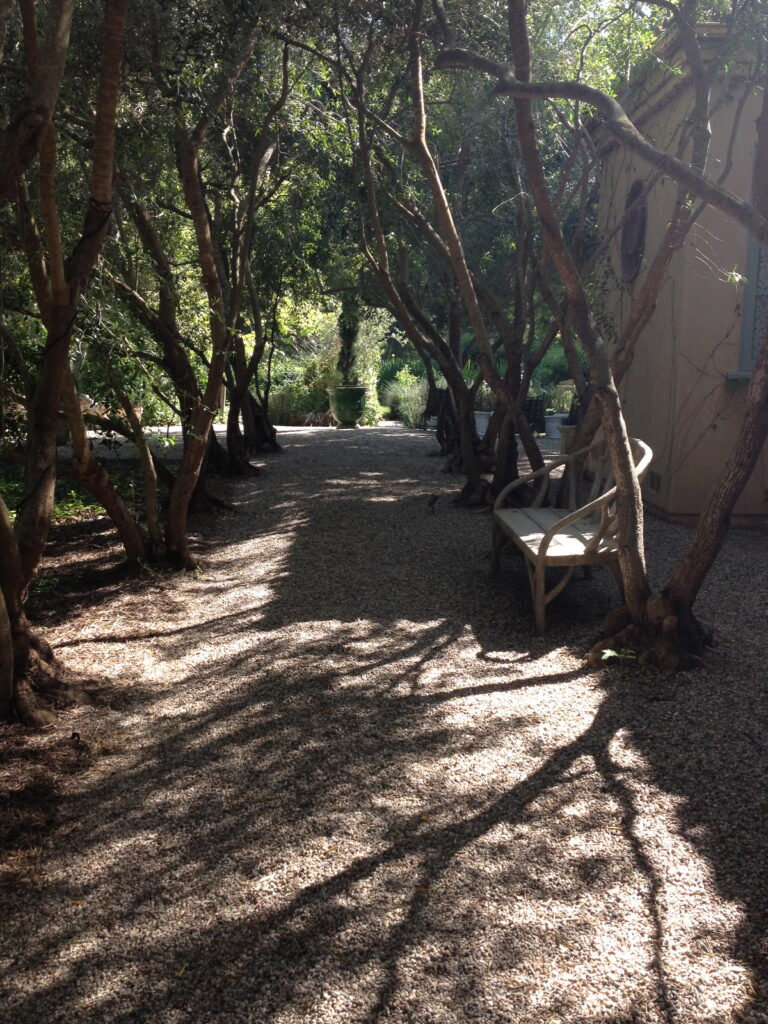 This is the "olive allee" with its focal point of an Anduze pot we bought in Provence!
and our lovely "faux bois" bench from my friend Janice who owns "Janus et Cie"!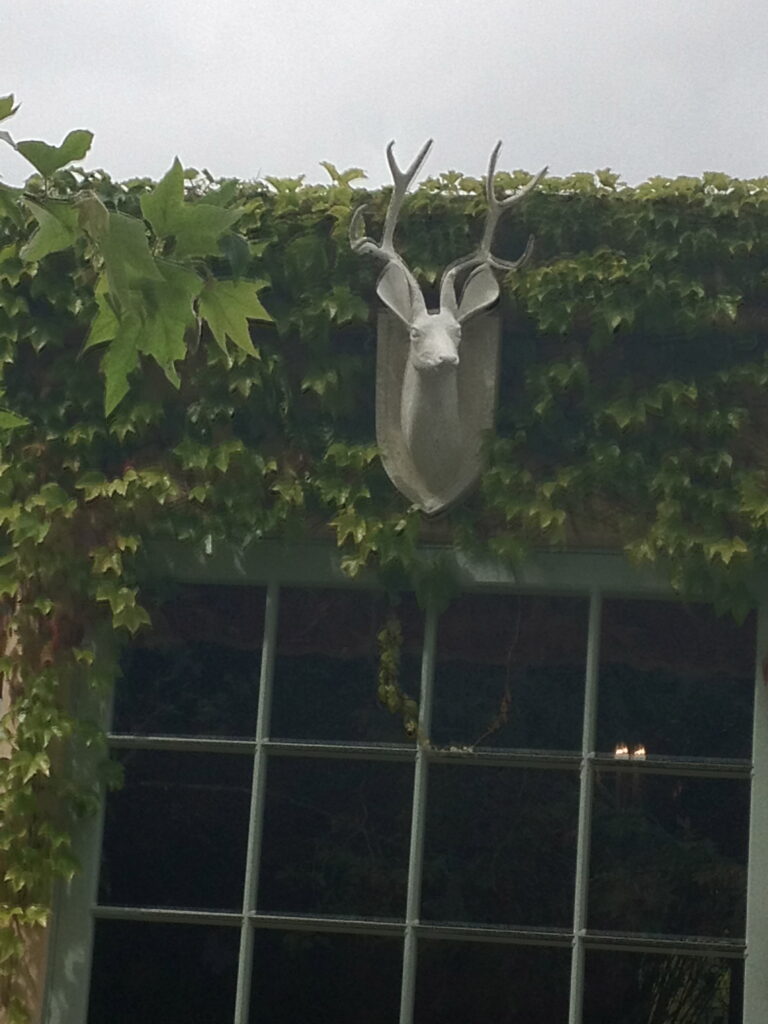 Our proud "trophy "!
I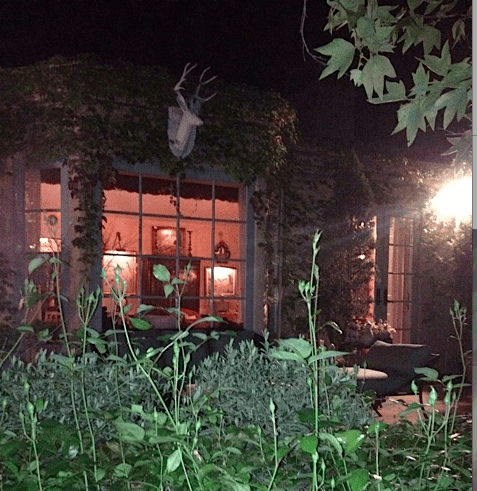 at night….I learned from Tara Dillard!!  Pretty to see in the windows!!!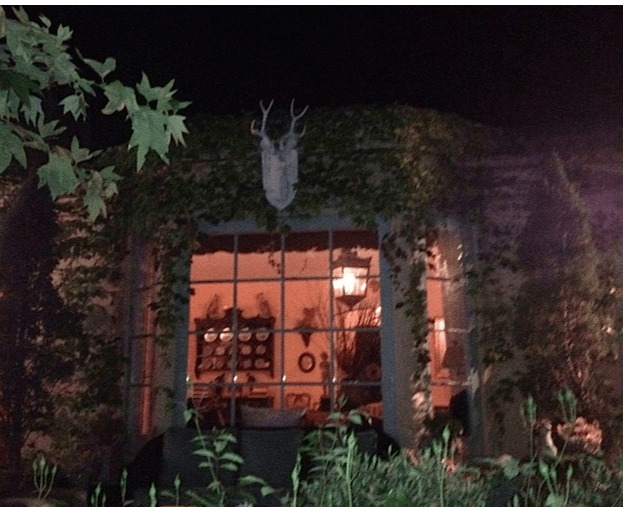 Another angle!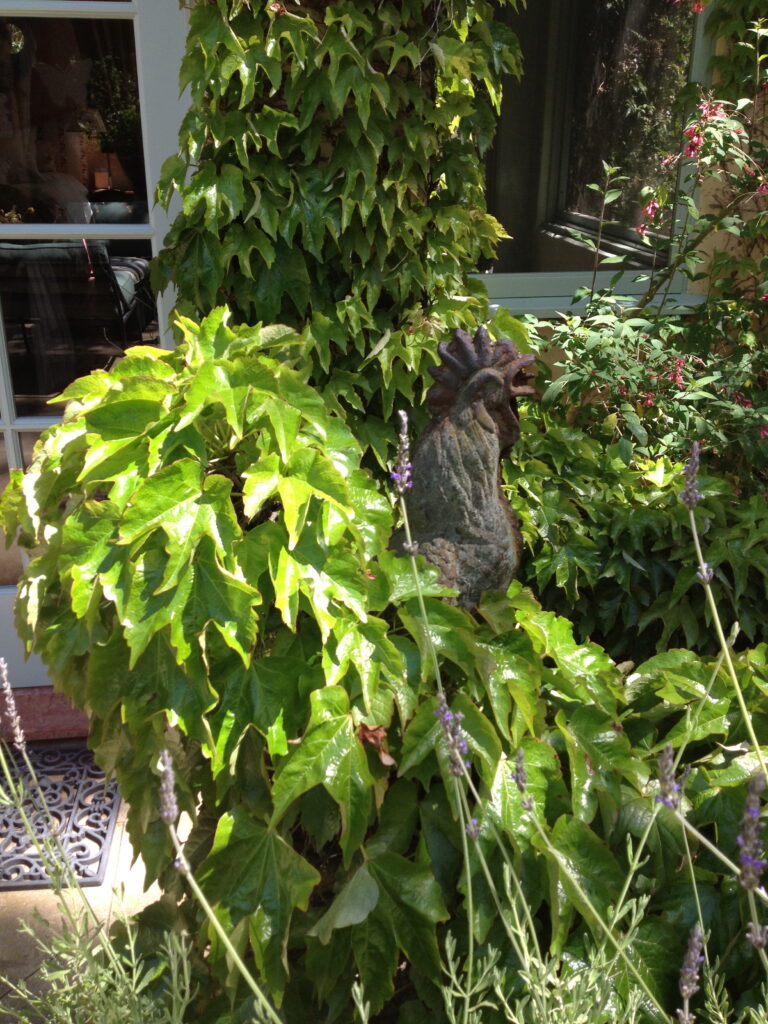 The roosters are so happy to have their tails back!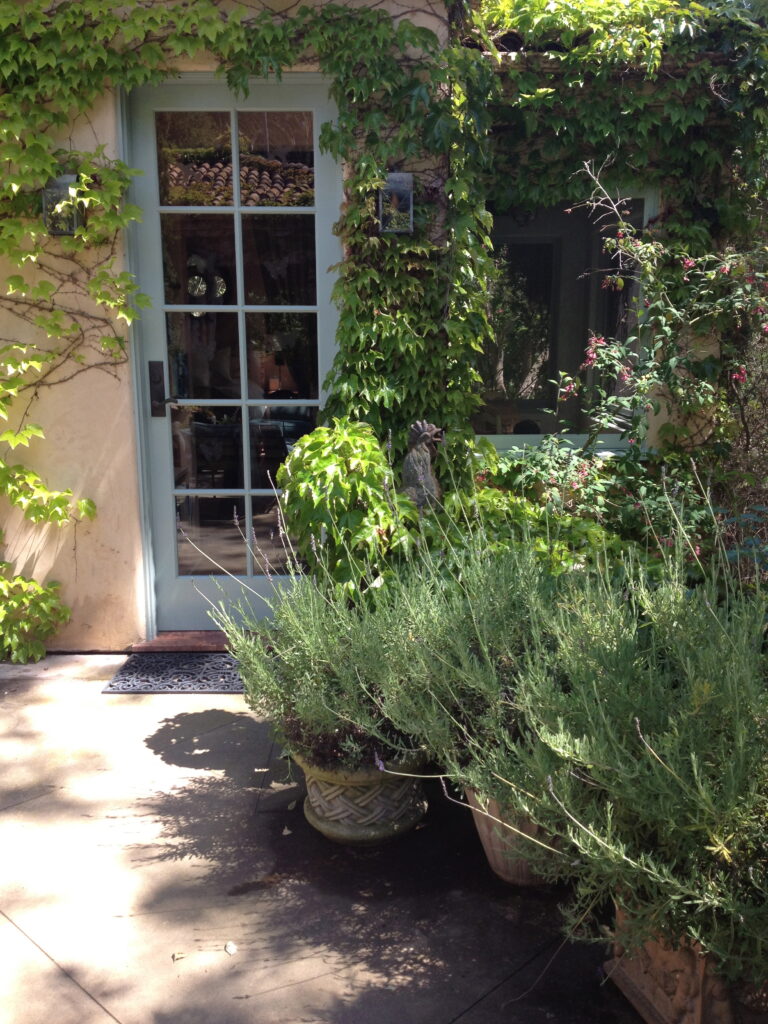 I love the damp and mossy stuff on the pots!  and the other rooster!  (I AM SO SO lucky to inherit pots !!)
Tara says to buy pots and garden accessories that people will "fight over, at your estate sale!"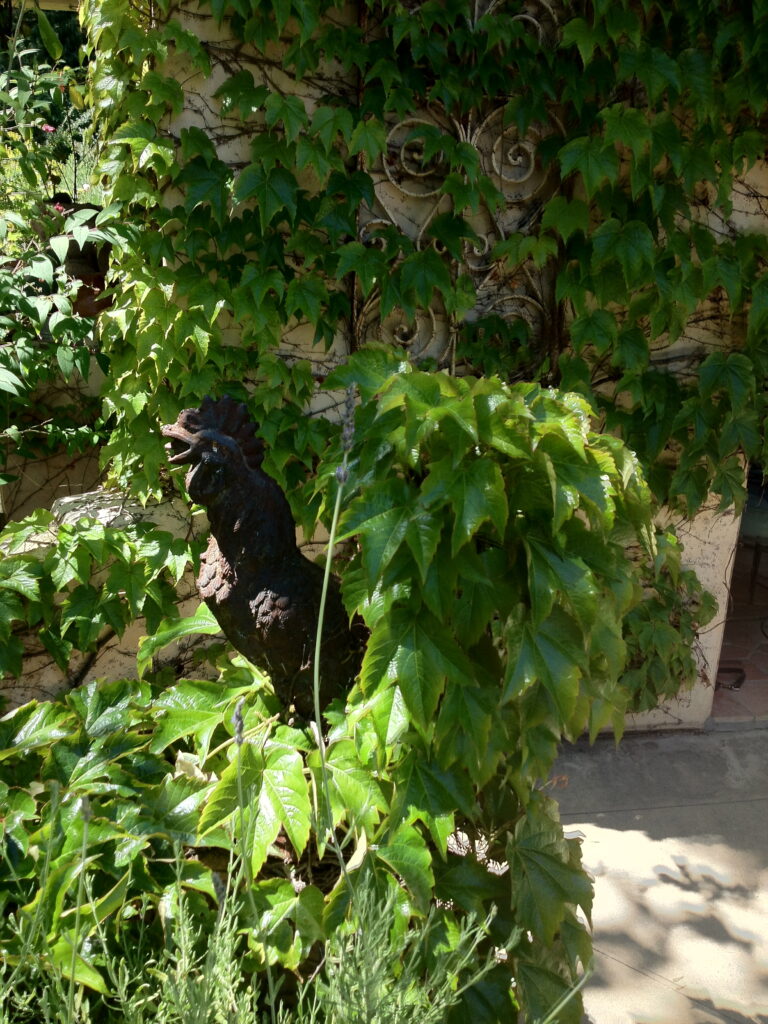 A happy rooster!
We really do have Spring , Summer and fall in Santa Barbara!
The only thing we really don't have is "Winter"!  I must admit!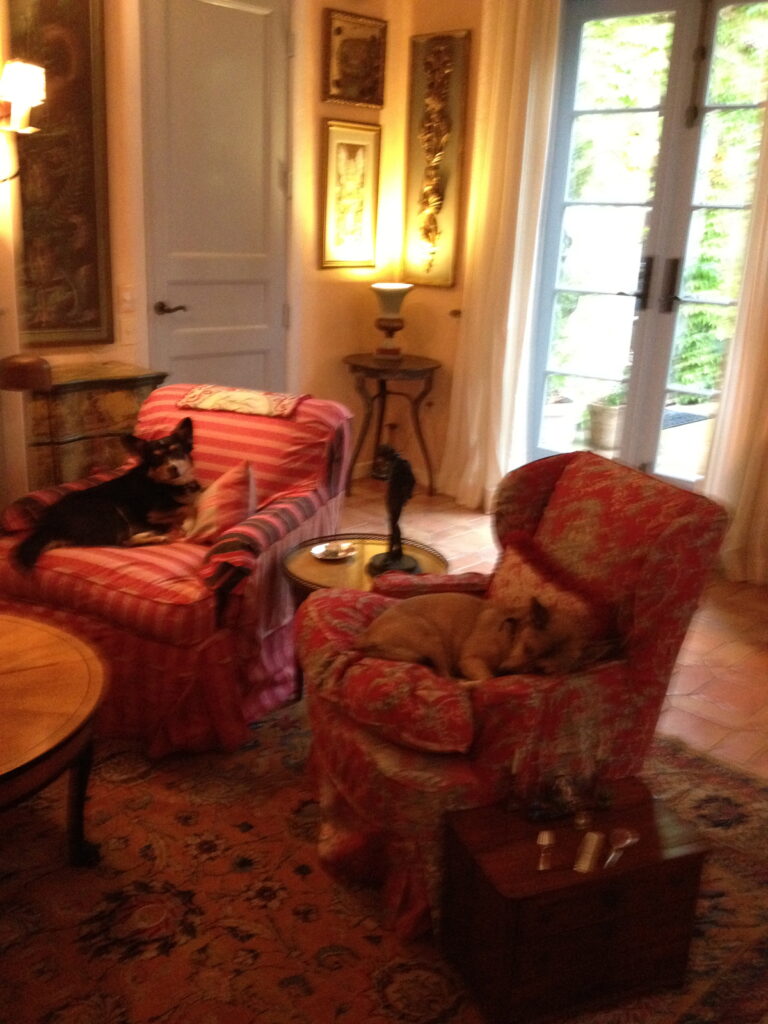 I almost forgot!  Here are the "Spring slipcovers"  They go on the first day of Spring!!!
A lovely little bird took a tuft of our cat's fur (I put it on the bushes when I brush her) and flew off to put it in her nest!
I'll do another post  about the garden when it's Summer!
And we have a mallard sitting on at least 8 eggs in the floating duck house!  I will show you right away when they hatch!!!
HAPPY SPRING!!!!