Penny Bianchi Interior Decorator and photos by Amy Barnard
When Penny and Adam Bianchi bought a modest slice of undeveloped land off of East Valley Road 20 years ago, they had a golden opportunity to build a custom home in the heart of Montecito. The property sits at the entrance to the pristine 42-acre Ennisbrook Preserve, and Oprah's vast estate borders the property on two other sides. A single home edges the property in the north. "The terrain and plants reminded me of France," recalls Penny, "so we went to Provence and took thousands of pictures of roofs and crooked roofs and chimneys and floors and doorknobs."
Once home, they began to build a French country-style home and a guesthouse, surrounded by about 2.5 acres of magical gardens and wildlife habitat. The walls were washed with lime from pigment mined from the ground in Provence—no paint was applied at all. "Lime wash lets the mortar breathe," explains Penny. "This is how stone and brick houses in Provence are traditionally treated."
Penny has worked as an interior designer for nearly 50 years and has filled her home with antiques from all over the world. Much of her collection was inherited from her mother and grandmother, and Penny appears to have inherited her family's amazing knack for finding one-of-a-kind treasures, as well. "I've been collecting things my whole life because I don't like anything new," she says. "I like everything old, weathered and used. Even my linens and light fixtures are mostly antiques."
High ceilings and plentiful windows fill the home with light throughout the day. The main entrance leads into a spacious hall, which leads to the bedroom (there's only one) and master bath on one side, and kitchen, office and guest bathrooms on the other. Adam Bianchi works in the office—he sold his family's poultry business 30 years ago and has run Penny's business operations ever since. Penny changes the furniture slipcovers several times a year so the mood always reflects the season.
Treasures that appear at every turn include antique lace lampshades and oriental rugs, screens and other works by French artist Marcel Vertes, shower tiles from 17th-century France and an 1860s bathtub from Paris. The guest powder room features bird murals with bird figurines that hover over the walls. The kitchen has furniture pieces rather than built-in cabinets.
The gardens, designed by Grace Design Associates, are a welcome haven for humans and wildlife alike. The National Wildlife Federation has named the Bianchi property as a Certified Backyard Wildlife Habitat, which means it provides the basics needs for wildlife: food, water, a roof over their heads and a place to raise their young. Carefully selected trees and shrubs nourish and protect ducklings and other creatures, and floating houses anchored in the middle of a pond allow nesting ducks and their offspring to escape from predators. Heirloom chickens roam free during the day and put themselves in the coop in the evening for protection.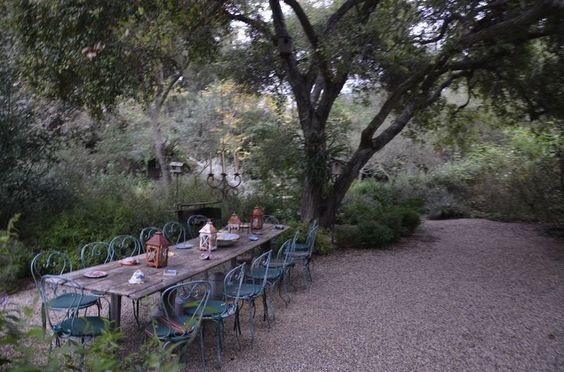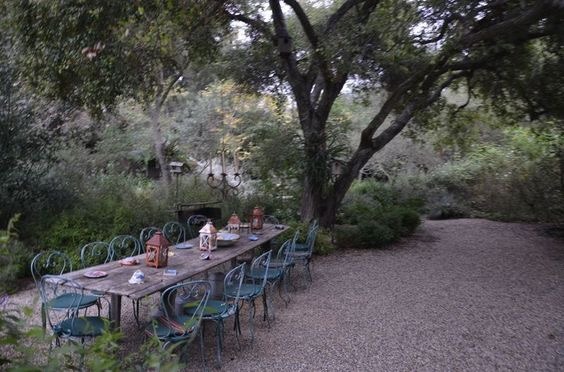 All in all, the Bianchis have successfully created a haven in which every nook and cranny evokes coziness and a connection with the natural world. In Penny's words, it's "a cozy, collected and patina" home where they, their grown children and seven grandchildren thoroughly enjoy daily life in a remarkable Montecito setting.