Exciting news!  The new issue of Veranda March-April has the 2020 Outdoor Living awards.  The first time ever!  And our garden was selected to be one of the eight awardees!!!  The talented garden designer who originally designed our landscape came back after it was almost totally destroyed and restored it.  I haven't posted a blog in a long time;  and I am going to post one showing the before and after with some description of the experience.  I know I showed things on Instagram, but want to describe the experience of a disaster and its aftermath and rebuilding.
Calling it A Wildly Beautiful Revival, the venerable magazine lauded the garden's wildlife-friendly, naturalistic design."I always look for a strong design plan, and each of the winning gardens had beautiful architecture to it," says interior designer Bunny Williams, who, together with Institute of Classical Architecture & Art (ICAA) president Peter Lyden, judged the entries.
Lyden agrees, adding that for him, the projects that embraced and built on the natural characteristics of their environments rose to the top. "I really admire the way these gardens and outdoor living spaces did just that," he says.
This Montecito Garden's Wildly Beautiful Spirit Is Awakened After Enduring Destructive Mudflows
Less than a year after disaster struck, a mudflow-ravaged garden reemerges as the thriving wildlife habitat it once was, using the very material that decimated it.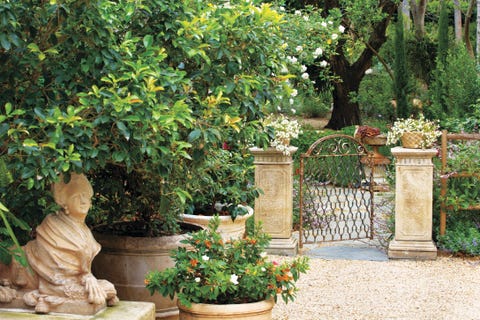 Before the catastrophic Montecito mudflows of 2018, everything that grew on this two-acre property in Southern California was "magic," says landscape designer Margie Grace. Roses would bloom in the shade; hydrangeas relished the blazing sun. A grassy, serene pond drew ducks and quail and owls, all against an extraordinary backdrop of towering palms and live oaks belonging to a neighboring estate, like a regal army watching over it.
At the south side of the house, she repurposed a portion of the muddy sediment into a 28-foot hill planted with sycamores and poppies and another into soil for a 12-foot redbud knoll. Along the property line, a four-foot berm became an organic solution for a washed-away privacy fence.
"Everything I put in the ground grew lightning fast," recalls Grace, who trained in biology and geology. "I thought the new soil would be full of toxins, but the levels didn't even register. What was left behind was amazing dirt."