Well, I have a new addiction that involves the internet.
 Oh dear!  "Pinterest"!!!  It is a genius idea!  One can see a sublime picture on a post or blog or magazine, or whatever, and you can "pin it" just like that!  And that is saved on your "inboard with its information of where it came from!  And people can follow you if they like the same things you do!
I haven't figured out how to put the photo information on my blog , but I will!  You can go to my "Pinterest page"   and find it there;  but my next "Favorites", I will be posting the credit!
 I try to do the right thing by the photographers and bloggers who provide such delectable images!  I just have to learn!
I will begin!!!I hope you enjoy my picks!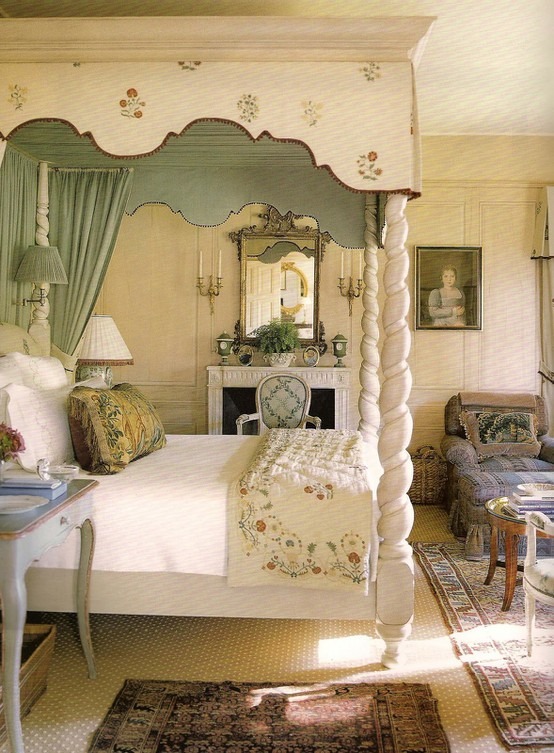 Above is one of the most beautiful canopy beds I have seen!  There is so much attention to detail !
The fabric  on the canopy is embroidered "Chelsea Editions" and it is on a hard valance with wonderful trim!
And the lining is divine as well!
The coverlet folded at the bottom is also Chelsea; and with the antique tapestry pillow….just heaven!
The bedroom itself  is lovely;  note the faux painted paneling on the fireplace wall.  Very subtle and pretty.
Also note the slightly "tattered" rugs on the neutral carpeting.  I love old worn rugs.  (Even on their "last legs"!)
 Patina!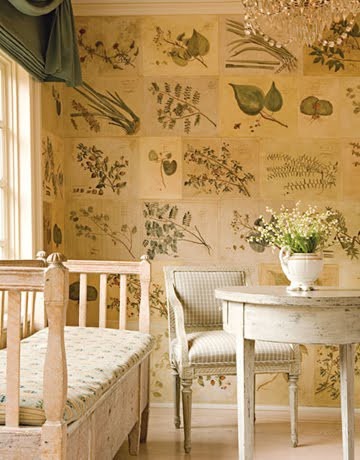 Here is a marvelous idea!  A collection of botanicals applied to the wall as wallpaper.  They seem out of the same book!
 This reminds me of a "Print Room" in England, but has such a young and fresh look!
 There are reasonable books of botanicals ;  and I love this unusual and lovely  "bringing the garden inside!" idea.
 Very original!  Lovely with the Swedish furniture which I adore!
It is also very artfully arranged!
From the crown molding down to the "base shoe" on the floor!  I love that some are going up and down, and some "sideways"!
Wow!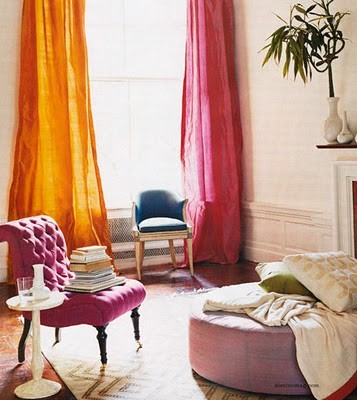 Silk curtains in two chic and beautiful colors! One on each side of a window!!
This is  another really original idea that I love!  I have always loved unlined silk taffeta curtains!  These in two fabulous colors!  Orange and shocking pink!!  Brilliant idea!
These remind me of my favorite  "Steven Stolman" long taffeta skirts!!!
 (By the way, the multi-talented uber-creative Mr. Stolman is the new President of the wonderful fabric firm Scalamandre!)  Bravo!!
 Bravo to my friend Steven!  He will be a real "shot in the arm" and they are very lucky to have him, in my opinion!
They have always had the most beautiful of fabrics! From all over the world!
The best of luck to the fun, funny, and deserving Steven!
Imagine walking in the door and seeing this!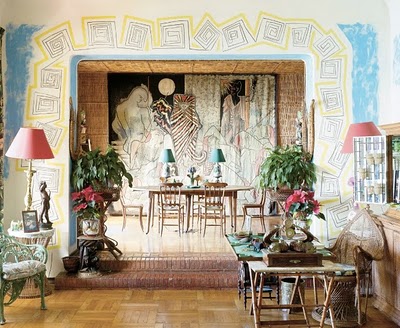 This is so beyond!  Jean Cocteau did these wall murals in the 40's (maybe 50's?)
at his friend's house in the South of France!
Apparently, they are all still there!  How lucky can you get?
"Yes; Jean, you may draw  and paint whatever you want on the walls!"
"All over the house?!"
"Yes, Jean, keep going!!  Don't stop!!!"
(By the way, this is not luck!)
This is friendly, this is encouraging, and this is a patron of the arts!!!!  The definition!
I have a friend, Bob Schulenberg who has been to this house and seen them!!
Oh my heart!  I think I would crump on the floor and die happy!
I might have  a heart-attack!
Now we move from the South of France to Virginia……….to another "patron of the arts"!!
We need more of those!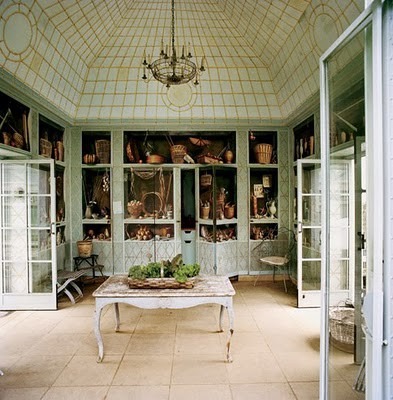 I am never envious…….(honestly, hardly ever).  But this "potting room" that belongs to Bunny Mellon got me awfully close!
What a  wonderful and talented artist who must have had the time of his or her life painting this entire room!  I am sure much of it is personal and meaningful to Mrs. Mellon.  This is an artist's "dream come true!"
And a "patron of the arts"  dream come true also!
All four walls are covered (lots of secret doors and cupboards!  Exquisite!  Have you ever???
See what I mean about "Pinterest"?
There are so many wonderful blogs with all the photographs taken over many years!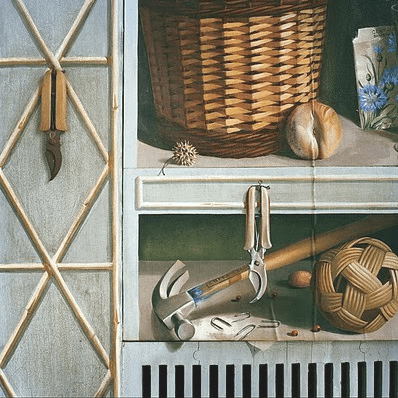 (This  is one of  the close-ups that show the incredible detail of these four walls of a very big room!)
And you can collect them!  Like my 100 notebooks of sheets
torn out of magazines that I finally had to go through!
I would have suffocated years ago if I had tried to save all the magazines…..Yikes!
Someone would have discovered me under there!  The enormous pile!
How divine is that potting room……and the basket of lettuce and greens from the vegetable garden
on the center table…….just sent me over the edge! Lordy!
So gorgeous!  And so down-to-earth!  So beautiful for all of us!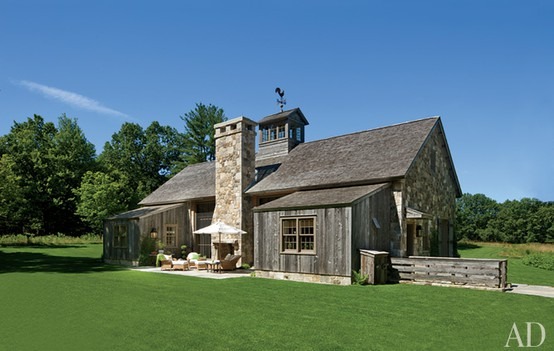 Changing the subject!
This is a lovely poolhouse (I made a typo and called it a "poorhouse" on "Pinterest"  (HA!!  Hardly!!!)  Lovely aged barn wood…(rescued from a falling down barn)..and then….on the other side….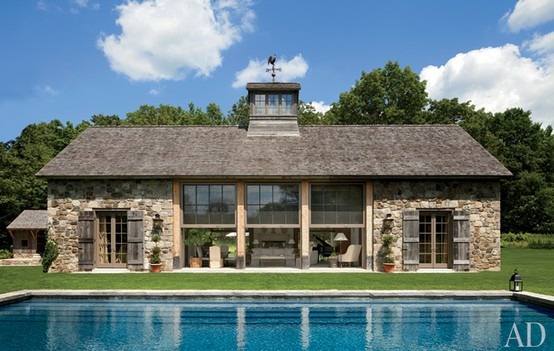 Stone and double-hung windows you can walk out of!  My socks flew off when I saw this!  Honestly.
 I didn't film it…but it did happen!  (Should have had my iPhone nearby)  They flew off!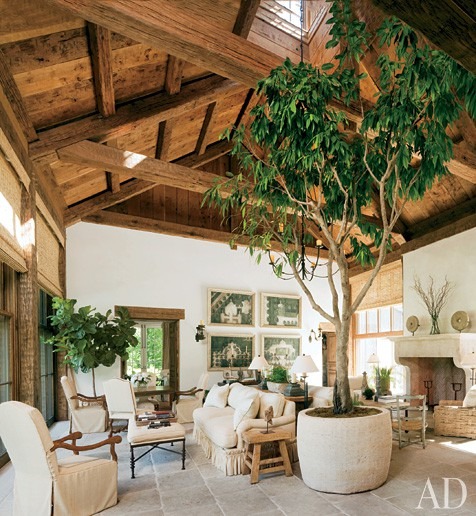 And then the inside of that poolhouse! ( Back to back fireplaces.)….one inside; and one outside! (scroll back!!)
Who has seen such a brilliant room?  In Every way!  scale; comfort………see the back to back sofas?  One facing a view;  one facing the fireplace?  Fabulous!  (I guess I didn't invent that 25 years ago!  I thought I made it up!!)  But it is a great invention!
I know that John Cottrell from Los Angeles was the decorator!  I am so proud of him!!
Bravo John Cottrell!
Brilliant beyond!
Moving right along !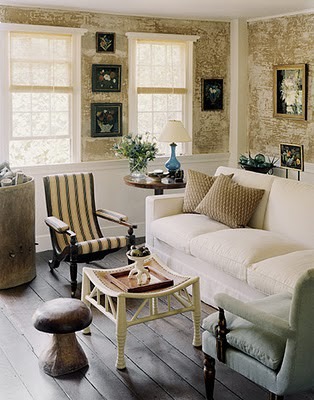 You can tell that I really love original things.  Well.  This person stripped off the old  (and probably hideous) wallpaper.  Before going on…stopped to look!   (most people don't use that moment…….stop to look midway through…very important,  that moment.  ……..)" Wow!  That looks so interesting!  Let's leave it!"  (Very "John Saladino"….my friend and compatriot!)
(When stripping walls of hideous paint…..he stands there……and at the  point….it looks perfect :..he says……"'STOP!")
And he knows the "second" to say it!  And the wall is so beyond perfection and has the "patina" far beyond…it is indescribably beautiful. And he knows the very second!  And he is always right!  (Quite a talent!!)
So unusual.  and I love the mushroom stool.  Original, charming and patina!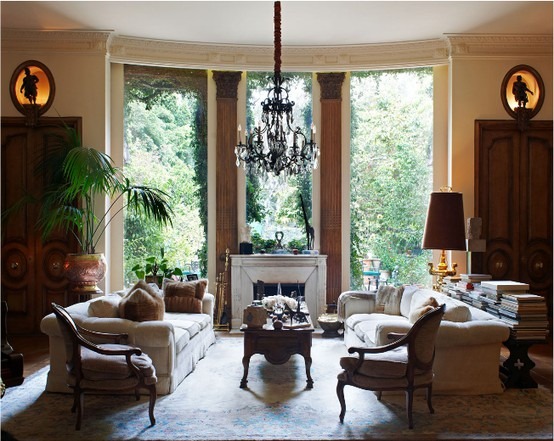 This is an iconic picture of an iconic house! This is an example of "If you must put the fireplace in the middle of "the view"  You MUST do this!
this house was designed by John Woolfe for a wonderful decorator and tastemaker!   For James Pendleton and his wife!
The fireplace had to be centered in the middle of the lovely "view!  so John Woolfe figured out a way to have the fireplace have two flues! and a window  above it!  And it works as a fireplace!!! It is my very favorite fireplaces I have ever seen in my life!  From the fifties!  Yikes!So the fireplace does not block the view!(This house has been owned by the producer Robert Evans for many years!)It is my very have fireplace ever in the world!
It remains an iconic house and pool and poolhouse!
Moving right along…………..
Let's look at some doors…….I adore doors….and I think they are often overlooked…..as does  one of my favorite blogs:
"An Aesthete's Lament"
He showed the doors below……..all mismatched toile……and a darker toile  around the closet doors.  Brilliant.  Original.   What an unusual use of antique textiles.  I love this!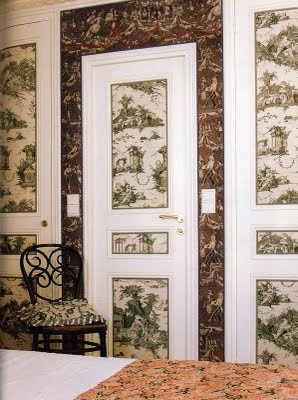 now I am on to doors!   Why leave doors plain?
I am so admiring  "AL's" choice of doors to feature.
Why not?  put mismatched antique toile on some  interior doors………(my next house will be my last; and I will!!!)
This toile fantasy  above is my very favorite……….Lordy!!!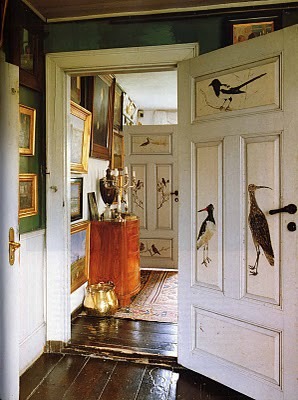 My friend Radisha will come to hand-paint my favorite birds on my doors!!!
(I owe all this door information to my friend; An Aesthete's Lament;  who was the very first blog I followed!)
Thank goodness he is back blogging again!
I will end with a dream!
Below you will see a "walk-through bookcase"!
Someday……I will find a place to have one!  Our house is "bursting with books"
And I always want to live in a house bursting with books!
My daughter was telling me today about the new "hot kindle"!!!
I'm sure she is right…..she is so very smart……but I still want books I can hold and turn the pages over……..call me old fashioned….and call me old…..but I love books! and I love bookcases!
I want this one……a "walk through bookcase!"
So lovely!!!
And the stepladder is handy!!
I hope you enjoyed my pins!