Well!  After the trauma of the drowned ducklings  (good thing I never had to go to war)
The same  Mallard female trusted Winston's duck house from Georgia…….and laid 6 eggs in the back nest box!
Another mallard mother trusted the newly fortified " old" duck house and also laid 6 eggs!
First time ever  (in 14 years)  we have had two female mallards sitting on eggs.  Also the first year we and they have had the luxury of two duck houses!
It is quite a story!
A new mallard mommy laid 6 eggs (they lay one egg a day);  wait until there are at least 6;  they start sitting…….so they all hatch on the same day!
Now; just in case you did not know this……..(wild birds and chickens do the same)  You are in the vast majority !    100 CEO's of Fortune 500 companies were asked this question!!
2% knew  the right answer.  (We need to educate people about these things…………That is pathetic!)
So the first mallard laid 6 eggs…….we counted!  The first one hatched…….off she went with the first one……..the other five did not hatch!  (my theory….first time…..only child is easier?)
My happy tale is that the same mother mallard who lost her first brood..(because of our leaky house……..sob!)….(we can identify  by some markings on the back of her head)  went to Winston's new house!
She laid six eggs………and we watched her stay right in there for 2 days after the first one hatched!   Until they all did!  Bravo!  No egg left behind !!!
Winston had that new house here so fast………and I drove a truck!  Winston is the hero!
Here are the pictures!!
  The back house is Winston's "new house" from Georgia which arrived in 6 days!  This is the female who hatched one chick….left the rest of the eggs in the old house…..and when the new house arrived……well……..here you are!  "WOW!  This sure a pretty place"!
She laid her eggs and that one hatched in the old place (all fixed up and waterproofed ) in the foreground!
The girl who lost her brood was not trusting that old place……..was so pleased with Winston's she laid 7 eggs in Winston's!
I will not bore you with my photos of her every single day for 28 days……..sometimes I could see her beak…..sometimes I could see nothing and despaired!
Then!  Tah Dah!!  Here she was with 7!!
They are honestly the size of bumblebees!
This is the mother who lost all six one day old ones in our house that leaked.
 I am seriously into their survival.
 Mother Theresa…….no…..but" mother duck" I have become obsessed……this mother duck I have a debt to.  I cannot tell you.  I practically slept on the bank.
They hatched!
It is hard to see them!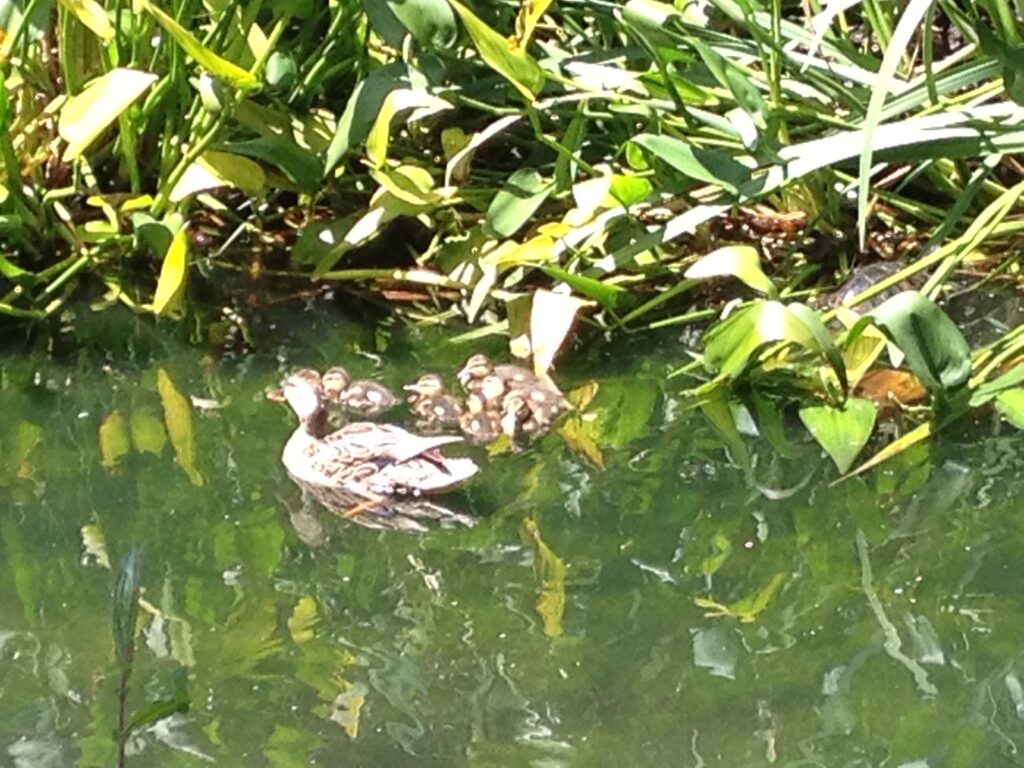 This is the same mother duck!
This is a happy ending to a very sad story!
And they are still alive; growing up way too fast…….(just like children) !
And I will be starting my before, during and after story of our daughter's house next!
Penelope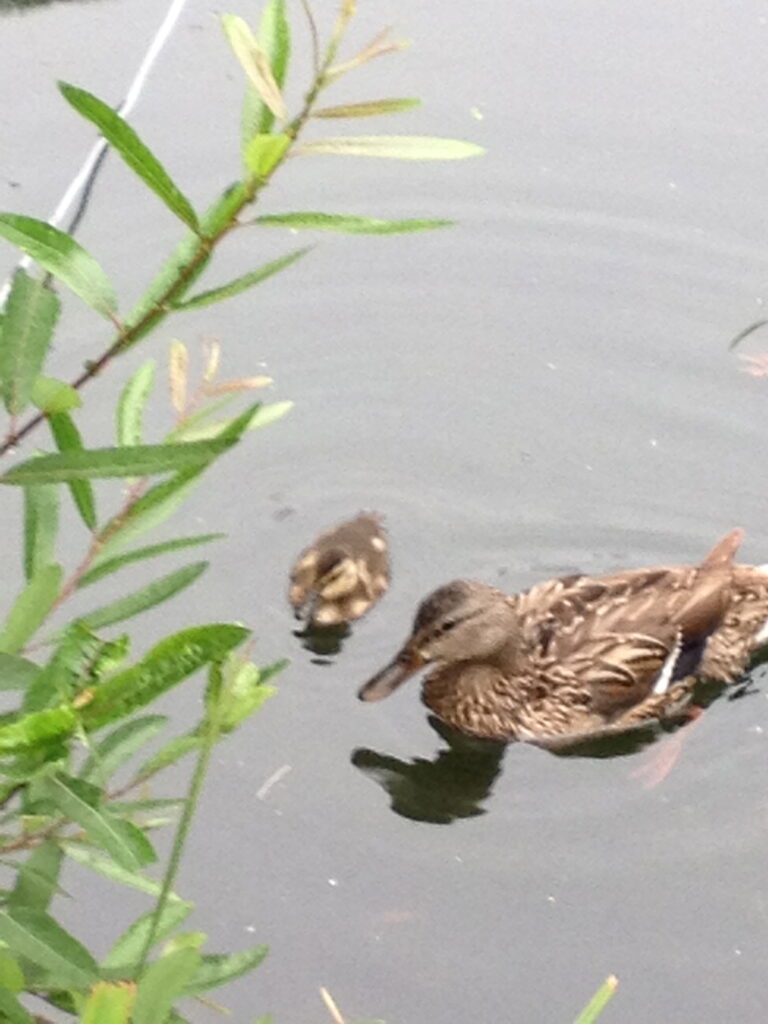 Here is the mother with the "only child"!
(lots of my friends think she is "smart"
easier than 6 or 7 for sure!
I almost forgot the chicks!  Yikes!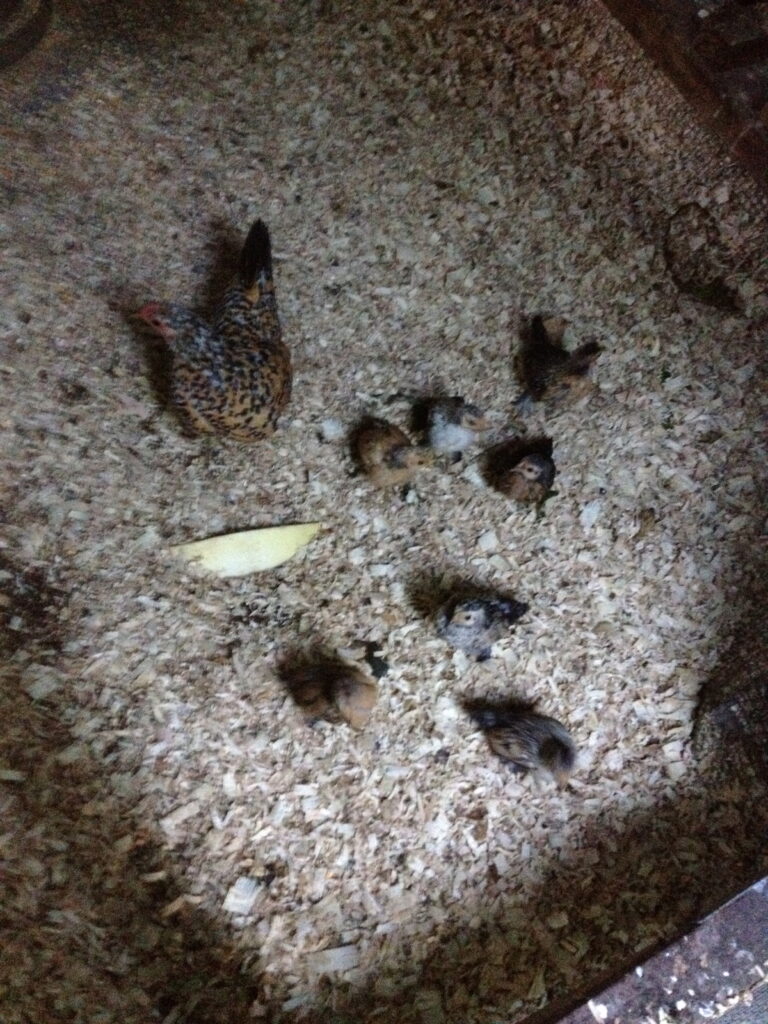 Here is the first set of our "mille flour" bantam chicks……..7!
The bobcat has been visiting……and decimating our flock…..so inside everyone!  for a few months!
Look at the little chick peeking out of the Mommy's feathers!  (I will now get 500 withdrawals )  (I promise there is some serious design work coming)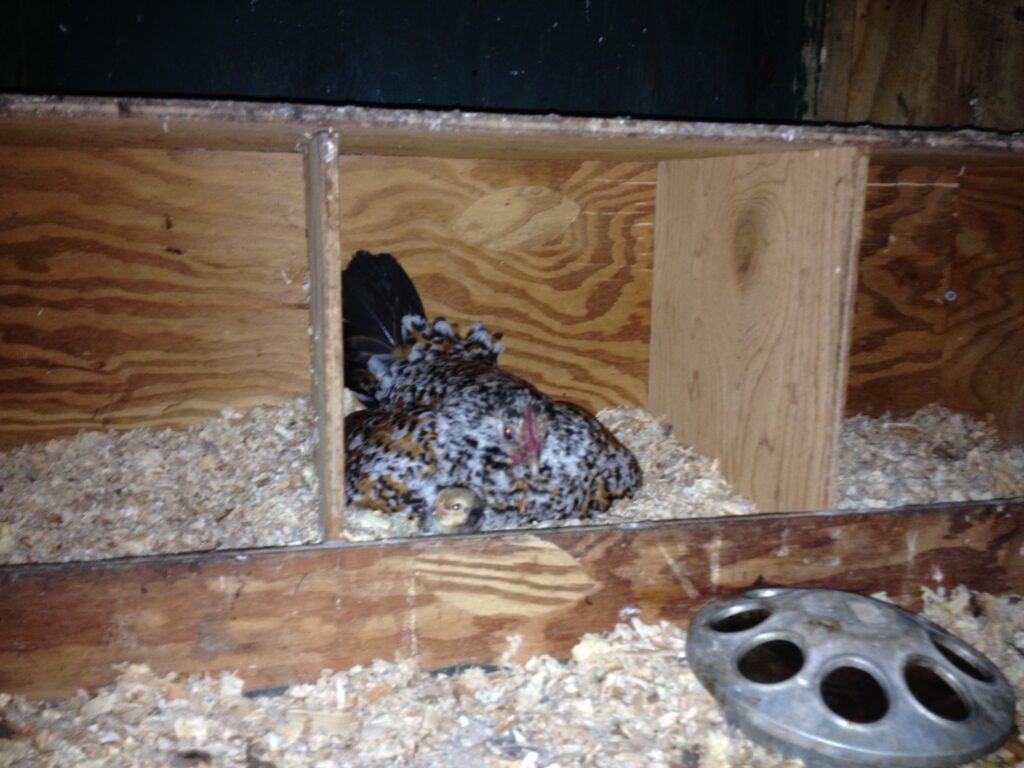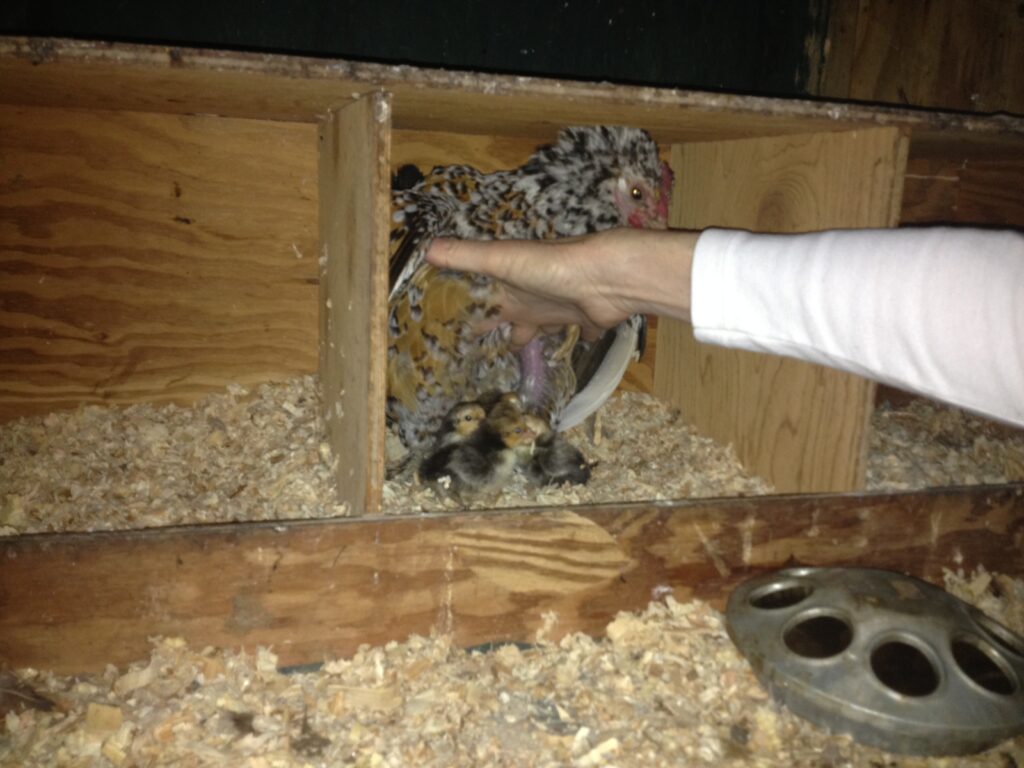 Here are seven!
And then the other one hatched 9!
Now comes the "before and after" of what I think may be the very best house in all of Montecito!
Honestly.  It was built in 1935.  The golden era of proper scale; views, proportion…..and   "enfilades" !
Designed by a gifted architect…….who did the airport in Santa Barbara;  the Arlington Theatre……and a few houses…….and would be much more famous had he not died at 46!
Joseph Plunkett..part of  "Edwards and Plunkett"…
The loveliest house!  I will begin with the "before"!  Where it was when I found it!
Just about the opposite of all "spec" houses and "McMansions" being built today!
Charm, warmth, proportions…….light……exposures……..(does everyone know what that means?);  graciousness and cosy!
Next post!!!
Stay tuned!!!