I am running this post again!
I just bought another of his beautiful "giclees" for my granddaughter Poppy's birthday!
I thought many of you hadn't subscribed to my blog yet;  and would love to see these!
I have always loved, loved , loved Chinoiserie!! I have been planning to do a post on it!  It is all through my house;  and has been in all of my houses!
In many different forms!
However, I have never found a contemporary (as in "alive" today)  artist who painted paintings that captured the particular idiom I adore!
Imagine my surprise when I fetched the following out of my "SPAM FOLDER"!!
(I DON'T THINK I HAVE EVER EVEN LOOKED AT MY SPAM FOLDER.  THIS MESSAGE CAME THE DAY I OPENED MY SPAM FOLDER!!)
THIS IS THE MESSAGE WITH THE PICTURES ATTACHED.
I am an artist in San Diego, and one area of my focus is chinoiserie themes that depart from the most traditional sort of interpretation. I've inserted a handful of images below with sizes and prices. I have other work, and if you are interested I hope you'll get in touch. These images are available as limited edition prints also.  Price lists and images of all 38 chinoiserie prints are available as well as an overall line of 104 prints and other original paintings. Some images, (mostly chinoiseries), are not yet on my website.
WITH THE FOLLOWING IMAGES: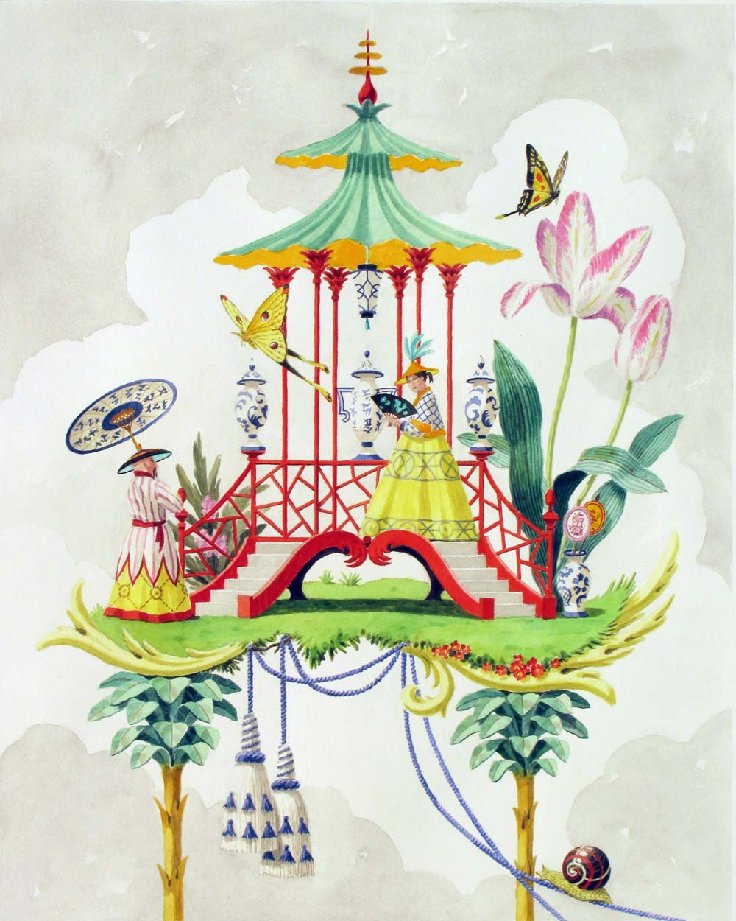 I START TO SCROLL DOWN!
BE STILL MY HEART!!!
LOOK  AT THE COLORS!  LOOK AT THE SCALE OF THE BUTTERFLY!  AND THE SNAIL!
THE TASSELS!
HONESTLY, NEVER HAVE I SEEN ANYTHING SO "ME"!   I COULDN'T BELIEVE MY EYES!
(SERIOUSLY, I HAD TO GET UP AND WALK AROUND, BREATHE DEEPLY, AND CALM DOWN.)
BEFORE GOING ON!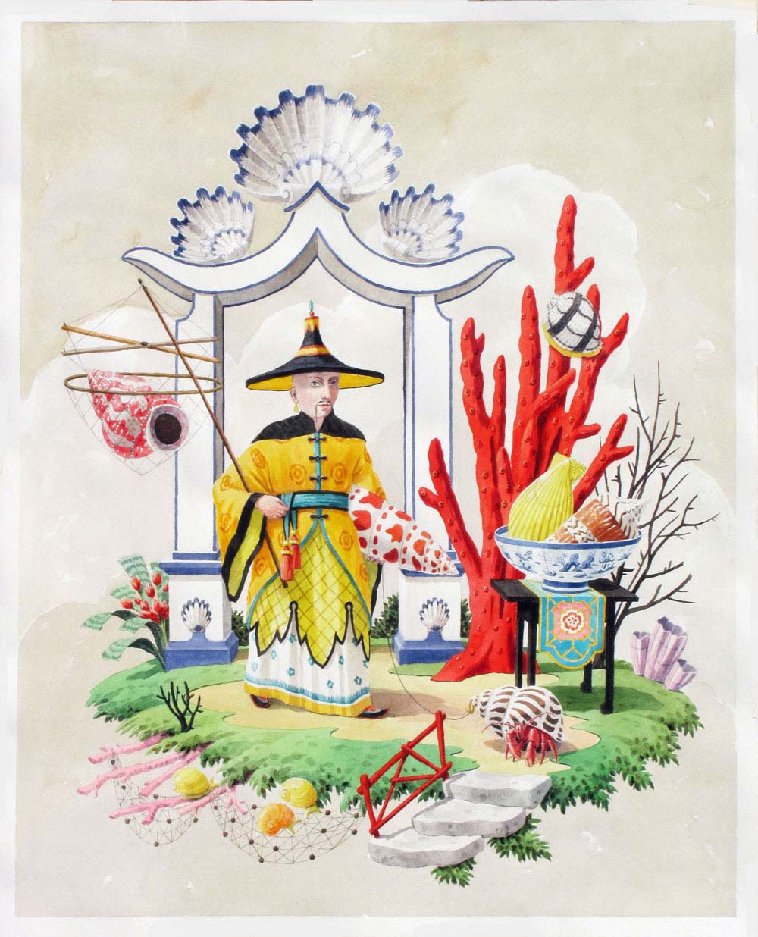 HOW ABOUT THIS ONE!!
THE HERMIT CRAB IN A "STOLEN SHELL"! WITH THE CHINESE FENCE!  I AM BESIDE MYSELF!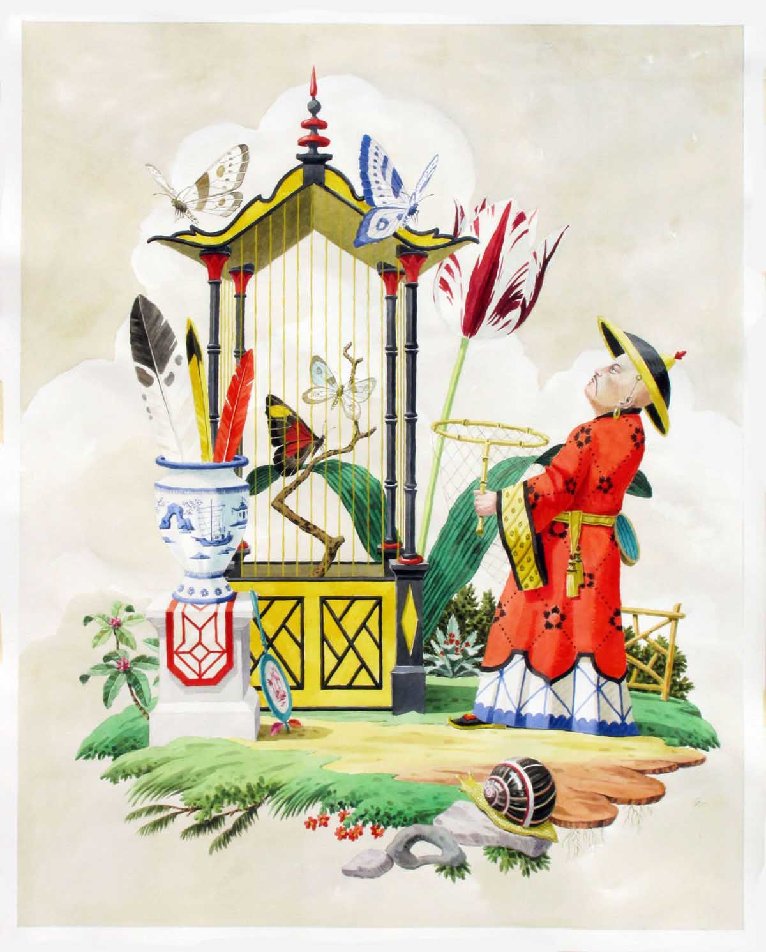 HE IS GOING TO CATCH THAT BUTTERFLY!
TO ADD TO HIS "COLLECTION
IN THE BIRDCAGE……THE FEATHERS IN THE CHINESE VASE!
THE INCREDIBLE PLAY OF "SCALE" SLAYS ME!
THE RIGHT AMOUNT OF WHIMSY;  BEAUTIFUL COLORS AND DETAILS.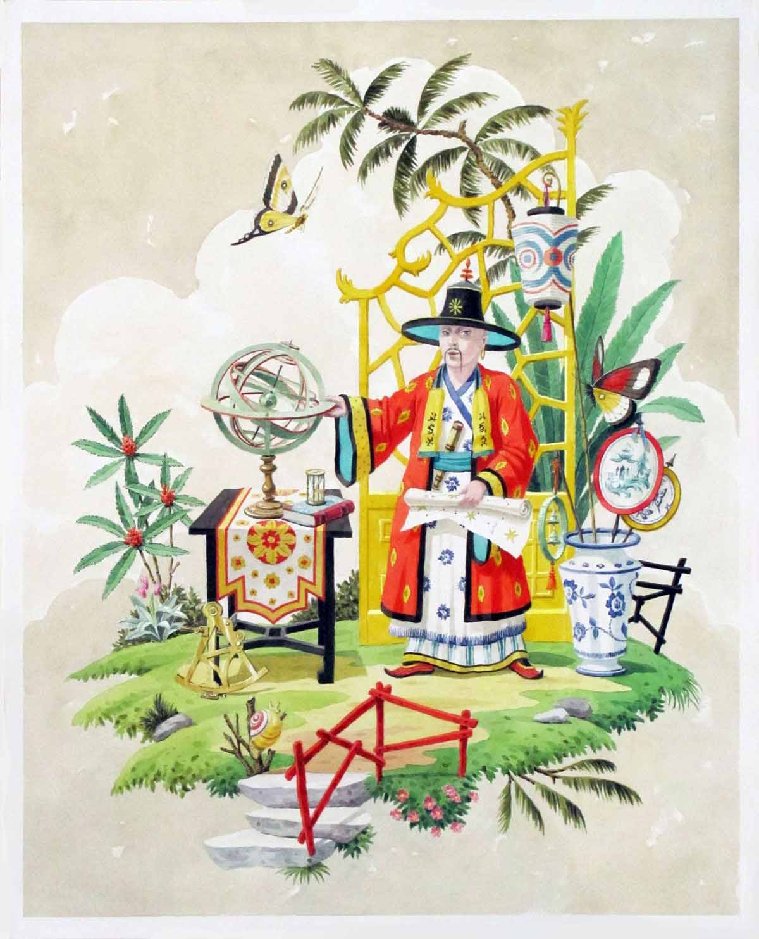 I THINK THERE ARE PROBABLY " SECRET MESSAGES" IN THESE PAINTINGS!
I SERIOUSLY COULD NOT ADORE THESE MORE!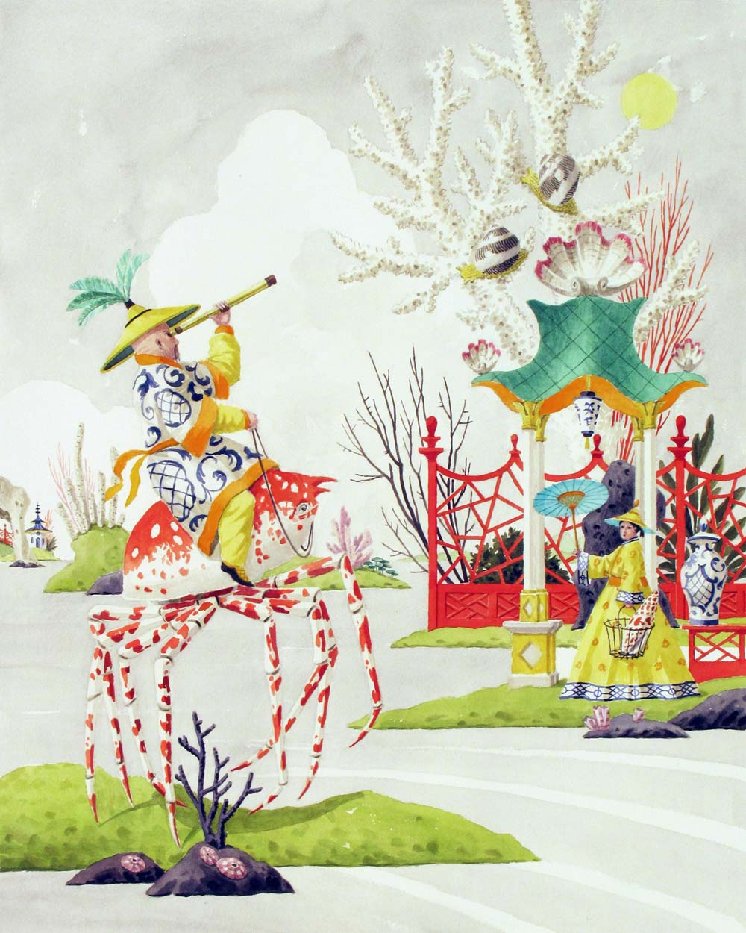 HE IS RIDING ON A CRAB!
LOOKING AT SNAILS CRAWLING ON CORAL!  (WHO COULD THINK OF THIS?)
THE ONES ABOVE WERE IN THE INITIAL EMAIL.
THEN I WENT TO HIS WEBSITE!
I NOW REALIZE I HAVE BEEN HIDING UNDER A ROCK!
HOW I COULD HAVE MISSED HIM, I DON'T KNOW!
HE HAS BEEN FEATURED ON SEVERAL OF MY FAVORITE BLOGS!
HE HAS SEVERAL CATEGORIES ON HIS WEBSITE BESIDES "CHINOISERIES"!!
HERE IS A "SAMPLING"!
UNDER "FLOWER AND SHELL LADIES":
 THIS ONE IS CALLED "SEA OF POPPIES"
IF SHE (WHO "IS A POPPY") ISN'T THE MOST BEAUTIFUL THING "SAILING AWAY"!  GOOD
GRIEF! SHE IS MANNING THE TILL……SAILING HER CHART!
KINDA SCARY, REALLY!  MY "POPPY" IS GRADUATING FROM 8TH
GRADE IN A WEEK;  AND IS OFF TO BOARDING SCHOOL!
(MORE LATER ON THAT!)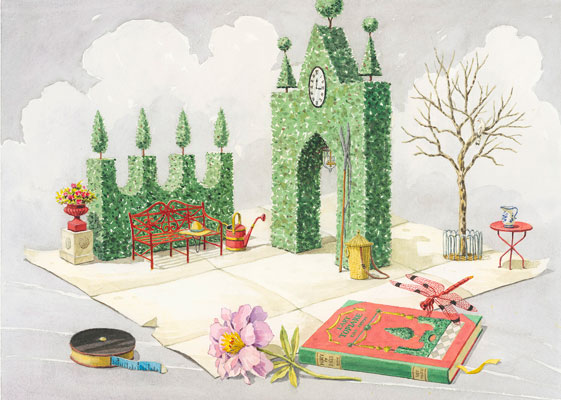 THIS ONE IS UNDER "GARDENS"……..THE TAPE MEASURE, THE BOOK;  THE CLOCK IN THE HEDGE!
THERE ARE SECRET STORIES.  I NEED TO STUDY!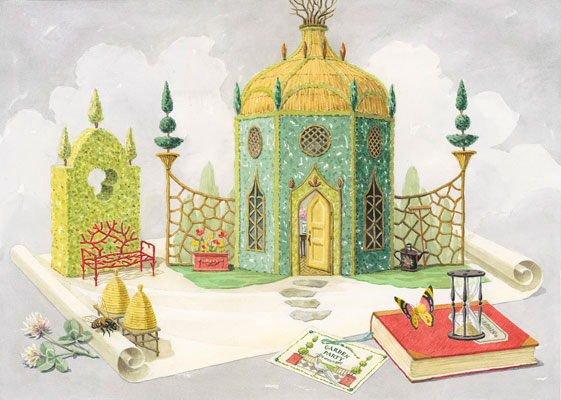 ANOTHER "GARDEN' ONE;   A GARDEN  "FOLLY" WITH THE HOURGLASS!!  AND THE BEEHIVES !!!
THE INVITATION!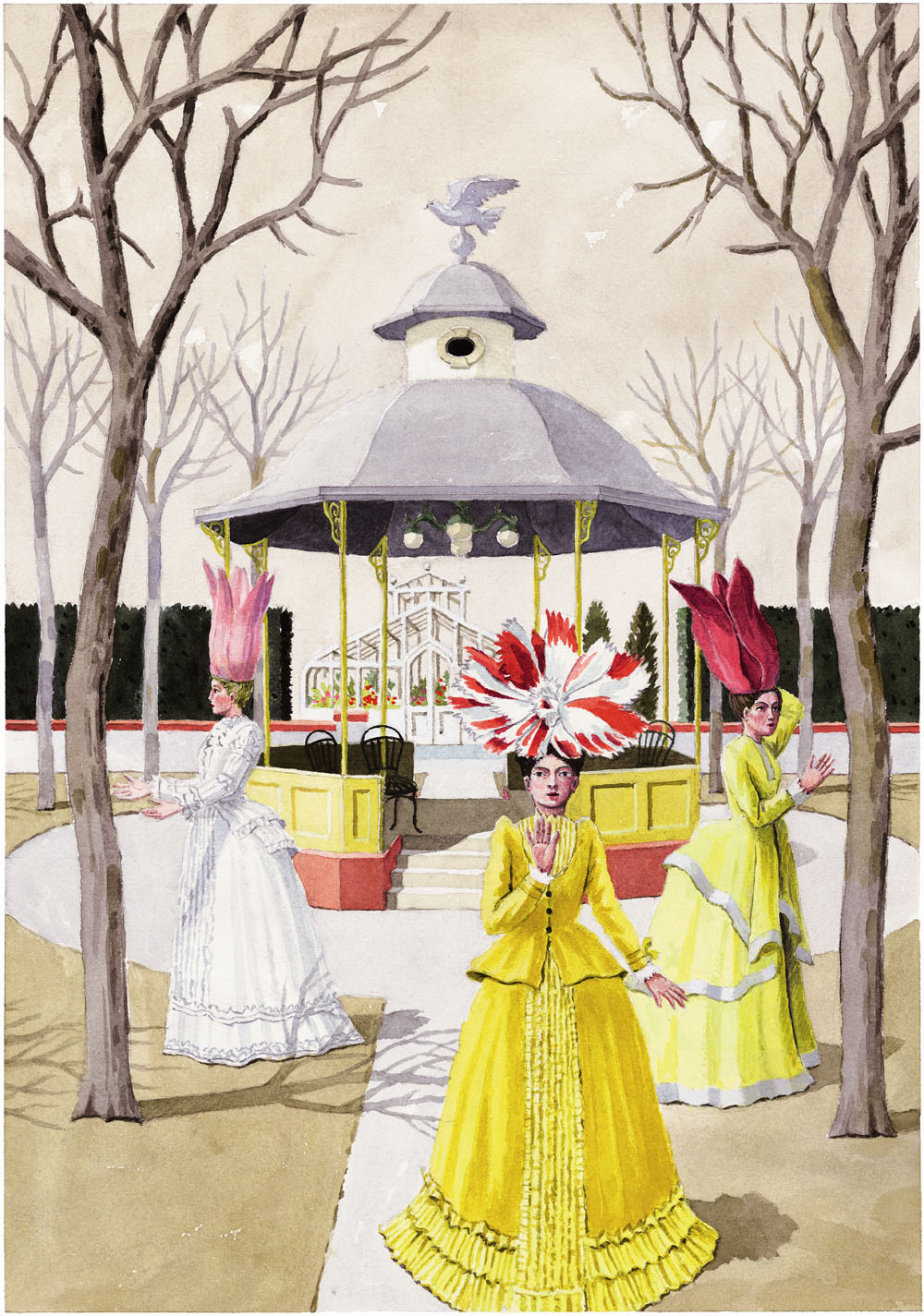 ANOTHER  "FOLLY" WITH A GREENHOUSE BEYOND!  UNDER "FLOWER LADIES"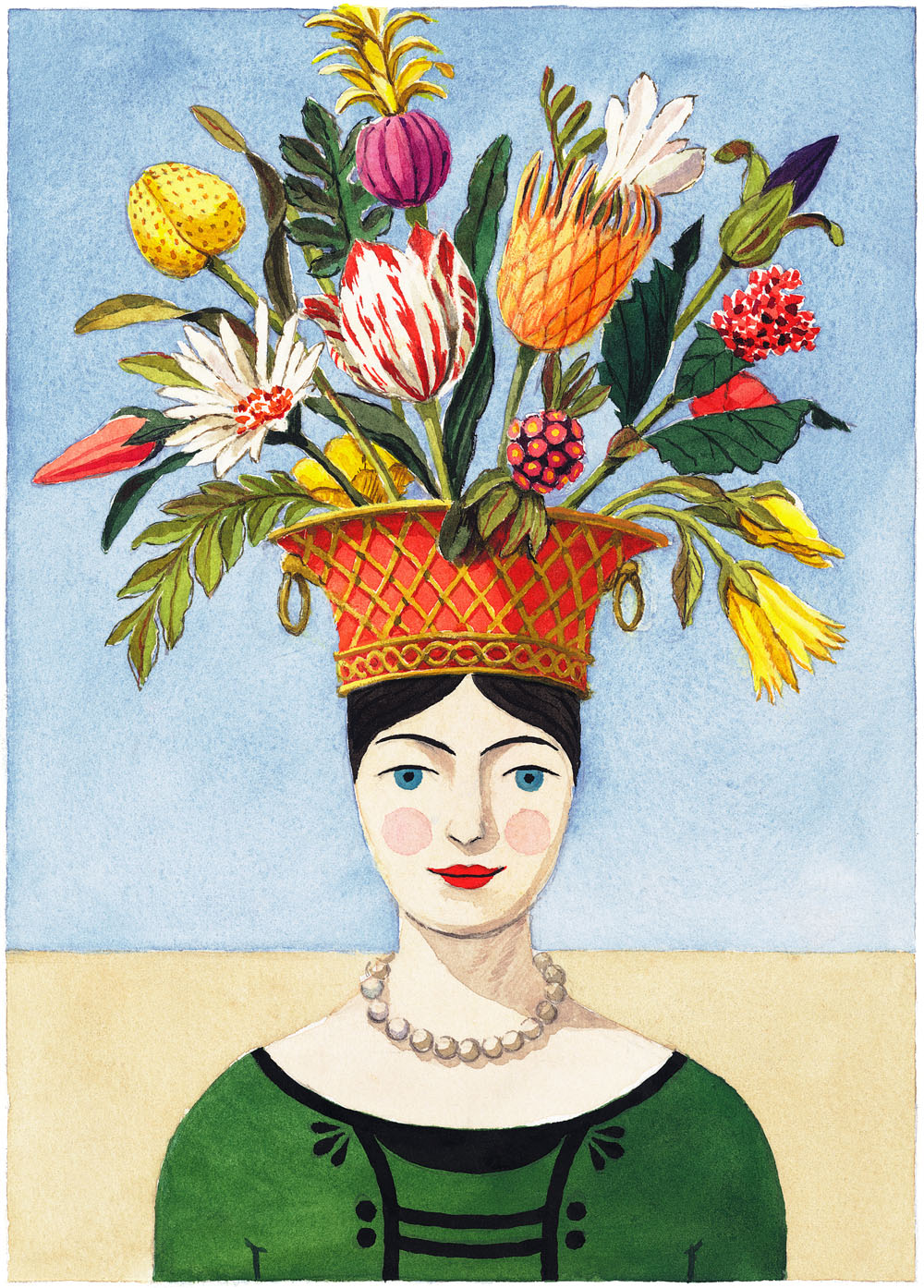 FLOWERS GROWING OUT OF HER HEAD!
MAGICAL!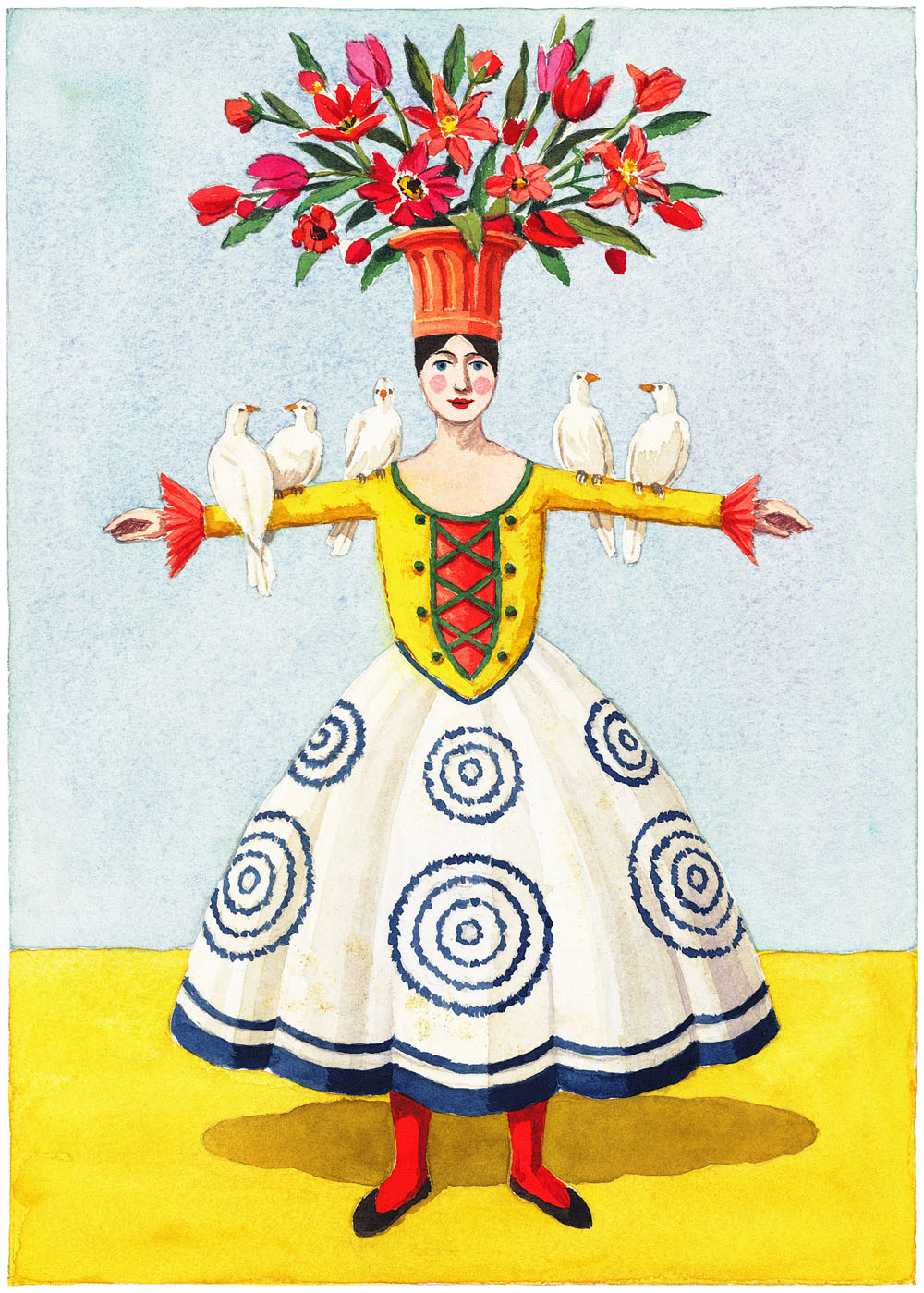 THIS COULD BE ME!!  (IF I HAD BLACK HAIR!!!)
THE RED TIGHTS!!  YOWZERS!!
 ASLEEP IN THE GREENHOUSE!!
I FIND THE SAME BEAUTIFUL, FEY AND JOYFUL  SPIRIT IN THESE THAT I FIND IN MARCEL VERTES;  AND ALSO IN RADISHA….
I HAVE DONE POSTS ON BOTH OF THEM. I HOPE YOU WILL FIND THE DIRECTIONS!
IF NOT, PLEASE LEAVE A COMMENT;  I WILL LEAD YOU!
AND I HOPE YOU HAVE ENJOYED THIS!
PLEASE SEE HIS WEBSITE…….THERE ARE SO MANY MORE!!
AND BE CAREFUL!!  YOU NEVER KNOW WHAT MIGHT BE IN YOUR "SPAM FOLDER"!!
I THINK MY MOTHER IN HEAVEN HAS "DONE IT AGAIN"!!!!
ps.
(many people have written me and have tried to leave a comment…..only having it disappear!
Once you write a comment……if you scroll down a bit;  there are a couple of numbers you have to subtract or add to prove you are not a robot!
I hate missing your comments!  Please try scrolling down!)
(Also, when you receive your email (as a subscriber);  if you click on the title;  you will see what is a much nicer version of the
post!  That is, if you are interested in the subject!)  Oh please, do try!  You will like it!
I have just received a bunch of new subscribers!  Welcome!
Please leave comments and suggestions!!