Some people have requested that I republish a few of my blog posts!
I decided to start with this one!!
I hope you enjoy!
In 1961, my very talented mother was in Paris on a trip.  She had admired an artist throughout the 40's and 50's.  His name was Marcel Vertes;  and he was an Hungarian who lived in Paris until the war;  and then he lived in New York.  He was working in all kinds of mediums.  My mother was in advertising;  I think that was when she first started following him.  He did all the advertisements for Elsa Schiaparelli ;  her "Shocking" perfume;  even designing the bottle!
He also won an Academy award for set design for "Moulin Rouge.
She timed her trip to coincide with a show of his oil paintings at the Katia Granoff gallery.
In researching for this blog post;  look what I discovered!!! A blog post about Marcel Vertes with my bedroom in it!  I had never seen it!
Feeling Pink with Marcel Vertes
Hungarian painter, printmaker and illustrator Marcel Vertes (1895-1961) was full of whimsy, as evidenced in the gorgeous series of ads he concocted for Elsa Schiaparelli's 1937 scent Shocking Pink.
Another ad for Schiaparelli's Shocking Pink.
Here is an original bottle of the perfume. The curvy torso was inspired by Schiaparelli's client, Mae West.
Vertes hits the bottle of pink paint again for this portrait of Coco Chanel.
What a total surprise that was! This was a blog  posted in April 2011!!
In any case,
My mother timed her trip to coincide with a show of his oil paintings at the Katia Granoff gallery. He died shortly before the exhibit, in 1961.
I was 14  years old.  She told me that she loved his art, his whimsy, his colors, and his animals.  She also said she loved his women because they reminded her of me!!
She bought 5 paintings the first day.  My stepfather told her to go back and buy another one;  because she had two children!  There should be an even number!!
This one was the sixth!
This was the beginning of a lifelong collection of the work of one artist by my mother, my brother, and by me!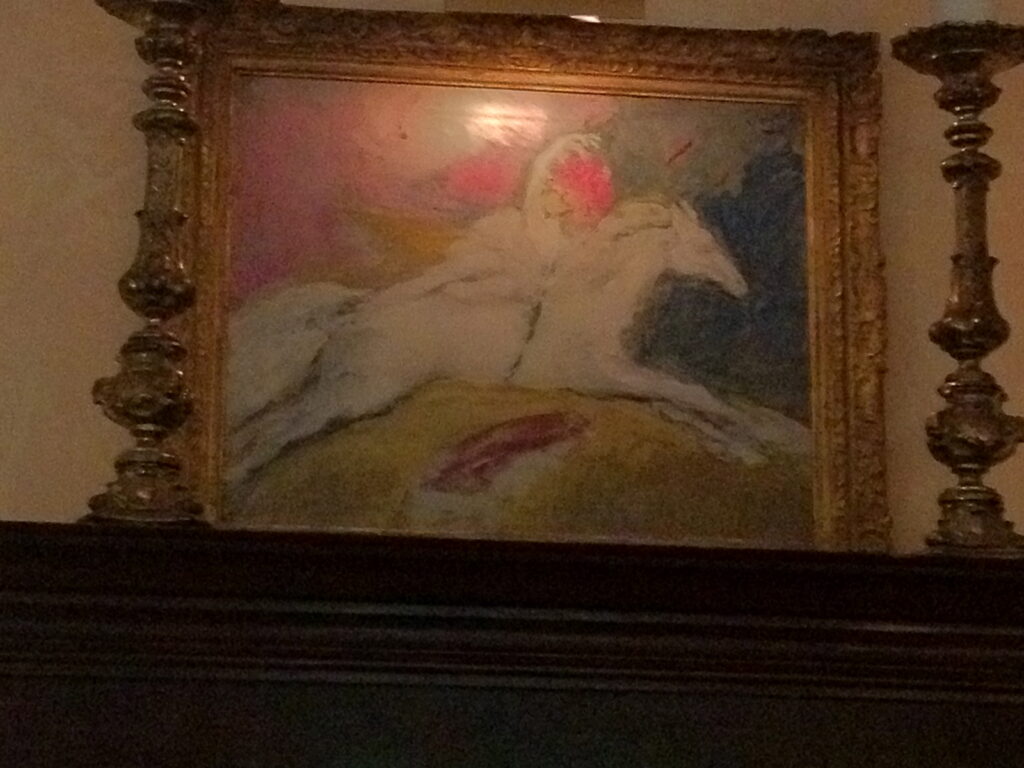 This is a beautiful one that was above our living room mantle while I was growing up!
s
We had a fire in 1982, and one of my mother's Vertes oils was lost.  I bought this one from  my dear Tony Duquette and Hutton Wilkinson;  and after I had purchased it, they told me it had belonged to Elsie de Wolfe.  My mother gave me her book, The House in Good Taste; which had inspired me to become a decorator!!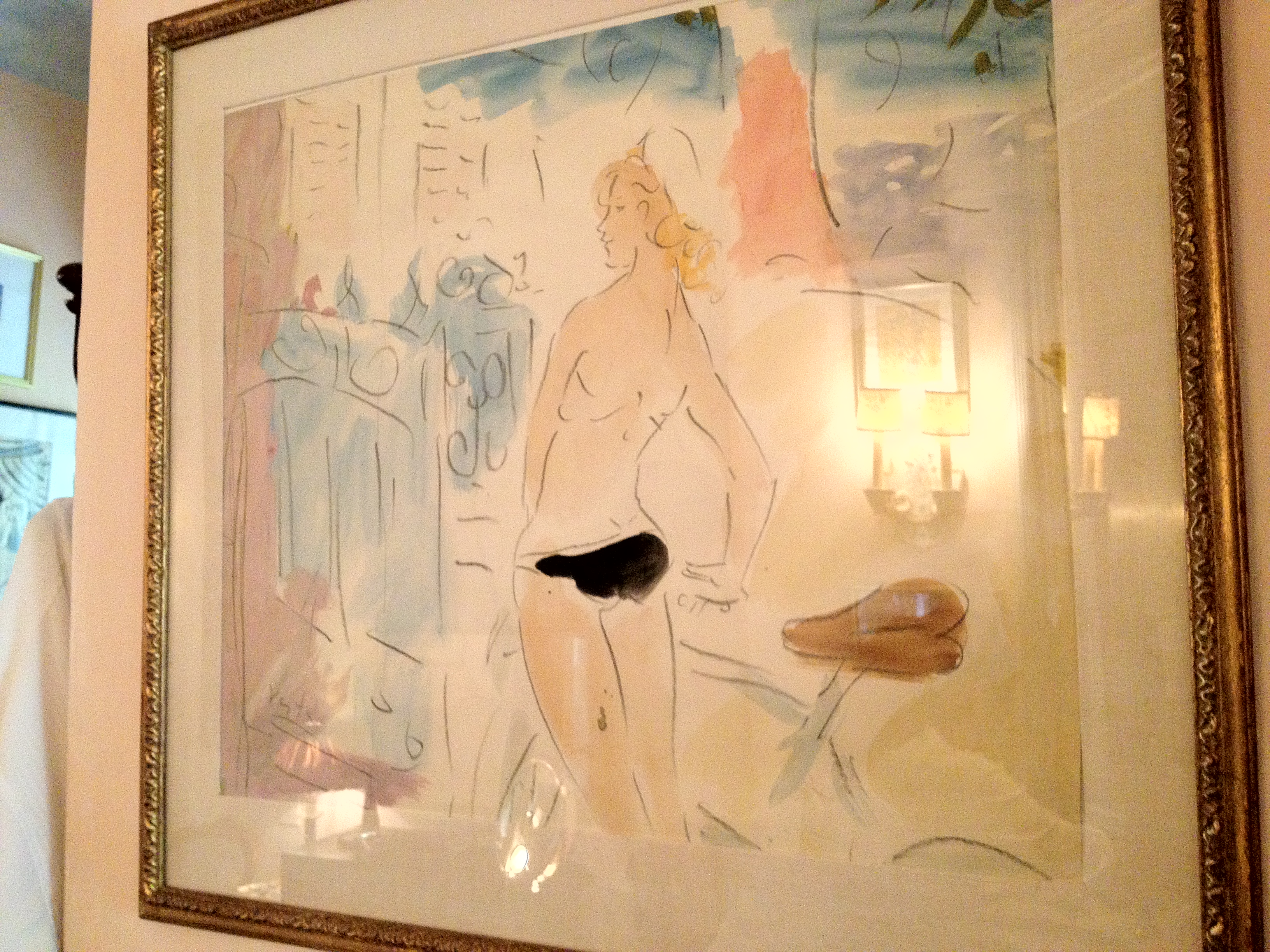 This is a watercolor I bought in New York.  An almost identical painting was in the Jacqueline Kennedy Onassis auction at Sotheby's
This lovely 3 panel screen I bought in Los Angleles;  and I was told it belonged to "Gypsy Rose Lee"!
I was a bit skeptical;  but there it was in a picture in a book written about her by her son!
One day in an antique store;  my daughter saw this fire screen made of needlepoint;  and said….."Mommy, isn't that a Vertes???
I had not known he did a collection of needlepoint canvases!
I bought this water color in New York when I bought the other one with the girl in the bikini!
Look what I found on ebay!   I had it made into a chair slip and it sits right under the painting!
another ebay find…a signed and numbered lithograph.
the collection you saw in the blog in the beginning is a series of lithographs about the circus! Here are some close ups of a few of them.
His women always are drawn being loving to animals.
And loving to children.
A college friend of our daughter's saw the top one of this pair in a gallery in Berkeley and called me about it!  What an eye that Stephen Watkins has!!  He was 19! (now he's 46!)  I am still thanking him!
The bottom one another ebay bonus!
I had a pillow made from this scarf he designed for the Metropolitan Museum of Art.
A lithograph of a pole dancer from the "le Cirque" series !
just a delightful whimsical lithograph.
During the war, Marcel Vertes did these gorgeous murals in the "Cafe Carlyle" in the Carlyle Hotel in New York City.
It is probably my favorite room in the whole world!
Bobby Short sang there for many years;  and we went every single time we were in New York!
50 years of smoke and dirt had covered up the lovely colors;  and thank the Lord, the manager decided to keep the murals and clean and restore them!
They are glorious!!
Our last time in New York, we heard Elaine Stritch doing her amazing show.
He painted this room in return for room and board.
Ludwig Bemelmans lived there at the same time (the author of "Madeline")
He painted "Bemelmans' Bar!  A totally delightful and whimsical set of murals!
See the women with the animals???
I adore the dog holding the hat!
and the lovely girl with the horse!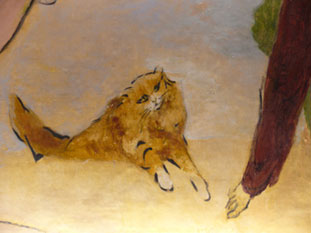 Crazy about the cat!
Treat yourself to a visual feast!  Go look at this room when in New York!
My assistant insists I tell the story about the first oil painting;  the nude painted in 1941. "Columbine en Vacances"
When our house is on a "fund raising tour"  I love to walk with the "tourists" and pretend I am one and listen to what they have to say!  (I think our houses have been on about 12 various tours).  Once, I was walking behind a couple at our house in Pasadena.  (The docents all knew what I was doing; so they wouldn't give me away)  This man announced quite loudly to his wife,  "THAT is Mrs. Bianchi!!  Can you imagine having a NUDE painting of yourself   in your living room??!!"   "Outrageous!!!"
I couldn't look at the docent;  I would have burst into hysterical laughter!  It was painted before I was born……but my mother did always say that his women reminded her of me!
I consider that an enormous compliment to me  from my beloved mother!!
I have been lucky enough to collect  35 of his pieces.  Oils, lithographs, silk screen prints, even two plates hand made in Vallauris when Picasso was working there!
I hope you enjoyed this tour of my collection!  I feel incredibly lucky to have them!