I have many new subscribers!!  I am going to post a few of my favorite (and others' favorite posts)
In between new posts, so the new subscribers don't have to go searching!!
(Be sure to click on the title to see the complete post!)
In 1997;  we decided to move to Montecito from Pasadena.
We spent our honeymoon here in 1978;  and I had grown up in Pasadena coming up every August!
We sold our house before we put it on the market in Pasadena!
 I looked and looked for an older house;  and my real estate agent almost gave up!
One day, she announced that she was showing me a "vacant lot"!!  Oh no!  I don't want to build!!
She drove up to this!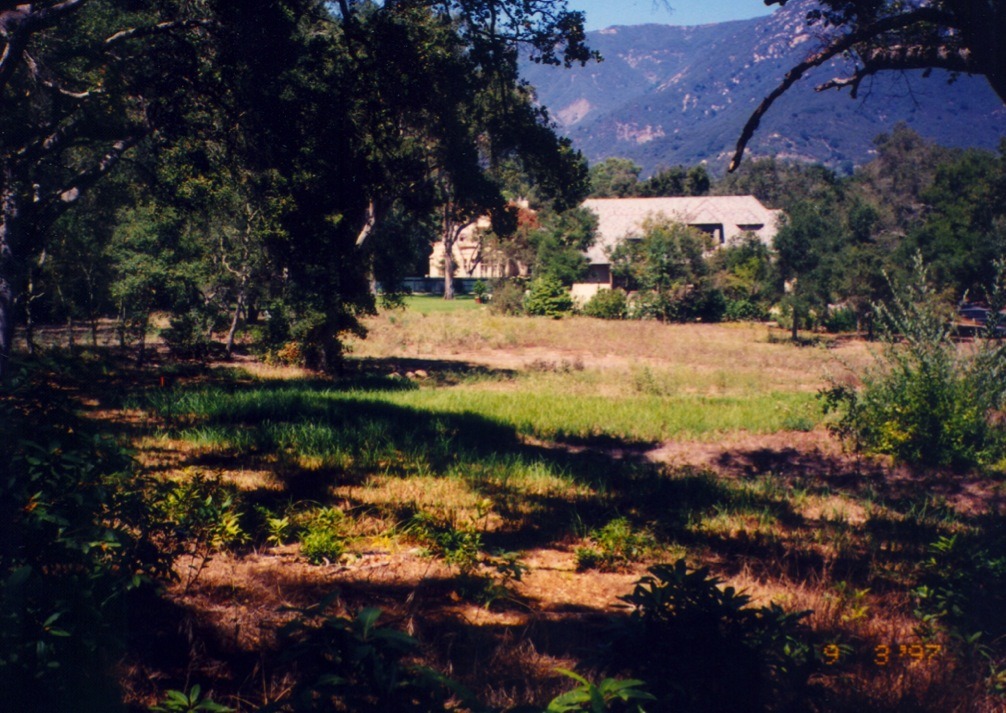 (When you see where the pond is;  this is where it is "before"!!! there was a pond!  Nothing!)
(The one house next door is shown above.)
She said,  "There is a 45 acre nature preserve on one side;  there is the 45 acre property of your Mother's friend Mrs. Bacon on the other two sides It can't be subdivided!;
 and there are deer in there!"
She has known me since high school;  and she knew that would clinch the deal!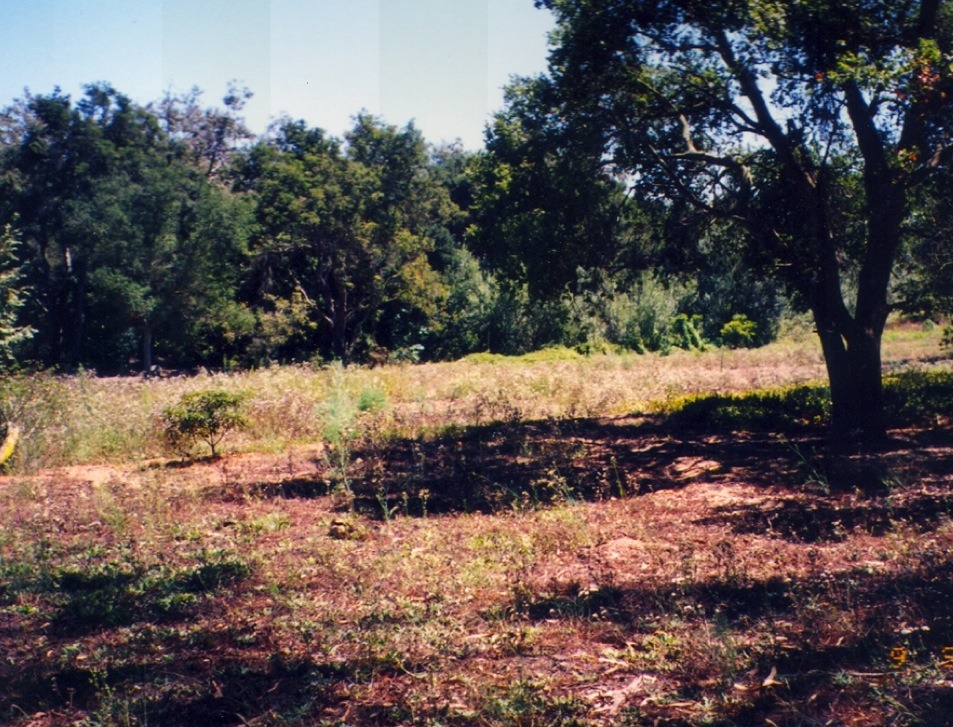 The day we bought the property;  I looked at this view;  and there was a command in my head!
"A pond wants to be there!!"
(and right there is where it is!)
I told my husband that day!  He said,  "Slow down, honey!  We have a house to build; all kinds of more important things!"
"I said, no, you can't dig a pond with a house in the way!!"
I wouldn't let go of that!  So he let us have the bulldozers dig a pond!
It filled up with water!
My goal from the beginning was to create a "nature preserve" of our own;  and  a "not too big house"!
I read every book I could find on attracting and keeping birds, butterflies and wildlife of all kinds!
And then I found that the National Wildlife Federation had a "Backyard Habitat Program" to assist homeowners who want to
assist wildlife!  It is a fascinating program that anyone can qualify for; even if you only have a balcony!
I used two landscape designers;  one in the beginning, and then I switched to my favorite!  I
took Margie to the "nature preserve" next door, and said " I want a landscape a lot like this!!"
Margie listens;  and she can do any landscape someone wants!  Her range is amazing!
The first thing we found out is that our lot is the "drain" of Montecito!  All the flow charts end here!
So there was a massive drainage system that needed to be installed!
The "dry creek" below is connecting one "catch basin" to another!  Designed by Margie to be a lovely part of the landscape!
Margie Grace Links to website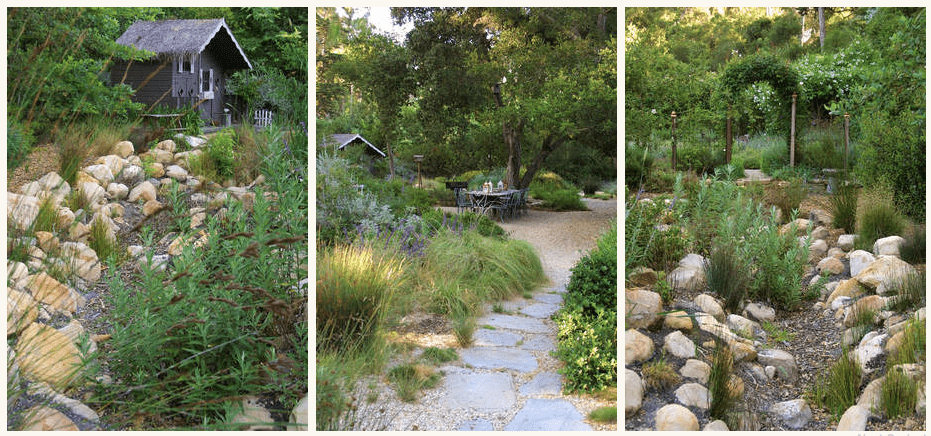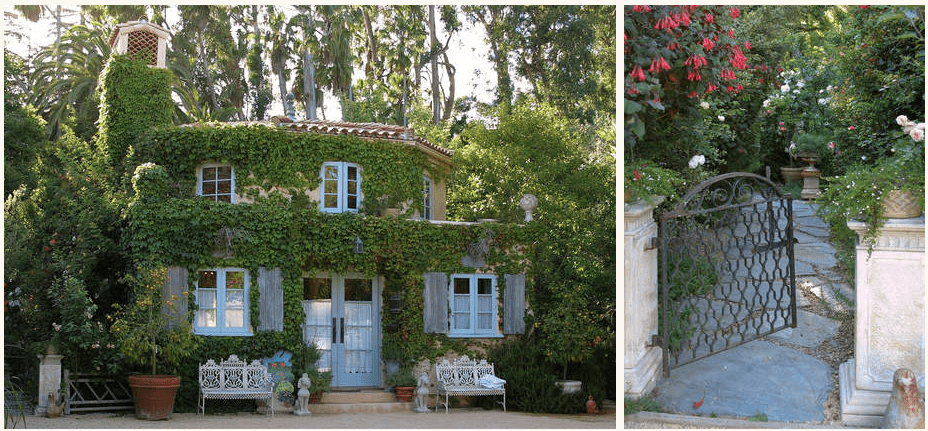 I worked with my favorite architect David Serrurier.  There was another caveat:  The building envelope was 65 feet square;  which meant he had to fit a house, a guest house and a garage
in that space!  The property is over 2 acres;  but it couldn't have anything built on any other part of it!
The guest house is above.
It feels like a little village!  But the landscaping was crucial to the "animal habitat"!!!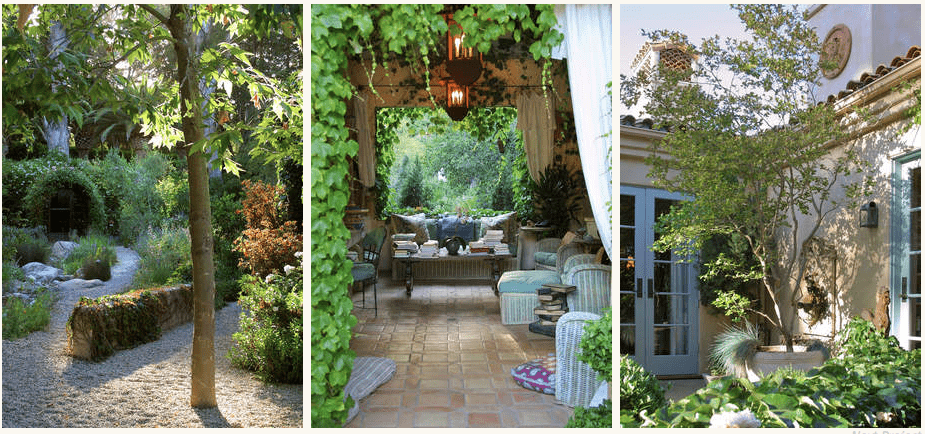 look at the size of the tree on the left.  That was about  eight years ago!
That sycamore tree is 60 feet tall now!
To learn about the  "Backyard Habitat Program" click here!
 National Wildlife Federation : this links you to the Garden For Wildlife Program/ Backyard Habitat.
Look at all the ducks that come back every year!
I had one duck house in the beginning;  and now have two!
Thanks to my friend in Georgia!
Winston Brown, at www.lwbcreations.com !
Three years after we moved into the house a lady who had grown up nearby looked out the window at the pond, and said,
"I think it is lovely dear, that you put the pond back"!
In shock, I said…."Back?  What do you mean?"  She explained that in the early forties,(before I was born), there had been a pond exactly where we dug it!
Same size, same shape, same.  There were stables here for polo ponies;  and the pond was filled in to make a riding ring!
I still get chills telling that story.  This land spoke to me, that is all I can say!
the duck house in the front was built in England by
http://www.granddadrobdesigns.co.uk/epsom-eight-floating-duck-house-p-40.html
I just found out!!!
I keep the duck treats under this bee skep!
They recognize my voice, and come to me when they hear me!  They are wild mallards;  and they nest every year, laying their eggs inside
the duck houses!  If a stranger comes out;  they are "guarded"! And ducks return to
where they are hatched, so lucky us!!
  Here are  the sycamore trees recently!!!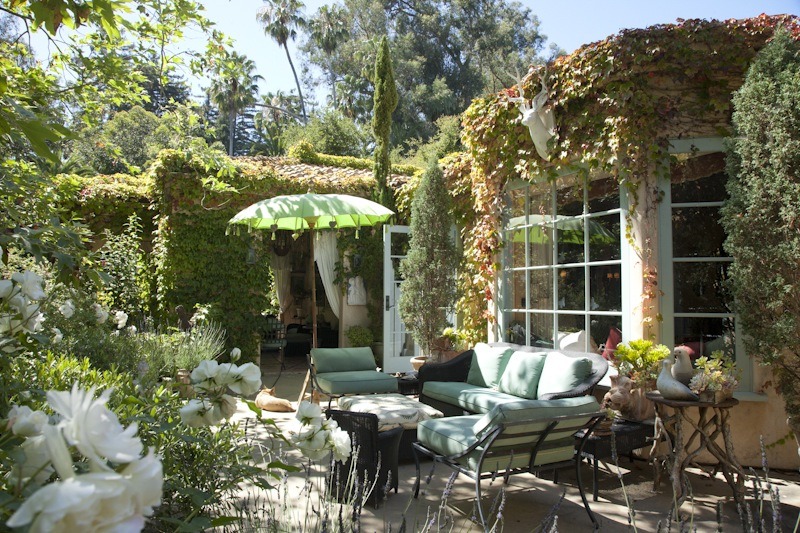 My poor gardener had to "unlearn most of what he has spent a lifetime learning!
"No blowers, no mowers, no hedge trimmers, and I like the roses climbing the trees!  And the vines on the rooftop!!"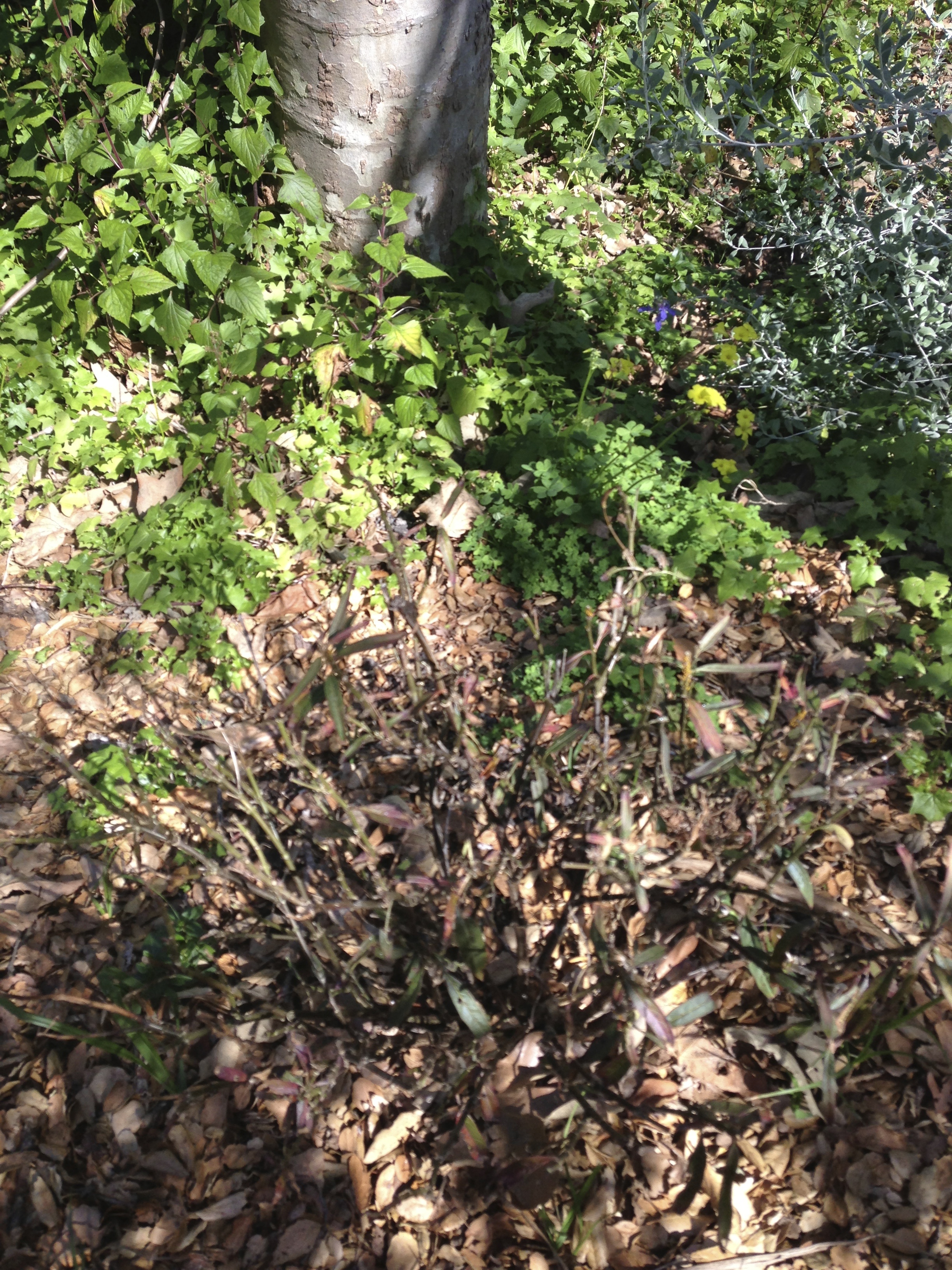 We planted a whole bunch of milkweed for the monarch butterflies!  He was completely horrified to see this, above!
Those monarch caterpillars eat all the leaves!!  Yes!  And then they make chrysalises and there are monarchs all over!!
 When my granddaughter was in kindergarten;  I decided to do the "Backyard Habitat" project with her!
We filled out the following questionnaire, and took pictures!
She had such fun!! "Granny, take a picture of THAT thicket!!  It's like an apartment house for birds!"
She proudly presented this certificate to her class;  and said, "Granny and I won first place!!"
Now, (of course, there isn't a "first place"!  But she learned so much!)
Now, after 16 years, we have a covey of California quail, hummingbirds (3 kinds), and every kind of bird!
Not to mention, bobcats, coyotes, raccoon, Great Blue Heron, (I have to chase away when there are baby ducklings!)
The lady , (Joan Lentz) who wrote the book , "Birds of Santa Barbara County" identified 120 species in two hours
by their song!
I was outside playing my "iBird  Pro" app on my iPhone and it was making the "Hooded Oriole" song;
and a male oriole landed on my hat!!!
The questionnaire is as follows: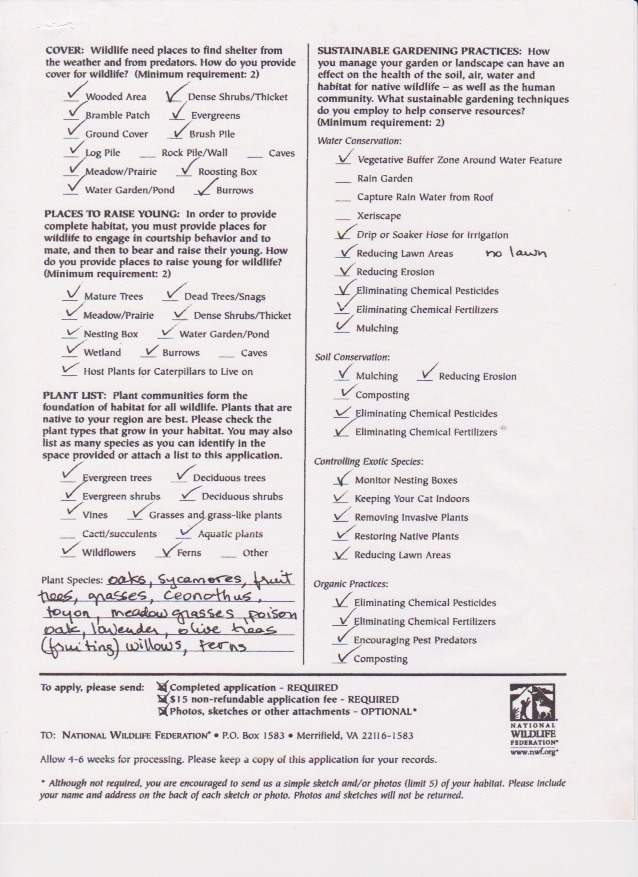 The National Wildlife Federation is a wonderful source of information on what to plant to attract and nourish wildlife!  It has been the most gratifying
thing about living here!  Hummingbirds make their nests in the tendrils of ivy;  and we even saw one baby fly for the first time when we were standing inside the
guest house front door!  I said, "WOW!  That is a once in a lifetime experience!"
(there were two babies so big they were perched on the top of the nest)
She said, "Granny, was it the boy or the girl?"
You just guess what I said!!